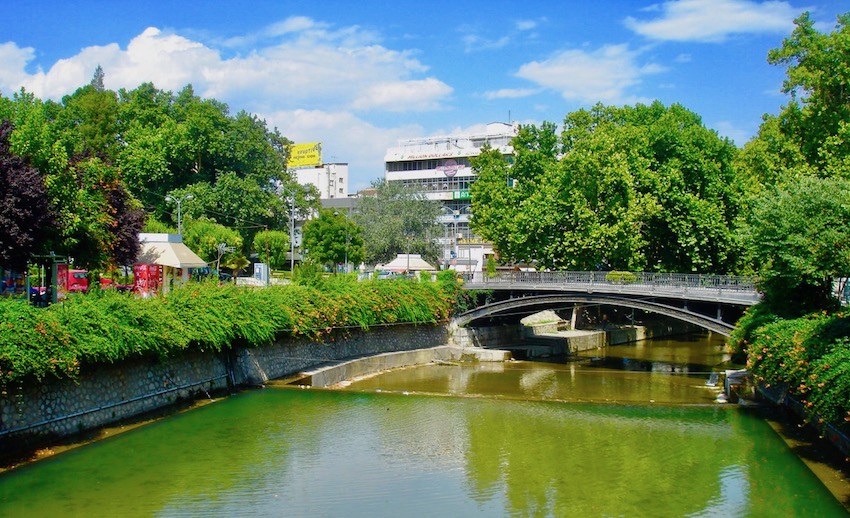 There are not many reasons a tourist would visit Trikala. There are no major archaeological sites. It is nowhere near the beach. The famous people who come from Trikala: Apostolos Kaldaras, Vassilis Tsitsanis, Dimitris Mitropanos and Avengelos Averoff may be well known names to Greeks but few tourists have ever heard of them. In fact the only Trikala name that might possibly be known, at least by an American, is that of William Avery who played guard for the Duke Bluedevils and somehow ended up playing for the Trikala basketball team the year it made it into the first division. But that is not likely to bring tourists to Trikala. The truth is that Trikala, despite a rich history, is a provincial town in Thessaly that most tourists know as that place before Meteora. So you may be wondering why I am writing an article to convince you to visit Trikala which is pretty much what I am doing. In fact I will just come right out and say it: You should visit Trikala.
But why?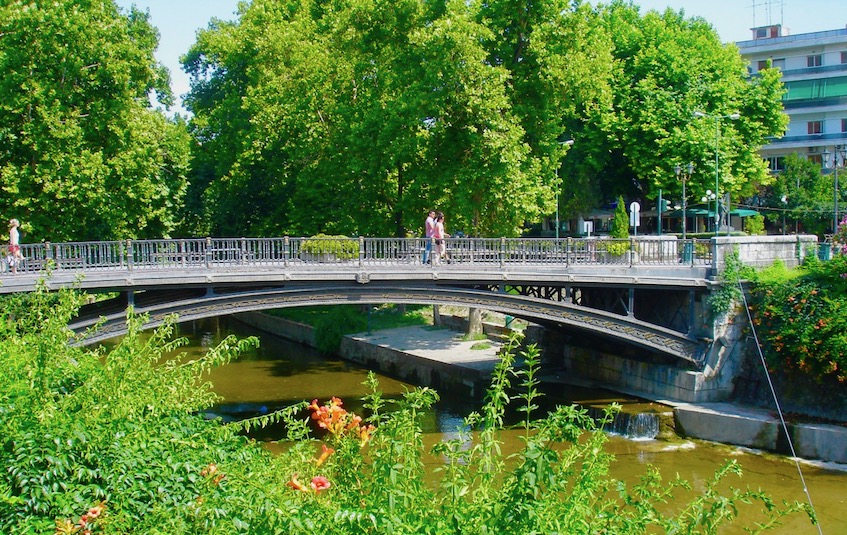 Trikala is beautiful. You may not think so when you first enter the city and pass empty shops and agricultural and industrial buildings, and houses and apartments that have seen better days. But once you get to the center of the town and park your car you will realize that I have sent you to somewhere special that you probably would have just driven through with hardly a glance as you and your family argued about whose fault it is that it is taking so long to get to the monasteries of Meteora.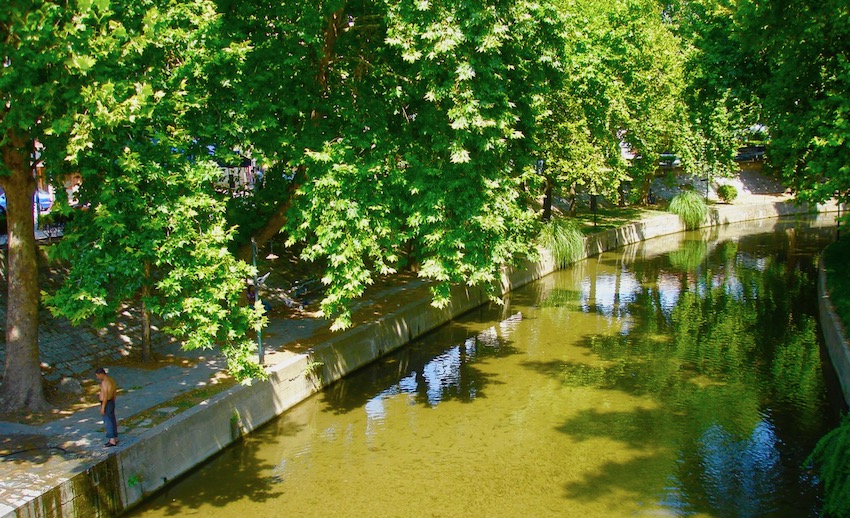 The first thing you will notice about the town is that there is a river, the Lithaios, that runs right through it. No, not a stream bed with a trickle of water or totally dry but a real river, even in the summer. The next thing you will notice is that it is full of fish, and if you know anything about fishing the next thing you will notice is that they are trout, and large ones too. If you are a trout fisherman you may think you have died and gone to heaven because it seems like you could catch three or four with a butterfly net with your eyes closed, there are so many.
Restaurants in Trikala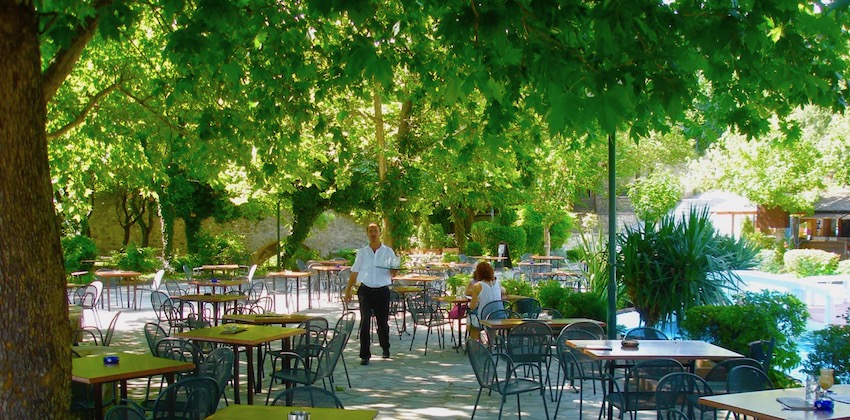 But I am guessing you have not packed a fishing pole or a butterfly net and if you happened to catch a fish you probably have nowhere to cook it. But you won't starve in Trikala because the town is full of great restaurants. For some of the best food you will probably have in Greece visit To Hani at 2 Pilis Street near the train station for traditional Greek taverna fare and organic wine. Try Taverna Katogi at 58 Karaiskaki Georgiou for grilled porkchops, paidaikia and other meat and vegetable dishes. Ladofanaro at Ypsilantou and Kanigos Streets specializes in local dishes and is considered by many to be the best restaurant in the area due not only to the food but also the friendliness and service of the owner and the staff. But these are just a few of the many restaurants and cafes in Trikala and you may come and see something that looks even better and you may be right. But these are a start. Did I mention that Trikala is the first city in Greece with a smoking ban in restaurants that is actually enforced? That is reason enough to come to Trikala and visit the Meteora monasteries from here.
The Vassilis Tsitsanis Museum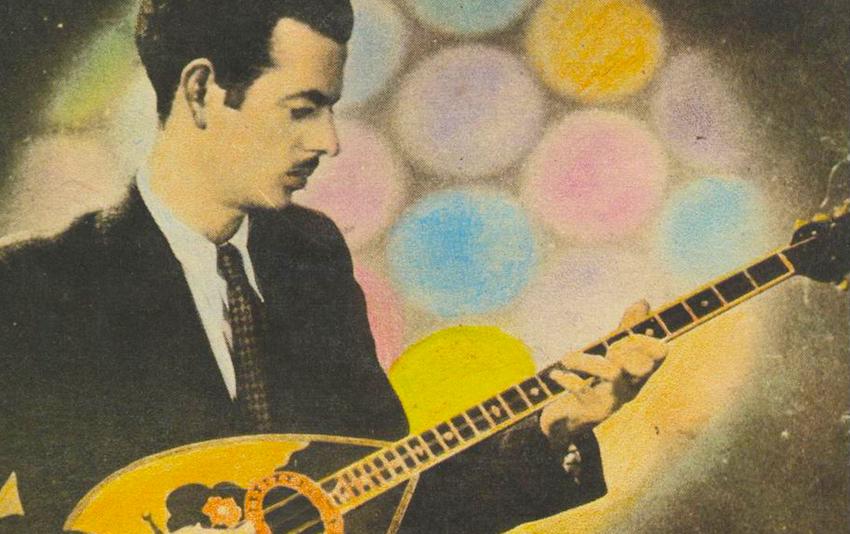 So why else come to Trikala? How about to visit a museum dedicated to the most famous rembetika/laika musician who was one of the most prolific singer songwriters in the history of popular music, who was born in Trikala: Vassilis Tsitsanis. Housed in a 16th century Ottoman bath house which served as a prison in more recent times, the Vassilis Tsitsanis Museum – Research Center has finally been completed and is probably going to do for Trikala what Graceland did for tourism in Memphis. Well, maybe not, but the reverence that lovers of Greek popular music have for Tsitsanis is comparable to Elvis though without the fanaticism of Elvis fans, many of whom have still not recovered from his death nearly half a century ago. But anyone interested in rembetika (Greek urban blues) and laika (popular music), knows that Tsitsanis is to those genres as.... well, as Michael Jordan is to basketball. For more on Tsitsanis see my History of Rembetika Music
What Else to see in Trikala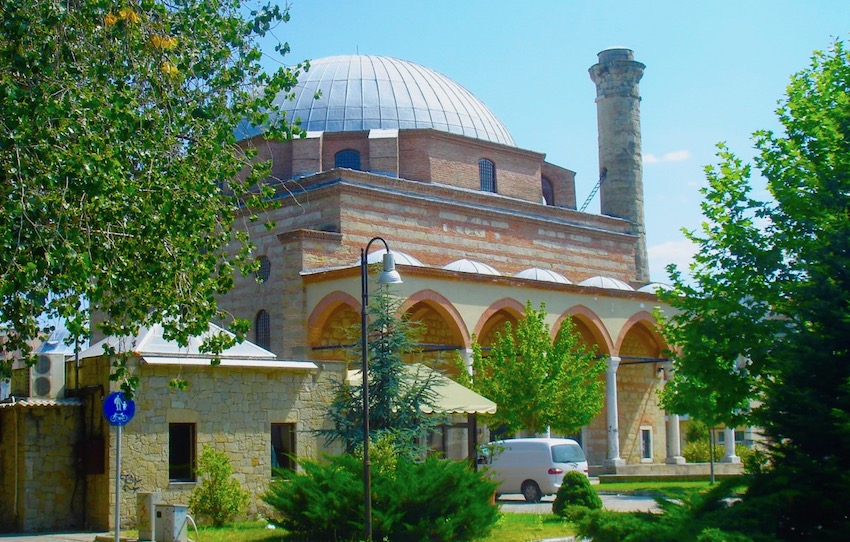 Trikala is built on the ruins of the ancient city of Trikke and was an important center in antiquity and it was considered to be the birthplace and home of Asclepius, the God of healing. It was mentioned in Homer's Illiad and the city sent 30 ships to Troy. You can see the ruins of the Asclepion, the ancient temple of healing with its important mosaics as well as the Roman Baths. Most of the artifacts from the area can be found in the Archaeological Collection, displayed in an historical building under the fortress at 25th of March St. & Machaonos St. The Justinian Fortress which sits on a hill in the center of the old city has a cafe and terrific views. On the east side is the 17th Century Clock that is the symbol of the city. Below it is the historical neighborhood of Varoussi, with its beautiful narrow streets and coloful houses of the last several centuries and many of the oldest churches since this was the Christian district during Turkish rule. The Municipal Folklore Museum is in an historic building at 6 Garivaldi St. The area of Manavika near the central square is where you will find the best restaurants and cafes. Asklipiou Street has some of the most popular coffee shops and is the commercial district of the city. At the end of the treet is the 19th Century City Railway Station one of the many impressive historical buildings in Trikala. Take a walk along the tree shaded Lithaios River and see the Central Bridge, built out of metal in 1886 by the French. It connects the central square with the Asclepius pedestrian zone. By the way, Trikala is a paradise for people who ride bicycles and it is one of the primary modes of transportation for locals and visitors. By bike (or walking if you like) you can visit the 16th Century Koursoum Mosque at the entrance of the city coming from Karditsa. The hill of Prophitis Ilias has a park with a nice view of the city, the church of the Prophet Elijah and the zoo. From November to Early January over a million children and their parents visit the Mill of Elves, an old water mill transformed into a festive toy and confectionery factory, like Willie Wonka, where Santa Claus and his Elves welcome guests to their magical kingdom.
And of course Trikala is a short drive from the Monasteries of Meteora so if you are the type that wants to see the touristic sites but not live, breath and eat tourism then staying in Trikala is an excellent option. You may even come back.
Hotels in and Around Trikala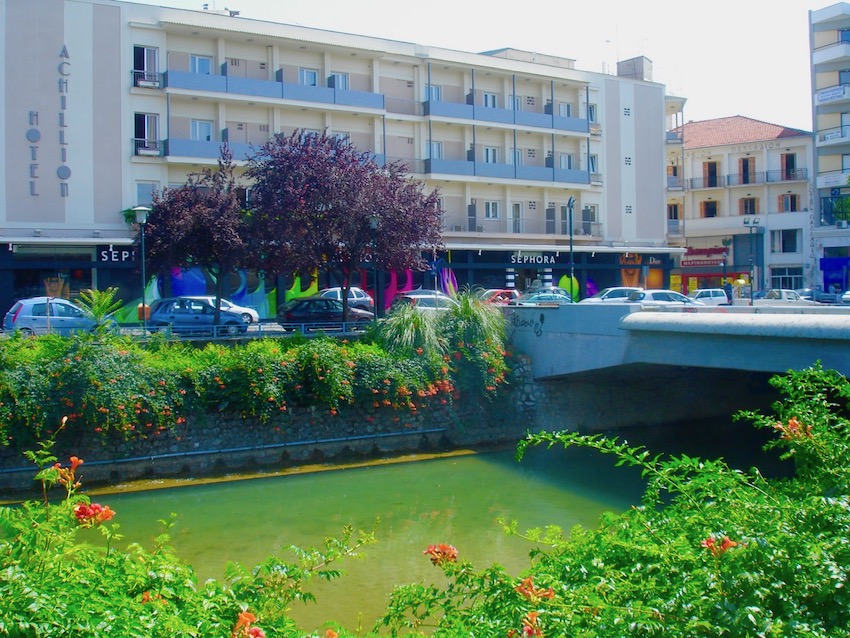 Housed in a Neoclassical 1914 building, the Hotel Panellinion offers classically decorated rooms with a private balcony and free Wi-Fi. It has a restaurant and a bar and it is located in the centre of Trikala, right on Rigas Ferraios Square. Situated in the centre of Trikala, Achillion Hotel (above photo) offers rooms with views of the city or Litheos River. Both Wi-Fi and wired Internet access are available free of charge. Centrally located in Trikala, Hotel Ntinas offers a snack bar and air-conditioned rooms with free Wi-Fi and balcony overlooking the town. The Medieval Fortress and Kursum Mosque are within easy walking distance. Built on a hill on the outskirts of Trikala, the 5-star Ananti City Resort features a rooftop restaurant with panoramic view over the Thessalian plain, an outdoor pool and spa facilities. Trikala centre with its shops, traditional cafes and restaurants is only 2.5 km away. The 4-star resort Aeton Melathron is 1 km from the city of Trikala. A pool-view restaurant, on-site spa with fitness centre, sauna, and swimming pool are offered. Situated 2 km away from Trikala town, Gallery Art Hotel offers stylish rooms with LCD TV and free Wi-Fi access. It provides free transportation to Trikala. For more choices you can Search Hotels in Trikala.
Getting to Trikala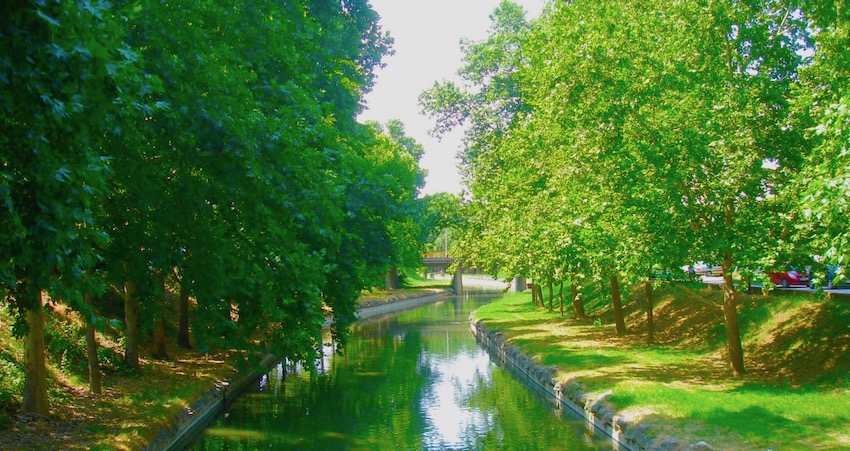 The best way to get to Trikala is to rent a car and drive there. You will want to use the town as a base for exploring the area and of course visiting the Monasteries of Meteora. If you are nervous about driving on winding Greek mountain roads you need not be. Trikala is on a flat plain and if you take the National Road out of Athens your encounter with mountains will be limited and unlikely to be stressful. Another option is to do an overnight trip with George the Famous Taxi Driver and instead of staying in Meteora tell him you want to stay in Trikala.
Buses leave from the Liosion Bus Station B and they go pretty much every 2 hours from 7:30 to 21:00. You just go, buy your ticket and get on the bus. You can take the X93 bus from the airport to the bus station or take the 024 bus from outside the entrance of the National Garden on Amalias Avenue or on Venizelos Street or Patission Street if you are closer to Omonia. Or you can take the Athens Metro to Attiki Station and catch any bus going north and get off at Liossion 260, turn right onto Gousiou and you'll see the terminal. But seriously, unless you are poor, take a taxi from your hotel right to the bus station for about 8 euros. You can also take a train to Trikala/Meteora but the Greek Railway website is so difficult to understand that probably the only way you will know for sure if there is a train is by going to the Larissa Train Station (In Athens-NOT Larissa) and asking. But there seem to be at the moment 5 trains a day (7:18, 8:27, 14:18, 16:16, 23:55) and take between 5 and 6 hours to get there.
Help Support Matt's Greece Guides
Do you enjoy using my site? Have you found it entertaining as well as useful? If so please show your appreciation by booking hotels through the travel agencies and the links found on my Hotels of Greece site. The small commission I make on the bookings enable me to keep working and in most cases you won't find them any cheaper by searching elsewhere. You can find hotels in Greece by location, price, whether or not it has a swimming pool, and see photos and reviews by using this link to booking.com which also contributes to my website when you book. If you are appreciative of all the free information you get on my websites you can also send a donation through Paypal or Venmo
Join Matt Barrett's Greece Travel Guides Group on Facebook for comments, photos and other fun stuff. If you enjoy this website please share it with your friends on Facebook and other social media.