There are generally three ways to arrive in Istanbul --- by plane, by road or train and by sea. The first is the most convenient but also by far the least interesting. All the complexities of east meeting west, the historical references and metaphors of overland travel with its discomforts but deep roots in our early migrations, are lost to airplanes. The smells, the colors or the brush, the oily reek of ports or sun baked dirt and stone—all that is forfeited to the altar of speed. It was no coincidence that in Cavafy's great poem, Ithaca, the narrator explains the importance of arrival
"…Then pray that the road is long
That the summer mornings are many,
that you will enter ports seen for the first time
with such pleasure, with such joy!..."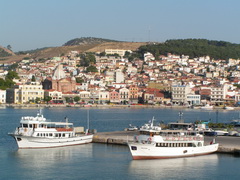 And so I suggest the best way to arrive in Istanbul is by train or boat from Greece. (unless of course you are arriving via taxi from Iraq). The connection from Greece is straightforward. You can go by car bus or train (if it is running which lately it has not been) through Northern Greece which takes a total of about 21 hours of driving or 20-24 hours on a train. Or you can take ferry boat from Pireaus to Mitilini, Lesvos and connect with a small ferry to Ayvalik in Turkey. From Ayvalik you can take a bus directly to Istanbul (about 9 hours) or you can take a bus to Bandirma and catch a high speed Catamaran directly to the Yenikapi docks in Istanbul, right near the old town . The boat takes about 2 hours and saves you the long drive around the Sea of Marmara. Unfortunately, the boat schedules and delays at customs mean you will probably not arrive until after dark. That and the sealed, air-conditioned modernity of the fast boats, kills the romance associated with arriving in the harbor on the windy deck of a slow ferry.
Ferry to Lesvos: Generally leaves around 7pm from Pireaus (Gate E2) and takes aprox. 12 hours. A cabin for 2 (highly recommended) costs 130Euros. The Mytilini is a decent old boat but if you want to get there faster take the Hellenic Seaways Nissos Chios which only takes 8 hours and is a beautiful, clean new ship with nice cabins and air-conditioning that really works. The ferry from Mitilini to Ayvalik can be bought from JALE Tours (book the day before!) and leaves every morning at 8:30am. Cost is about 35 Euros per person and sometimes a lot less, depending on I don't know what. The trip takes about 1½ hours. Lesvos is an awsome island by the way and you should consider staying there for a few days before going to Turkey.(See www.lesvos.com) You may have to because just because a ferry between Lesvos and Turkey is scheduled to run that does not mean it will. But of not there is a much improved chance that it will run the next day. In fact every day the ferry does not run it increases he chance that there will be one the next day (up to a certain point).
You can also take boats from the island of Chios to Cesme, from Samos to Kusadasi, from Kos to Bodrum and from Rhodes to Marmaris and then take a long bus ride to Istanbul or better yet, fly.
Arrival By Air at Attaturk Airport
But I am going to take a leap of faith and assume that you are arriving in Istanbul by air, despite the lack of romance associated with it. In fact this is how I arrived and even after an eight hour flight from the USA and a four hour flight from London, I still has enough spirit left in me to be enthralled. Let me mention that Turkish Air is a wonderful way to get from London to Istanbul, or from anywhere they fly to Istanbul. The powder blue interior of the jet is such a comforting color that I found myself smiling the moment I boarded. The food was delicious, by far the best airplane food I have eaten in years, and there was a choice of about 150 films on the little video screen in front of me. When we arrived in Istanbul at Attaturk Airport we followed the signs as you do in any modern airport and go where they tell you. First stop is a booth to buy your visa. The price depends on what kind of passport you have. As US citizens we had to pay $20, not a big deal. Canadians had to pay $60 which seemed kind of unfair since they are more poor than us and a lot nicer. Then we got our passports stamped, picked up our luggage and walked through customs without a glance and into the terminal where we were picked up by the driver of the Hotel Neorion, who was holding a sign with my name on it. It's about a half hour drive into the city and it comes with the hotel so that is a good reason to stay there.
But there are other options of course. You can take a taxi for about 40TL which comes to about $20 or so depending on what happens to the world economy between now and the time you read this. Taxis are right outside the arrival hall.
You can also take the metro which has a stop in the airport. Get off at Zeytinburnu and transfer to the Kabatas tram which will take you to Sultanahmet, Sirkeci Station, the Eminönü ferry, and across the Galata Bridge and all the way to the final stop at Kabatas where you can get the funicular railway to Taksim Square. You will need to buy two tokens (jeton), using one for the train and the other for the tram. This is the cheapest way to get into the city, besides the free transfer of course.
Airport buses go about every half hour, cost 10TL and take about 40 minutes to get to the city. You can get off at Aksaray and take the tram to Sultanahmet or continue on to Taksim Square. The sign for the bus says HAVAS and is right outside the terminal door.
Transfers from Istanbul Airports, Hotels and Train Stations
Book a trusted local driver to pick you up and introduce you to Istanbul, pre-order travel essentials, and get all your questions answered before or during the trip. Welcome Transfers enables you to pre-book a trained, English-speaking, professional driver to pick you up at all Istanbul airports, hotels and train stations at the best available price. Book your Istanbul Airport Transfer
Other ways to Arrive in Istanbul
If you are coming from within Turkey or flying a budget airline there is a good chance that you will arrive at Istanbul's second airport, Sabiha Gokcen which is on the Asian side of the city about 20 kilometers away. You can take the HAVAS bus for about 13TL. It takes an hour. A taxi will cost you about 100TL. You can also take the E10 bus to Kadikou and from there take a ferry to Eminonu and from there take the tram to wherever you are going, if you know. You can also take the Inner-City omnibus (IETT) to the IV Levent Metro Station and from there take the Metro to Taksim Square.
If you are coming by train from Europe you will arrive at Sirkeci Station which is pretty much in the thick of things being just a few steps away from the ferries, Galata Bridge and a short walk to Sultanahmet if you don't feel like taking the tram which passes by going in both directions. If you are coming from the east then you will arrive at the impressive Haydarpasa Station where you can get a ferry to Eminonu or Karakoy. For those taking the bus from Greece or the rest of Europe you will arrive at Esenler Bus Station where you can take the free minibus to the center if your bus company offers one and if not the light railway to Aksaray, or the 91 bus to Eminonu or the 830 bus to Taksim Square.
For those driving to Turkey you must have your license and registration and if it is a rental car, a paper from the agency giving you permission to leave the country. If you rented it in Greece anyway. I don't know about other countries. In other words if you are driving around Greece and decide to take a trip to Turkey let the rental agency know so they can give you the paper that says it is OK. If you are already on the road they will fax it to you. When you get to Turkey they will stamp your passport to make sure you don't leave the country without your car. But driving in Istanbul is a pain as is parking so you may want to leave it somwhere outside the city or not drive here at all.
MORE TRAVEL INFO:

For booking hotels in Turkey plus assistance with transportation and all your travel needs in Greece contact Fantasy Travel through their website
They can help you create itineraries which combine Greece and Turkey and they also offer several of their own. You can also contact them directly by using this form
For hotels in Istanbul I also recommend Booking.com which has photos, descriptions, guest reviews and many hotels have free cancellation. See Istanbul Hotels