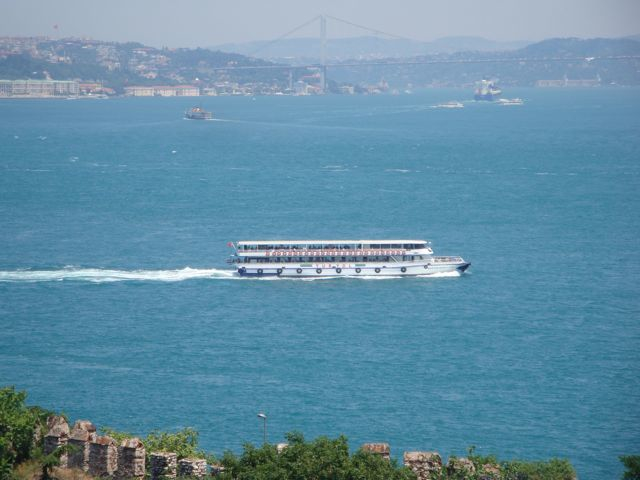 For me the most enjoyable part of my visit to Turkey was the 90 minute Bosphorus Cruise by Turyol, which is also a ferry company. It begins in Eminonu on the other side of the Galata Bridge right next to where the Balik-Ekmek(fish sandwich) boats are. There is nobody to tell you what you are looking at, you are basically just sitting on a boat and watching the shore go by, down to the Fatih Sultan Mehmet Bridge and back the other shore. Boats leave about every hour and stay pretty close to the shore, close enough to take decent photos and see people. The cost is about 12 Turkish Lira and if it is a hot day this is a great way to find relief and see some amazing architecture as you pass palaces, mosques and the homes of some of the wealthiest people in Istanbul as well as a castle or two.
There are other cruises available including the Sahir Hatlari Cruise which is done by another ferry company and you can actually get off at the last stop and hang out, have lunch or whatever and then go back, but it takes about 6 hours. There are some smaller companies too but there were boats out there that I would not have wanted to be on. By advice is to go with the Turyol Cruise If you click on the first photo you can get an idea of what you will be seeing on the cruise. When you finish looking at the photos Please share this page with your friends on Facebook using the buttons at the bottom of the page.
Help Support Matt's Guides
Do you enjoy using my site? Have you found it entertaining as well as useful? If so please show your appreciation by booking hotels through the travel agencies who contribute to my website when you book. If you are appreciative of all the free information you get on my websites you can also send a donation through Paypal or Venmo or send a check to GreeceTravel.com/102 Old Pittsboro/Carrboro/NC 27510/USA
Join Matt Barrett's Greece Travel Guides Group on Facebook for comments, photos and other fun stuff. If you enjoy this website please share it with your friends on Facebook and other social media.