About Turkish Food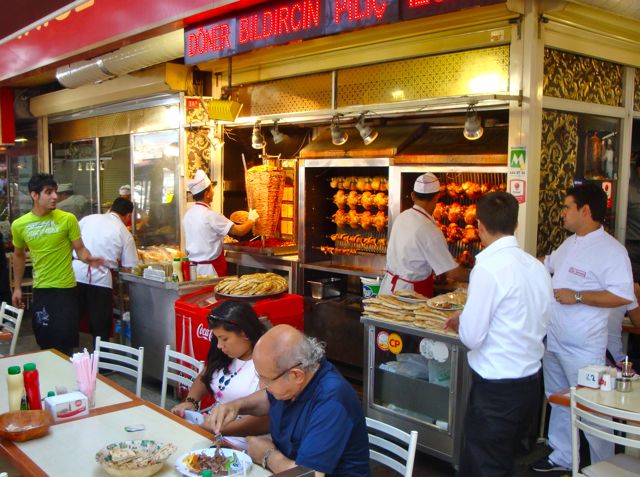 Itís no surprise that there are obvious similarities between Greek and Turkish food. No one in America really knows the difference between a kebab and a gyro, Greek and Turkish coffee, loukoum or loukoumia. Then the Arabs were pulled into it and things got even more confusing. Babaganoush looks just like melitzanosalata (eggplant salad), though Greeks donít garnish theirs with pomegranate seeds, but tend to add walnuts. Is baklava Greek? Is souvlaki like doner kebab? Trying to answer and explain these questions is like trying to untangle the intermingled histories of east and west. The only thing that really matters is using the right word for the right dish in the right country. Donít ask for a gyro in Istanbul, and be aware that to Greek waiters, baba ganoush sound like the name of some protagonist in a childrenís fairy tale. Greeks and Turks have borrowed each otherís words for centuries.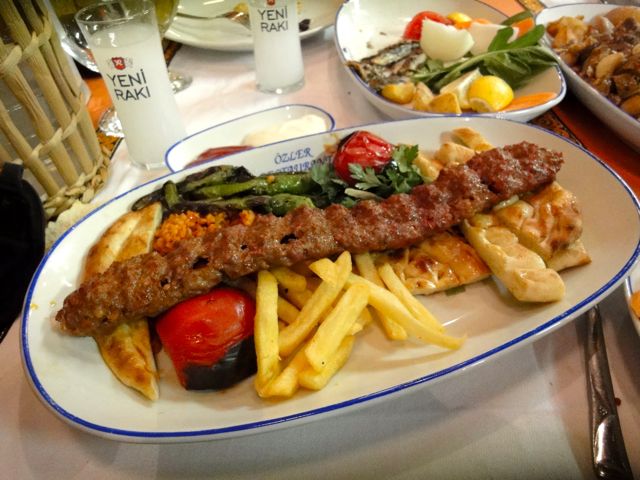 The food all tastes good. The kebab or kebap is ubiquitous in Istanbul. It can be found on every corner and on every menu in the city. The doner, is basically that big round stack of unidentifiable meat spinning vertically in the window of the store. Itís no accident that you can see it from the street. That chunk of oozing fat and crunchy wonder is supposed to make your mouth start watering. There are a million ways to serve it, the most basic being between a sandwich roll. This is one of Turkeyís big disappointments. The sandwich version of the kebab is mostly bread with skimpy half handful or meat slipped in with a few onions and some tomato. The hot sauce redeems it some, but not much. For those of you used to a hot, greasy, stuffed gyro filled with tzatziki, chunks of meat, tomato, onion, parsley and paprika-salt, you are in for a rude awakening. The answer is to order the kofte kebab platter(photo) which is a kind of minced lamb on a skewer, and can come with rice and fresh salad on the side. There are infinite variations of doner and kofte, one of the most amazing being the Iskender kebap. This culinary wonder is a platter of doner layered with a special bread, cheese, yogurt, tomato sauce and eggplant. Order this at one of the popular meyhanes in Beyoglu, so that your first impression is positive. I donít recommend this at cheap restaurants and ĎfastfoodĒ shops unless someone has recommended one as particularly good.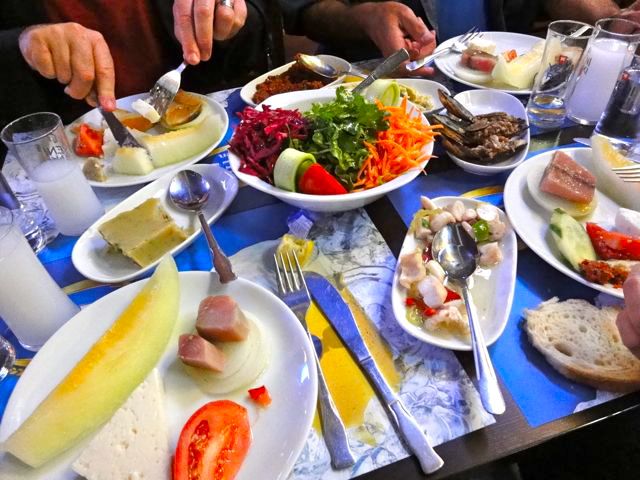 The other key is to order lots of mezes. This is a word that can be used interchangeable in Greece and Turkey without fear. Meze(s) are the little appetizers that precede the main dish. As in Greece, ordering four or five mezes for two people almost certainly eliminated the need for a main dish. Some Greek restaurateurs frown on this practice because they have been jaded by easy tourism, but the Turks, who are far more service minded than the Greeks, are happy to bring you a few mezes.
In general, Turkish cuisine is spicier than Greek, with more complex flavors. You will notice similar dishes--- the little meatballs, salty lemon-cured fish, lots of eggplant and cooked greens, stuffed vine leaves and so on. But within these dishes is more pepper, paprika, cinnamon, cardamom, clove and parsley. Itís wonderful food, but like any traditional food, can get a little repetitive especially if you are coming from Greece. But if you are coming from anywhere else chances are good that when you return home after your trip to Istanbul you will be on the lookout for a Turkish Restaurant in your neighborhood.
Where to Eat in Istanbul
Sirkesi Group Restaurants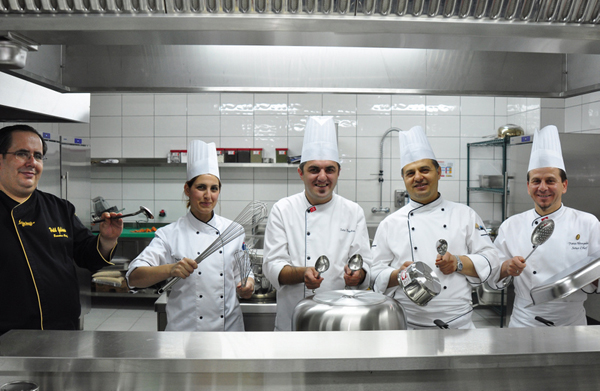 The Sirkesi Group which are featured on the hotels page and who have single handedly turned the previously down-and-out neighborhood of Sirkesi into a haven of great hotels and restaurants, have several excellent restaurants attached to their hotels, any of which will make a night out in Istanbul an epicurean pleasure without sending you to the ATM machine for emergency cash. The Sirkeci Group created several restaurants in the heart of the Old City each focused on a different type of Turkish cuisine in impressive atmospheres, most of them on the roof of their hotels with views of the city and the sea. "Sirkeci Group Restaurants have undertaken certain responsibilities in parallel to the social development and revision movements going on in the Sirkeci area and is continuing to participate actively in projects designed for the Group and for the district. The Group prefers to describe itself as "a group in love with Sirkeci" and aims at stressing the fact that status quo was only obtained as a result of value oriented struggles and to note the work accomplished in the area." In other words they have taken responsibility to improve the quality of the neighborhood by opening very good restaurants.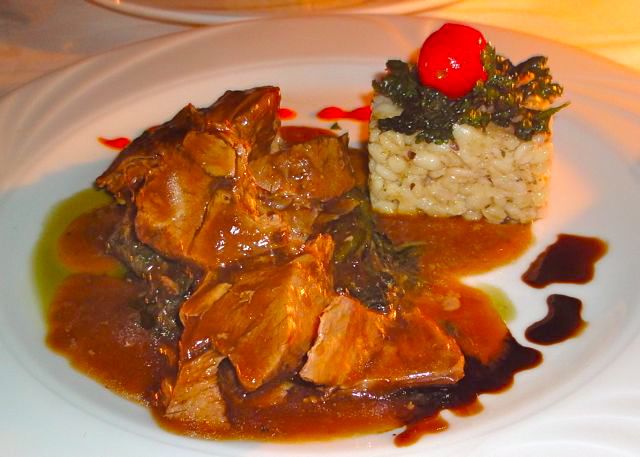 Neyzade focuses on serving delicious dishes from seven regions of Turkey and having eaten there I can highly recommend it, especially to couples looking for a romantic evening. It was the best meal of the trip and though it seemed like the kind of place that would cost an arm and a leg, it was very reasonable. My only complaint is that it was just two of us that night and we did not get to sample more dishes from their menu. Everything was good. Try the roast lamb (photo). They are in the Sirkesi Konak Hotel at Taya Hatun Sokak No:5 which is right off the tram line if you get off at Gulhane stop. You can e-mail them at info@neyzaderestaurant.com or call them at 0212 528 43 44 to make a reservation.
Imbat Restaurant has a fascinating view of Bosphorus and Topkapi Palace.Chef Talat Kizilten graduated from Anatolian Vocational School for Culinary Arts and Tourism in Bolu, where the best chefs of Turkey are raised. They are at Hudavendigar Street No: 34 right off the tram line in Sirkesi. You can e-mail them at info@imbatrestaurant.com or phone them at 0212 520 7161.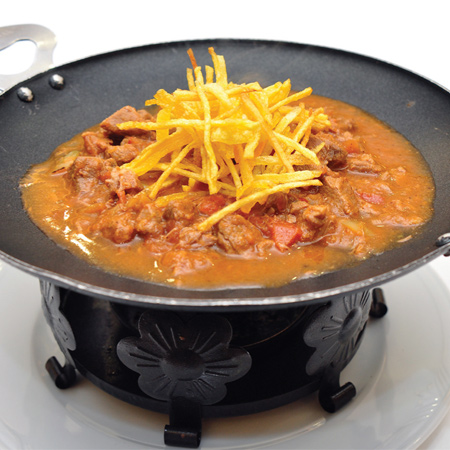 Pasazade Restaurant offer a wide range of dishes from the Ottoman Cuisine, food of the wealthy rulers during Turkey's Golden Age, like Sultan's Chicken Rolls(chicken breast stuffed with pistachio and homemade spices) or Seferceliye (Veat with Quince) or Terkib-i Cesidiye (a 15th Century dish of Veal, lamb, dried apricot, almond, apple, honey, parsley,and potato) or their Seafood Stew which is shrimp, calamari, artichoke, onion, quince, and tomato sauce served on warm smoked eggplant purťe. I could go on but you get the idea. The restaurant is at Ibn-i Kemal Street 5 on the ground floor of the Erboy Hotel. The restaurant is very popular and reservations are suggested so you can e-mail them at info@pasazade.com or call them at 0212 513 3750
Sirkeci Balikcisi (Seafood) serves fresh fish which is caught daily and appetizers and is also in the Sirkesi Konak Hotel. For reservations e-mail them at info@sirkecibalikcisi.com or call 0212 528 4344.
Oh yes, and all the above Sirkesi Restaurants serve beer, wine and raki.
Other Places to Eat in Istanbul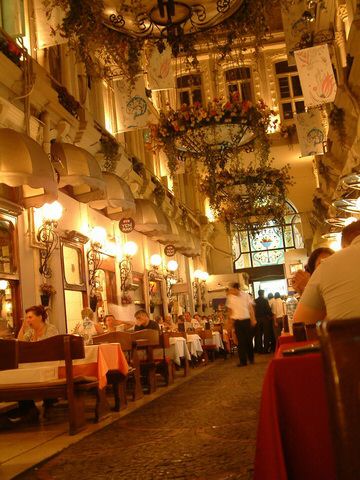 There are decent places to eat in the Cisek Pasaj, the flower passage in Beyoglu though it really is more of a place to drink and be seen. It can best be described as a miniature version of the famous Galleria in Milan, Italy, with a number of historic pubs and restaurants. It is touristy, but still worth the experience. Iíd tentatively suggest Manolya Restaurant in the flower passage, but mostly because that is the one I happened to choose and it was not bad. Iíd recommend eating along the Balik Pasaj which is a fish market street in Beyoglu right off the Istiklal Caddesi and connects with the flower passage. This little street is total madness, but itís wonderful to sit among the passing crowds and eat fried mussels, clams and small fish on a wooden stick, sprinkled with lemon juice and salt. This is a fried food loverís heaven.
If it is good food you want then try Yakup 2 at Asmali Mescit 35-37 in Tunel for good traditional Turkish mezes, kebaps, and reasonable prices. Asmali Mescid is a famous street between Galatasaray and Tunel full of art galleries and cafes.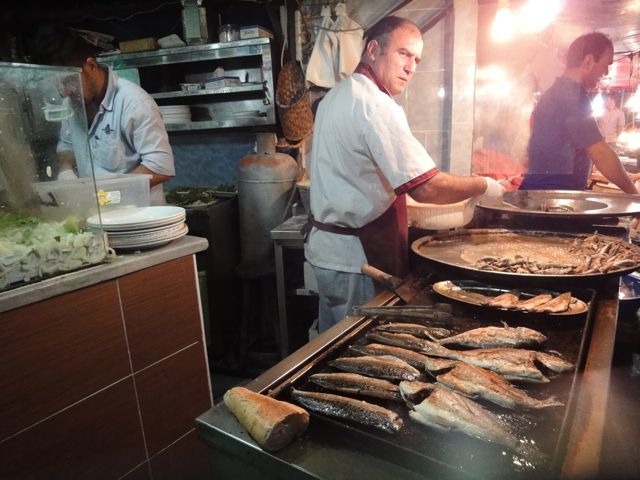 A very good fish restaurant is Akin Balik right on the water, below the Galata Tower and to the right of the bridge (or the left if you are coming over the bridge) just past the fish market in a big old house with lots of outdoor seating in the warm months. It gets busy on weekend nights but once you have a table service is efficient no matter how crazy busy it gets. Lots of fishy mezes and fresh grilled and fried fish which you can pick out and watch being cooked. In the winter all the action moves indoors. If you are a group stock up on meze, they will come around with a tray and you can pick out what you want, and then go for some kind of grilled fish. If you want to know what is in season just keep your eyes open when you walk through the fish market next door.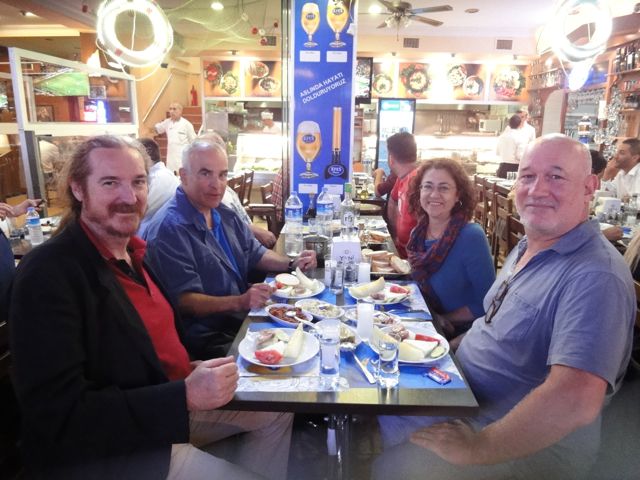 On the Asian side at Kadikou try Hamsipub Balik restaurant at GŁneslibahÁe Street No: 33/B. From the small meze plates we chose the marinated octopus which unlike in Greece is skinned and white so it looks like scallops, the lakerda (marinated tuna just like we eat on Lesvos), grilled squid, saksuka (spicy peppers and tomato and one of our staples), patlican salatasi (eggplant salad), a shrimp dish baked in a clay pot (like saganaki without cheese), and melon served with a salty feta-type cheese. For our main course we had grilled palamidi, which is a small tuna. All washed down with Efe Green Raki. (They normally serve Raki Yeni but Efe Green is better). If it is full don't worry. Just shoot over to Ciya Safrassi at Guneslibahce Sokak 43 where chef Musa Dagdeviren, formerly of the Culinary Institute of America, has been featured in the New York Times and Zagat Survey's Europe's Best Restaurants.
One my friend Stephen's favorite restaurants in Istanbul is off the beaten track (thatís why itís so good) on the far southwestern outskirts of Sultanahmet (still walking distance from the Hippodrome) very near the Aya Sofa Hotel. Itís called Tarihi Cesmeon on Kadirga Liman street. Their house specialty is the Cesme Kebap. The owner and waiters are extremely helpful and friendly and you get to eat outside under hanging arbors, but in a simple neighborhood with kids riding their bikes down the street and vendors pushing their laden carts home after dark.
Hocapasa Street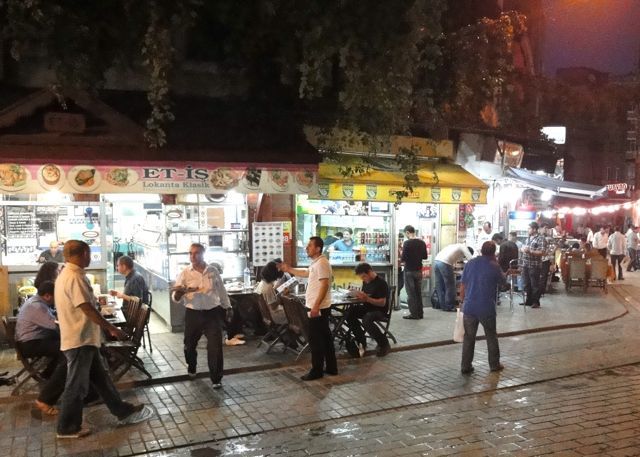 Hocapasa a must-see pedestrian street right across from the Neorion Hotel with lots of small working-class restaurants that serve traditional Turkish food. These restaurants are popular with Turks as well as tourists. Because they are close to a mosque they can't serve alcohol. Or at least they are not supposed to but some of them do in glasses that are made to disguise their content. Try Bolu Lezzet which is a working class restaurant right by the mosque on Hocapasa Street which was recommended by my pal Cem. It's one of those restaurants that you can see all the cooked foods and you just point to what you want. They serve soups, salads, cold and hot vegetable dishes, grilled lamb, beef and chicken and are open for breakfast, lunch and dinner. On the same street you can also try Sehzade Cag Kebab which serves meat cut from a sort of horizontal doner, not that it makes any difference whether a doner is cooked vertically or horizontally but this is cooked by a wood fire and not an infrared grilling machine or gas or whatever the other doner places use. Et Is Lokanta Klasik is also a popular kebab place with both Turks and tourists as is Ozbolu Kebab House at Hocapasa 33. Both serve grilled meats as well as point-and-choose oven cooked dishes. Tarihi Adana Sofrasi also on Hocapasa at #47 has a large selection of kebabs, grilled meats, grilled, fried and baked fish and an assortment of pides which are like pizzas in the shape of a boat. Just imagine a pizza that is folded over to make a sort of tub that is filled with cheese, lamb, vegetables, and baked in a pizza oven. (When we were kids in Greece there used to be restaurants that specialized in these beyond Kifissia, near the National Road and we would get stoned and play Risk and then go for what we called cheese-boats because they were opened all night.) Most likely if you are traveling with your kids, these pides will be their favorite thing about eating in istanbul and they can be found all over, just like kababs.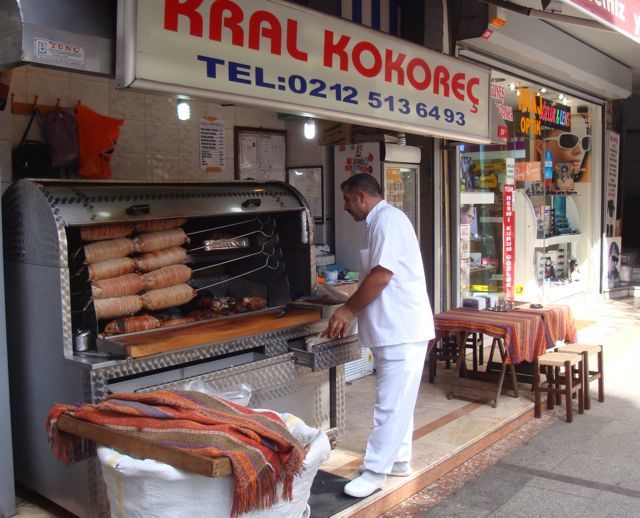 For those who are looking for kokoretsi or as the Turks call it Kokorec, try Kral Kokorek which is run by Hasan Usta, who hails from the eastern Turkish city of Ardahan, and has been operating since 1992 at 54 Buyuk Postane Street right by the Spice Market. Hasan Usta has been involved in kokoreÁ business since the 1980ís, starting with a small cart. And what is kokorec you ask? It is the intestine of a lamb, wrapped around organ meats and grilled rotisserie style to mouth-watering perfection and most serious carnivores who have tried it have dreamed of it ever since.
Kebab stands are to be found all over the city. In fact if you are hungry it is tough to pass one by. For a sitdown kebab meal with a great view try Hamdi, which is listed in most guidebooks but also recommended by my Turkish friends. It is at Kalcin Sokak in Eminonu (Sirkesi) close to the New Mosque and it has a view of the Golden Horn and the Galata Bridge. Unlike many kebab places they serve alcohol.
A word for vegetarians. While most kebab shops will stare at you as though your head is cut off when you ask for a non-meat sandwich, there are good alternatives in sit down restaurants. Trying to convey your request if you donít speak Turkish is another story, but most of the mezes are vegetarian and there is always the mixed salad and plenty of bread. Yemek Var-mu or some variation thereof, means ď food without meatĒ. You can try to say that if all else fails.
Check out Sirkeci Street Food Tour
Street Food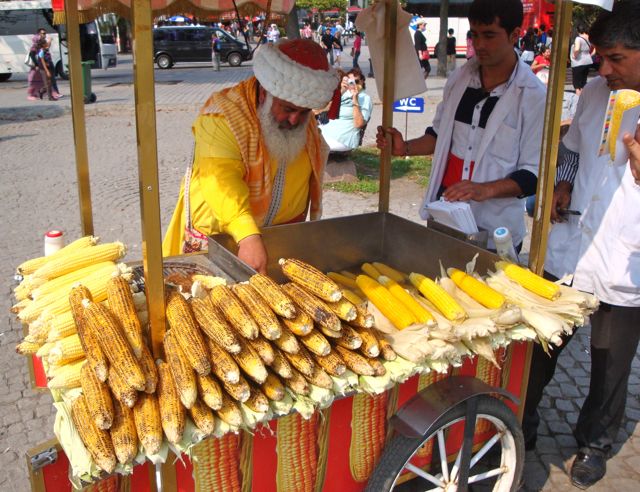 You don't have to eat in a restaurant or even in a fast food joint to get a good meal in Istanbul. Besides the yummy Balik Ekmek (fish sandwhiches) that are sold by the Galata Bridge there are street venders selling corn on the cob (misir), some grilled and some boiled, roast chestnuts (kestane), the old man at the Eminonu dock who sells pickles and his life-enhancing pickle juice, and the carts that sell pilaf which as the name suggests is rice. There are also people selling simitis which are to the Turks as koulouria are to the Greeks, sort of pretzel looking donuts that are softer and usually coated with sesame seeds. But the winner in the street food contest are the midye dolmasi which are mussles stuffed with rice, pine nuts, currants and herbs that are squirted with lemon and sold individually, not just on the street but in shops and newspaper stands. Just walk up to the guy selling the mussels and point, they come in different sizes for different prices in some places, and just keep eating til you can't eat anymore and he will tell you what you owe. It won't be much because you can't eat as many midye dolmasi as you think you can. But you can try. Try a glass of pomegranite joice, squeezed on the spot by guys muscular enough to squeeze the juice out of a pomegranite. It taste's great and it has to be good for you.
Tea (and Coffee)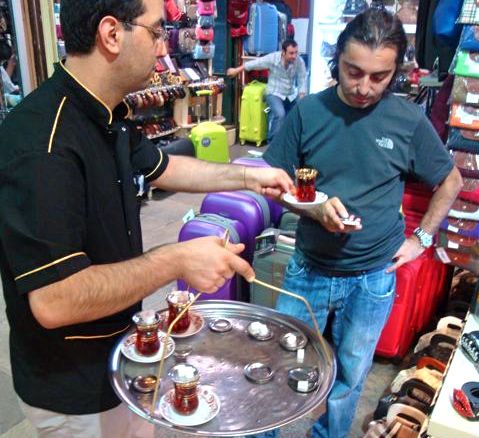 Tea is everywhere and everything in Istanbul. You will be offered chai, as itís called, after every meal, sometimes before, and in between. This ritual is perhaps the most central act of Turkishness. Offering chai to a traveler and accepting chai as a traveler is a sacred tenet of hospitality and friendship. My best experiences in Turkey occurred over one of those tiny sweet glassed of potent black tea. Itís incredibly digestive, and with sugar, almost like having a desert after your meal. Trying to estimate how many of these little cups the average Turk downs every day is an impossible task. Be forewarned, itís addictive. And coffee, Turkish Coffee as the Greeks used to call it and the Turks still do, is taken in the afternoon and evening. Yes, taken, as it is like a drug and will keep you going long into the night much like a quadrupple shot of Starbucks. And yes you can find espresso and capuccino just like any other major European city including Starbucks.
Wine and Beer and Raki
I had my first glass of raki two minutes after entering the Hotel Neorion, where they give you a glass as a welcome. I drank many more in the course of my visit and I have to confess that it somehow kept me from feeling the full effects of my flu and I was able to keep up with all my Turkish and Greek friends, outlasting them several nights. The most popular raki is Yeni. But being a connoisseur of ouzo, and refusing to drink anything except pure distilled spirits I asked the bartender at the North Shields Sports Bar if there was a pure version of Raki and he turned me on to Efe Green. So ask for that and when you order it at the restaurants not only will the waiter be impressed but you will probably end up really liking raki. As for beer, there are a number of Turkish beers by Efes: Efes Pilsen, Efes Dark, Efes Light, Efes Extra, Bomonti and Marmara as well as a coffee-flavored Efes Dark Brown and a local version of Foster's Lager. Needless to say you should not have any problem finding a beer you like and if you don't like the Turkish beer there are imports available.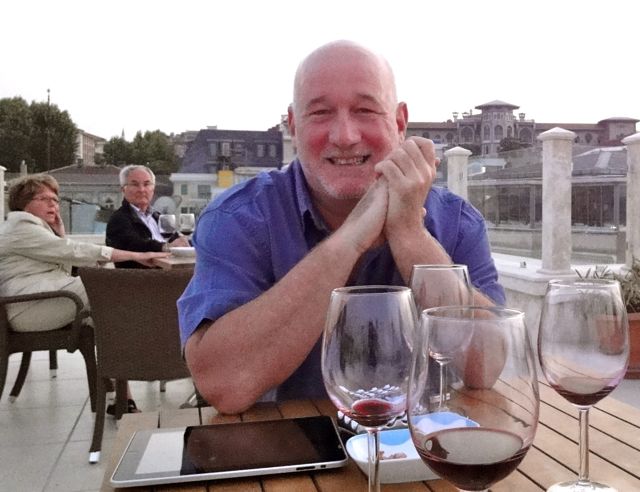 They have been drinking wine in Turkey since well before the French and Italians because the Ancient Greeks who used to live here pretty much discovered and perfected it and then sent their vines all over the world. I did all of my Turkish wine drinking on the rooftop of the Hotel Neorion where they served it for free between 6 and 7pm every evening. It was a Cabernet Sauvignon made by Patara and it was very nice and went well with the sunset and the free salty peanuts they served. Ordering wine in the restaurants can be hit or miss since some restaurant owners don't know what good wine is supposed to taste like since they don't drink. In more upscale restaurants like those of the Sirkasi Group, they have a fairly extensive list of Turkish wines at reasonable prices and even some French wines for those who are nervous about experimenting. We had the Turkish Chardonnay/Sauvignon Blanc called Patara which cost about 30TL a bottle, not too outrageous. Patara also makes the red, Cabernet Sauvignon I mention above. How many restaurants outside the Sirkeci Group carry this wine I don't know. We pretty much struck out on house-wine at other restaurants. But you can probably survive your trip by asking for any of the following wines all of which are reasonably priced:
Villa Doluca Neo or Classic
DLC Shiraz
Kizilbel Merlot, Shiraz, ÷kŁzgŲzŁ
Kizilbel Cabernet Sauvignon, Bogazkere
Angora (white)
Ancyra Narince (white)
Isinda (rose)
Sweets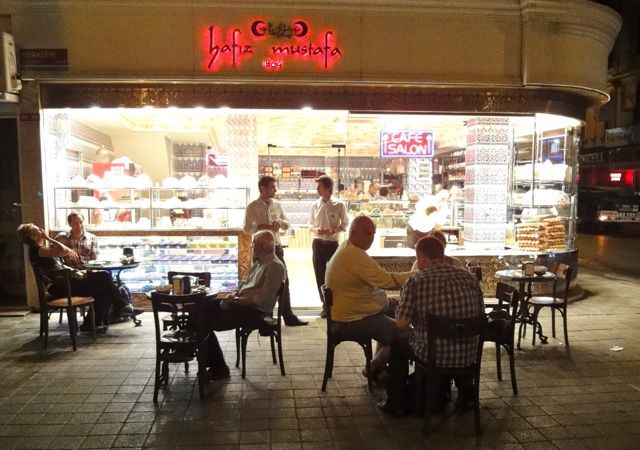 Where to begin? I know! Go to Hafiz Mustafa Sekerlemeleri and taste everything in what we would call in Greece a zacharoplastion(sugar shop). Mountains of loukoum, towers of baklava, kadayiff, pastries, puddings and a staff that won't allow you to leave without tasting something. Turkey is a dream come true for sweets lovers. Baklava is made either with pistachio or walnut and layered filo dough coated in honey or sugar syrup. There are a number of baklava-like desserts which are variations of this. Kadaif is similar but uses a kind of shredded wheat and is also coated in sweet syrup. SŁtlaÁ is rice pudding, and kazandibi is a sort of baked pudding where they slightly burn the bottom to give it a sweeter flavor. Loukoum, or Turkish Delight is a gummy sweet, usually fruit flavored roll or cube, sometimes with nuts in it and something you either love or you don't. (I hated it as a kid but love it now). Its packaging also makes it one of the best gifts to bring back to your family or friends, where it will probably sit unopened for years until they happen to invite some Turkish friends over for dinner and then it will be eaten in one night. There are sweet shops all over the city but if you want to go to Hafiz Mustafa (as we did every night) it has three locations. We went to the one at Hamidiye Cadessi 84-86 right by the Sirkaci Railway Station and on the Tram Line, where it has been since 1864.
Turkish ice-cream is amazing and the guys who sell it are totally entertaining. Make sure you try some. You may decide that it is the best ice-cream in the world.
Breakfast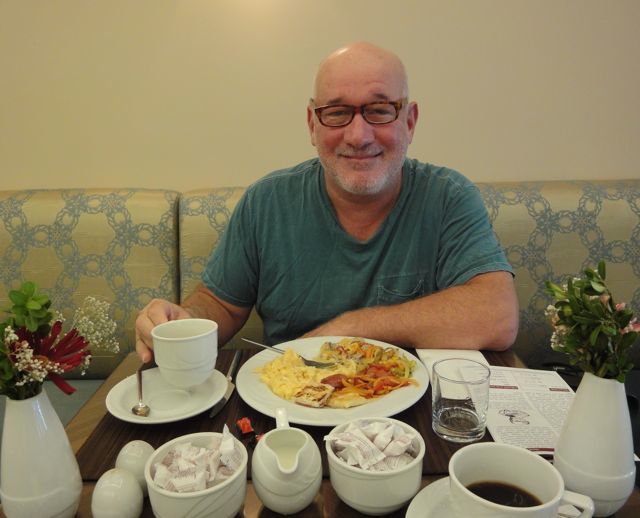 Concerning breakfast, a meal many people can't live without especially if they plan on a day full of tourism: It's a tricky issue because you want to eat enough to give you the energy to do the things you need to do yet at the same time you don't want to eat so much that you don't feel hungry enough to have lunch since there are so many good things to eat in Istanbul and you will want to try them all. Maybe you don't have this problem and can eat as many meals as you can afford in a day and not even get fat. If so I envy you. I did not want to fill up on breakfast because it is my least favorite meal of the day, and I really did want to eat as many kebabs and street food as I could fit in the time that I had and still be able to go to a nice sit-down restaurant at night. Unfortunately the breakfast buffet at the Hotel Neorion was too enticing and since it was included in the price of the hotel I found it irresistable. Maybe this particular hotel is a special case since the group that owns it also owns several of the best restaurants in Istanbul. But if breakfast is important to you, especially a healthy breakfast, then I recommend you stay at the Neorion or one of its sister hotels in the neighborhood and just get an early start so you will be hungry at lunch. If your hotel does not have breakfast there are plenty of things in the cafes and street food that will tide you over until lunch.
By the way... you can click on all these photos to see them full size. You can also see more in Turkish Food Photo Album