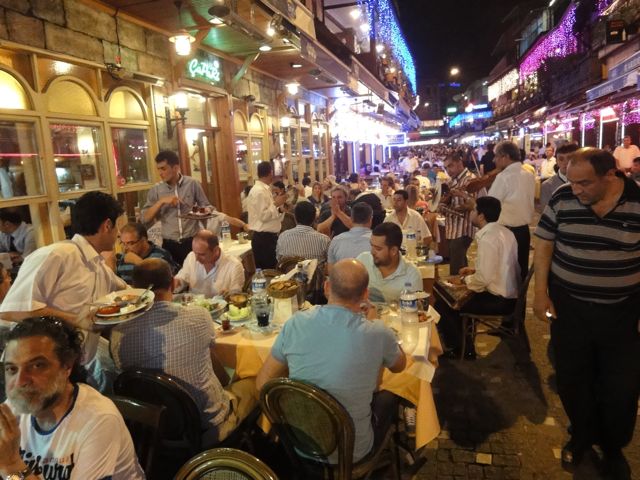 If you cross Yeniceriler Cadessi from the Grand Bazaar and walk down Tiyatro Cadessi (in case you have not figured it out Cadessi means avenue) or down Carsikapi Cadessi you should find yourself in Kumkapi, the old Armenian quarter which is now I suppose a Kurdish quarter and will one day be the quarter of another up and coming group. It is a mixture of small shops and some restaurant and hotel spillover from Sultanhamet and lots of old apartment buildings, some in good shape and others falling down. If you do what I say then you should end up at Kumkapi Meydan, a small circle with a fountain that has streets lined with fish restaurants leading to it. But if you do what I did you will miss it entirely and end up wandering through the back streets of the neighborhood until you finally find an opening that gets you to the sea by following people carrying fishing poles and hoping they are going fishing instead of going home from fishing.
Kumkapi is to fish restaurants as... well I don't know what to compare it to. In Athens we have Microlimano (Small harbor) formerly Tourkolimano (Turkish Harbor) which has a dozen or so fish restaurants surrounding a small harbor of fishing and pleasure boats. Kumkapi has dozens, maybe hundreds of fish restaurants, one after the other, all serving meze and grilled or fried fish, and at night, particularly weekends during nice weather they are all packed and you can barely walk down the street it is so crowded. There are musicians in each restaurant and unlike in Athens where you pay them to leave you alone, here you pay them to stay and entertain you, and you can take it from me, a musician, the ones I saw are quite capable of entertaining anyone. Of course there are gypsies and other types who come to your table and try to sell you things. You know, essentials like turbans and fezes or a human sized stuffed mouse that you can put in the chair across from you and pretend you are not eating alone. They pretty much leave you alone if you ask them to and since it is the same few people going back and forth with different stuff you don't have to ask very often before they get the message that you are not a buyer, at least not until you are on your third or fourth glass of raki and then maybe.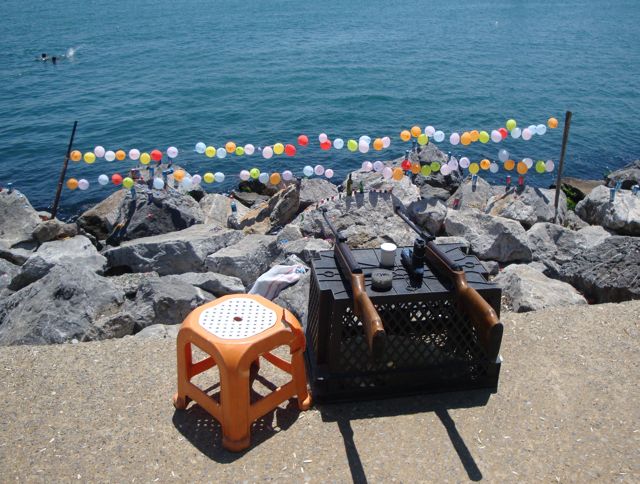 But during the day the restaurants are pretty much empty and the street venders are down by the sea where all the people are, especially on the weekend. By the time we extricated ourselves from the maze of narrow streets and found a way to cross Kennedy Cadessi to the park that follows the coast, Andrea was too hot to go any further and sat down on one of the small stools in the shade of a pine tree. She was immediately approached by a man who wanted to take her order. She was confused because she did not see a tea shop within a mile. She realized that she was sitting in one of the stools from a makeshift tea house in the park, one of dozens, hundreds for all we knew. Some were in vans. Some on bicycles. Some no more than a cloth covered board on cinder blocks. There were also people selling food. And many families had little grills and were grilling meat. On the sidewalk that ran between the sea and the park there were venders selling watermelons, nuts, fresh squeezed orange juice-squeezed as you watch and lots of other things. By the sea there were kids swimming off the rocks, a young guy hauling large bags of mussels out of the water and strangest of all a small table with two rifles and a pistol where you could shoot at colored balloons or the line of bottles placed on the rocks like a makeshift penny arcade. Of course the targets were by the sea so you would not hit anyone should you happen to miss the bottle or the bullet happened to pass through the balloon, as bullets often do. Unless of course someone happened to be swimming by, or in one of the paddle boats for rent though I am assuming the weapon was of such a small caliber that any injury was unlikely to be fatal.(In case you are worried I was told later that they are BB-guns, not that you would want to swim there anyway).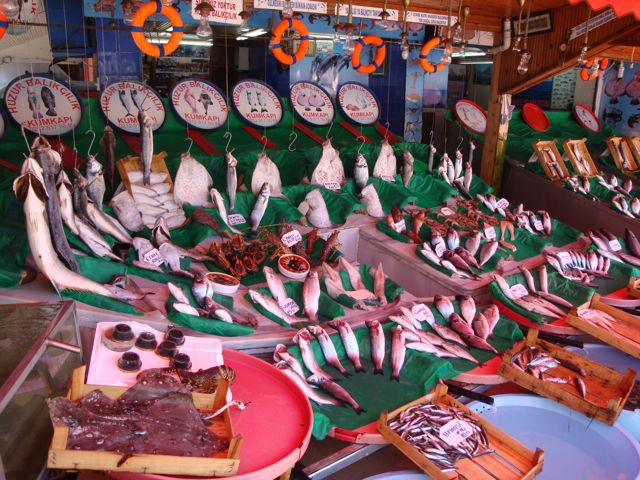 As we walked west along the shore we came to the first of the restaurants in the Kumkapi Seafood Bazaar. Andrea and Amarandi were walking ahead and ignored him but the first guy grabbed me and began telling me about his restaurant. "You see this restaurant. This is a very special restaurant, not like all the others. First of all we have our own fish market so the fish is fresh, not like the others. Come I show you. Also we cook on wood fire. Not like the others. They all use gas." I walked past half a dozen restaurants and they all told me the same thing. They were all the only fish restaurant with a fish market that used wood instead of gas. So how do you choose the best restaurant when every single person has told you something that one way or another has to be a lie?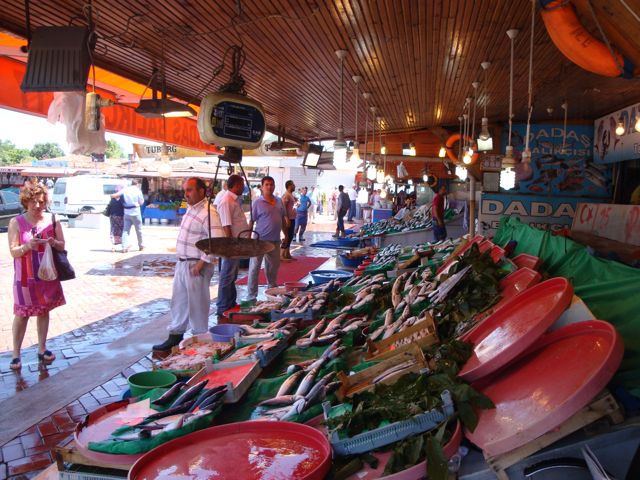 If you are Andrea you say forget this place. I am not eating at any of them (despite the lovely view of the sea). Or you be like Amarandi and go to one of the balik-ekmek places and just get a plain piece of mackerel on a piece of bread with some onions and iceberg lettuce. (They love iceberg lettuce here). They had stuffed mussels too. Only these places you have to either stand in the hot sun and eat it or go into a small hole of a restaurant with no view, no windows and no air-conditioning. Or you be sensible, like me and go to every fish market and see which one has the best fish and then go to that restaurant and hope it does not use gas. However the fish market guys were the same. Only this time it was "We are the only fish market that has a restaurant. Our restaurant only uses wood, not like the other fishmarkets who even though they don't have restaurants, if they did they would all use gas." It was hopeless. And even if I chose the market with the best fish how do I know that the fish I saw was the same fish that would end up on my table. One guy told me that I could pick the fish from the market and they would cook it. But anyone who has eaten a barbouni(red mullet) in Greece knows that after a fish has been fried at 375 degrees it does not look anything like the beautiful red fish you ten minutes ago. So we decided to try the Stephanos Papadopoulos method for choosing the best restaurant. We would go to the restaurant where they didn't seem to give a shit whether you ate there or not. Andrea found one. It had plastic tables and chairs and no patio but it was in the shade of a big pine tree. Unfortunately it turned out to be one of those temporary tea houses. So as often happens we gave up and just went to the next place we came to and told ourselves we were too hot to eat anyway so we would just get a salad.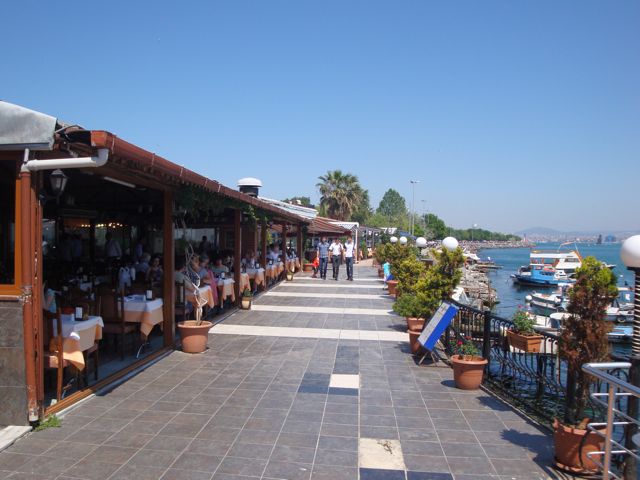 It was a lovely restaurant with a view of the fishing fleet of Kumkapi, fancy glasses and tableclothes and each table had a drawer at the end where the waiter could replace your napkins and silverware as you used them. If you ever come to Istanbul and go to one of the nice restaurants at the Kumkapi Fish Bazaar try this: First make the guy go through the whole rap about why this is the best restaurant and be sure to ask lots of questions and leave and come back several times. Finally when he has 'convinced' you that this is the best restaurant in Kumkapi go in and try several tables before settling on the one with the nicest breeze and the best view. When they give you the menu spend a long time scrutinizing it and make sure you ask the waiter to give you a few minutes because you are not ready to order. Then when you feel you are ready order a salad. Whatever they ask you after that say "no thank you, just a salad." When they show you the meze platter ask what each one is and whether it is vegetarian or cooked in anything that meat has touched. Then ask if any of them were in the same room as a goat. They will assure you that they have not but just tell them all you want is a small salad. Then, right before they beat you up and throw you into the sea, tell them you were joking and ask them to bring out the fish. This is pretty much what we did only our arguing amongst ourselves was so entertaining to the waiters, they had no intention of kicking us out even if we had ordered a bowl of hot water and salt.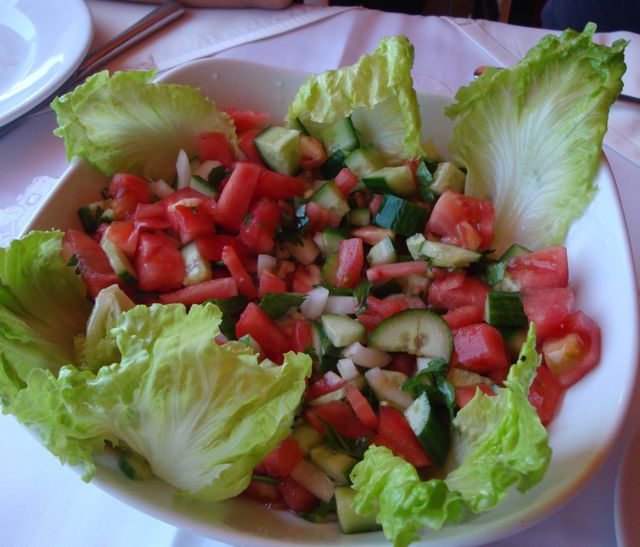 The salad was excellent by the way, made of chopped tomatoes, cucumbers, onions and parsley, surrounded by lettuce (iceberg) and we did get a couple appetizers. The ezme (tomato and pepper salad) was good though not as good as at the hotel. We ate this with just about every meal as did everybody else we saw, Turks and foreigners, and yet it was not listed in the meze section of our 2003 Lonely Planet. Maybe it had not been discovered yet. Amarandi got the swordfish kebab and I ordered the lavrek, both grilled. The lavrek was fresh, the sword fish I have my doubts about unless it happened to swim into the harbor and someone was lucky enough to catch it that morning. The thing about eating fish in Turkey, which I may have mentioned before, is that when you order a fish, you get a fish. You don't get a fish and some rice and vegetables on the side and perhaps a little butter sauce or olive oil and lemon or tarter sauce. You get a plate with a fish on it. Maybe a wedge of lemon and some kind of green leaf that is more for appearance than something that augments the taste. But for the most part we were eating at tourist restaurants. Maybe it is different in Kadikou or Fener. If you love the taste of fish and you know fresh fish from fish-sticks you will probably enjoy the fish restaurants though my experience was that after sharing a bottle of raki and eating a dozen different mezes, the fish is almost like desert, and then you have to deal with the actual desert. No wonder I put on five kilos in five days.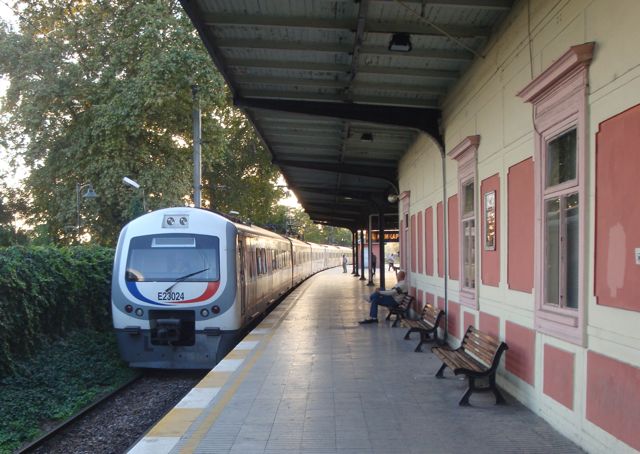 Getting back to Sirkeci is easy from Kumkapi. Especially since we had our Istanbulkart. We crossed the street at the light and walked past the entrance to the street full of fish restaurants which we had missed on our journey from the teashop and walk west about fifty meters to the Kumkapi train station. The train comes about every fifteen minutes and goes right to Sirkeci Station just a couple blocks from our hotel where we arrive just in time for the free mezes that they serve every afternoon. After a short nap we are ready to go up on the roof for the complimentary wine and the too delicious salty red peanuts that make dinner unnecessary even though we eat it anyway. From there we go to Pasazade, the Ottoman restaurant which is owned by the same people who own our hotel and the only restaurant we ate at twice during our trip. Visiting Istanbul is like visiting Paris, both places with enough interesting things to do to pass the time between meals.

We returned to Kumkapi for dinner later that week. Hasan from Fantasytravel's office in Turkey came by the hotel and after a glass of wine on the roof we drove right to the entrance to the restaurant street, through the old city wall to a big parking lot surrounded by old houses built into the crumbling remains of the ancient city. Hasan's restaurant of choice was the Okyanus very close to the entrance and we sat down and order a raki right away. He likes Yeni Raki but I convinced him to try the Efes Green which he had never had before and either liked or pretended to like to keep me from feeling uncomfortable about being so insistent which I don't know why I was. I pour so much water in my raki that it does not matter which I drink. But once someone tells me that something is the best I usually keep drinking it until I decide they are wrong. The streets are filled with people and so are the restaurants. We have a table closest to the street and there is a small group playing traditional music going from table to table. Across the street there is another group playing traditional music going from table to table, as there is in the restaurants on either side of us. Unlike in Greece where the musicians go from restaurant to restaurant and it is seldom that they last more than half a song before being given a half a euro and shooed away so people can continue their conversations, in Kumkapi the groups are hired by the restaurants to play and then go to the different tables to give individual performances and gather a few Turkish lira in tips. Our band had a lead singer who played the santouri, a violin player, an aoud player and a drummer and they were pretty good. When Hasan invited them to our table Andrea complained as she always does when the musicians appear. We tell people she does not like music but she claims it hurts her ears when they stand behind her playing and singing at the top of their lungs. But we are talking about someone who sat in the front row when Jethro Tull played at the Herodion so how much could one guy with an aoud bother her ears? But the little group was entertaining and put on a good show and despite not knowing one word of Turkish or anything about Turkish traditional music we somehow laughed at the funny parts and clapped at the right moments.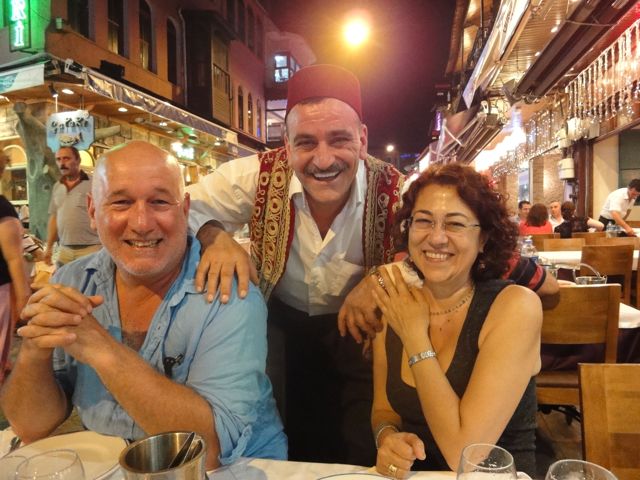 In the meantime the waiter had brought us the meze tray with the saran-wrapped dishes that you choose from at every restaurant of this type which had some variation from previous restaurants but not much. We picked out our usual favorites and a few we had yet to try, ordered some fried squid and baked shrimp in tomato sauce and polished off the bottle of raki. We also had a beautiful salad, a mix of lettuce, cherry tomatoes and corn. Most of the good restaurants we went to were very creative with their salads. Then they ask what fish we would like but by this time we are so full of appetizers we are not really in the mood for fish. But Hasan orders a lavrek and I order fried barbouni to share with Amarandi, though they bring us koutsomoures instead which are similar and to some people just as good. Probably one in a thousand tourists can tell the difference between the two fish but the reason I had ordered them was because the Greeks always say that their barbounia from the Aegean are the best and I wanted to see if this was true by comparing them to the Sea of Marmara barbounia. I know they have them because I saw a guy catch one off the Galata bridge. But these koutsomoures don't have the sweetness of the Greek barbounia or even the Greek koutsomoures for that matter. Between you and me, I think they were frozen. I didn't really care. They tasted like fried fish and you could eat the whole thing, bones and all and after eating twenty plates of meze you just want to eat enough of them to not be insulting to the restaurant, or your host or the fish. Somehow between Amarandi and I we were able to finish them though.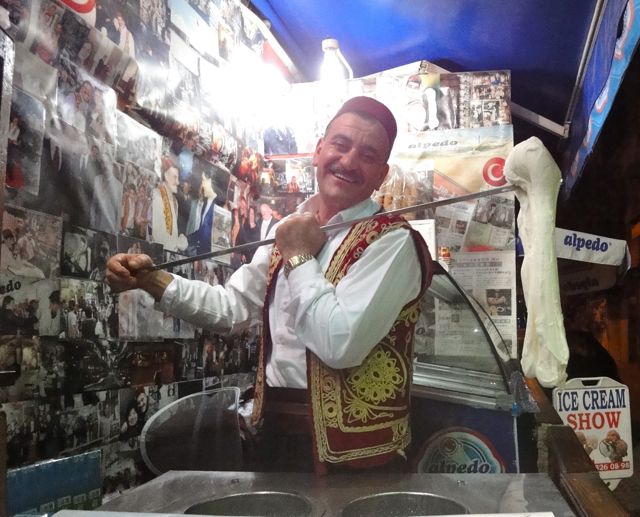 No sooner was the plate empty when the waiter appeared with several new plates of fresh fruit and another of halva which Hasan took across the street to the famous Nurettin Disceken who has been entertaining Tourists and Turks alike with his ice-cream show, and had him put a large scoop, well a slice actually, on top of every piece. Let me take this opportunity to say that of all the foods we ate and loved in Turkey, the one thing that they did better than anywhere in the world, (including the USA!) was ice-cream. I have gone from Carvel to Baskin Robbin to Hagen Das to Ben and Jerry's and even my very own grandfather was a well known ice-cream maker in Hicksville, Long Island. I myself was an ice-cream maker for a time at Bob's Ice Cream, one of the best ice-cream shops ever, owned by a group of sanyassins of Rajneesh in the seventies, so I know good icecream and Turkish icecream is the best. It is not the flavor. Anyone can make good tasting ice-cream and the Turkish ice-cream tastes amazing. But It is the texture that sets it apart from the other amazing tasting ice-creams of the world. It has an elasticity which not only makes your mouth happier but also enables the guys who sell it, usually dressed in traditional Turkish ice-cream seller attire, to do all sorts of tricks with it when you buy it from their stands which are all over Istanbul, even in the airport. Turkish ice-cream is called Dondurma, which means 'freezing' and comes from the region of Maras in Southeastern Turkey. What makes it thick is salep which is made from the root of the Early Purple Orchid and is also sold as a therapeutic tea in Turkey and in Greece. What makes it chewy is the mastica which generally comes from the Greek island of Chios just off the coast of Turkey, which also has medicinal uses as it contains antioxidants, and has antibacterial and antifungal properties. Altogether it makes for a very tasty, very healthy, very entertaining desert and even after a twenty meze and fish meal there is still room for Turkish ice-cream.