Holidays in Turkey
The Holy month of Ramadan is not a set date, it changes from year to year and it is a period of fasting so you may not find the kind of restaurant life you will at other times since Muslims don't eat from dusk until dawn. Kurban Bayrami celebrates the Muslim version of the Sacrifice of Abraham and banks and businesses are closed for four or five days. Because it is the time of the annual pilgrimage to Mecca travel in Turkey is difficult. As the Greeks do on Easter Sunday, the Turks eat lamb, sacrificing it though rather than buying it from the market. Restaurants are open during this period as are many shops after the first day. Other holidays include New Year's Day, National Sovereignty and Children's Day (April 23), Youth and Sports Day (May 19), Victory Day (August 30), Republic Day (October 29). Other events include the International Tulip Festival (there are over 3 million tulips planted in Istanbul and this is when they bloom) and the Istanbul Film Festival in April, the International Istanbul Music Festival and the Efes Pilsen One Love Festival which are both held in June, the Istanbul International Jazz Festival in July, the visual-arts festival in September called the International Istanbul Biennal, and the Akbank Jazz Festival. In November is the Efen Pilsen Blues Festival.
Visiting Mosques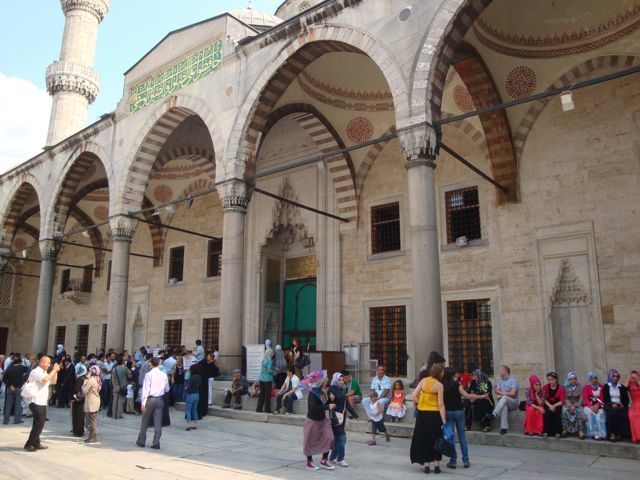 Women should cover their heads with a scarf and should be dressed conservatively as they if they were going to church. Pants are acceptable as long as they are not tight or show off the body. Dresses should be long, to the knees at least and arms should be covered too. Women should not sit with the men. Short sleeves shirts for men are OK but shorts are not. Shoes must be removed and either left outside or taken inside in a bag or left in racks in the entrance. Some mosques will provide a bag for shoes and shawls for women too. Walk quietly and respectfully and walk behind those praying, not in front of them. You can take photos unless forbidden but not during prayer and don't use a flash. If you photograph individual people you may want to ask permission. Most Mosques will have a sign outside that has the rules for entry. Some mosques have a visitorís area where you can see the inside of the mosque even during prayer times. Those that don't should probably not be visited during prayer time unless you are Muslim of course. Most mosques are open all day for worshippers and visitors and others may be opened by asking the Imam. And be sure to switch off your cell phone before entering.
Entering Turkey
You need a valid passport and you will have to buy a tourist visa at the airport, which lasts three months. Prices vary by the country in a way that I don't understand, for example people from the USA pay $20, people from Ireland pay $10 and Canadians pay $60. There are some passport holders who are required to have a visa in advance but chances are if you are reading this you are not from one of those countries. If you think you may be contact the nearest Turkish consulate.
If you are arriving by cruise ship for a day trip to Turkey, you do not require a visa as long as you are not staying on shore overnight. If you are planning to stay more than three months for any purpose, you must obtain a visa from a Turkish Embassy or Consulate. You must also apply for a residence/work permit or Turkish ID card within the first month of your arrival in Turkey. This includes anyone who plans to spend more than three months doing research, studying, or working in Turkey. you should not stay beyond the date permitted on your visa or residency permit. You run the risk of being deported, fined and kept out of Turkey for three months to five years. The length of the ban is determined by the length of the "overstay."
If you come from Denmark, Finland, Germany, Greece, Italy, Japan, New Zealand, Sweden and Switzerland you can stay for three months without a visa.
Turkish Money
Turkey uses the Turkish Lira (Turk Lisari) or TL for short. At the time of this writing the exchange rate a US dollar was about 1.40TL. A typical Turkish meal will cost about 15TL in the cheaper restaurants, even cheaper if you just get a kebab or something simple in a working class restaurant. A beer costs between 5 and 15TL. A cheap hotel will be about 40 to 60TL, just to give you an idea of what things will cost. Yiou can change money at the airport or around the city and if you use your ATM card you will get the money in Turkish Lira. Many places accept euros and dollars too.
Crime in Istanbul: (From US State Department)
While the rate of street crime remains relatively low in Turkey, it has increased in large urban centers such as Istanbul and Izmir. In Istanbul, petty street crime is most common in tourist areas such as Taksim Square, Sultanahmet, and in the areas around the Grand Bazaar and Spice (Egyptian) Bazaar. You should carry a copy of your passport and visa with you and leave your U.S. passport in your hotel safe. Carry only what you need when in these areas.
As in other large metropolitan areas throughout the world, common street crimes include pick pocketing, purse snatching, and mugging. Often the crime is preceded by some sort of diversion such as an argument, a fight, or someone bumping you. Do not be complacent regarding your personal safety. You should use same precautions you would in the United States. Female travelers are urged to exercise caution and use common sense. Female travelers should request a female attendant in the "mixed" Turkish baths, or hamams. Incidents involving the use of "date rape" drugs (Nembutal and Benzodiazepine) have been reported.
Cultural Artifacts: (From US State Department)
Turkish law has a broad definition of "antiquities" and makes it a crime to remove any from the country. Offenders are prosecuted. All historic sites, and everything in them, on the grounds, or in the water, are the property of the Turkish government. If you buy antiquities, uses only authorized dealers and obtain the museum certificate for each item they are authorized to sell. At departure, you may be asked to present a receipt and the certificate. Failure to have them can result in your arrest and jail time.
MEDICAL INSURANCE: (From US State Department)
You can't assume your insurance will go with you when you travel. Find out BEFORE you leave. You need to ask your insurance company two questions:
Does my policy apply when I'm out of the U.S.?
Will it cover emergencies like a trip to a foreign hospital or an evacuation?
In many places, doctors and hospitals still expect payment in cash at the time of service. Your regular U.S. health insurance may not cover doctors' and hospital visits in other countries. If your policy does not cover you when you travel, it's a very good idea to take out another one for your trip.
U.S. Consulate General in Istanbul
UÁsehitler Sokagi No. 2, 34460, Istinye, Sariyer
Telephone: (90) (212) 335-9000
Visa Information: ACS_istanbul@state.gov
Emergency after-hours telephone: (90) (212) 335Ė9000 (ask for American Citizen Services)
Facsimile: (90) (212) 335Ė9102