Corfu Private Villas
Corfu Private Villas offers you a premium villa holiday experience through years of experience as a family run business All the luxury villas have been carefully hand picked to offer you a great choice of the best villas in Corfu in which to enjoy your holiday with your family and friends. Each villa has been selected because it meets a strict criteria for offering the highest possible standards of luxury, comfort and style. Every villa will provide you with everything you need for a peaceful and relaxing break, perfectly complimented by exceptional levels of personalised service. Click here for photos and more information and to book directly with the owner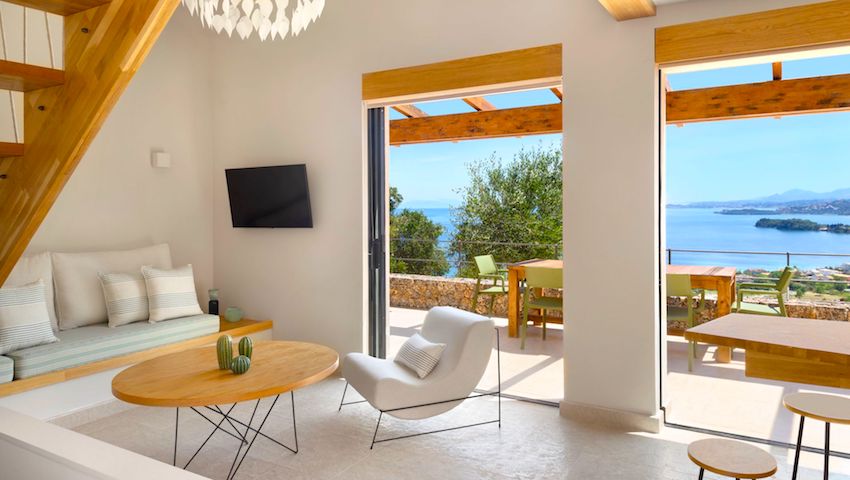 Greenstone Villa
Greenstone Villa is one of a kind property right by the sea. It is situated close to Ipsos Beach, on top of it's outstanding positioning, this luxuty Villa boasts the latest technology and modern facilities to ensure its residence guests will spend the holiday of their lifetime. The Villa offers views to the sea from all the indoor and outdoor areas. The property consists of 3 bedrroms, 3 bathrooms and outdoor sitting and dining areas as well as a modern outdoor pool. Click here for photos and more information and to book directly with the owner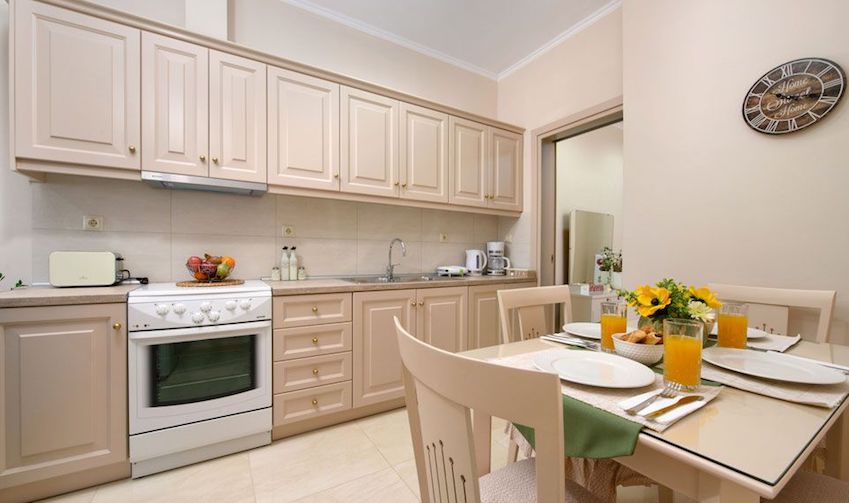 Nostalgia Corfu Town Luxury Apartments
These 5 recently renovated, modern, airy and spacey holiday apartments are conveniently situated close to Corfu Town and Corfu International Airport. Immaculate clean, bright, and different in sizes, these holiday apartments provide you with the ideal escape environment for any type of traveler that wants to enjoy the historic and cultured center of Corfu Town with family, friends, their loved one or solo while being very close to restaurants, cafes, museums and beaches. Nostalgia Apartments are only 1.5 km away from the center of Corfu Town and offer a variety of holiday homes and are available to suit your needs. The apartments are comfortably and modernly furnished and equipped with full kitchen facilities making them a home away from home! Click here for photos and more information and to book directly with the owner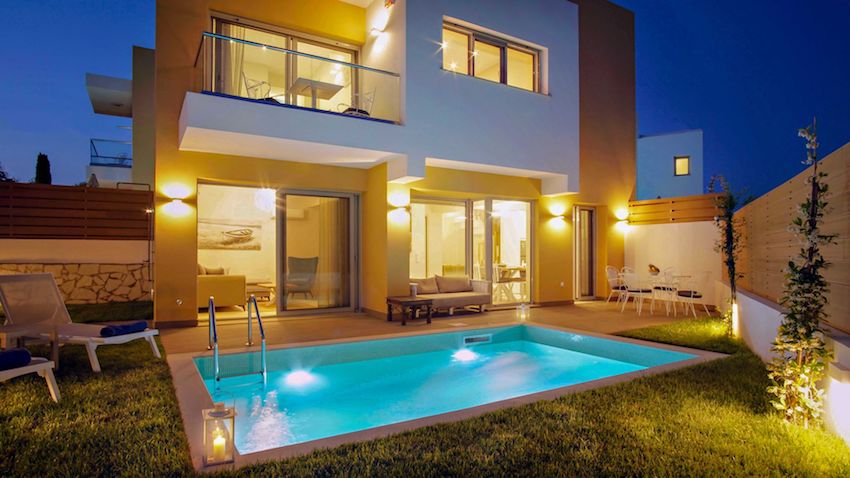 Tessera Villas
At Tessera Villas Collection discover the most exceptional luxury villas in the Ionian Islands. An architectural splendor of minimalist design over the Gouvia Resort of Corfu. Tessera Luxury Villas consists of 4 Villas one next to each other: Villa Jasmine and Villa Phos. Villa Petra and Villa Daphne. These spacious 2-bedroom villas offer a private pool each and top amenities. They are situated at the picturesque village of Gouvia; a 10-minute drive from Corfu Town. It offers both quietness and the beauty of nature, with the only noise being harnessed from the birds singing onto the surrounding Olive Trees. With its architectural supremacy, the villa is aligning perfectly with the natural environment. With a minimal, yet impactful design that celebrates a creative dialogue between indoor and outdoor living, the Villas blend in harmony with the island's surroundings. Click here for photos and more information and to book directly with the owner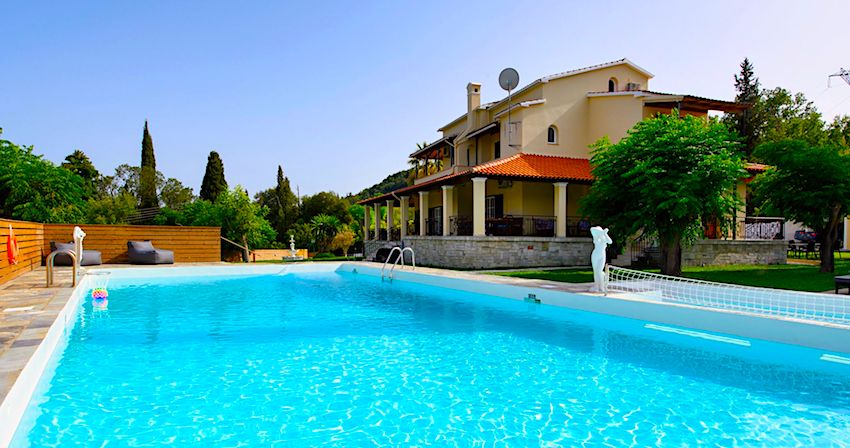 Grand Villa Roubana
This very large residence consists of a main building with 7 bedrooms and 4 bathrooms, for an absolute holiday paradise for larger groups. Accommodation here is modern and fresh, in large spaces with generous openings.
Structured as a private resort, it exceeds all expectations for a fabulous summer experience. From its wonderful interiors furnished with an airy variety of contemporary lounges and numerous smaller sitting areas.as well as the extraordinary outdoor areas, including a very large pool deck with an Infinity swimming pool and a barbeque.
With its ample space, wonderful amenities and its multifaceted character amiable to all ages, this estate is an ideal choice for a multigenerational group, for hosting family reunion or for celebrating a special event with loved ones. Click here for photos and more information and to book directly with the owner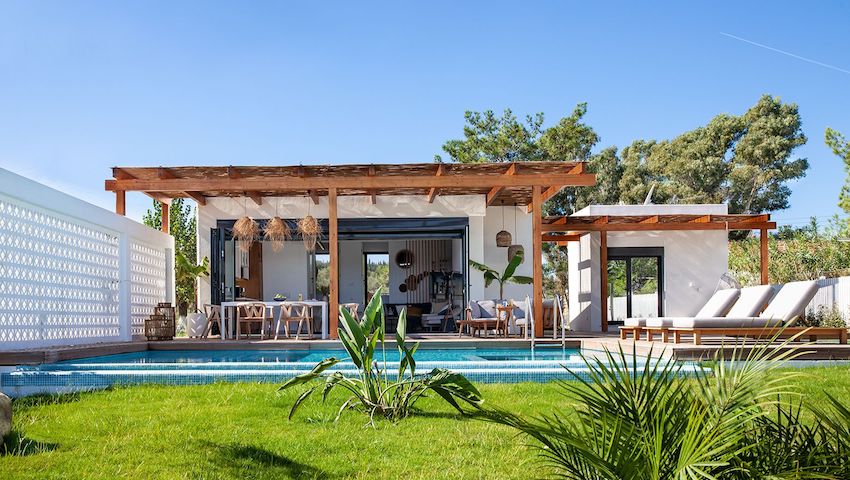 Sun n Chill Beach Villa & Spa
The main entrance leads into a bright, open plan living and dining area and a very well equipped kitchen with panoramic windows looking over the beach and the sea in front. A large glass door in the living room opens onto the gorgeous pool wooden terrace, making indoor and outdoor living a seamless experience. You have two bedrooms, a double and a Flexi-double twin, the walking shower and main bathroom, and an additional WC on the entrance level. The elegant sofa bed in the lounge gives the possibility to sleep a further two. The interior space is cozy: the furnishings are modern, predominantly oak wood, handmade, and a palette of white, cream, dynamic black, and blue is used for the decoration.
There are two buildings connected with embedded wooden joists. The second building is a dream hammam room with a wooden swing on its front. The seafront consists of a large iroko wooden deck, a garden with minimal exotic plants, and a deep blue swimming pool with a relaxing jacuzzi—exterior dining, lounge, and sunbathing alfresco complete the scenery. The private beach is at arm's reach. At the back of the main building, furnished balconies looking at the gardens give an option for a soothing tea or afternoon snack. Click here for photos and more information and to book directly with the owner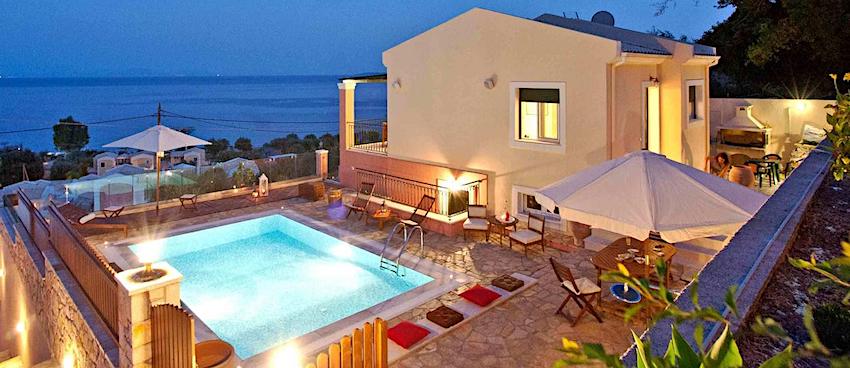 Villa Artemis
Featuring a garden with a seasonal outdoor pool, Villa Artemis is a detached villa located in Barbati 2 minutes walk from the beach. The property features views of the sea and is 7 miles from Corfu Town. Free WiFi is provided throughout the property and free private parking is available on site. There is a sitting area and a kitchen as well as a private bathroom with slippers, free toiletries and a hairdryer. A flat-screen TV with satellite channels and DVD player is featured. Other facilities at Villa Artemis include a barbecue. For booking information and more photos and reviews click here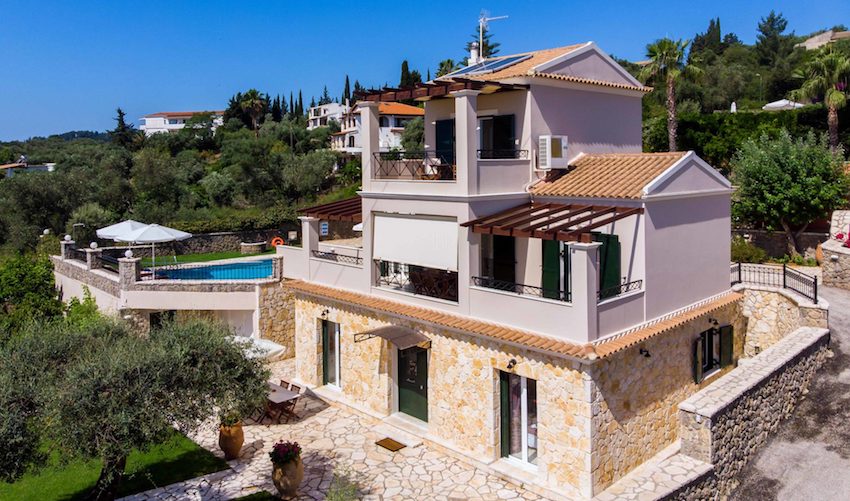 Il Tesori Dassia Villas
Set on hill near the beach of Dassia in the heart of Corfu, the property is set in lush gardens and welcoming Corfiot-inspired design. Four bedrooms in each Villa can accommodate up to 10 guests, but larger parties can reserve neighboring Villas for more space. The complex is combined by 3 Luxurious Villas all complemented by private pools. Total can accommodate a party of 30 people. Dasssia is a popular resort in the heart of corfu, located 9 km from Corfu Town. With a friendly and cosmopolitan atmosphere, Dassia has become one of the most inviting places to spend relaxing vacation in Corfu. Right in front of the village is a magnificent narrow beach that stretches for a couple of kilometres. It consist of sand and pebbles with two rows of sunbeds and umbrellas for those who want to enjoy a comfortable sunbathing. Click here for information and more photos and to book directly with the owner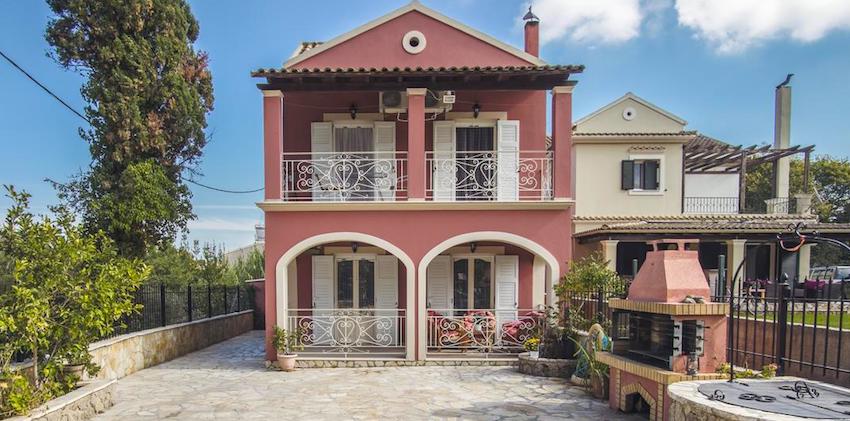 Villa Hermes
Villa Hermes is a 4 bedroom villa with a barbecue, located in Potamós, a 10-minute walk from the beach. There is a dining area and a kitchen complete with an oven and a microwave. A flat-screen TV with satellite channels and DVD player is provided. Other facilities at Villa Hermes include a sun terrace. Corfu Town is 2.5 miles from Villa Hermes. For booking information and more photos and reviews click here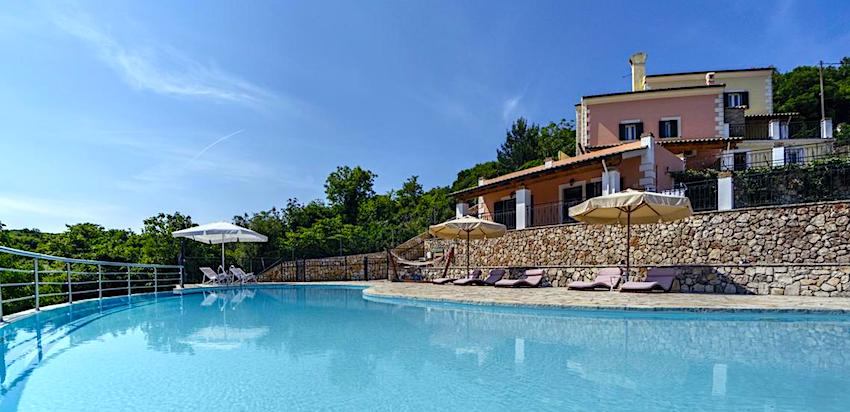 Agallis Corfu Residence
Showcasing a seasonal outdoor pool and barbecue, Agallis Corfu Residence is located in Sokrákion. Corfu Town is 9 miles away. The property is air conditioned and has a flat-screen TV. Some units feature a terrace and/or balcony with mountains views. There is also a kitchen, equipped with an oven. There is a private bathroom with a bathtub and a hairdryer in each unit. For booking information and more photos and reviews click here

The Nest
Located in Káto Korakiána, this air-conditioned villa and is 7 miles from Corfu Town. It provides free private parking. There is a sitting area and a kitchen complete with a dishwasher and an oven. A flat-screen TV is featured. Other facilities at Luxury Villa with Pool, The Nest include a seasonal outdoor pool. For booking information and more photos and reviews click here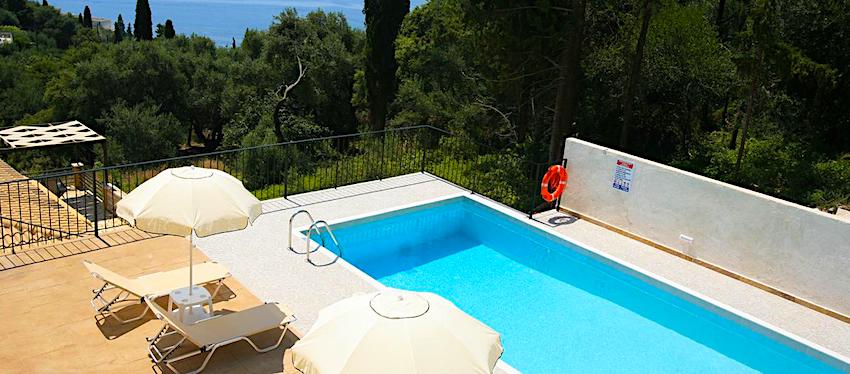 Villa Hera
Villa Hera is a 3 bedroom detached luxury villa featuring a garden with an outdoor pool, located in Nisákion. The property is 7 miles from Corfu Town and free private parking is featured. The kitchen is fitted with a dishwasher, an oven and a microwave, as well as a coffee machine and a kettle. A flat-screen TV is provided. Other facilities at Villa Hera include a seasonal outdoor pool. For booking information and more photos and reviews click here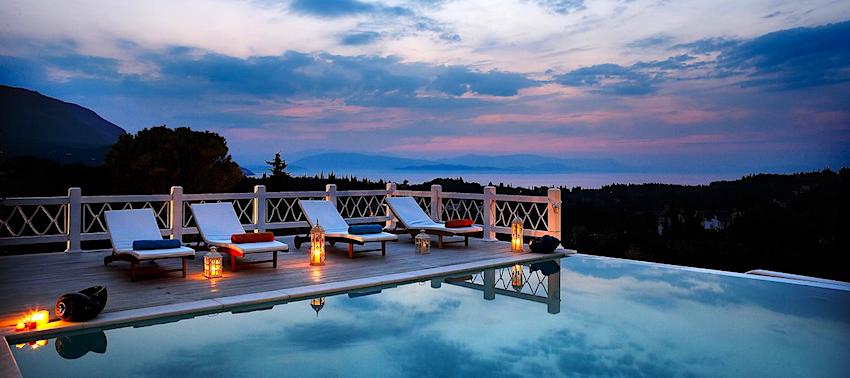 Castello Di Vista
Located in Káto Korakiána, Castello Di Vista features free WiFi, a garden and outdoor pool. Corfu Town is 7 miles away. Free private parking is available on site. The accommodation is equipped with a flat-screen TV with satellite channels. Some units feature a terrace and/or balcony with sea views. A refrigerator and kettle are also available. There is also a kitchenette in some of the units equipped with an oven and stovetop. Every unit features a private bathroom with bathrobes and slippers. Towels and bed linen are provided. Castello Di Vista also includes a hot tub. For booking information and more photos and reviews click here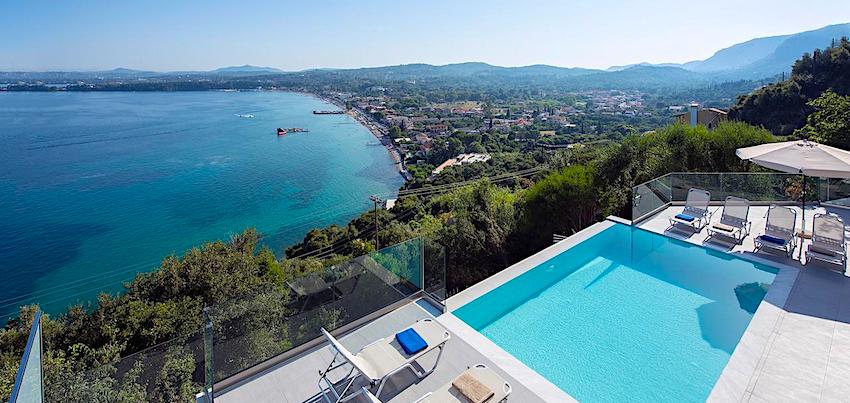 N&L VILLAS
Featuring free WiFi throughout the property, N&L VILLAS is located in Corfu Town, just a 12 minute walk from the beach. Featuring a terrace, the accommodation features a sitting and dining area. Some units have a balcony and/or patio with sea views. There is also a kitchen, fitted with a dishwasher. An oven and microwave are also provided, as well as a coffee machine. Bed linen are available. N&L VILLAS also includes an outdoor pool. For booking information and more photos and reviews click here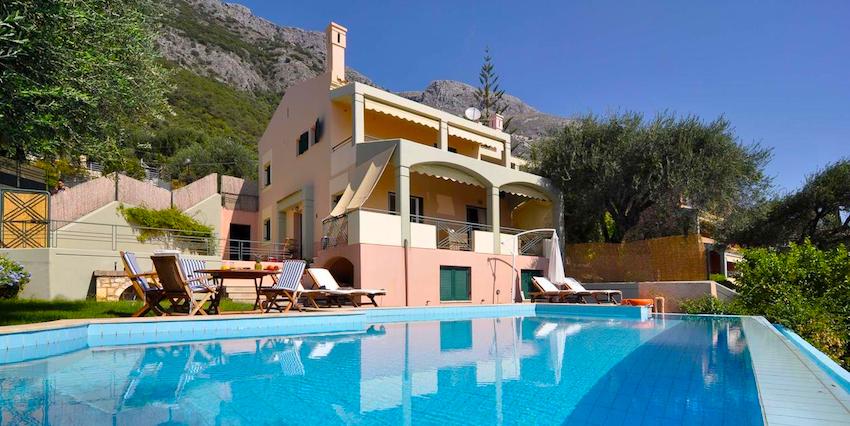 Villa Iris
Featuring a garden and a swimming pool, Villa Iris is a semi-detached villa located in Barbati, 7 miles from Corfu Town and features views of the sea. Free private parking is available on site. There is a dining area and a kitchen complete with a dishwasher and an oven. A flat-screen TV with satellite channels is featured. There is a private bathroom with a hot tub and bathtub. For booking information and more photos and reviews click here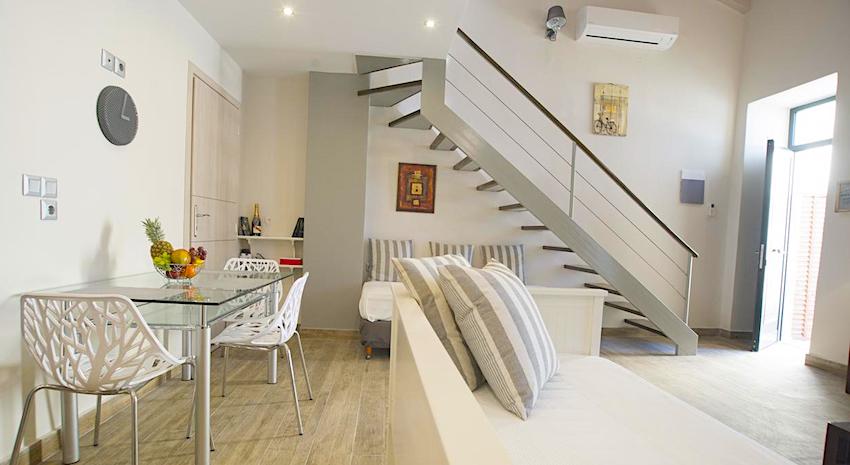 Corfu Town Luxury Studios
Unique fully equipped house located next to the beaches of the Anemomylos area , a very interesting part of Corfu Town, very close to many attractions and the historical center. It consists of a living room, kitchen and bathroom at the ground floor (with two sofas/beds) and a master bedroom on the loft. Outside the house there is a private garden offering a wonderful seaview. For booking information and more photos and reviews click here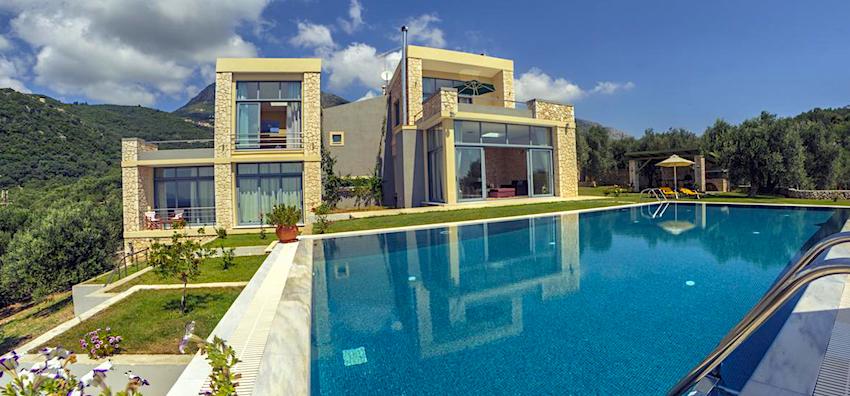 Kastraki Epavlis
Featuring an outdoor pool, balcony and garden with BBQ, Kastraki Epavlis is in Ágios Márkos just 650 feet from Pyrgi Beach and has 2 fireplaces. Five bedrooms with their own bathroom Big and functional furnitured kitchen room Roomy lounge with a hospitable fire-place offers unhindered view of Corfu. Free Wi-Fi is available. Overlooking the mountains and sea, the air-conditioned villa includes modern design, marble floors and is decorated in bright colors. It has a sitting area with sofas and TV, as well as individual heating. The kitchen includes an oven and microwave. The bathrooms have a bathtub or shower. For booking information and more photos and reviews click here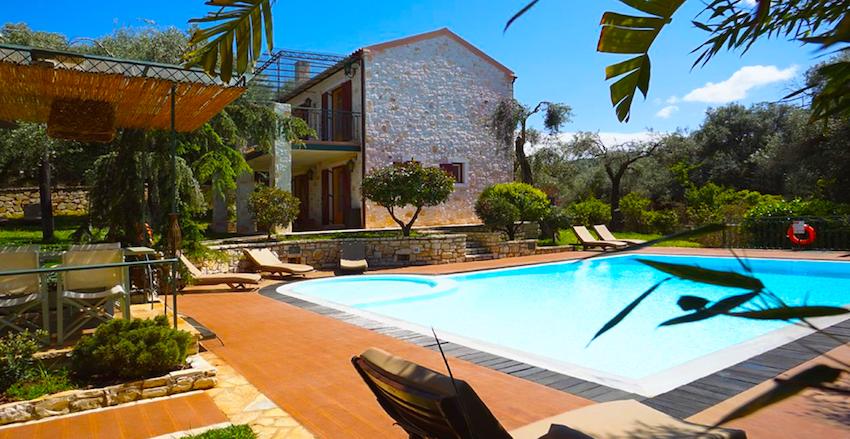 Thalia Estate
Located in Agios Spyridon, just a 4 minute walk from the beach, this 6-bedroom villa features a garden with a seasonal outdoor pool. The villa is equipped with air conditioning and free WiFi. Free private parking is available on site. The kitchen features a microwave. A flat-screen TV with satellite channels and DVD player, as well as a CD player are featured. There is a private bathroom with a shower. You can play ping-pong at the property, and bike rental is available. Corfu Town is 13 miles from Thalia Estate. For booking information and more photos and reviews click here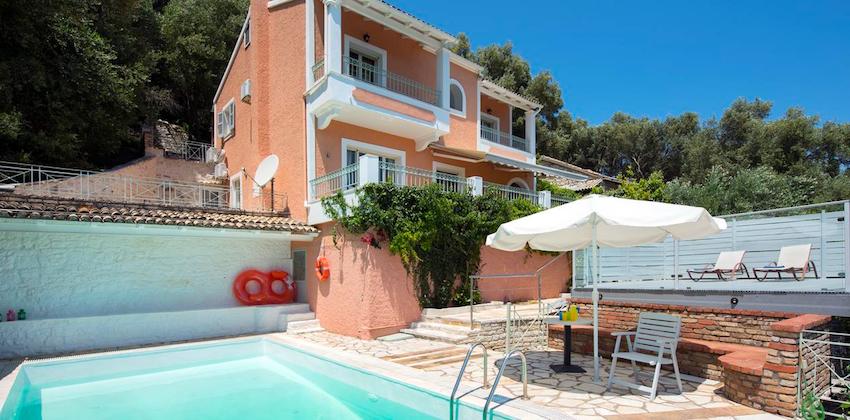 Villa Anastasia
Villa Anastasia is a 4 bedroom detached vacation home located in Agnítsini and featuring a garden with an outdoor pool. The property features views of the sea and is 9 miles from Corfu Town. There is a sitting area, a dining area and a kitchen complete with a dishwasher, an oven and a microwave. A flat-screen TV is provided. Other facilities at Villa Anastasia include a sun terrace. Surrounded by olive and cypress trees, this private surrounding makes it perfect for restful days. Painted in salmon pink, the villa is designed to make the most of the beautiful sea views looking over the greek mainland. Breathtaking views of the surrounding countryside make the poolside area a scenic spot. The swimming pool is surrounded by stone terraces and a handful of sun-loungers, all perfectly placed for admiring the scenery. For booking information and more photos and reviews click here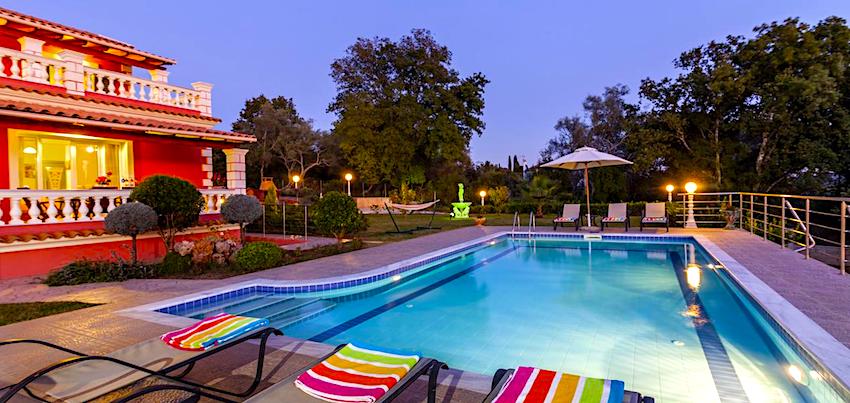 Villa Mirela
Villa Mirela is a luxurious 3 bedroom, 2 bathroom villa. Located on a small hill in the heart of Dassia Village, only 10 kilometres north of Corfu Town and the airport. The Villa is nestled in an enclosed 2000m2 green haven, creating a unique and tranquil environment with beautiful views, whilst being only 10 minutes' drive from the beach, restaurants, bars, supermarkets and taxi's.The propery has been built during winter 2011/2012 by the owner, who have utilised his extensive experience in Luxury property management to ensure the Villa exceeds your expectations of a wonderful stay in Corfu. For booking information and more photos and reviews click here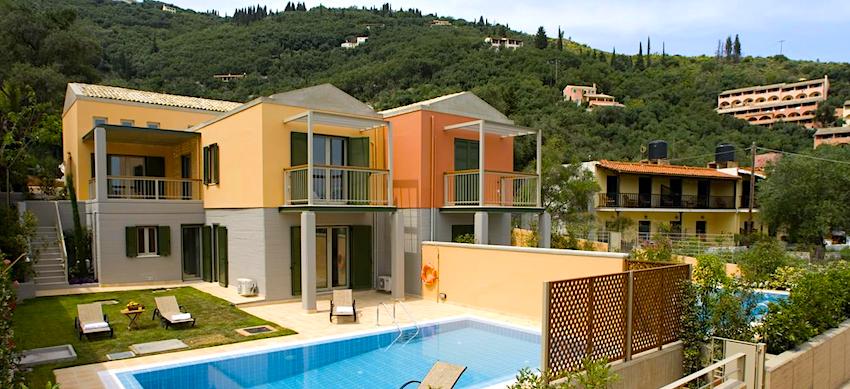 Erkina Villas Kalami Corfu - Erato
Showcasing an outdoor pool and views of the sea, Erkina Villas Kalami Corfu - Erato is located in Kalámi in the region of Corfu, just 8 miles from Corfu Town. The property is air conditioned and is fitted with a cable flat-screen TV. Some units feature a terrace and/or balcony with pool or garden views. There is also a dining area and a kitchen equipped with a dishwasher and oven. A microwave and toaster are also available, as well as a coffee machine. There is a private bathroom with bathrobes and a hairdryer in every unit. Towels and bed linen are provided. For booking information and more photos and reviews click here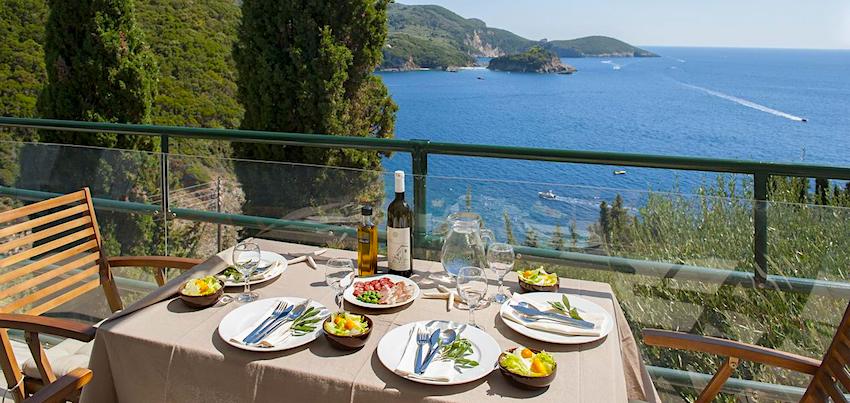 Villa Thalia
Featuring a garden, Villa Thalia is a 4 bedroom detached villa located in Paleokastritsa a 5 minute walk from the beach. The property features views of the sea and is 11 miles from Corfu Town. Free private parking is available on site. The kitchen is fitted with a dishwasher, an oven and a microwave, as well as a coffee machine. A flat-screen TV is provided. There is a private bathroom with a bathtub or shower and bidet. For booking information and more photos and reviews click here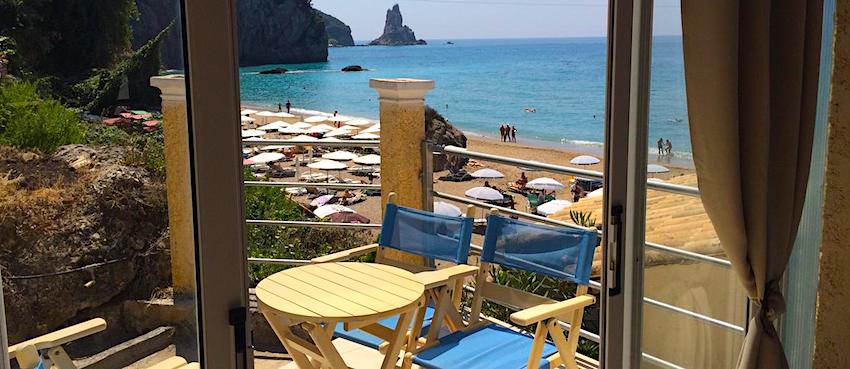 Ammos House
Ammos House is a 2 bedroom vacation home located in Agios Gordios, right on the beach and features free WiFi and a terrace. The property is 7 miles from Corfu Town and has views of the sea. There is a dining area and a kitchen complete with an oven and a toaster. There is a private bathroom with a bathtub or shower. For booking information and more photos and reviews click here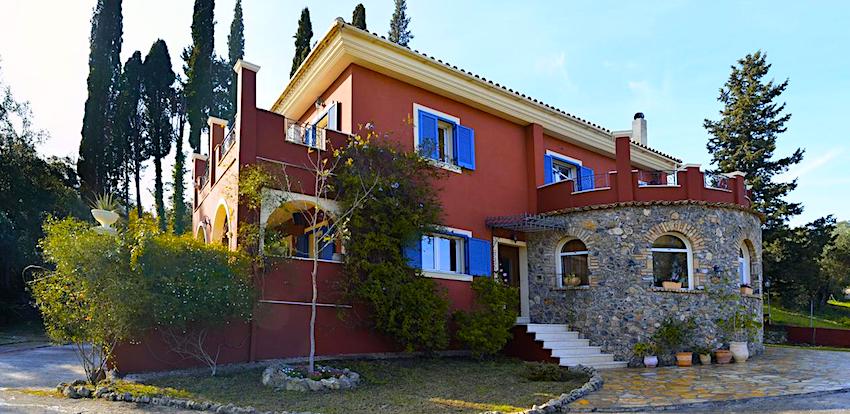 Velanidies in Corfu
Located in Kynopiástai, this 4-bedroom air-conditioned villa features a terrace and a garden with a barbecue. The property features views of the sea and is 4.2 miles from Corfu Town. Free WiFi is available throughout the property and free private parking is available on site. The kitchen features a dishwasher and there is a private bathroom. A flat-screen TV with cable channels, as well as a CD player are provided. Other facilities at Velanidies in Corfu include a sun terrace. For booking information and more photos and reviews click here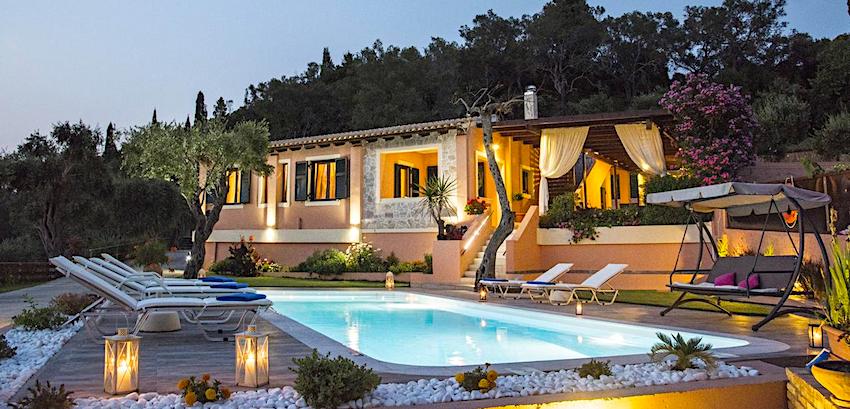 Villa Pelekas
Located in Pélekas, this 4-bedroom detached villa features a garden with an outdoor pool and a barbecue. The property features views of the sea and is 6 miles from Corfu Town. Free WiFi is provided and free private parking is available on site. The kitchen is fitted with a dishwasher and an oven, as well as a coffee machine and a kettle. A flat-screen TV with satellite channels and Blu-ray player, as well as a CD player are available. There is a private bathroom with a bathtub. For booking information and more photos and reviews click here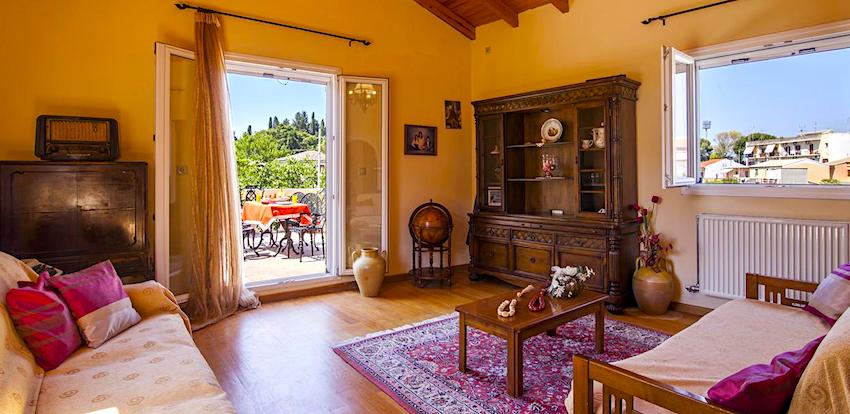 Garitsa De Lux
Featuring free WiFi, Garitsa De Lux is a villa, located right in Corfu Town a few minutes walk from the beach. The property features views of the garden. There is a sitting area, a dining area and a kitchen equipped with oven. A flat-screen TV is provided. Other facilities include a sun terrace. For booking information and more photos and reviews click here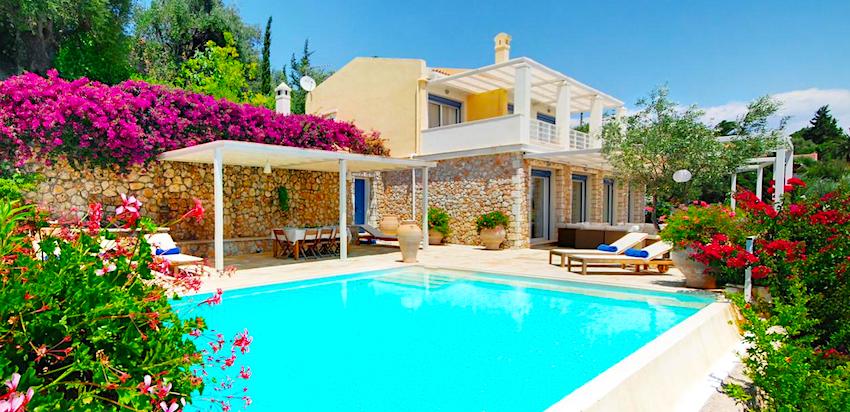 Corfu Luxury Villas
Featuring a garden, Corfu Luxury Villas is located in Barbati. Corfu Town is 7 miles away. Free WiFi is available throughout the property and free private parking is available on site. The accommodation features a sitting area. Some units have a balcony and/or patio with sea views. There is also a kitchen, equipped with a dishwasher. A microwave and refrigerator are also featured, as well as a kettle. Each unit is fitted with a private bathroom with free toiletries and a hairdryer. Corfu Luxury Villas also includes an outdoor pool. For booking information and more photos and reviews click here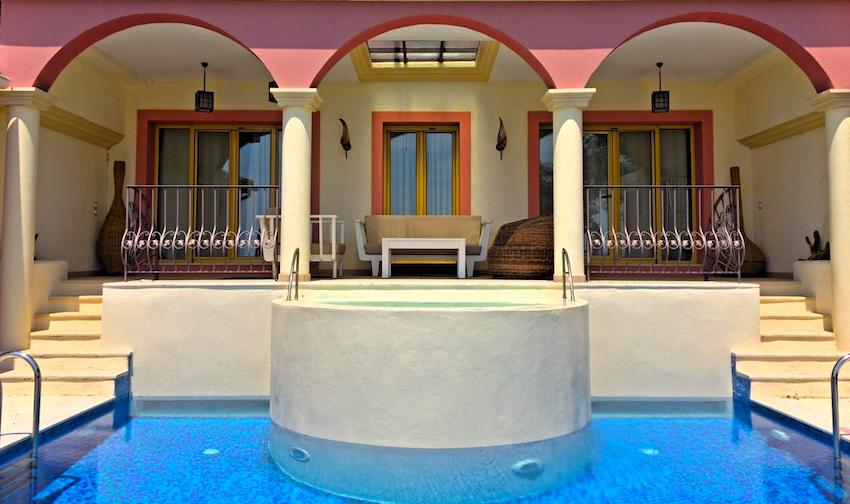 Carpe Diem Corfu Villas
Just 1,650 feet from Agios Stefanos port, Carpe Diem Corfu Villas offers large and self-catered villas with free Wi-Fi. Set amidst olive groves, all villas feature a private outdoor pool, hot tub, a furnished terrace and balconies. Elegantly designed, this bright and modern accommodation features mosaic tiling and a wrought iron staircase. Each contains a fully equipped kitchen and en suite bathrooms with shower or spa bath. The amenities also include air conditioning, satellite TV, CD/DVD player and washing machine. Guests can enjoy the lush gardens with its stove-paved walkways, tables, chairs, sunbeds and free BBQ facilities. Some provide a spa room with steam bath and fitness room with dumbbells and an elliptical machine. Carpe Diem Corfu Villas is close to the seaside village of Agios Stefanos where taverns, cafés and minimarkets can be found. For booking information and more photos and reviews click here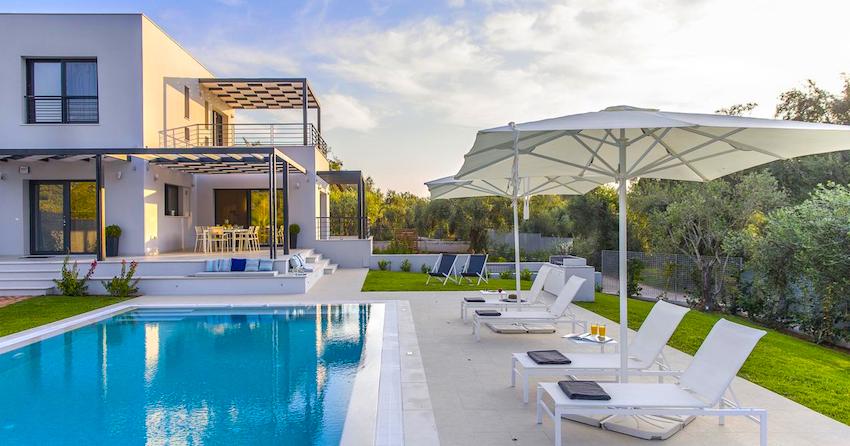 Villa Dione
Villa Dione is a detached villa with a terrace, located in Halikounas just a few minutes walk from the beach. The kitchen is equipped with a dishwasher, an oven and a microwave, as well as a coffee machine. A flat-screen TV and DVD player are provided. Other facilities at Villa Dione include an outdoor pool. Bike rental is available at the property and the area is popular for snorkeling. Corfu Town is 11 miles from Villa Dione. For booking information and more photos and reviews click here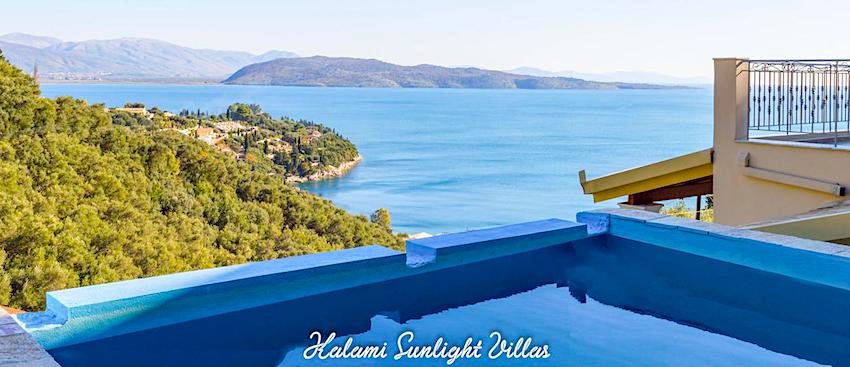 Kalami Sunlight Villas
Featuring an outdoor pool, Kalami Sunlight Villas is a 3-bedroom detached villa located in Epískepsis. The property is 9 miles from Corfu Town and features views of the sea. Free private parking is available on site. There is a dining area and a kitchen complete with an oven and a microwave. A flat-screen TV is available. Other facilities at Kalami Sunlight Villas include a barbecue. For booking information and more photos and reviews click here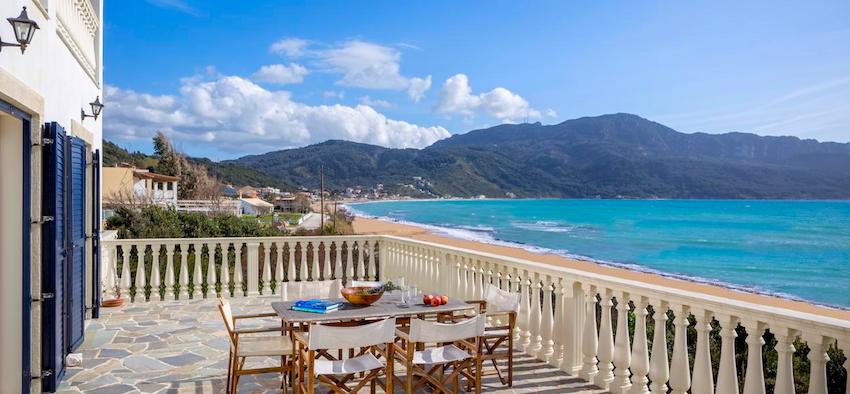 Cosmos Beach House
Cosmos Beach House is a 3-bedroom villa with a sun terrace, located in Afión. The property is 15 miles from Corfu Town and free private parking is featured. There is a dining area and a kitchen complete with a dishwasher and an oven. There is a private bathroom with a bathtub or shower. The Beach House is situated in the wilder side of the island of Corfu and right on one of the most beautiful sandy beaches of the island. The views of the beach and the bay are amazing and the colors at sunset time are breathtaking. If you are in search of a secret retreat and the absolute beach experience away from it all, the Beach House is the place to stay. For booking information and more photos and reviews click here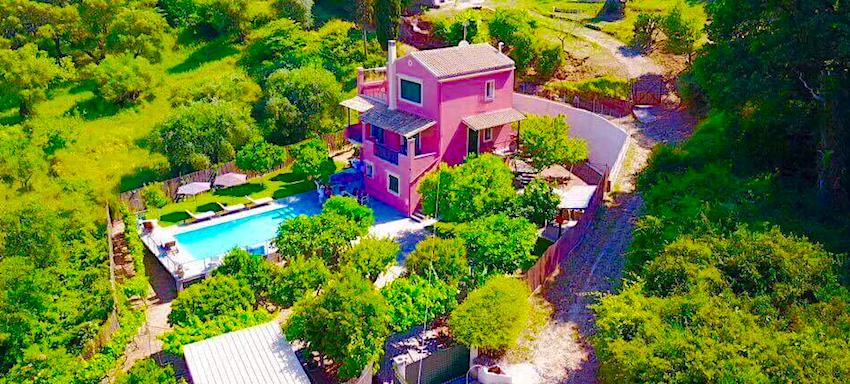 Casa Elisabetta
Beautiful, comfortable villa, "Casa Elisabetta", is 4-room villa in Kinopiastes with minimal furniture and furnishing, suitable for families with 3 floors (200 m2) in a quiet, sunny position, on top of a hill 7 km from the Center of Corfu and 5 Km from Beaches of Agios Gordios and Kontogialos. The street that leads to the Villa is private with no access to other properties. Villa is also located next to a path that leads to Traditional Village Kinopiastes through beautiful landscape in 5 min by foot and another path that leads to Village Agios Prokopios in 10 minutes. Private quiet and beautiful garden with trees to relax, outside swimming pool non-heated with garden furniture, barbecue with garden pavilion. There is private parking with electric remote control in the entrance. For booking information and more photos and reviews click here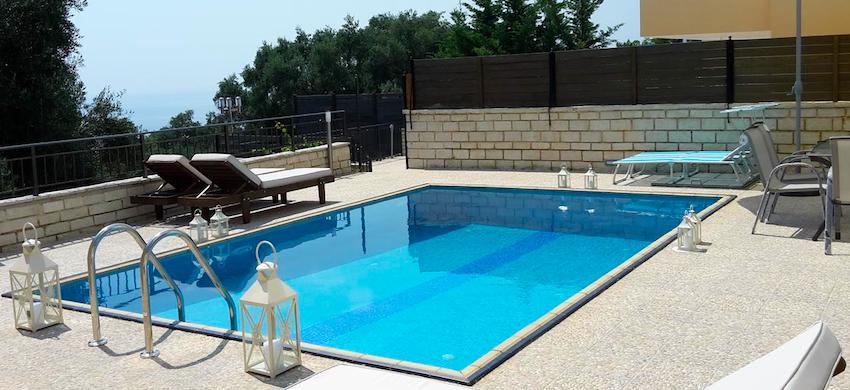 Achillion Luxury Corfu Villa
Featuring a terrace and a pool, Achillion Luxury Corfu Villa is a 3-bedroom villa, located in Perama. Free WiFi is featured throughout the property and free private parking is available on site. The kitchen features a dishwasher, an oven and a microwave, as well as a coffee machine and a kettle. A flat-screen TV with cable channels is provided. Other facilities at Achillion Luxury Corfu Villa include a hot tub and year-round outdoor pool. Corfu Town is 3.2 miles from Achillion Luxury Corfu Villa. For booking information and more photos and reviews click here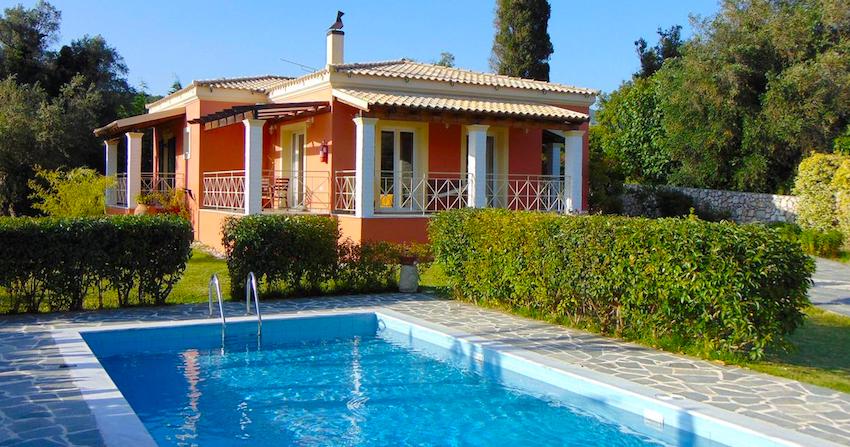 Villa Grecia
Featuring a private pool, Villa Grecia is a detached villa located in Liapádes, an 8 minute walk from the beach. The property features views of the sea and is 10 miles from Corfu Town. A dishwasher and an oven are provided in the kitchen and there is a private bathroom with slippers and free toiletries. A flat-screen TV is available. Other facilities at Villa Grecia include an outdoor pool. For booking information and more photos and reviews click here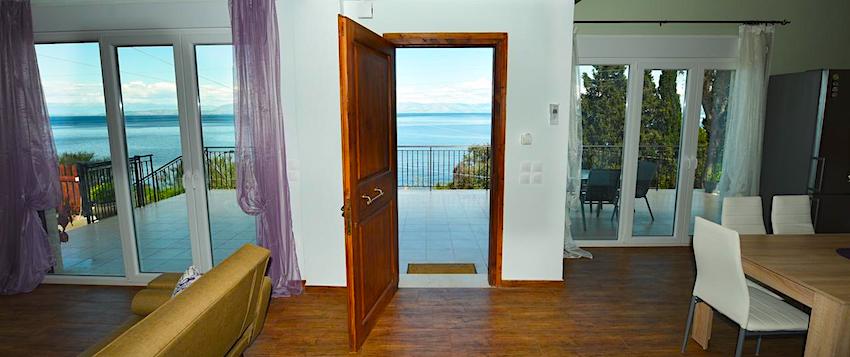 Villa Despina
Located in Benitses, this air-conditioned 2-bedroom villa features free WiFi. It provides free private parking. The kitchen is equipped with an oven. A flat-screen TV is featured. Other facilities at Villa Despina Benitses include a barbecue. For booking information and more photos and reviews click here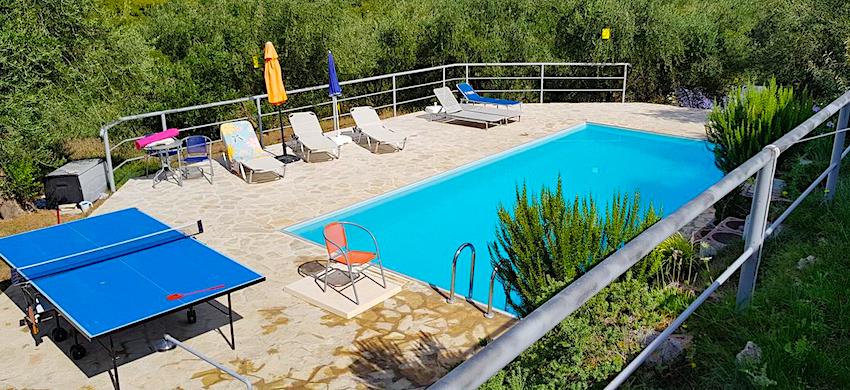 Holiday Home Matthäus
Featuring a garden, Holiday Home Matthäus is located in Giannádes, right by the beach, just 8 miles from Corfu Town. Free private parking is available on site. All units feature a sitting and dining area. There is also a kitchenette, fitted with a dishwasher. An oven and toaster are also provided, as well as a coffee machine. Each unit features a private bathroom with a shower. Towels and bed linen are available. Holiday Home Matthäus also includes a barbecue and a swimming pool. For booking information and more photos and reviews click here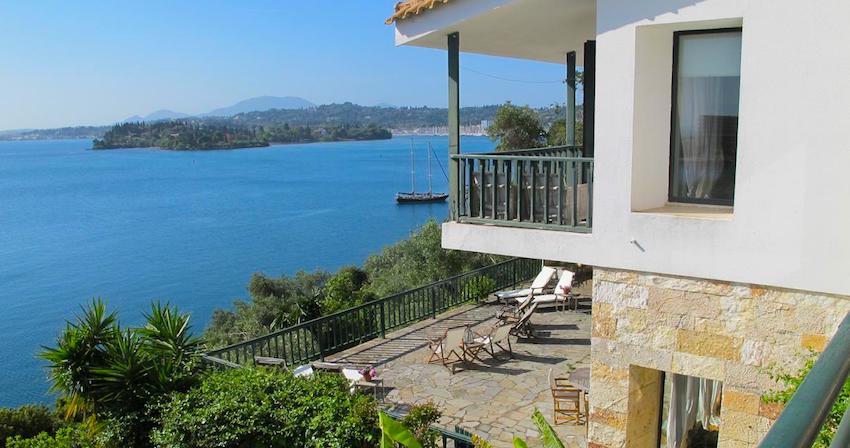 Villa Marlina
Showcasing a year-round outdoor pool, Villa Marlina is located in Komménon a one minute walk to the beach, just 5 miles from Corfu Town. Featuring a terrace, all units include a sitting and dining area. Some units have a balcony and/or patio with sea views. There is also a kitchen, fitted with a dishwasher. An oven and microwave are also provided, as well as a coffee machine and a kettle. There is a private bathroom with a bathtub in every unit. Towels are available. Villa Marlina also includes a barbecue. For booking information and more photos and reviews click here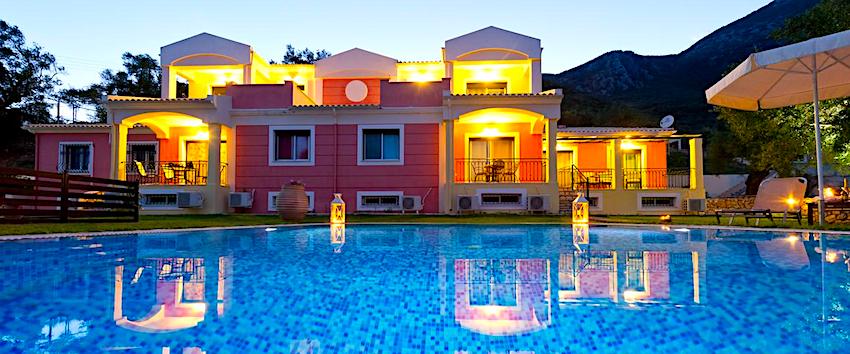 Villa Renata
Located in Barbati, this villa is one minute from the beach and is 7 miles from Corfu Town. It provides free private parking. There is a dining area and a kitchen as well as a private bathroom. A flat-screen TV with satellite channels is provided. Other facilities at Villa Renata include an outdoor pool. For booking information and more photos and reviews click here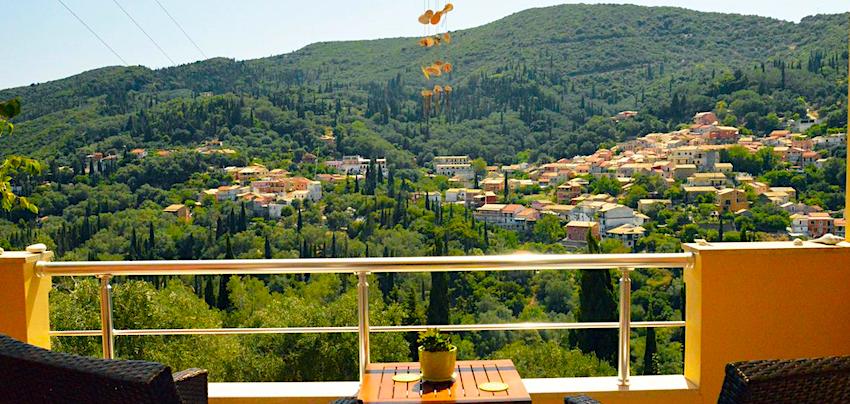 Polikseni House
Featuring free WiFi and sea views, Polikseni House is a 3-bedroom vacation home, located in Agios Gordios. You can fire up the barbecue for a tasty meal and enjoy the grounds when the weather's nice. Free private parking is available on site. The kitchen features an oven and a microwave and there is a private bathroom. A flat-screen TV is featured. Other facilities at Polikseni House include a sun terrace. For booking information and more photos and reviews click here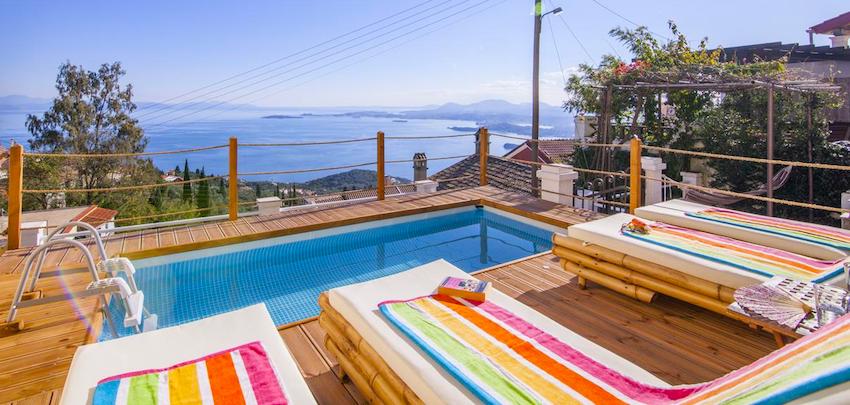 Cottage House Bala
Located in Ágios Márkos, this 4-bedroom vacation home is 8 miles from Corfu Town. There is a sitting area, a dining area and a kitchen equipped with oven. A flat-screen TV, DVD player and PS2, as well as a CD player are featured. Other facilities at Cottage House Bala include a seasonal outdoor pool. For booking information and more photos and reviews click here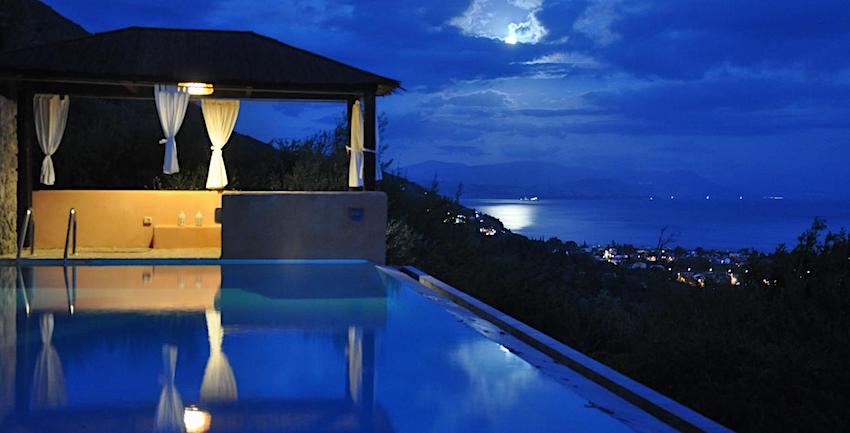 Villa Manavra
Featuring a garden with an outdoor pool, Villa Manavra is a villa located in Ýpsos and is 8 miles from Corfu Town and features views of the sea. Free private parking is available on site. There is a sitting area and a kitchen as well as a private bathroom. A flat-screen TV and DVD player, as well as a CD player are featured. Other facilities at Villa Manavra include a sun terrace. For booking information and more photos and reviews click here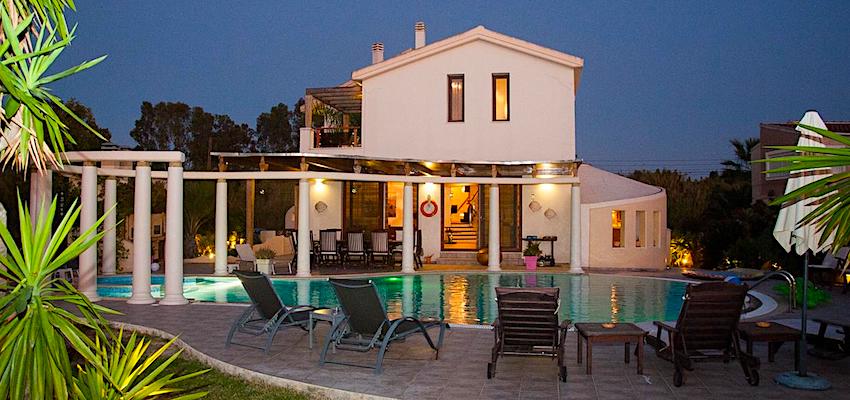 Villa Tasos
Located in Corfu Town, this 5-bedroom air-conditioned villa features a terrace with sea views and is a 5 minute walk to the beach. The property features views of the pool. Free WiFi is available throughout the property and free private parking is available on site. There is a sitting area, a dining area and a kitchen equipped with dishwasher. A flat-screen TV and DVD player are provided. There is a private bathroom with a shower. For booking information and more photos and reviews click here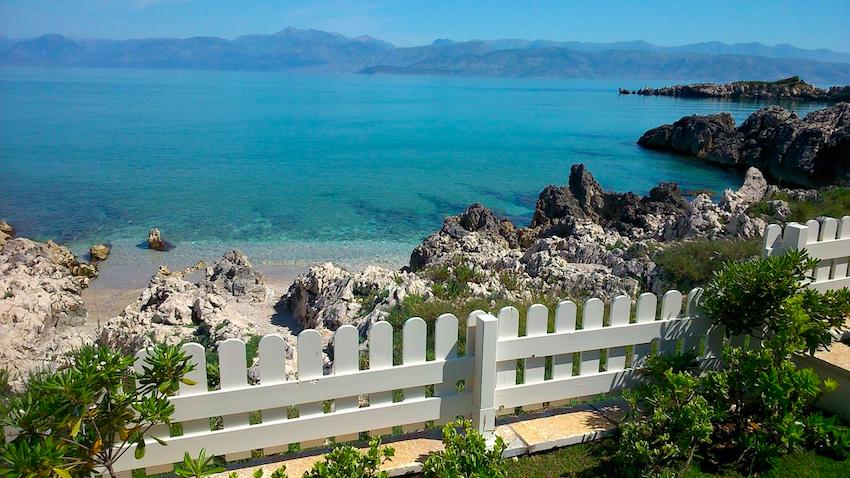 Sea House Cottage
Sea House Cottage is a detached vacation home with a terrace, located on the beach in Agios Spyridon. It provides free private parking. The kitchen is equipped with an oven, a microwave and a toaster, as well as a coffee machine. A TV with satellite channels is available. There is a private bathroom with a bathtub or shower. Bike rental and car rental are available at the property and the area is popular for snorkeling and fishing. Corfu Town is 14 miles from Sea House Cottage. For booking information and more photos and reviews click here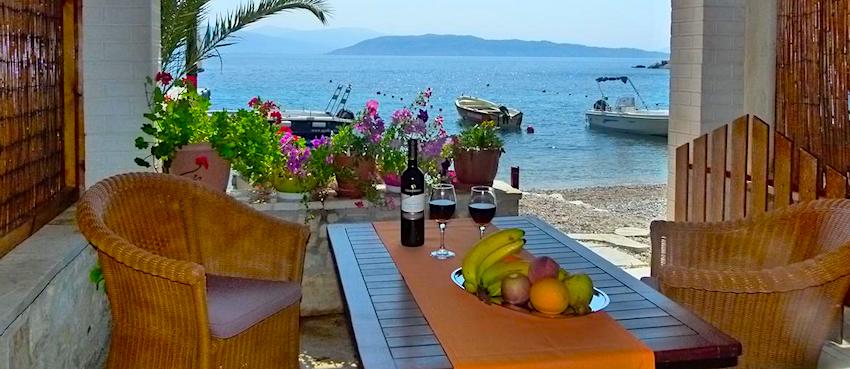 Spiti Antigoni
Spiti Antigoni is a 2-bedroom villa located right on the beach in Agní just 8 miles from Corfu Town and features views of the sea. Free WiFi is provided throughout the property and free private parking is available on site. There is a sitting area and a kitchen. A flat-screen TV with satellite channels and DVD player, as well as a CD player are featured. For booking information and more photos and reviews click here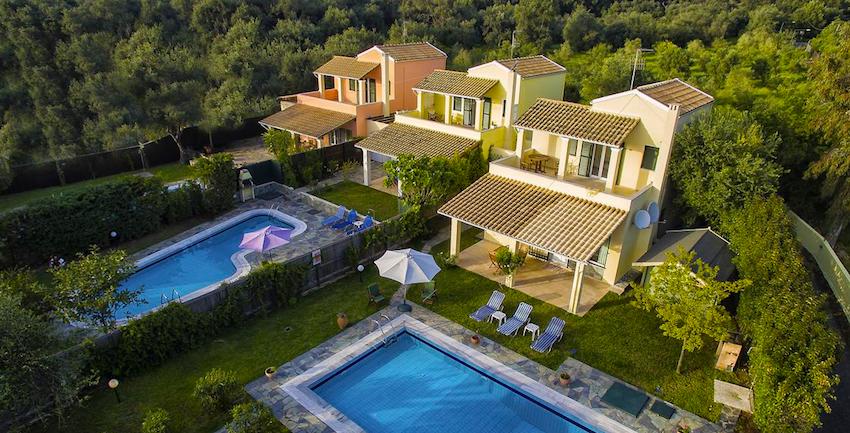 Pyramid City Villas
Featuring free WiFi and a seasonal outdoor pool, Pyramid City are 3-bedroom Villas located in Agios Spyridon, just 13 miles from Corfu Town and a few minutes walk to the beach. The houses are air conditioned and include a sitting area with a flat-screen TV. There is also a kitchen in some of the units equipped with a dishwasher, an oven, and a microwave. Bed linen are provided. Pyramid City Villas also includes a barbecue. For booking information and more photos and reviews click here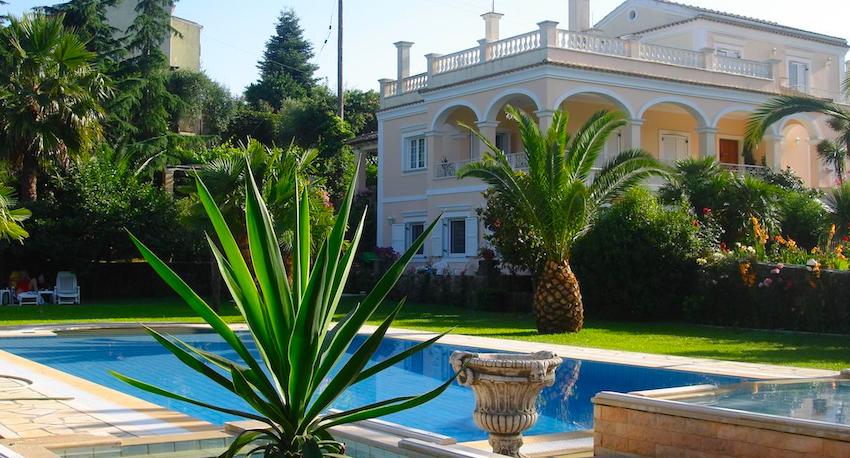 Villa Atalanti
Located in Gouviá, this 3-bedroom air-conditioned villa features a garden with a seasonal outdoor pool and a sun terrace. It provides free private parking. There is a dining area and a kitchen complete with a dishwasher and an oven. A flat-screen TV with satellite channels is featured. There is a private bathroom with a bathtub. Corfu Town is 5 miles from Villa Atalanti For booking information and more photos and reviews click here