Though inundated with Italian and British tourists in July and August, the Ionian islands are some of the most beautiful in Greece. For more information on these islands see My Ionian Islands Pages or the individual island guides listed after each island.
Corfu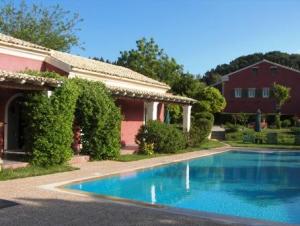 Villa de Loulia is located in the unspoilt, northern part of Corfu, away from the resort areas. This gorgeous, Italian-style Villa De Loulia has a peaceful atmosphere for a holiday close to nature. Dating back to 1803, the charming Villa De Loulia has been carefully restored to its original splendour. The lovely grounds are covered in trees, flowers and plants, which fill the air with the scent of Mediterranean flora. The rooms and suites are individually decorated in traditional style. Start your day with home-made breakfast and taste authentic Greek flavours prepared with fresh local ingredients. Then, enjoy your favourite cocktail while sunbathing at the Shangri-La pool bar. Finally, you can dine in luxurious setting at the Flerium gourmet restaurant. Click for more info and booking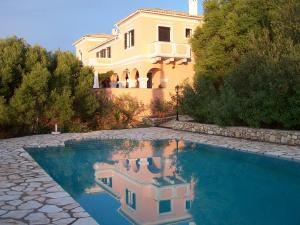 Villa La Serenissima is a large, traditional Venetian mansion situated on a hilltop with a breathtaking view to the Venetian fortress of Corfu and is located only 100 meters away from the Sea. Rooms are clean, simple and beautifully decorated with balconies, bath and shower, fan and toilet. Guests can relax in a special ambience and peaceful atmosphere. Guests can enjoy magnificent views of blue-green bays of the northern coast and the mountains of Albania. At the Villa, guests can enjoy freshly prepared meals along with a selection of house wines. Click for more info and booking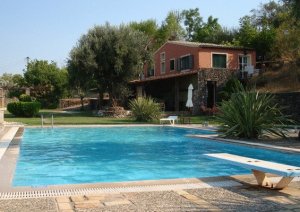 Fundana Villas: This 17th-century Venetian Villa is situated on a hill overlooking Corfu's green landscape. In the midst of an olive-tree grove, it offers self-catering accommodation, a swimming pool and children's pool. Family-run Fundana Villas offer units with a living and dining area and garden or furnished balcony with unobstructed views. A fully equipped kitchenette with fridge is included. Air conditioning, LCD satellite TV and daily maid service are standard. Leisure facilities include a games room with pool table and table tennis. Free wired internet is available in all common areas. A breakfast buffet is served daily at Fundana's restaurant. There is a traditional olive press museum on site. Villas Fundana's professional guide can offer information on car rentals and activities such as trekking on horseback. Famous Paleokastritsa Beach is just 4 km away and Corfu Town is a 15-minute drive. Corfu Airport is at 18 km. Free private parking is possible at the hotel. Click for more info and booking
Saint Nicholas Beach Apartments: Sitting at the water's edge, and surrounded by lush greenery, this newly built, apartment complex offers its own private beach, a pool, and air-conditioned studios with furnished balcony. There is free private parking. The Saint Nicholas Beach Apartments' tasteful studios have marble-lined floors. Each studio has a fully equipped kitchen and is equipped with a 22-inch satellite TV. Free Wi-Fi is available throughout the complex. The gardens are covered with olive and palm trees, as well as flowers and fruit trees. The Saint Nicholas Beach Apartments also features a swimming pool and a playground for younger guests. The apartment complex is situated on the beach of Agios Nikolaos, at the entrance of Dassia. Corfu Town and the airport are 12 km away. Click for more info and booking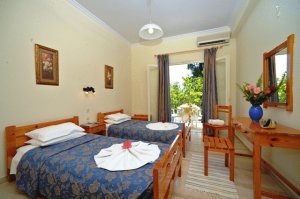 Passas Studios and Apartments: Set in a traditional Greek village of Benitses, this hotel is just 100 metres from the beach. It features a lush garden filled with olive, lemon and orange trees. All Passas studios and apartments are air conditioned and equipped with kitchenettes. Each has a TV set and free Wi-Fi is available throughout the building. Passas Studios and Apartmens is situated 250 metres from the local Corfiot taverns and popular cafés. It is 10 km from the Ioannis Kapodistrias Airport. Click for more info and booking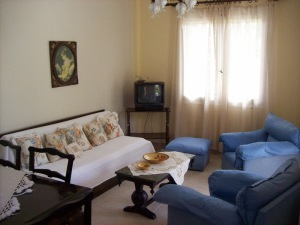 Villa Martha: Family-run self-catering studios and apartments, just 50 metres from the Benitses Beach. It is less than 5 minutes' walk to the town centre's bars, restaurants and tavernas. All rooms at the Martha Villa offer TVs, air conditioning and private balconies. Apartments provide fully equipped kitchens, living rooms and washing machines. Studios have cosy kitchenettes. A public swimming pool next door to Villa Martha Benitses can be used by hotel guests. Click for more info and booking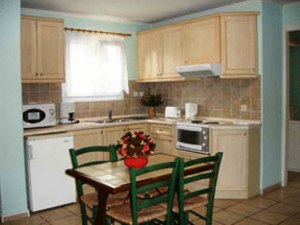 Spiti Prifti Apartments: After its total refurbishment, Spiti Prifti welcomes guests at any one of its 20 fully equipped apartments with self-catering kitchens, and balconies facing its gardens. Spiti Prifti is beautifully situated only 500 metres from the beach of Gouvia and 1.5 km from the blue flagged sandy beach of Kontokali. Spiti Prifti, located in Gouvia in Corfu, offers an 18 metres long pool surrounded by trees and flowers, where guests can relax. Free sun beds and umbrellas are available. At the fully stocked snack bar by the pool guests can enjoy English and continental breakfast, light meals and cool drinks throughout the day. Click for more info and booking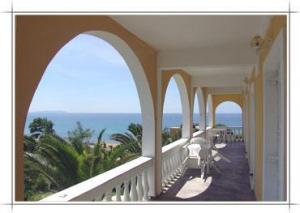 Adriatica View Apartments: Offering a stunning panoramic view of the Ionian Sea and the sunset, these family-run apartments are set amongst lush gardens and just a few minutes walk to the beach. Adriatica View offers fully equipped accommodation for guests who prefer the freedom and independence that is provided with a self-catering apartment. Guests can relax in the spacious apartments and enjoy the convenience of free wireless internet and free private parking. The large private balconies are ideal for relaxing on and taking in the beautiful sunset. Gardenos Beach is just 100 metres away and is ideal for quiet and relaxing sunbathing. For those interested in the heritage of the area, the traditional seaside fishing village of Vitalades is close by. With stunning scenery and a tranquil atmosphere, this is the perfect place to relax. Click for more info and booking
For more information about Corfu see Matt's Guide to Corfu. For hotels and other accommodations see
Booking.com's Corfu Page
Lefkada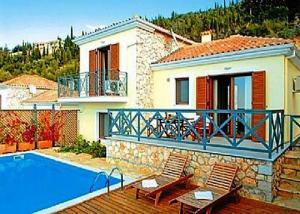 Agios Nikitas Resort Villas enjoy a beautiful location upon the tree-covered hills of Agios Nikitas, overlooking the sea and the village. The 3 unique villas enjoy private pools, parking area and balcony with breathtaking views. Each includes 2 bedrooms, 2 bathrooms, kitchen and a sitting area. From a washing machine and a microwave oven to DVD player and TV, the villas are equipped with everything necessary to offer a home away from home experience. The villas are conveniently located only a 15 minutes' drive from the seafront Lefkada town and 1 kilometre from Agios Nikitas village. The beautiful beach of Kathisma is situated only 5 minutes away from the complex. Click for more info and booking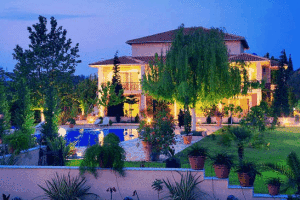 Lefkas Blue Residence on the island of Lefkada offer a private balcony, fully equipped kitchen and free use of a mini laptop with free WiFi connection. Benefit from free private parking. Stroll through the beautiful, landscaped gardens of this residence and have a swim in the outdoor pool. Relax in this warm environment, with antique furniture and modern amenities. Only 800 metres from the town centre, these apartments provide an excellent base. Admire the beautiful garden view from your room. The Agios Ioannis Beach is just 1 km away. Click for more info and booking
For information about the island of Lefkada (which incidentally is one of the only islands you can drive to) see Matt's Guide to Lefkada. For hotels and other accommodation see
Booking.com's Lefkada Page
Kefalonia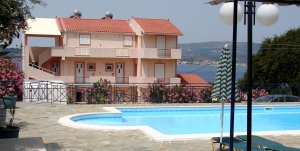 Panorama: Offering beautiful views of the sea and the bay of Argostoli, Panorama provides self-catering accommodation at Fanari, 500 metres from the island's capital, Argostoli. All apartments feature a fully equipped kitchen with fridge and kitchen table. Each has its own bathroom and balcony with views of the bay of Argostoli. The complex features a swimming pool, a garden and a private parking area. The cosmopolitan beaches of Platis Yialos and Makris Yialos can be found within 1.5 kilometres from the hotel. Click for more info and booking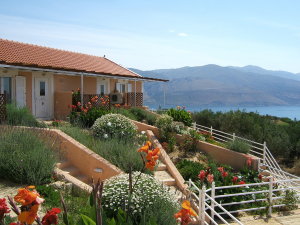 Villa Forestata apartments in Kefalonia, with its discreet elegance, its Ionian island decoration, its simplicity, its sunny colors and its natural, despotic beauty, invites you to have carefree vacations, that will stay in your hearts. Villa Forestata is situated near the exceptionally beautiful beaches of Petani, Platia Ammos and Myrtos of the Kouvalates residential area in Livadi, Palliki. The block of 6 apartments, is a few km away from Lixouri of Kefalonia, inside of the Foresti's family old farm, and is waiting to give you hospitality with love and make you have unforgetable vacations in the beautiful Kefalonia. Click for more info and booking
Pythos Studios in Kefalonia are situated in the resort of Svoronata, a short walk from the beach. Surrounded by pretty gardens and olive groves, these studios offer value accommodation and good facilities in a convenient location. There are 31 studios and apartments which are found in the smaller accommodation blocks in the gardens. Each unit has air conditioning, an en suite bathroom and kitchenette facilities. The spacious maisonettes which have 2 bedrooms and a spacious living area are ideal for families. Facilities within the complex include a large swimming pool and sun terrace. There is also a poolside bar which serves a good range of snacks, home-made dishes and refreshments. Click for more info and booking
For information about the island of Kefalonia see Matt's Guide to Kefalonia. For hotels and other accommodation see Booking.com's Kefalonia Page
Zakynthos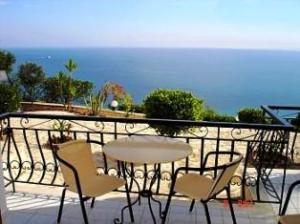 Villa Contessa is an outstanding building with 10 luxury studios, located on the South East coast of Zakynthos in a picturesque area known as Vassilikos. Some of the most beautiful beaches of the island are only 200 meters away. It is an ideal place for those who are looking for a very peaceful and relaxing holiday, in a friendly environment where excellent services are offered. All our studios have their own spacious private balconies with a breathtaking view to the Ionian Sea. In the beaches of the area, you can enjoy a variety of water sports activities such as scuba diving, water biking, waterskiing, and ringo. The Vassilikos coastline is the main area of the National Sea Park and provides a positive alternative to the noisier tourist resorts. A number of shopping opportunities including super-markets, gift shops and bakeries are available a short distance away.
Click for more info and booking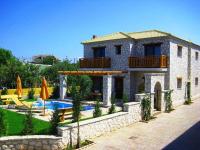 Azure Villas are located in the most picturesque area of Zante island (Zakynthos), Tsilivi that is situated in a close distance to Zakynthos town and is widely known for its wonderful beach. Each villa has a size of 120sqm and is consisted of the ground-floor and the first-floor. The ground-floor offers the visitor a fully equipped kitchen, a living-room, a fireplace and a luxurious bathroom. The first-floor area has got 2 bedrooms and 2 spacious bathrooms, the one of them with a jacuzzi. All 11 villas are luxuriously furnished and can comfortably sleep 4-6 persons. The complex offers superb facilities and features of famous designers origin that promise you an unforgettable accommodation in Zante.
Click for more info and booking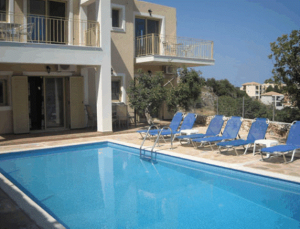 Astra Villas: Set on a hillside 1.5 from Skala, this brand new complex offers fantastic view of the Ionian Sea and the island of Zante. Astra Villas offers fully furnished and equipped villas, each with its own garden, swimming pool and patio with barbeque area. Each 2-storey villa has 3 en suite bedrooms, each with balcony overlooking the pool and the sea, a fully equipped kitchen with dining area and a large living room with satellite TV and CD/DVD player. Astra villas are located just 1.5 km from the centre of Skala. The airport and the airport are approximately a 30-minute drive. Restaurants, mini markets and shops are just 100 metres away.
Click for more info and booking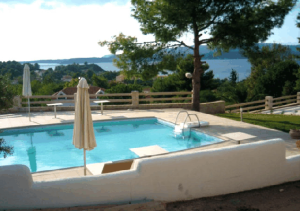 Belvista Luxury Apartments are beautifully located in an area of 6,000 square metres of well kept gardens with relaxing hammocks and furniture. The hotel is found in a very quiet location, right at the heart of the Cephalonian landscape with views that extends from Zakynthos to Lixouri. The recently renovated Belvista Luxury Apartments offer a large swimming pool and entertainment facilities including table tennis and playground. All boutique accommodations are equipped with fully equipped kitchenettes and spacious verandas. There is also parking space. Free wireless internet is available everywhere in the hotel. Click for more info and booking
For information about the island of Zakynthos see Matt's Guide to Zakynthos. For hotels and other accommodation see Booking.com's Zakynthos Page
Ithaki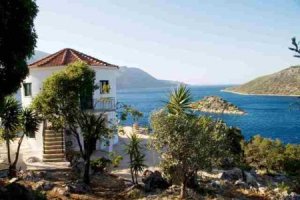 Surrounded by greenery and offering panoramic views of the sea, Razos Windmill offers self-catering accommodation. It is situated in Kalavri, 200 metres away from Deksia Beach. Razos apartment is spacious and air conditioned. It includes a separate bedroom, a dining area and a living room with a TV. The fully equipped kitchen features a refrigerator, a coffee maker and an oven. The centre of Vathi is 1.5 km away from Razos Windmill, offering many cafes and traditional taverns. The beach of Agios Ioannis is 10 km away. Free parking is available on site. Click for more info and booking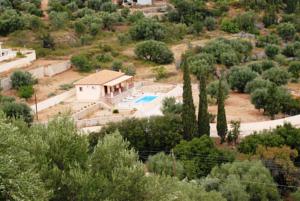 Located 500 metres from the centre of Vathi, Villa Eftychia offers fully equipped accommodation with a private swimming pool and sun terrace with sun beds and umbrellas. Loutsa Beach is 800 metres away. Eftychia villa is spacious and tastefully furnished featuring parquet floors. It includes a fully fitted kitchen with dining area and a living room with a satellite/cable LCD TV, DVD and CD player. It opens out to a large veranda with views of the pool, the garden and the surrounding mountains. Guests enjoy free Wi-Fi access throughout the property and free parking is available on site. Eftychia's staff also offers free transfer to and from Ithaki Port upon request. Within 500 metres from the villa, guests will find bars, restaurants and a bus stop. Deksa Beach is 1 km away, while the port is around a 10-minute walk away. Click for more info and booking
For hotels and other accommodation see Booking.com's Ithaki Page
Kythira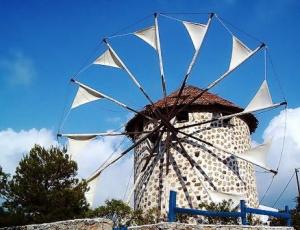 The Windmill is ideally located by Strapodi and Livadi, in Kythira. It is an exquisite example of local architecture. Choose the lovely renovated studios or an attractive Kytherian house. Stay in a beautiful example of local architecture at the 17th century stone windmill at one of the renovated stone studios. The studios show great attention-to-detail and each have their own character. Have a lovely time at the Windmill Studios, surrounded by a wonderful, open landscape. Relax around the fireplace. Enjoy a home-from-home, plus the independence allowed by the fully equipped kitchen. Click for more info and booking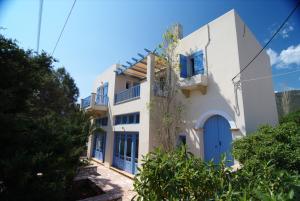 Filoxenes Katoikies on Kythira enjoys a lush garden setting just 100 metres from the beach and offers guests spacious rooms with self-catering facilities, close to Diakofti's shops and restaurants. The spacious rooms at Filoxenes Katoikies are comfortably furnished and decorated in a traditional style. Each one is well-equipped for self-catering, allowing you to enjoy meals when you choose. The spacious balconies are an ideal place for relaxing with a drink and admiring the sunset. Stay in touch with friends, family or work using free wireless internet access in your room. If you're exploring Kythira by car, you can also benefit from free private parking facilities. Filoxenes Katoikies is just a short walk from Diakofti's traditional cafés and shops, for all your grocery shopping. One of the most beautiful beaches of Kythira is just a short walk away and is the perfect place for swimming and soaking up the sun. Click for more info and booking
For hotels and other accommodation see Booking.com's Kithira Page


You can find more hotels in the Ionian Islands by location, price, whether or not it has a swimming pool or is on the beach, and see photos, maps and reviews by using this link to booking.com. Excellent prices and many hotels you can book and then cancel with no cancellation fee. For those who want to book without using a travel agency this is the best way to do it.