Aeolis Santorini with its Amazing Pool is a five room Holiday House located on the Main Street of Perissa, a seaside village on the southeast coast of the island. The famous black sand beach is only five minutes walk away and the area offers many activities, from water sports to horse riding. Numerous restaurants and bars ensure the quality in dining and entertainment, while, nearby shops, bakeries and rental agencies will cover all your everyday needs.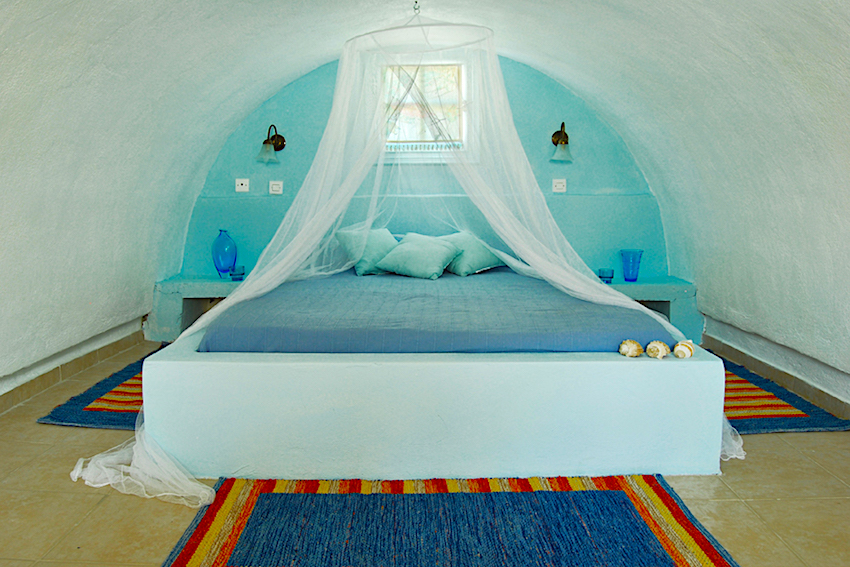 All five rooms, decorated in white and blue colors, are equipped with built-in double beds, air conditioning, mini fridge, flat TVs, iron/iron board, hairdryer, safe, kettle for coffee or tea, a small balcony and en suite bathroom with shower. Two rooms have bedding facilities on traditional loft (may not be ideal for elderly or very tall people). Three of them have extra couches for the comfort of families and friends. Also, four of our rooms have pool and mountain views while the fifth looks on the back yard.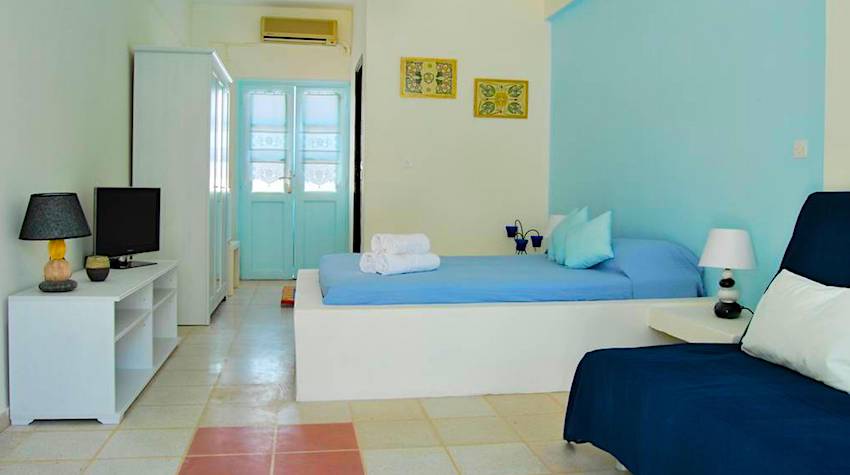 About the House
Room#1, our "Family Room", is facing both the pool and the back yard, and features a built-in double bed and a convertible couch (double sofa bed) to accommodate families and/or friends. Its size is 24sqm.
Room#2, our "Quiet Room", faces the back yard, featuring a built-in double bed and is ideal for single travelers or couples. Its size is 15sqm.
Room#3, our "Romantic Room", located on the upper floor, faces the pool and is ideal for couples featuring a built-in double bed on a traditional low ceiling loft. An extra person can easily be accommodated in the convertible couch (sofa bed). Its size is 15sqm + loft 12sqm.
Room#4, our "Cozy Room", located on the upper floor, faces the pool and is ideal for couples featuring a built-in double bed on a traditional low ceiling loft. An extra person can easily be accommodated in the convertible couch (sofa bed). Its size is 12sqm + loft 7sqm.
Room#5, our "Classic Room", located on the upper floor, faces the pool and is ideal for couples or friends featuring a built-in king size bed with two separate mattresses. Its size is 17sqm.
The kitchen is equipped with a fridge, electrical cooker, oven, microwave, coffee maker, electric kettle, toaster, dish washer, etc. A portable barbeque is placed at the back yard.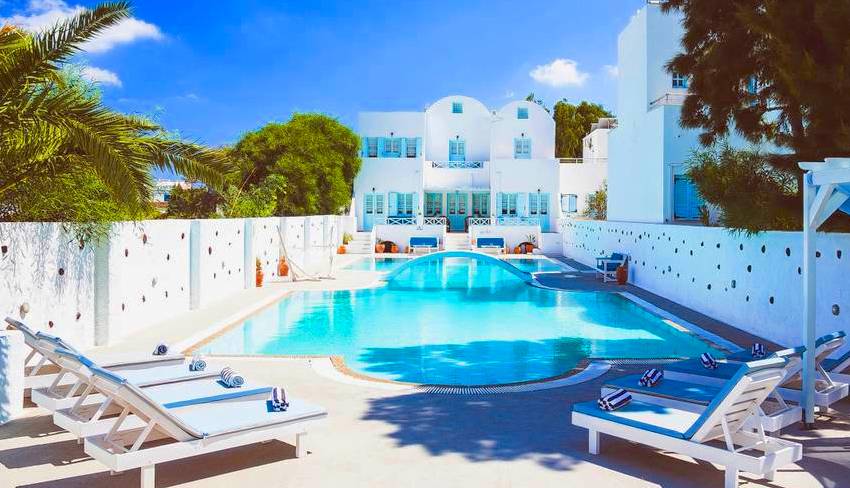 The stunning swimming pool, 25 meters long or half Olympic size, is one of the biggest on the island and the favorite place of adults and children. The shadow kiosk and the sun beds invite you to feel the tranquility of the place.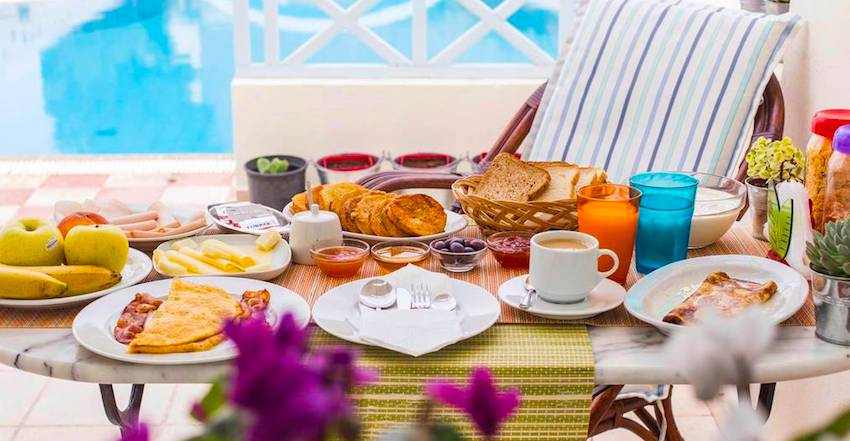 Breakfast is an optional service starting at 10€ per person per day and can include a selection of: juice, coffee, tea, breads, butter, jam, honey, ham, cheese, eggs or omelet, fruits, serials, corn flakes, greek yogurt, tomatoes, olives, feta cheese, pastries or cake as well as sausages and bacon.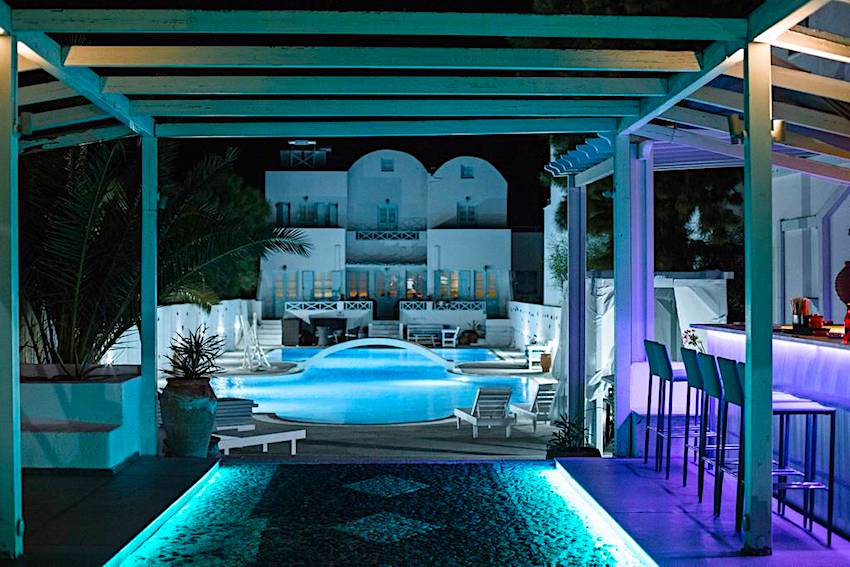 In front of the property there is a chill out bar, where if in operation during your stay, being our guests, you can enjoy drinks at special prices. Normally, when you rent a property as a holiday house, there is no cleaning service. In our case, if requested, we provide, exceptionally, daily cleaning service free of charge. Any kind of travel services from airline/ferry tickets, car/bike rentals, transfers, caldera day/sunset cruises, fishing or wine tours, sightseeing and local excursions to helicopter and sailing boat chartering can be arranged. Beauty treatments and massage services by professional therapists can also be arranged upon request. Looking for restaurants and events? We'll be happy to suggest places and make reservations for you! There is free Wi-Fi on premises and photocopy service. Need to print your boarding passes? No worries. We'll print them for you!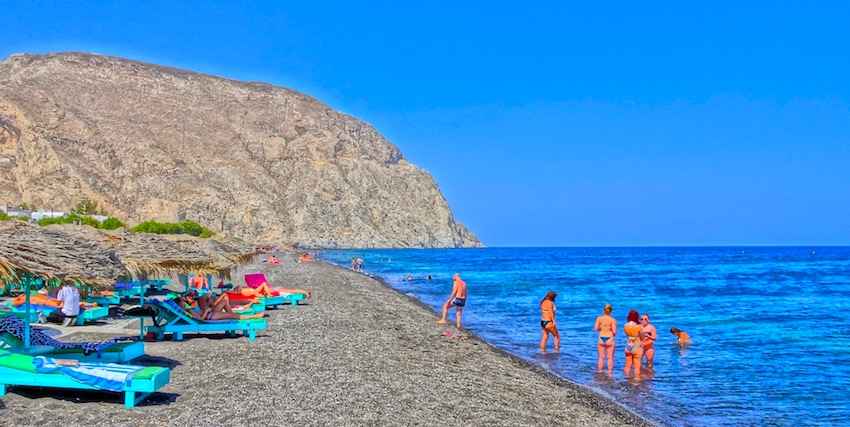 The famous black sand beach, only 300 meters away and exceeding for 5 km, is full of souvenir shops, restaurants and bars. It's the perfect scene to watch the sunrise in the morning, swim and sunbathe in the day, walk in the evening and have dinner in the night.
Guest Comments
"Nicholas, thank you for all your help, hospitality and incredible service during our stay. The home is amazing and the pool just incredible. Thank you to all your staff for the great service as well. Will definitely book again and would highly recommend."
"What a beautiful place! Myself and 8 other members of family - adults and children have just come back from a weeks stay. We were greeted by Nicholas who carried our bags and showed us around and to our rooms. He welcomed us with a beautiful cake his mother made which was delicious. The place was beautiful and clean and the pool is so huge! The place is located very well that you don't need a car, restaurants, supermarket and beach all within 5 minutes walk. Bus stop to Oia and Thira literally outside. Nicholas explained all about Santorini made great recommendations for activities and restaurants - he was available to book anything we needed including taxis etc. We felt very at home here, anything we wanted was taken care of and we found Nicholas so hospitable. A lovely touch was his mother offered to do a cookery lesson to learn the cake recipe she made us. Anyone who stays here is extremely lucky and I really hope we can come back soon!"
"All I can say is WOW! Aeolis is fabulous and Nicholas made the trip even better ! The villa is the perfect choice for a large family or group of friends. Each room was air conditioned, very comfortable, and the pool was fantastic! Nicholas and his staff and went above and beyond to make sure our stay was memorable. From making dinner reservations, booking our sunset cruise at a discount, arranging transportation, and providing recommendations for site seeing venues, Nicholas did it all. I would HIGHLY recommend staying at Villa Aeolis for anyone visiting Santorini ! Hope to see you again soon Nicholas !"
"Nicholas is truly a super host. He made a ton of local arrangements for us and offered advice which was all spot on. Aeolis is a beautiful property and the pool is a masterpiece. We had to drag our kids out of it. Perissa a gem with a beautiful beach a short walk away and plenty of seaside dining options without the crowds. Thank you Nicholas for your warm hospitality and ensuring that made the absolute most of our time on Santorini. Highly recommend."
"First and foremost, the villa was an absolute beauty and beyond our expectations. It's exuded charm and was well maintained and very clean. The rooms were all beautifully decorated and met all our needs. The pool was a highlight and the surrounding seating area was perfect for me and my friends to chill out. The location was in the heart of Perissa with easy access to restaurants, car/ATV/moped hire and supermarkets. However it is the staff at Aeolis which made the stay truly spectacular. They were beyond hospitable and made our stay both enjoyable and care free. Every problem was met with a swift solution, every request was met with enthusiasm and every morning we were greeted with a smile. We have felt so welcomed and cared for from the very start and we were constantly surprised at the lengths that they were willing to go. Thank you to the staff who made our stay amazing and truly a 5 star experience. I highly recommend this villa if you want to experience the best service ever and stay in possibly the most stunning villa in Perissa."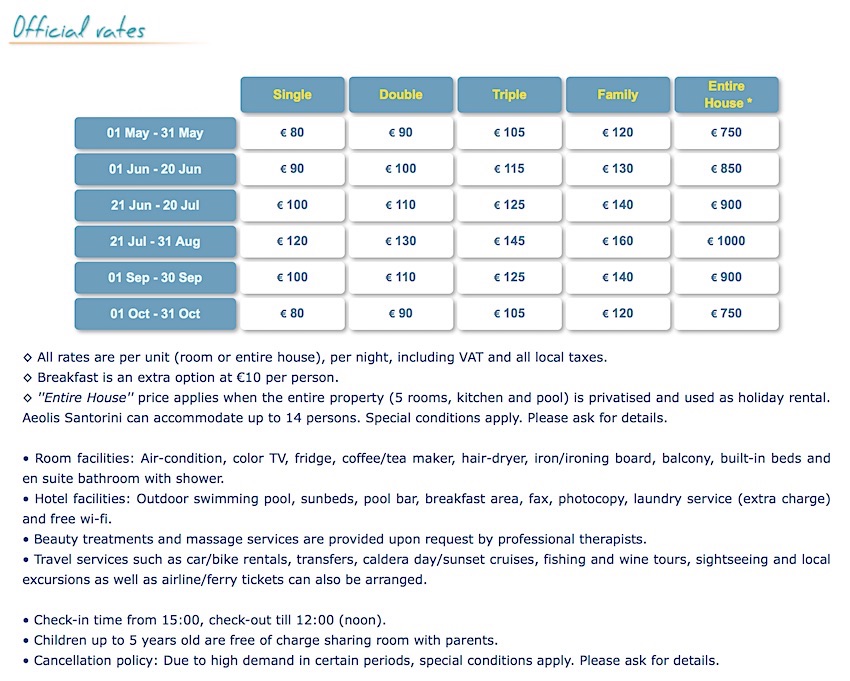 For more Information Please use this form to contact the owners