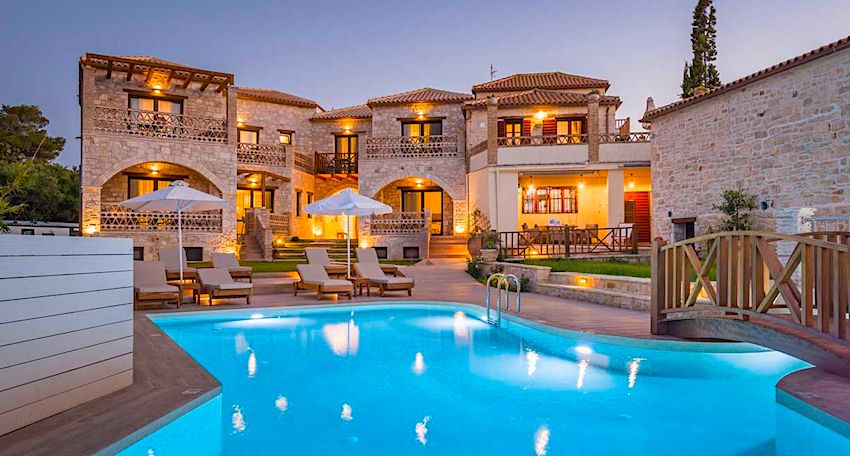 Porta Del Mar Zante
Set in the most picturesque of places, along the Northeastern coast of Psarou beach, Porta del mar traditional beach villas and deluxe apartments in Zakynthos (or Zante) Island offer the most qualitative accommodation for your holidays in Greece. The villas have been built by family Rigas back in 2003, using eco-friendly materials (natural stones, wood, handmade ceramics, crafts etc.), to rent by families or couples, seeking comfort, privacy and peaceful atmosphere directly on the beach. The villas are each uniquely decorated and fully equipped with sea-view verandas.
"Since 2008 we established our wine restaurant-bar, surrounded by beautiful gardens and sea-side terraces to offer you a unique dining experience. We use local products and recipes from Zakynthos and all over Greece. Relaxing music, tasteful plates and unique wines combined, create the perfect atmosphere for your evening. In 2020, we created our brand new wine cellar with a large variety of options mainly from the greek vineyard, where our guests can taste and explore their favorite wine varieties".
Click here for photos and more information and to book directly with the owner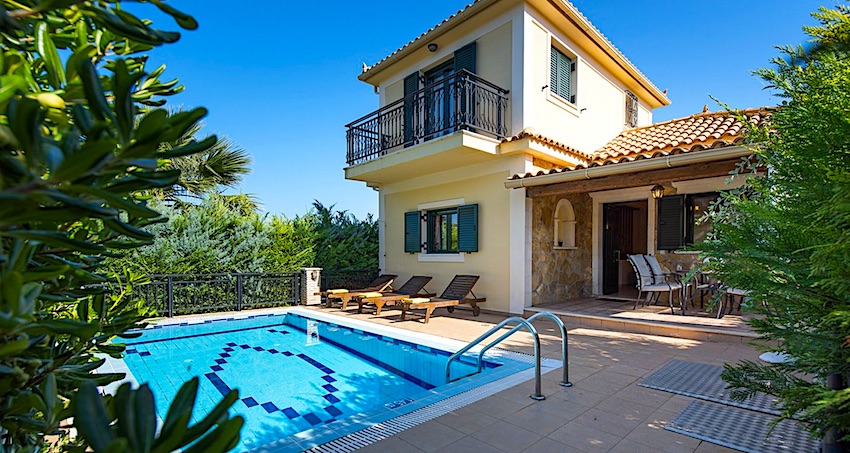 Kookis Village Zakynthos
Kookis Villas are located 150m from the beach in the pretty fishing village of Keri Lake on the south west coast of Zakynthos. The traditional village of Keri is renowned for its rich cultural values and traditional folk singing and offers a real insight into the Greek way of life. Kookis Villas beautifully combines traditional architecture with modern conveniences and set in stunning landscaped gardens the luxurious villas all have their own private swimming pools offering relaxing holidays ideal for families and couples. The complex consists of seven individual two story villas and a main building with reception area and snack bar.
There are two types of villa available for either 4 persons or 5-6 persons. The villas consist of one or two bedrooms, fully equipped kitchen with dishwasher, juicer, mixer, kettle, toaster, coffee machine, fridge and microwave oven; sitting room with open fireplace, satellite TV, air-conditioning; private bathroom with bath. Click here for photos and more information and to book directly with the owner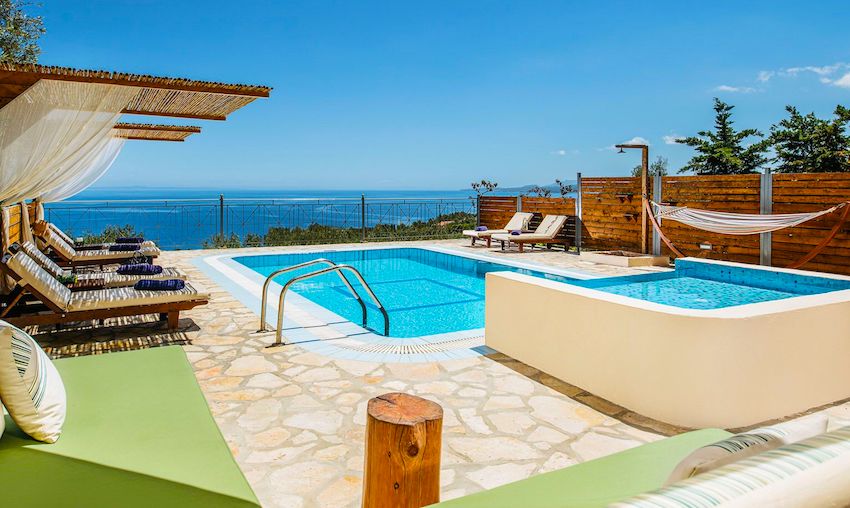 Emerald Villas & Suites
Emerald Villas and Suites in Zakynthos are a few minutes away from Agios Nikolaos beach, in the area of Volimes, on the north-east side of Zakynthos. Emerald Villas and Suites offer you stunning sea views and marvelous moments of relaxation and privacy.
Emerald Villas & Suites are composed of four luxury villa & suites complexes all well situated in a quiet and still unspoiled area of Zante Island. - Emerald Villas is a gated complex consisting of eight luxurious four-star villas. These Zakynthian inspired villas are separated into two different types:
Classic Villas: Four traditional style villas suitable for couples or families of up to 4 people. Each villa has two floors, 80sqm interior space, and 185sqm exterior fenced space including a private pool.
Superior Villas: Four stone-built villas suitable for couples, families, or groups of up to 6 people. Each villa has two floors, 105sqm interior space, and 185sqm exterior fenced space including a private pool. Click here for photos and more information and to book directly with the owner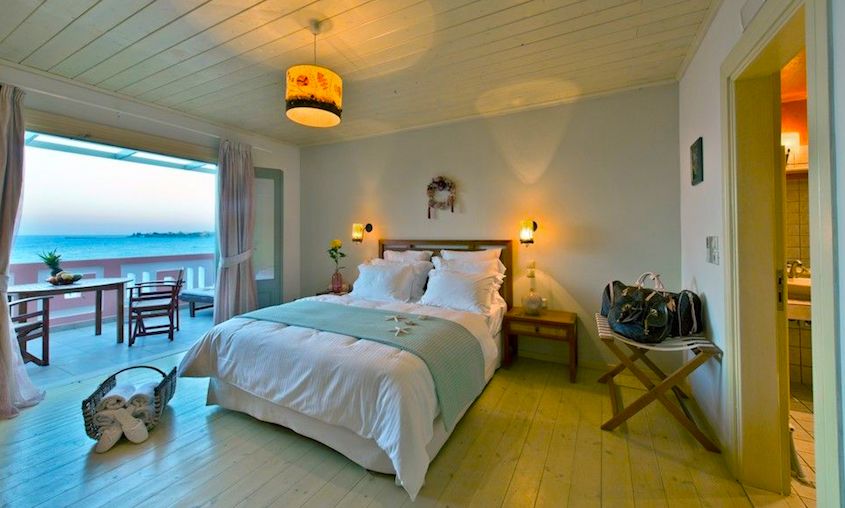 Calypso Villas
Calypso's private estate offers a unique place to enjoy your holiday. Its intimacy, exceptional location, professional operation and range of traditional individually designed villas ideal for 2-8 persons, result in a rare blend of personalised and distinctive service against a breathtaking setting of incomparable physical beauty. The villas are perched on a slope overlooking the sparkling blue waters and the dedicated care and attention to detail by the owners, has created a unique balance between traditional architectural design and modern facilities and amenities. Click here for photos and more information and to book directly with the owner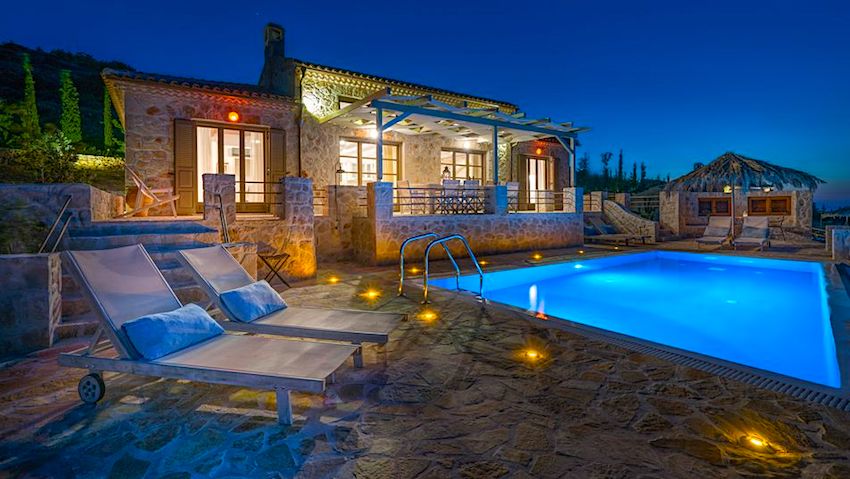 Blue Caves Villas
Blue Caves Villas is a private, peaceful and romantic villa complex of 6 traditional Zakynthian stone houses, overlooking the sea, perfect for relaxing holidays with various opportunities in terms of privacy, leisure and pleasure. The abundance of opportunities for hiking, mountain biking,swimming, fishing or for the more adventurous: diving in the crystal clear sea, canoeing or exploring the mountain side, will tempt every visitor and make for unforgettable experiences. All the villas have private pools with hydo-massage, direct access to the sea and spectacular "Priest's Cave" where a monk allegedly used this cave for meditation in the old days. Click here for photos and more information and to book directly with the owner
Agrikia Villa - Varvarigos Houses
On the side of an olive tree-clad hill, in the village of Lagadakia, Zante, a mere 8 Kms from the island's capital, with an exquisite view to the tree-covered plains, we respected tradition, we added a touch of luxury, and created the unique stone Varvarigos Agrikia Villa.
The Villa consists of three independent apartments. Each apartment has got a fireplace, Jacuzzi, and ample space, fully furnished and elegantly decorated. The swimming pool allows the guests to cool down and relax in an atmosphere of amazing natural beauty, watching the eternal blue of the Ionian Sea.
The area is an ideal choice for guests to explore it with hiking, mountain biking, strolling to the surrounding areas. Easy access to all the island's beaches, like Laganas, the Keri bay, the sandy shore of Tsilivi, as well as the beautiful west side of the island with its rocky bays. The Varvarigos Villa combines all the advantages of organized tourism, while respecting the privacy of your holidays. Click here for photos and more information and to book directly with the owner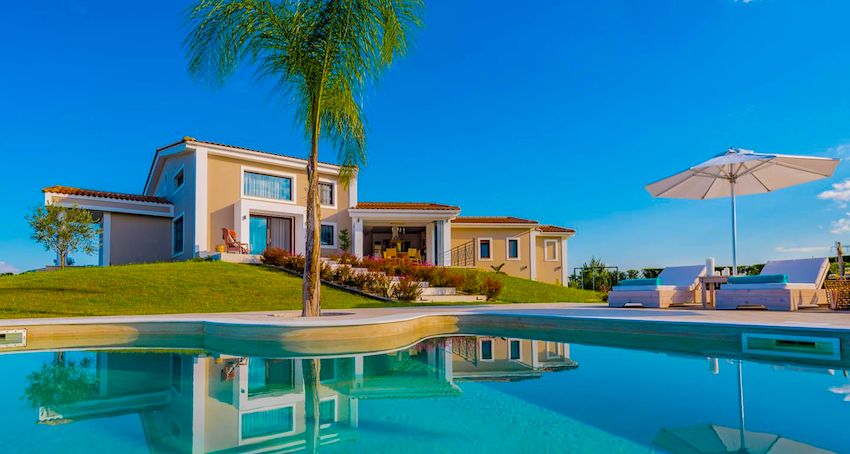 Villa Shangri-La Zakynthos
Villa Shangri-La is a brand new luxury villa that started welcoming guests in July of 2020. Villa Shangri-La Zakynthos is grandiose with lavish interiors and opulent exteriors. A luxury vacation rental that can most certainly satisfy the needs even of the most discerning traveller. In terms of accommodation, sleeping and living arrangements, Villa Shangri-La comprises of two buildings. The main house and the stone-built bungalow. In the interiors, the main house offers extra spacious living and dining areas, a modern fully equipped kitchen, a study area, four bedrooms, 3 bathrooms and a WC. The bungalow, on the other hand, has its own open plan kitchen, living area, bedroom and bathroom. The bedrooms at the main house are spread on two floors. On the ground level, there is the master bedroom suite with its own ensuite bathroom and two more bedrooms sharing one bathroom. On the upper level where the study area is also set, there is the fourth bedroom with another bathroom. The outdoors of Villa Shangri-La are just a splendour for all guests. The specially shaped swimming pool dominates the scene and is surrounded by perfectly manicured gardens. Click here for photos and more information and to book directly with the owner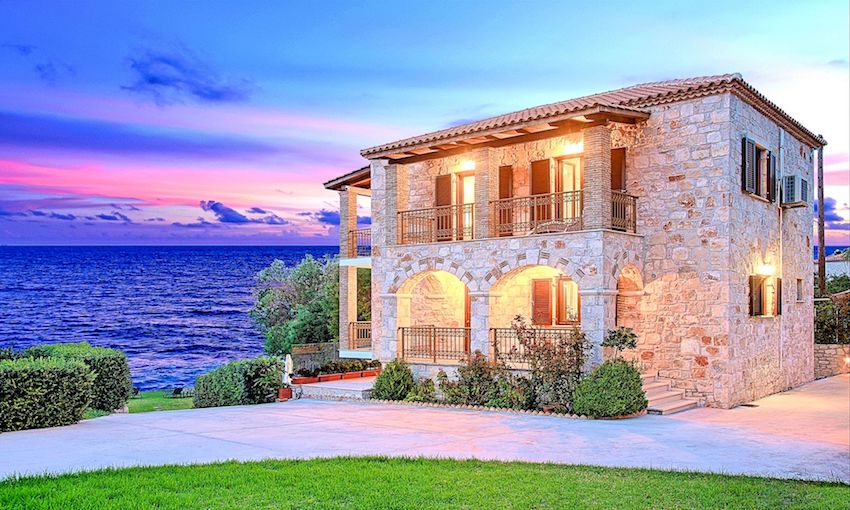 Villa Mare Psarou
Immerse yourself into the luxury of simplicity as you succumb to the cozy and elegant environment of the Villa. The minimal design, the neutral colors and the modern interior aesthetics radiate purity and sophistication, whilst our private beach promises to uplift your spirit. Dive into the turquoise waters and capture the breathtaking views of the shimmering sunset and the fascinating Ionian blue. The luxurious Villa promises you a most memorable vacation while enjoying the magic and the mystery of one of the most romantic destinations around the world. This discreetly luxurious Villa at the area of Psarou Zakynthos is exquisitely furnished and tastefully designed. This house embraces the green philosophy of nature, exuding an aura of blissful calm. Click here for photos and more information and to book directly with the owner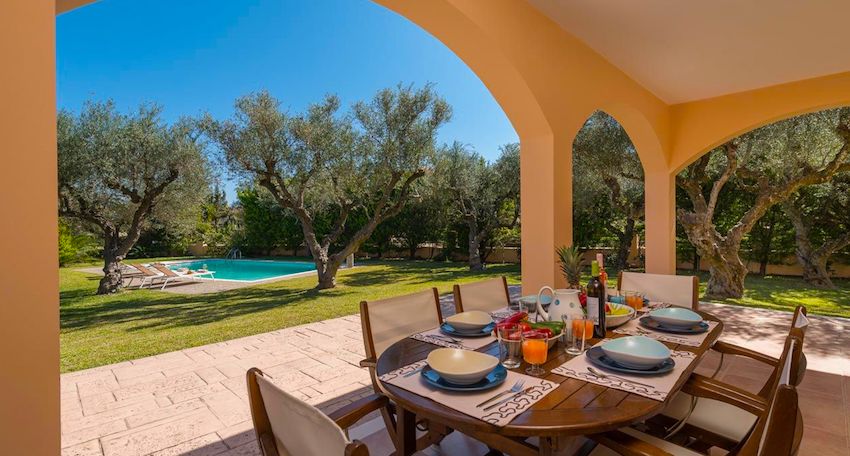 Villa Levanda
Villa Levanda, having taken its name from the beautiful levanda flower with its marvelous scent, is an excellent choice for those who wish to combine relaxation, privacy and comfort. It is located very close to Porto Koukla beach, while you can enjoy the bright sun, the fresh air, the flora and a beautiful landscape amongst century aged old olive trees. An ideal option if you are looking for a fully equipped holiday villa, close to a selection of activities and amenities. The Villa measures 200 square meters and can accommodate 9 guests, an ideal choice for groups of friends and families.
There are 4 bedrooms with TV and air condition and two bathrooms in the house. The ground floor has a fully equipped kitchen, a living room, a children's area and a bathroom with shower. Also on the ground floor there is a bedroom with a double bed.
Click here for photos and more information and to book directly with the owner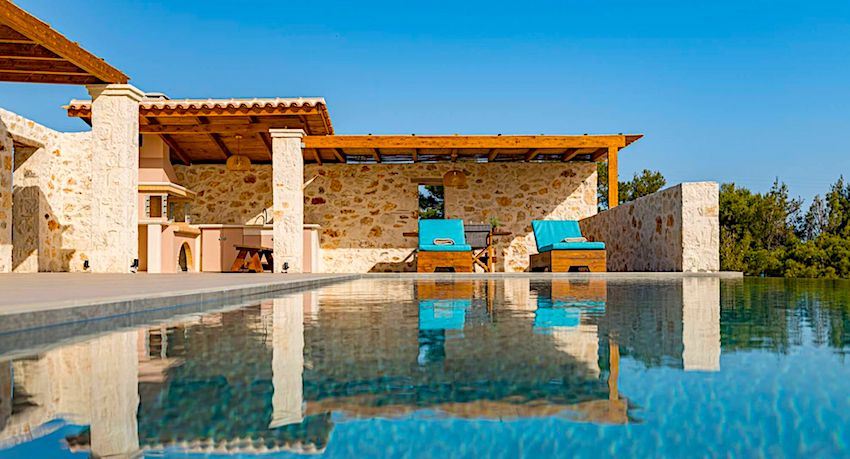 Terra Lucis Mountain Residences
Located in the traditional village of Agios Leon, near the turquoise waters of Limnionas beach, Terra Lucis Mountain Residences consists of three luxurious homes, sleeping up to 6 persons each. Each villa has a full kitchen and BBQ and a swimming pool, complete with sunbeds, parasols, and outdoor showers. Terra Lucis Mountain Residences is situated in Agios Leon, a small settlement located 24km west of the island's capital, Zante Town. The quiet village has retained its original architecture and has untouched natural surroundings. Agios Leon is near some beautiful beaches on the western part of Zakynthos and is an ideal location for those who desire authentic experiences, away from the typical commercialized tourist industry. Click here for photos and more information and to book directly with the owner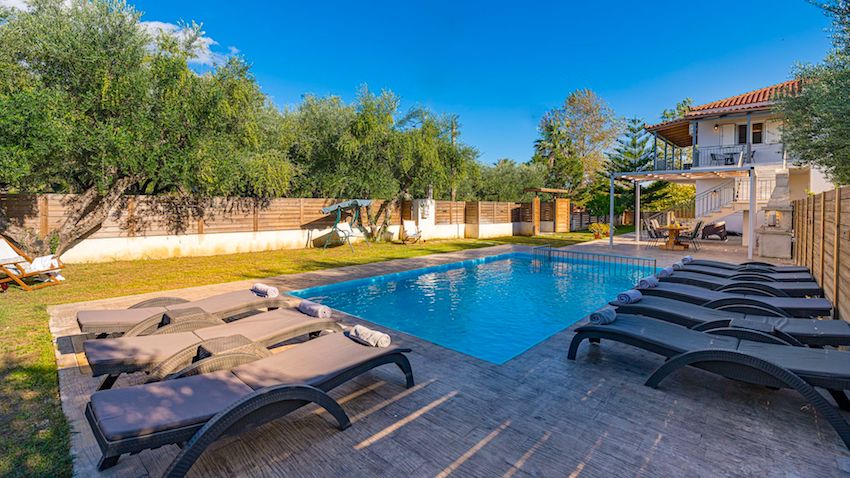 Ruvelis Villa
Set in Zakynthos Galaro, Ruvelis villa offers accommodation with a private pool, a patio and pool views. The air-conditioned accommodation is 11 km from Tsilivi, and guests benefit from complimentary WiFi and private parking available on site. The villa has 4 bedrooms, a flat-screen TV with satellite channels, an equipped kitchen with a microwave and a fridge, a washing machine, and 2 bathrooms with a shower. Ruvelis villa offers a sun terrace. Barbecue facilities are at guests' disposal and guests can also relax in the garden, beside the outdoor swimming pool, or in the shared lounge area. Click here for photos and more information and to book directly with the owner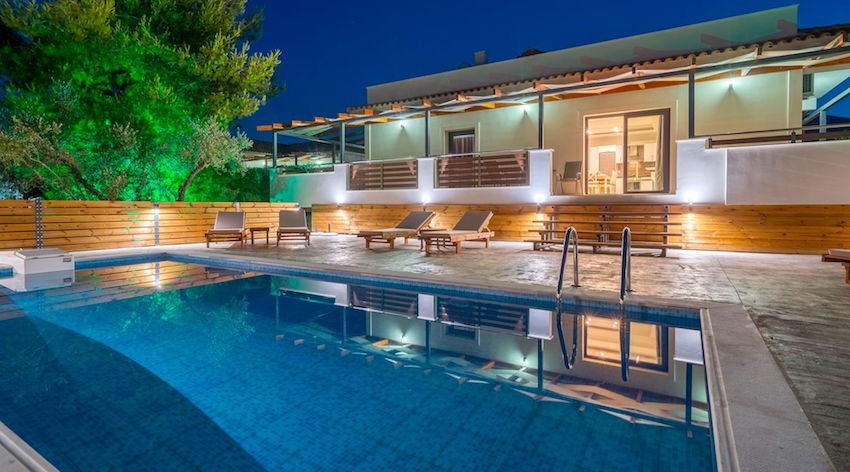 Natura Verde Villas
Natura Verde Villas is a recently rebuilt and renovated complex that offers 6 villas with private pools. All villas are located among well taken care of gardens within nature offering a relaxing and memorable stay. The welcoming environment along with the modern furnishings and appliances as well as the private pools make the complex a worth visiting one! The Natura Verde is very suitable for extended families and big groups that seek a holiday destination that can accommodate them all, while at the same time they will be able to enjoy their privacy. Click here for photos and more information and to book directly with the owner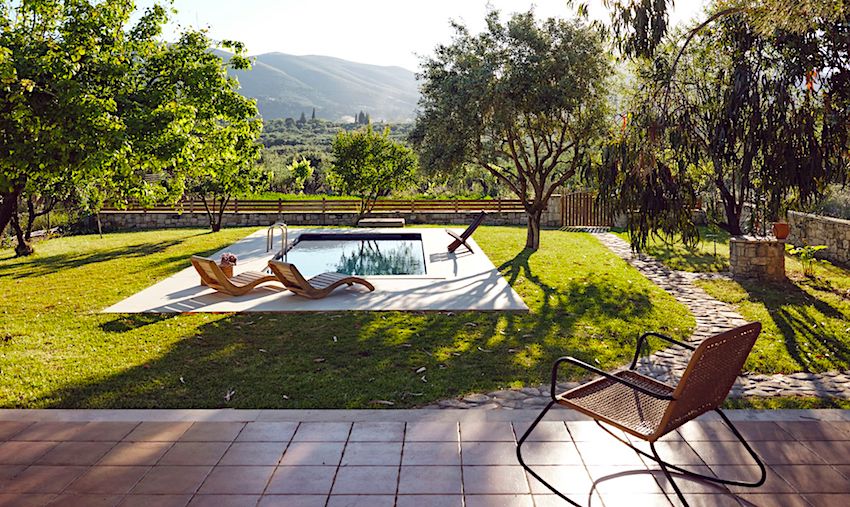 Leeda's Villas and Farm
Welcome to Leeda's World! A family business of Dionysios and Maria, named after their daughter Leeda. Built in a quiet traditional area, among olive tree groves, the Cottages are perfect for family holidays, couples and for those seeking to relax and enjoy nature. The authentic atmosphere, the private pools and the privately owned farm that you can visit will make your holidays unforgettable ! Enjoy a new experience of living in nature and at the same time having all the modern comforts and aesthetics. Experience the Greek Summer as never before. The farm has seasonal bio fruits and vegatables as well as our beautiful animals which are fed with natural products and fruits. You can enjoy watching and playing with them. All guests receive complimentary products from the Farm. Fruits, vegetables and herbs are full in vitamins and antioxidants when grow on their natural environment without toxic pesticides. There you can feel the original taste of Zakinthian products. Click here for photos and more information and to book directly with the owner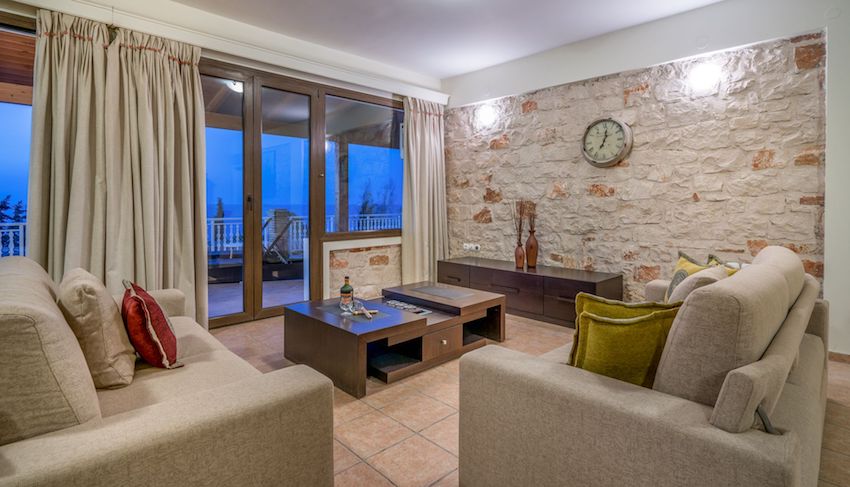 Ananta Blue Residence Zakynthos
Welcome to Ananta Blue Residence, the ideal home away from home, for those seeking to enjoy the authenticity of the summer in the Greek Islands. The 3 and 4 bedroom apartments are decorated with elegance and offer all the necessary comforts. The stunning views of the Ionian sea can be admired by every corner of the apartments. Built a mere 1.8 km away from the sea and offering two apartments, as well as a traditional Greek restaurant, Ananta Blue has everything that a traveller may wish for including a fully equipped kitchen. Click here for photos and more information and to book directly with the owner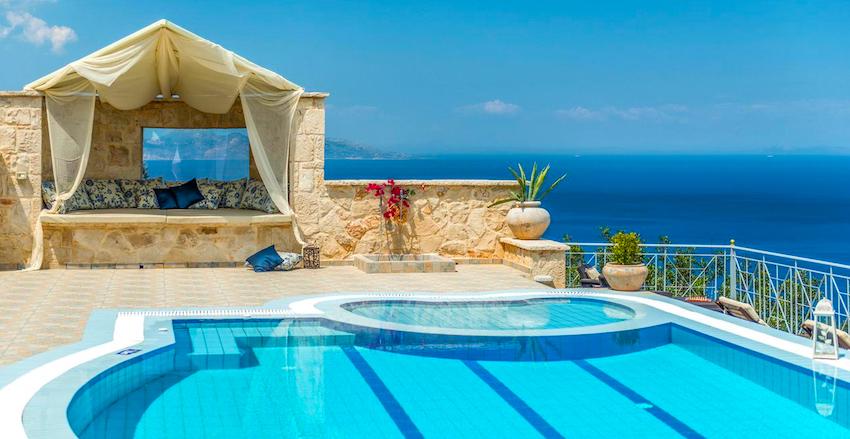 Emerald Villas
Featuring an outdoor pool, Emerald Villas is located in Agios Nikolaos, a few minutes walk from the beach. Zákynthos Town is 13 miles away. Free WiFi is available throughout the property and free private parking is available on site. All units are air conditioned and feature a sitting area with a flat-screen TV and DVD player Some units have a terrace and/or balcony. An oven, a microwave and toaster are also featured, as well as a coffee machine and a kettle. There is also a kitchen in some of the units equipped with a dishwasher, a refrigerator, and a stovetop. Towels are provided. Emerald Villas also includes a barbecue. For booking information and more photos and reviews click here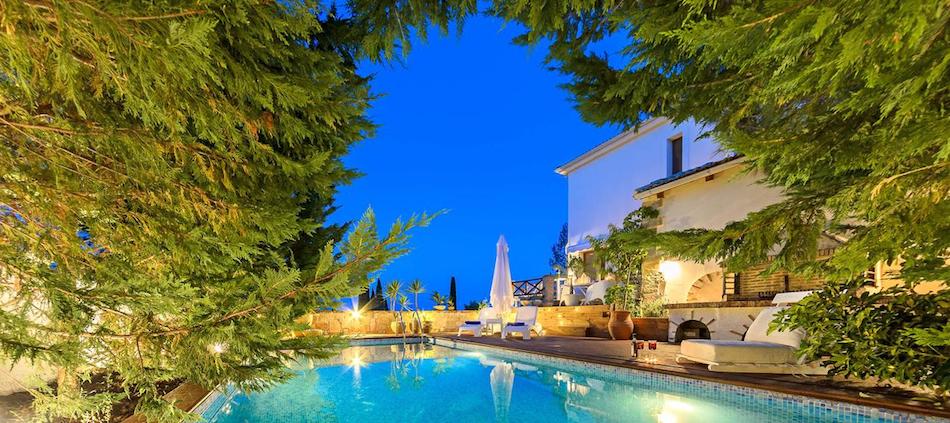 Ark Luxury Villa
Located in Mouzákion, this 4-bedroom semi-detached villa features a terrace and a garden with an outdoor pool. The property is 5 miles from Zákynthos Town and features views of the mountains. Free private parking is available on site. There is a sitting area and a kitchen. A flat-screen TV and DVD player are available. Other facilities at Ark Luxury Villa include a seasonal outdoor pool. For booking information and more photos and reviews click here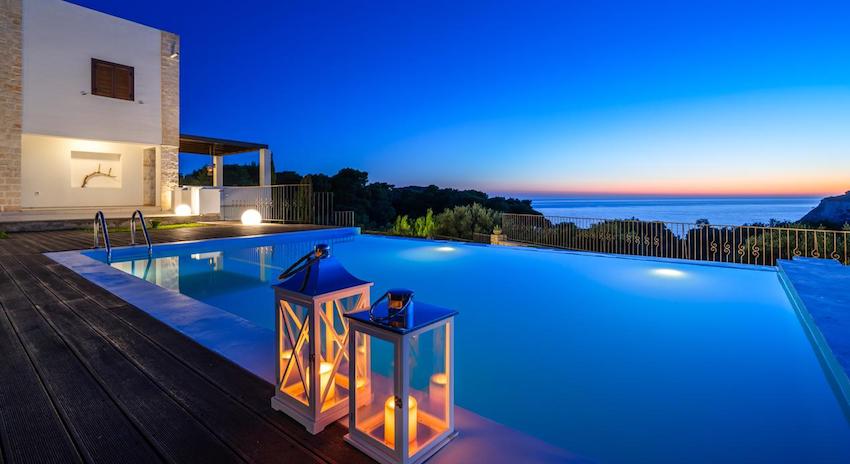 Kalas Residence
Located in Keríon, this 3-bedroom detached villa features a garden with a seasonal outdoor pool. It provides free private parking. There is a sitting area, a dining area and a kitchen as well as a private bathroom with slippers, free toiletries and a hairdryer. A flat-screen TV with satellite channels is available. Other facilities at Kalas Residence include a sun terrace. For booking information and more photos and reviews click here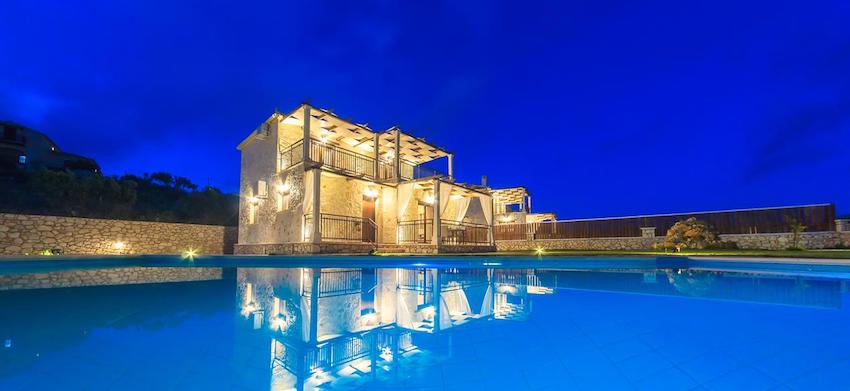 Eden Villas
Showcasing an outdoor pool and views of the mountains, Eden Villas is a 3 bedroom villa located in Anafonítria. Zákynthos Town is 14 miles from the property. Free private parking is available on site. All units have a flat-screen TV and laptop. Some units are air conditioned and include a sitting area with a CD player. There is also a kitchen, fitted with a dishwasher. An oven and coffee machine are also available. Each unit is equipped with a private bathroom with slippers and a hairdryer. Bed linen are featured. Eden Villas also includes a seasonal outdoor pool. For booking information and more photos and reviews click here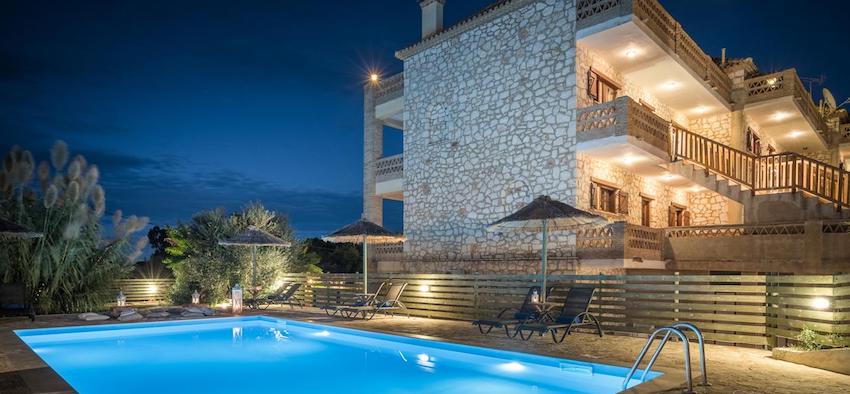 Alegria Villas
Showcasing an outdoor pool and seasonal outdoor pool, Alegria Villas Complex is located in Vasilikós, a 2 minute walk from the beach and just 6 miles from Zákynthos Town. Laganas is 7 miles away. All units are air conditioned and feature a flat-screen TV with satellite channels. Some units include a terrace and/or balcony with sea views. There is also a kitchen, equipped with a dishwasher. An oven, a microwave and toaster are also available, as well as a coffee machine and a kettle. There is a private bathroom with a hairdryer in each unit. Bed linen are provided. Alegria Villas also includes a hot tub and barbecue. Guests can enjoy the on-site restaurant. For booking information and more photos and reviews click here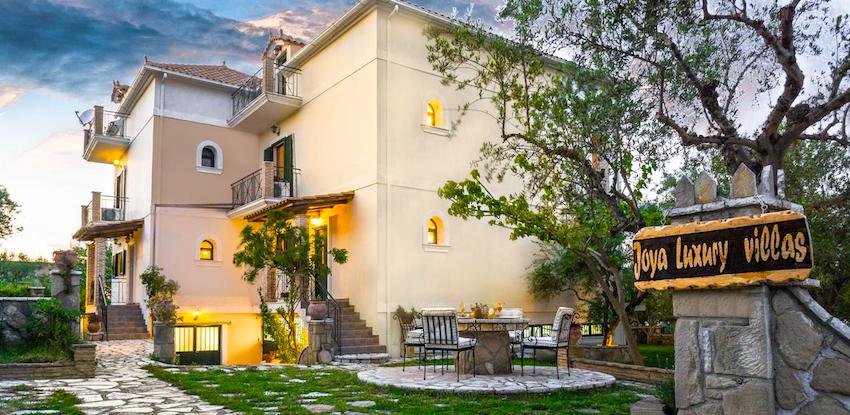 Joya Luxury Villas
Located in Kipséli, Joya Luxury Villas is a 4 bedroom villa and features a garden, barbecue, and sun terrace. Zákynthos Town is 5 miles from the property. Free private parking is available on site. All units include a cable flat-screen TV. Some units have a terrace and/or balcony. There is also a dining area and a kitchen equipped with an oven. A toaster and refrigerator are also provided, as well as a coffee machine. Towels are available. For booking information and more photos and reviews click here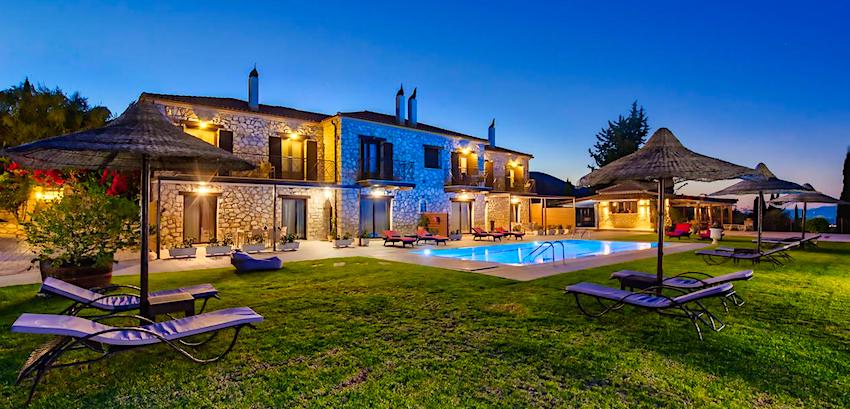 Agrikia Villa
Located in Langadhákia, 6 miles from Zákynthos Town, Agrikia Villa features an outdoor pool and views of the sea. Laganas is 5 miles from the property. All units feature a sitting and dining area. Some units have a terrace and/or balcony with mountains views. An oven and toaster are also provided, as well as a coffee machine. Some units also have a kitchen, fitted with a microwave and refrigerator. There is a private bathroom with free toiletries in each unit. Bed linen are available. Agrikia Villa also includes a hot tub. Guests can enjoy a drink at the on-site bar. For booking information and more photos and reviews click here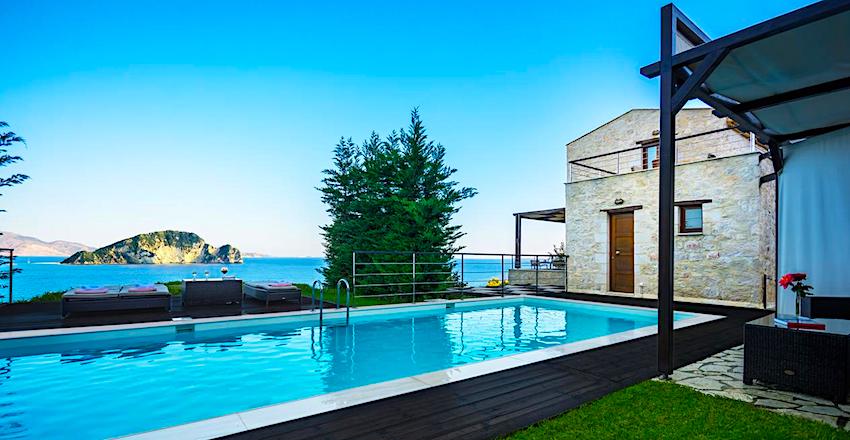 Exensian Villas & Suites
Exensian Villas & Suites is just 450 feet from the beach of Marathia. It features villas on a hillside with private hydro-massage pools. The complex offers luxurious 2-story villas with big porches with unique views, fully equipped electric stove and dishwasher, living room with fireplace and bathroom with spa tub and hairdryer. Modern amenities include a DVD player, LCD TV with satellite channels in every room, laptop with internet access and design furniture. Guests can enjoy the resort's location and visit the nearby beaches or take boat trips to Marathonisi and the beautiful caves. For booking information and more photos and reviews click here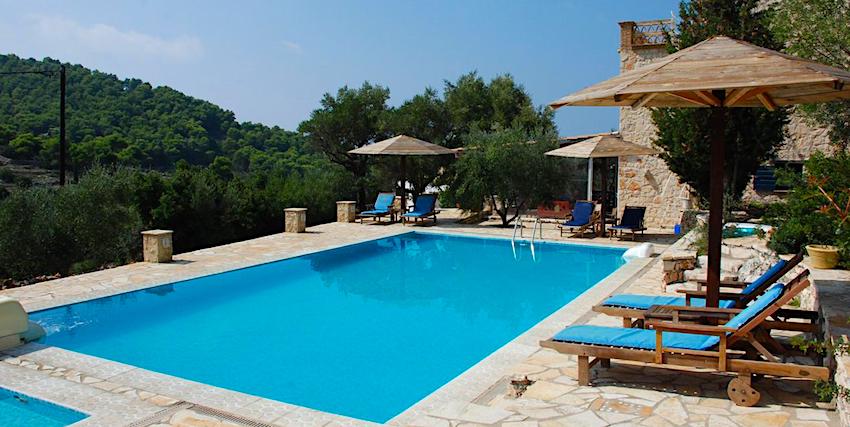 Revera Traditional Stone Villas
Located in Keríon, Revera Traditional Stone Villas, Apartments & Studios offers a garden and outdoor pool. Zákynthos Town is 10 miles from the property. Free private parking is available on site. Some units include a dining area and/or balcony. A refrigerator and stovetop are also featured, as well as a coffee machine and a kettle. Some units also have a kitchen, fitted with an oven. Every unit is fitted with a private bathroom with a bathtub or shower. Towels are provided. Revera Stone Villas also includes a sun terrace. Guests can enjoy a drink at the on-site bar. For booking information and more photos and reviews click here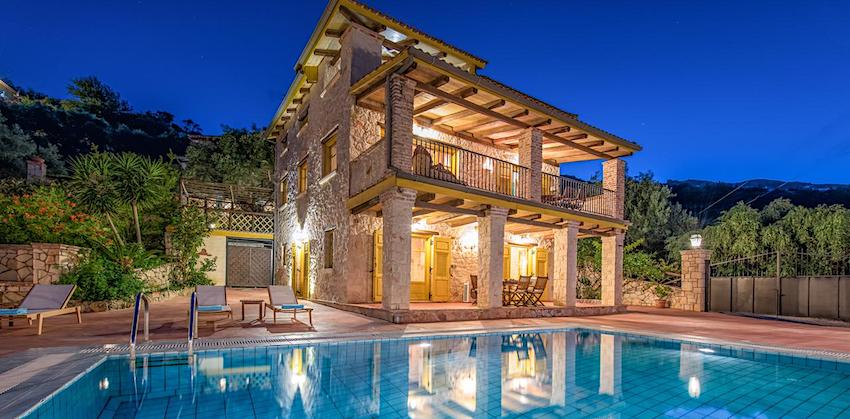 Zakynthos Villas
Located in Vasilikós, 3.6 miles from Zákynthos Town, Zakynthos Villas features a seasonal outdoor pool and views of the sea. Laganas is 5 miles from the property. Free WiFi is featured throughout the property and free private parking is available on site. The accommodation is fitted with a flat-screen TV, Nintendo Wii, and iPod docking station. Some units have a sitting and/or dining area. There is also a kitchen, fitted with a dishwasher and oven. A microwave is also provided, as well as a coffee machine and a kettle. Towels and bed linen are available. Zakynthos Villas also includes a barbecue. For booking information and more photos and reviews click here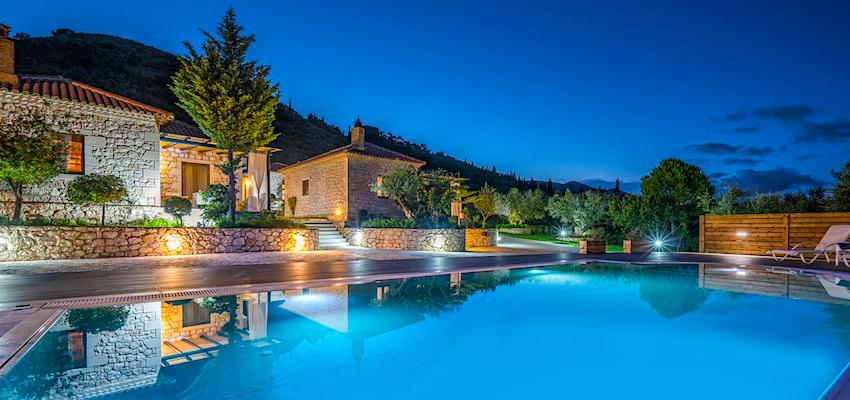 San Antonio Villas
Located in Pandokrátor, 5 miles from Zákynthos Town, San Antonio Villas features an outdoor pool and views of the mountains. Laganas is 1.7 miles away. Free private parking is available on site. The accommodation has a satellite TV. Some units feature a sitting area and/or terrace. There is also a kitchen, equipped with an oven, microwave and refrigerator. A stovetop and kettle are also featured. Every unit is fitted with a private bathroom with a shower and free toiletries. San Antonio Villas also includes a barbecue. For booking information and more photos and reviews click here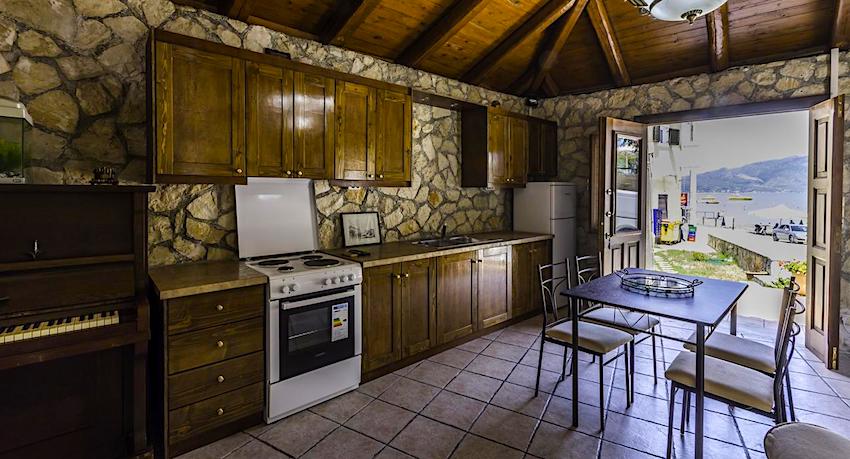 Αggi's
Αggi's is a detached villa is located right on the beach in Laganas, and is 5 miles from Zákynthos Town. The property is 7 miles from Tsilivi and free private parking is available. The kitchen is fitted with an oven, a refrigerator and a stovetop, as well as a coffee machine. A flat-screen TV is provided. For booking information and more photos and reviews click here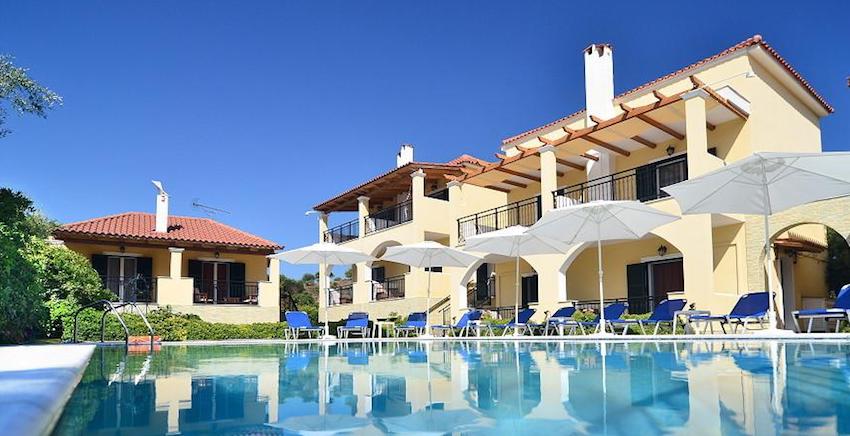 Muses Zante Villas
Showcasing a seasonal outdoor pool, barbecue and sun terrace, Muses Zante Villas is located in Kalamákion, a 20 minute walk from the beach and just 1.7 miles from Zákynthos Town. Laganas is 2.9 miles from the property. Free private parking is available on site. Featuring a balcony, the accommodation features flat-screen TV, CD player, and DVD player Some units are air conditioned and include a sitting and/or dining area. There is also a kitchen, fitted with an oven and refrigerator. A stovetop and kettle are also available. Every unit is equipped with a private bathroom with free toiletries. Towels are provided. For booking information and more photos and reviews click here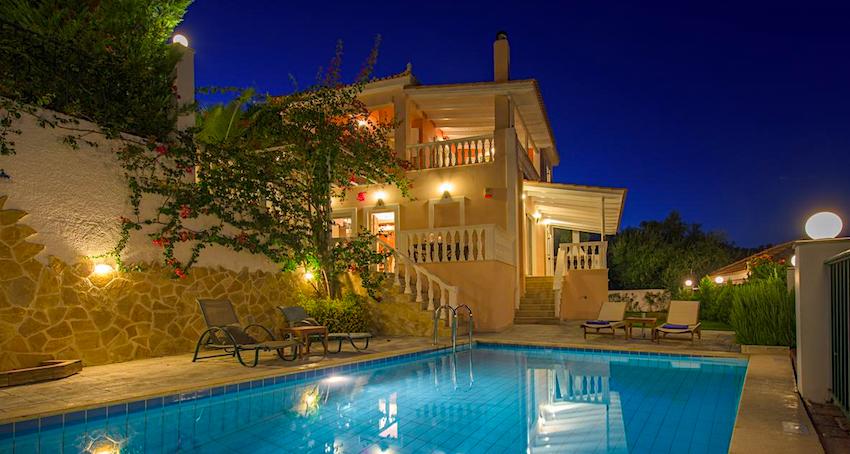 Aerial View Villas
Showcasing a swimming pool, barbecue and views of the sea, Aerial View Villas is located in Lithakiá. Zákynthos Town is 6 miles away. Free WiFi is featured throughout the property and free private parking is available on site. Some units have a sitting and/or dining area. Some units also have a kitchen, fitted with a dishwasher, an oven, and a microwave. Towels and bed linen are provided. For booking information and more photos and reviews click here
Villa Margie
Featuring a seasonal outdoor pool, Villa Margie is a detached villa located in Tsilivi, a 5 minute walk from the beach. It provides free private parking. The kitchen features a dishwasher, an oven and a microwave, as well as a coffee machine and a kettle. A flat-screen TV with satellite channels, Blu-ray playerand DVD player are featured. Other facilities at Villa Margie include a barbecue. Zákynthos Town is 2.4 miles from Villa Margie, and Laganas is 6 miles from the property. For booking information and more photos and reviews click here
Guarda L'orizzonte
Featuring an outdoor pool, Guarda L'orizzonte is a 5-bedroom detached villa located in Laganas. The property is 4.3 miles from Zákynthos Town and free private parking is featured. The kitchen is equipped with an oven, a microwave and a toaster, as well as a coffee machine and a kettle. A flat-screen TV with satellite channels is available. Other facilities at Guarda L'orizzonte include a sun terrace. For booking information and more photos and reviews click here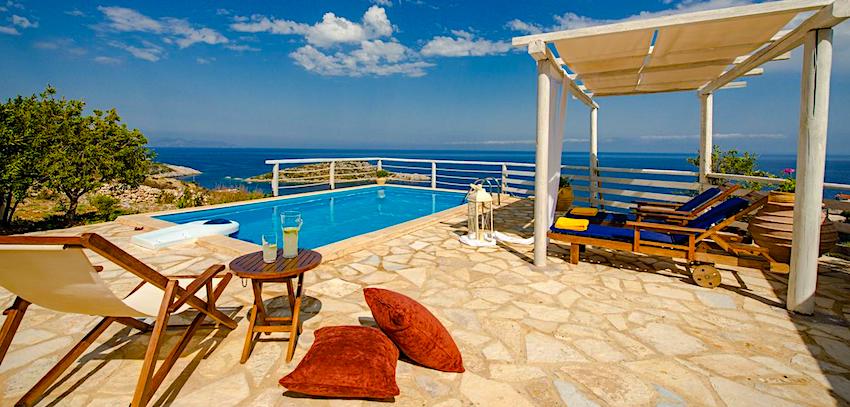 Orfos Villas
Built by traditional methods, this accommodation has a private pool, BBQ facilities, free Wi-Fi and unlimited Ionian Sea views from its furnished balcony and patio. Orfos Villas is 1,000 feet from the beach in Agios Nikolaos Village. Furnished with mosaic tiles and stone walls, the air-conditioned villas have open-plan living, dining and full kitchen areas. A flat-screen satellite TV, CD/DVD player, spa bathtub and bathrooms stocked with slippers and free toiletries are standard. For booking information and more photos and reviews click here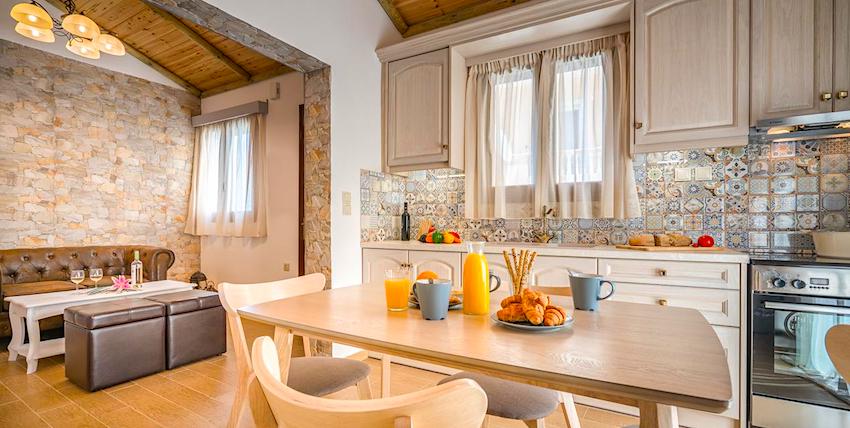 Ninemia Villas Zakinthos
Featuring a barbecue, Ninemia Villas Zakinthos is a 3 bedroom detached villa located in Zákynthos Town a few minutes walk from the beach and features views of the sea. There is a sitting area and a kitchen equipped with a dishwasher. A flat-screen TV is featured. There is a private bathroom with a bathtub. For booking information and more photos and reviews click here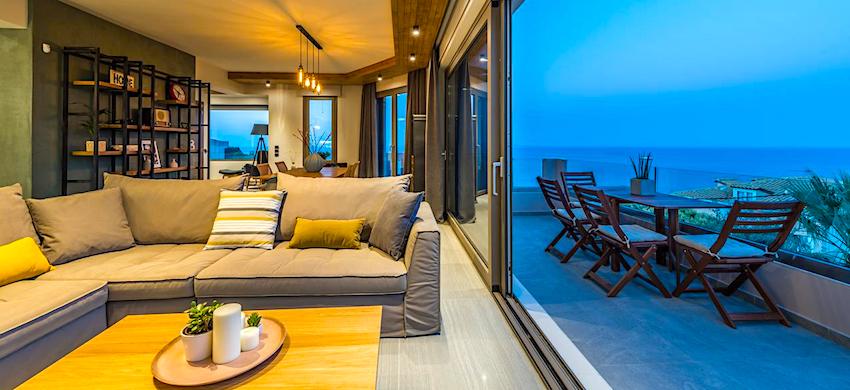 Pasithea Elegant Villa
Located in Zákynthos Town, this 3-bedroom detached villa features a garden with a barbecue. The property is 5 miles from Laganas and free private parking is provided. The kitchen is equipped with a dishwasher and an oven and there is a private bathroom with free toiletries and a hairdryer. A flat-screen TV with satellite channels and DVD player, as well as a CD player are featured. Other facilities at Pasithea Elegant Villa include a terrace. For booking information and more photos and reviews click here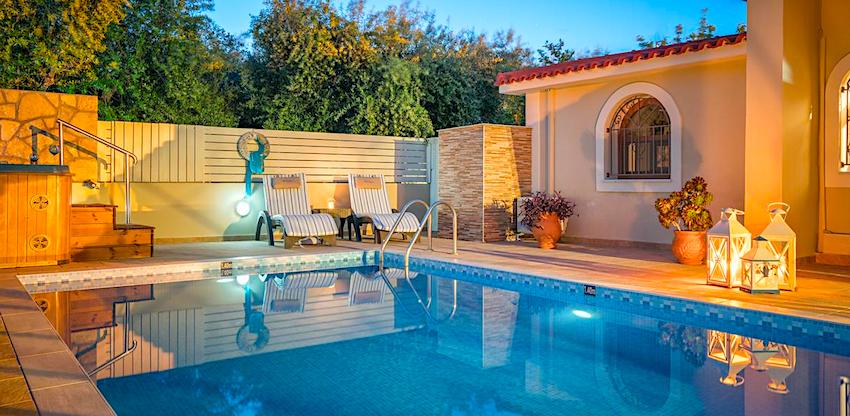 Fiorentinos Villa
Fiorentinos Villa is a 3 bedroom villa with a private swimming pool and terrace, located in Tragákion a 5 minute walk to the beach. It provides free private parking. The kitchen has an oven. A flat-screen TV and DVD player, as well as a CD player are provided. There is a private bathroom with a hot tub. For booking information and more photos and reviews click here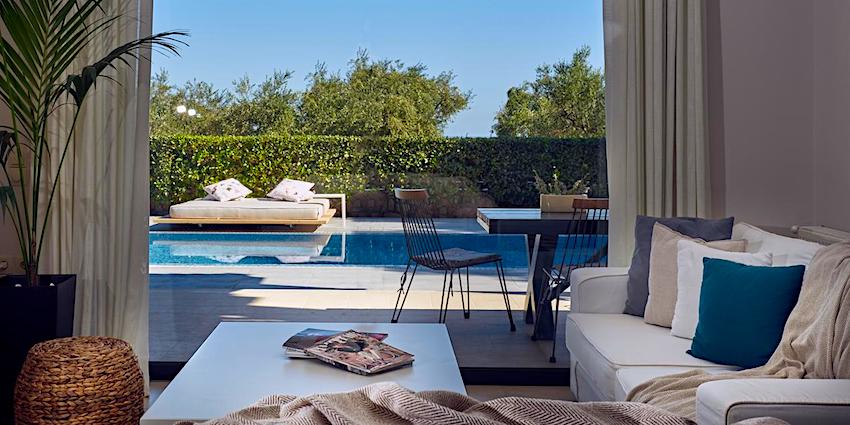 Cielo Luxury Villas
Located in Zákynthos Town, this air-conditioned villa has a swimming pool and provides free private parking. There is a dining area and a kitchen. A flat-screen TV with satellite channels and PS3 is available. There is a private bathroom with a hot tub. For booking information and more photos and reviews click here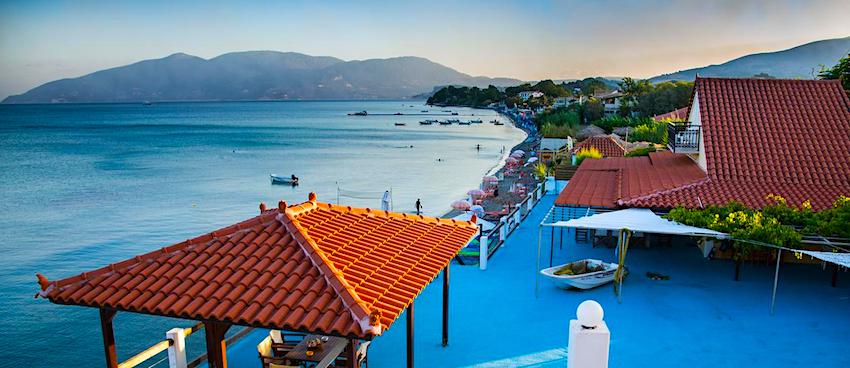 Villa Mare
Showcasing a barbecue and a private beach area, Villa Mare is located in Laganas. Free private parking is available on site. All units are air conditioned and include a sitting area. Some units feature a terrace and/or balcony with sea views. There is also a dining area and a kitchen fitted with a dishwasher. An oven and microwave are also available, as well as a coffee machine. Every unit is equipped with a private bathroom with free toiletries. Towels and bed linen are featured. Villa Mare also includes a sun terrace. For booking information and more photos and reviews click here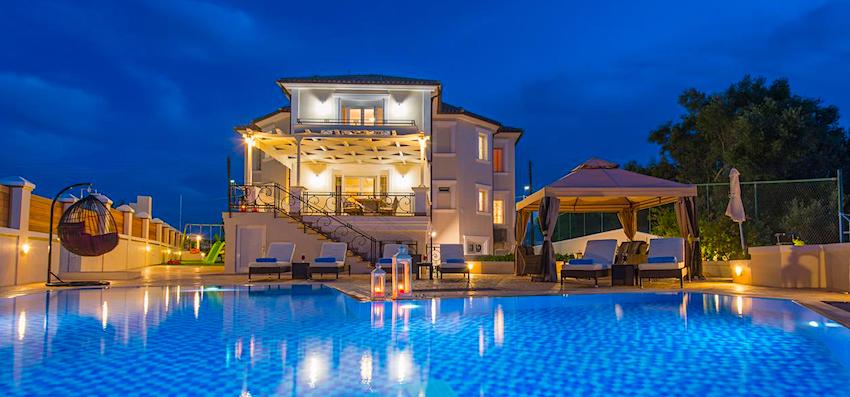 Frido Luxury Villa
Frido Luxury Villa is a 4 bedroom villa with a seasonal outdoor pool, located in Akrotiri. The property features views of the sea and is 1.5 miles from Zákynthos Town. Free private parking is available on site. A dishwasher, an oven and a microwave are provided in the kitchen. A flat-screen TV with satellite channels is featured. There is a private bathroom with a bathtub. For booking information and more photos and reviews click here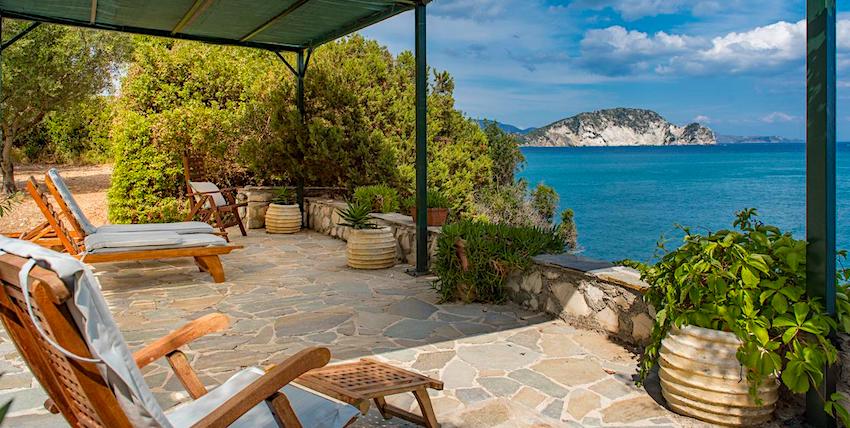 Lithalona Villas & Houses
Located in Marathias, one minute from the beach and 8 miles from Zákynthos Town, Lithalona Villas & Houses features a barbecue and views of the sea. Free WiFi is featured throughout the property and free private parking is available on site. The property is air conditioned and has a dining area and a sitting area with a flat-screen TV. Some units feature a terrace and/or balcony. There is also a kitchen, fitted with a toaster, refrigerator and stovetop. Every unit is equipped with a private bathroom with slippers. Towels and bed linen are provided. Lithalona Villas & Houses also includes a sun terrace. For booking information and more photos and reviews click here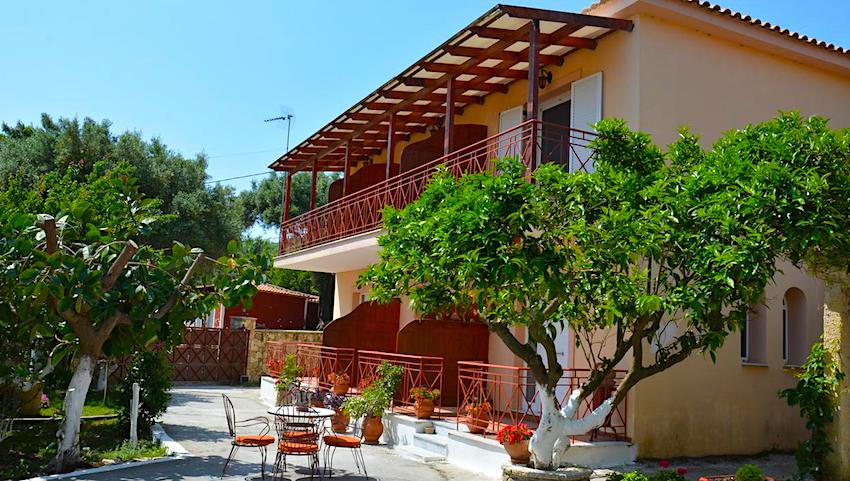 Alavastros Villa
Featuring free WiFi and a sun terrace, Alavastros Villa is located in Xirokástellon, just 3.7 miles from Zákynthos Town. Laganas is 5 miles from the property. Free private parking is available on site. Featuring a terrace, the accommodation features a dining area and sitting area with a TV. Some units have a balcony and/or patio with sea or mountains views. There is also a kitchen, equipped with an oven and refrigerator. A stovetop and coffee machine are also available. Each unit is fitted with a private bathroom with a shower. Bed linen are provided. For booking information and more photos and reviews click here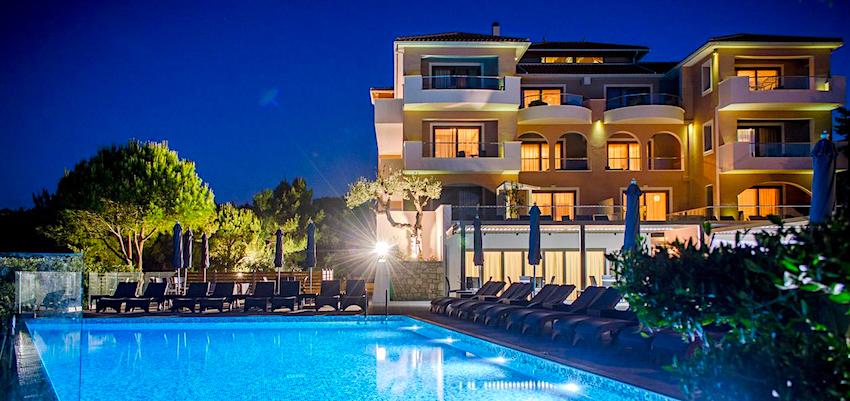 Kymothoe Apartments
On an elevated position in Akrotiri area of Zakynthos, Kymothoe is surrounded by olive groves and a well-tended garden. It offers self-catered units overlooking the Ionian Sea from their furnished balconies. Free Wi-Fi is available throughout the property. Featuring modern décor in earthy tones, all spacious units have a full kitchen and a sitting area with LCD satellite TV and DVD player. Each private bathroom includes a shower cabin with hydro-massage jets. Hidden LED lights and individually controlled air conditioning create a pleasant atmosphere. Kymothoe Elite Apartments features a rocky private beach area, which can be accessed through a pebbled alley. Massage and beauty treatments can be arranged. A variety of DVD movies is provided at the front desk, free of charge. For booking information and more photos and reviews click here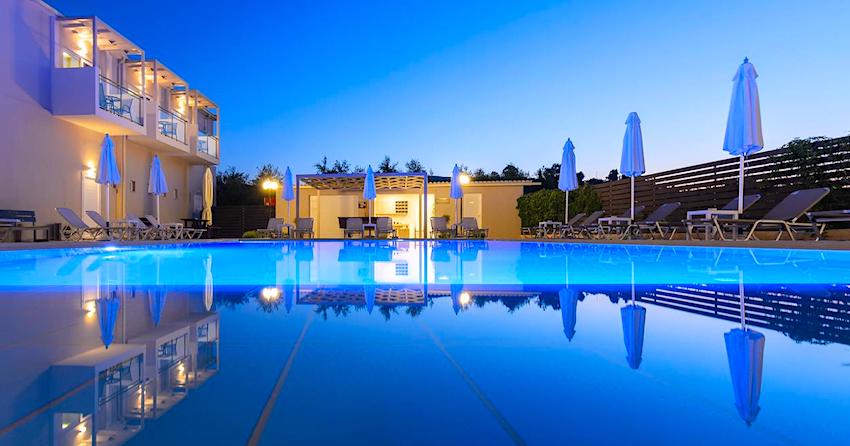 Vice Apartments
Showcasing a seasonal outdoor pool and views of the pool, Vice Apartments is located in Laganas, just a short walk to the beach. The property is air conditioned and is fitted with a flat-screen TV. There is also a kitchenette, equipped with a toaster, refrigerator and stovetop. There is a private bathroom with a shower in each unit. Bed linen are featured. Vice Apartments also includes a sun terrace. For booking information and more photos and reviews click here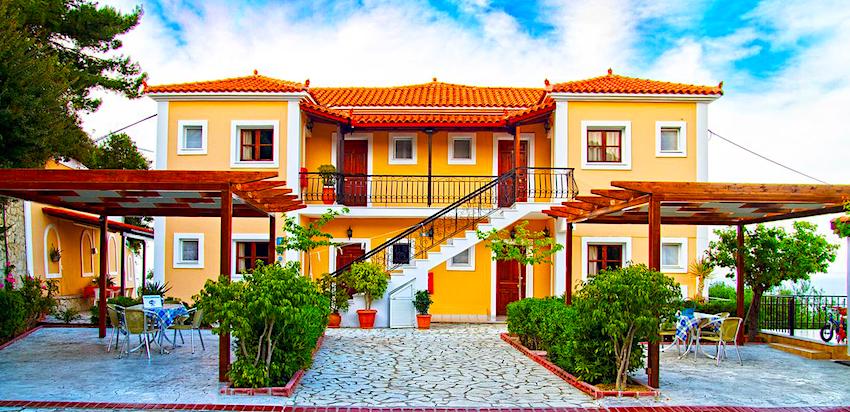 Villa Contessa
Located in Vasilikós, a 3 minute walk from the beach, Villa Contessa features a garden and sun terrace. Zákynthos Town is 3.9 miles from the property. All units have a flat-screen TV. There is also a kitchenette, fitted with a stovetop, toaster and refrigerator. Every unit is fitted with a private bathroom with a hairdryer. Towels are provided and there is a hottub. For booking information and more photos and reviews click here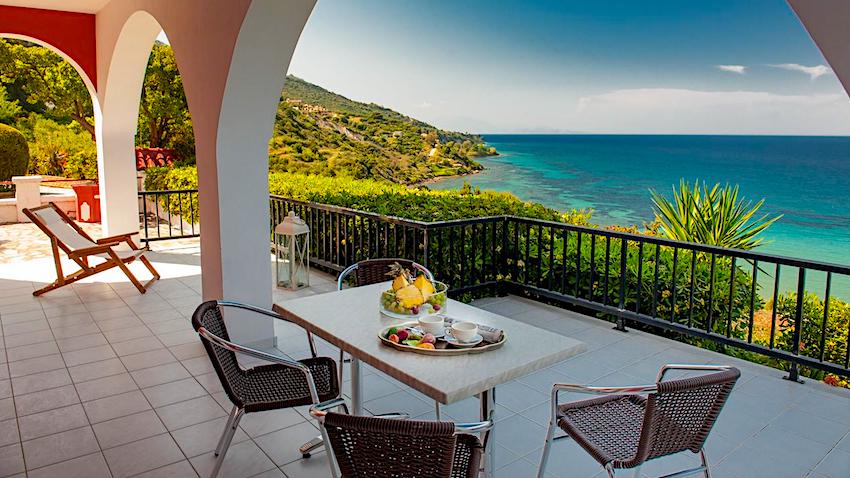 Villa Levante
Showcasing a sun terrace and views of the sea, Villa Levante is located in Vasilikós, a 2 minute walk to the beach. Zákynthos Town is 4 miles from the property. The pet-friendly property is air conditioned and features a cable TV. Some units feature a balcony and/or patio. An oven and refrigerator are also available, as well as a coffee machine and a kettle. There is also a kitchen in some of the units equipped with a stovetop. There is a private bathroom with a shower in each unit. For booking information and more photos and reviews click here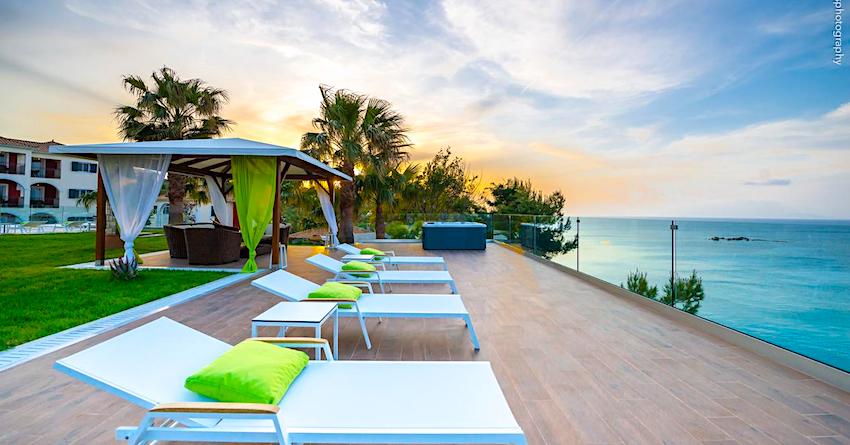 Erietta Luxury Apartments
Featuring a seasonal outdoor pool, Erietta Luxury Apartments is located in Tsilivi right on the sea. Zákynthos Town is 2.2 miles away. Free WiFi is provided throughout the property and free private parking is available on site. All units are air conditioned and feature a sitting area. Some units include a balcony and/or patio. There is also a kitchen, fitted with an oven and microwave. A toaster and refrigerator are also featured, as well as a kettle. Each unit is fitted with a private bathroom with free toiletries and a hairdryer. Towels are available. For booking information and more photos and reviews click here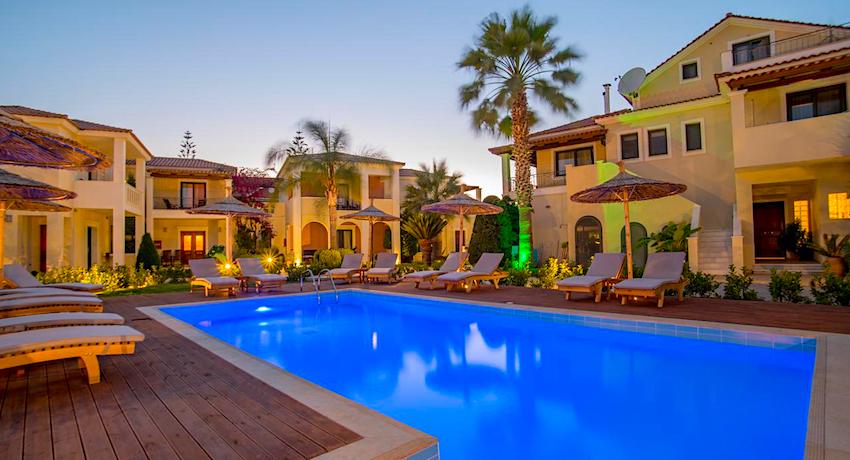 Christy's Beach Villas
Featuring free WiFi and a garden, Christy's Beach Villas is located in Tsilivi, just 2.7 miles from Zákynthos Town and a 2 minute walk to the beach. Free private parking is available on site. The accommodation features a sitting area. Some units include a terrace and/or balcony. There is also a kitchen, fitted with a toaster, refrigerator and stovetop. Mini-bar and coffee machine are also featured. There is a private bathroom with free toiletries in every unit. Towels are provided. Christy's Beach Villas also includes a seasonal outdoor pool. Guests can enjoy a drink at the on-site bar. For booking information and more photos and reviews click here