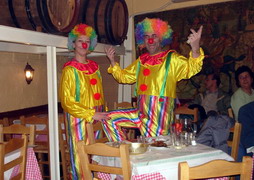 Apokreas is Greece's Carnival season which precedes the 40 days of fasting that leads up to Easter. Like carnival season in places like New Orleans, Rio and the Carribean, Apokreas is a period of partying, eating, drinking, dancing and celebrating, though being Greece where eating, drinking and dancing is a nearly every night occurrence, it is taken to new levels during this period. The last two weeks of Apokreas are when it all comes to a head, particularly the weekends. The second Thursday before the end of Apokreas is called Tsicho Pempti and for the purists this is the day when you begin to wean yourself of the meat that you will be abstaining from until a minute after midnight on Easter Sunday. On Tsicho Pempti all the tavernas are full, even with people who will continue to eat meat to the end of Apokreas and beyond. Like Cinco de Mayo or Saint Patrick's day it is a good reason to go out and eat and drink with your friends and family.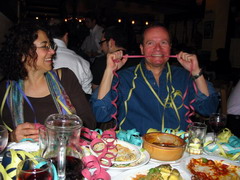 In Athens the last two weekends bring thousands of revelers to the Plaka and Psiri neighborhoods where the streets are full, as are the clubs, bars, restaurants and discos. Walking the narrow streets one is hit on the head with plastic squeaking clubs. They don't hurt but if you are not in the mood you may find them irritating after awhile. These clubs are thought to be a remnant of the veneration of the phallus from the ancient Dionysian festivals of Athens. Confetti is constantly being thrown and by 2am the streets are ankle deep in it. In the daytime children in costume come downtown and in the neighborhood of Moschaton the streets are closed to traffic and filled with people, many in costume who watch singers and dancers on outdoor stages and a parade of floats.
The city of Patras also holds a large celebration as does the island of Skyros where people dressed in goat skins and covered in bells and in the town of Tyrnavo in Thessaly giant penises are paraded through the streets.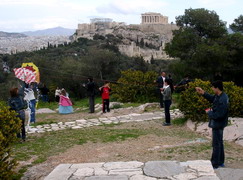 The celebration reaches a crescendo on that final weekend and then after Sunday night the partying is over. The next day is Clean Monday and all of Athens goes out to fly or watch people flying kites in the countryside or the green areas of the city.
Apokreas is a great time to visit Greece. Winters are usually mild, the archaeological sites are full of green grass and wild flowers. It is low season and flights are cheap and there is something to do every night. If the weather is really nice you can do day trips and overnights to places on the mainland like Delphi, Meteora, Nafplion and nearby islands like Aegina, Poros, Hydra and Kea. The cruises are not running except for one, the One-Day Saronic Cruise which is a great way to see those islands in a day. And if you just do day trips you can come back to Athens every night for the fun.
For making the most of your off-season visit to Greece during Apokreas contact Fantasy Travel for discounted hotels and winter itineraries. For day trips visit George the Famous Taxi Driver
See my Guide to Off-Season Travel and my Greece Weather Page as well as Winter in Greece.
For a list of Greek Holidays see my Greek Holiday Page.
Remember that the next big holiday after Apokreas is Easter so be sure to come back then!