Here are a few other places to see on your way to or from Meteora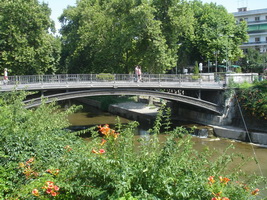 The modern city of Trikala is built onthe site of Ancient Trikki, the birthplace of Asclepius, the god of healing. The Litheos river passes through this agricultural city and is crossed by 10 bridges, five of them for pedestrians only. The center of Trikala with the river running through it, usually filled with trout as big as your forearm is one of the most beautiful downtowns of any city in Greece and is quite cosmopolitan as well. Beautiful gardens and parks, fountains and a fortess overlooking the city make it a great stop on the way to or from Meteora or even spend a night or two here to eat at the local psistarias. There are a number of fortresses in the area due to it's strategic importance. Near Trikala is the small village of Pyli, entranceway to the narrow pass which connects Thessaly and Epirus and the bed of the Portaikos river. Also nearby is the Pertouli snow skiing center and the Tria Potamia area which is popular with kayakers who ride the waters of the Aheloos river. Unfortunately there are plans to build a big dam here so before you set out with your kayaks you may want to contact your travel agent and make sure there is still water in the river.
Lake Plastiras is a man-made lake, built in 1959 when they dammed the Tavropos or Megdova River. The lake is at an altitude of about 3000 feet and supplies all of Thessaly with hydro-electric power and drinking water. There are two beaches for swimming at Pezoula and Lambero. Bikes and mountain bikes can be rented as well as horses near the village of Kryoneri. The trails around the lake are quite beautiful and and forested with pine and wildflowers in the spring. The restaurants at the lakeside villages serve local trout. The town of Karditsa is an agricultural city that though unattractive on the outskirts, as Greek agricultural and industrial towns can be, has an interesting center with a Dimotiki Agora (Public Market) that is a UNESCO's protected cultural monument.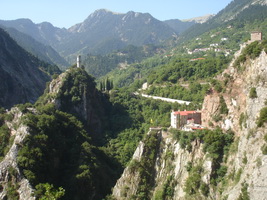 The mountainous region of Karpanissi is full of rivers and streams, heavily wooded with pine and a center for white-water rafting in the spring and skiing in the winter. In the summer it is not only beautiful but the temperature is about 15 degress cooler than Meteora, and I mean centigrade. Karpanissi itself is a large town on the side of a mountain. South is a long valley that passes by several beautiful villages like Megalo Hori and Micro Hori (Big and little village) which will remind many people of the mountains of North Carolina. In fact that is where many of the people who left the area for America settled, perhaps because it reminded them of home. South of these villages is the spectacular Proussou Monastery, and eventually the road will lead you to Agrinion and Lake Trihonida. The mountain roads between Karditsa and Karpenissi are wooded and very few cars use them. There are also seasonal karakatsani villages which look like African villages, in the hills that they use when they are grazing their sheep. See www.greecetravel.com/evrytania

Pelion is one of the most beautiful areas of Greece and can be reached in about two hours by car from Meteora. For more see www.greecetravel.com/pelion

Edipsos on the island of Evia is a natural healing spa that is a few hours journey from Meteora. See www.greecetravel.com/edipsos

Many people do Delphi in combination with Meteora. See www.greecetravel.com/delphi

One of the few ways to see Thermopylae is on the tour to Meteora. The site where Leonidas and his Spartans held off the entire Persian army until they were betrayed and killed, is now a stop on the highway with a statue of Leonidas and not much else. But since the film 300 came out, Thermopylae has been high on many people's list of places to see.

For other mainland destinations in Greece see Greek Mainland Guides and for trips around the mainland visit George the Famous Taxi Driver