A full day boat trip around the coastline of Milos gives you the opportunity to explore this colorful island's numerous geological forms.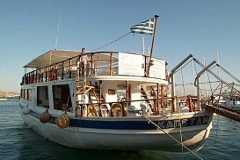 The dominating rock formations of Vani and the vast open cave of Sikia are our first destinations when we leave Adamas, followed by a swimming stop for approximately 1 hour at Kleftiko. Sailing on to Geronta, Provata, Firiplaka and Tsigrado we then make our next swimming stop at Kalamo (for around 40 minutes).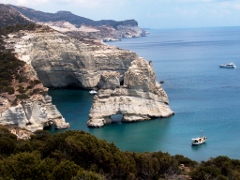 Following this refreshing break the kaiki will sail on to Agia Kiriaki and Paleochori, where you will have the opportunity to visit some old sulphur mines. We then stop for lunch at the nearby island of Kimolos, where you will also have free time to visit Chora and take another swim before we head back to Milos (1.5 hours lunch stop)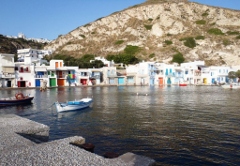 Returning to Milos we continue to Pollonia, Kaloghiro and Glaronisia, which are famous for their prismatic rocks, and continue on to the lunar landscapes of Sarakiniko, Firopotamos or Plathiena beaches, where we make our final short swimming stop (20 minutes).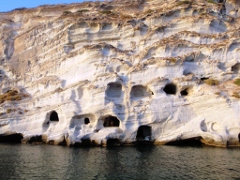 Our route back to Adamas takes us alongside the Arkoudes (Bear Rocks) and finally the small fishing village of Klima with its colorful waterfront houses, before we sail back into port at the end of our full day's exploration
Tour starts at 09:00 and ends at approx 18:30.
Prices 2023
15/05/2023 - 30/09/2023
Price per person:
On Request
€

Departure days
15/05/2023 – 30/09/2023
MON
TUE
WED
THU
FRI
SAT
SUN
Price Includes: Boat tour includes a visit to Kimolos with free time for lunch (a la carte).
Price does NOT include: transportation to & from the embarkation dock (Adamas)
Clients must hold a valid passport or identity card for the on board registration
Embarkation starts 30 minutes prior the beginning of the tour
Boat tours are weather permitting