Is the high price of travel threatening to scrap your plans to visit Greece? You don't have to let it. Here are some tips that will save you money and might even make it a better trip.
The best advice I can give people wondering how to visit Greece cheaply is to...
1) Get the cheapest flight you can find. Use Kayak.com or Justfly.com and check it daily and learn how to use the filters and sooner or later something will turn up. If you fly on a budget airlines take hand luggage - as Ryanair and Easyjet charge anything up to £45 each way for a suitcase which can add a lot of money to your flight cost. Learn to pack light, wear heavier items like walking boots when you travel and buy small travel size toiletries.

2) Stay at the cheapest hotels (c-category, simple rooms even campsites on the islands) Do you really need a pool on the beach? At Hotels of Greece I have simple rooms, apartments and budget hotels in the white sections. You can also find cheap hotels with reviews, photos etc at Booking.com and you can use the search options to find what you are looking for that fits your budget.

3) Use ferries instead of highspeeds. They are slower but they are cheaper and more comfortable and you can walk around inside and outside. Some highspeeds you can't even go on the deck until the boat slows down to enter the port. You can find schedules at www.ferryhopper.com and if you can't figure out which is a highspeed just compare the timetables.

4) Spend more time on fewer islands. You don't have to see 5 islands in the 10 days you have and many islands are similar, especially those in the same island chain. Ferry prices are expensive, especially if you are a family.

5) Don't order the expensive fish. Stick to fried gavros (anchovies), fried or grilled sardelles (sardines), kollios (mackerel), fried kalamari (squid), fried or grilled gopes (bogue). See Matt's Guide to Greek Fish

6) Have a light lunch in one of the fast food places like a souvlaki shop, Everest, or Goody's which are pretty good as fast-food goes. (See my Guide to Souvlaki) If your hotel includes breakfast fill up there and have a snack for lunch. Any bakery will have tiropita (cheese pie), spanakopita (spinach pie) and all sorts of other pitas, which if you are paying attention you will have figured out means pies. On the islands buy a loaf of bread and some cheese if you are hungry and save your money for dinner. Go to grocery stores and traditional food shops and familiarize yourself with them. Eat olives!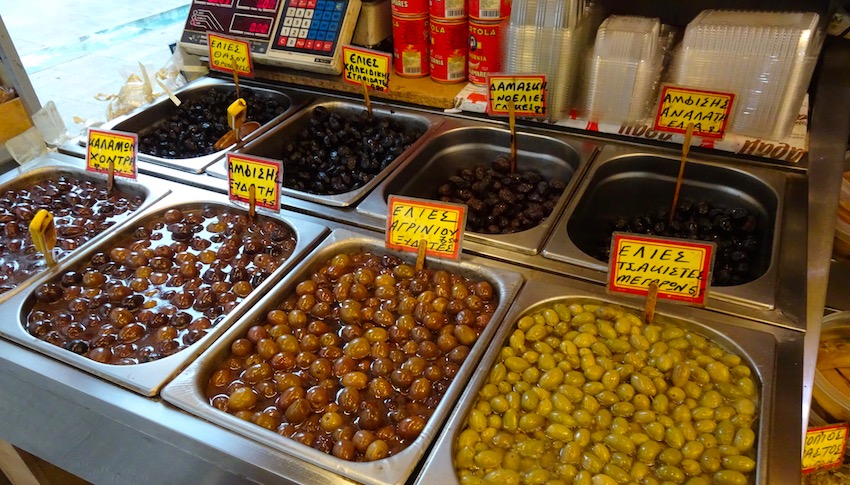 7) Drink coffee in the cafes where the locals hang out instead of the hip coffee shops. You don't have to drink cappuccinos. Drink Greek coffee or nescafe, or frappes rather than fredos.

8) Don't go to the music bars and cafes that charge 10 or 15 euros for a cocktail. Go to the unpretentious cafeneon and have an ouzo or a beer. Cafes on the main streets will be more expensive than those on the back streets.

9) Don't take a taxi from your hotel to the ferry. Use the metro. Watch out for pickpockets though and read my page Crime in Athens which tells you how to take precautions so you won't be a victim of pickpockets.

10) Don't go in August or peak summer months. May, June, early July, September and October have almost the same glorious weather, even better. To save even more go during the other months. Even the dead of winter in Greece is probably better weather than where you live. Read Winter in Greece.

11) Visit less famous islands like Sifnos, Serifos, Milos, Tinos, and Lesvos instead of Santorini, Rhodes and Mykonos which are the most popular islands and so everything costs more. You will have more fun and meet people like you. A holiday in Lesvos will cost a quarter of what it will cost you to holiday in Mykonos or Santorini.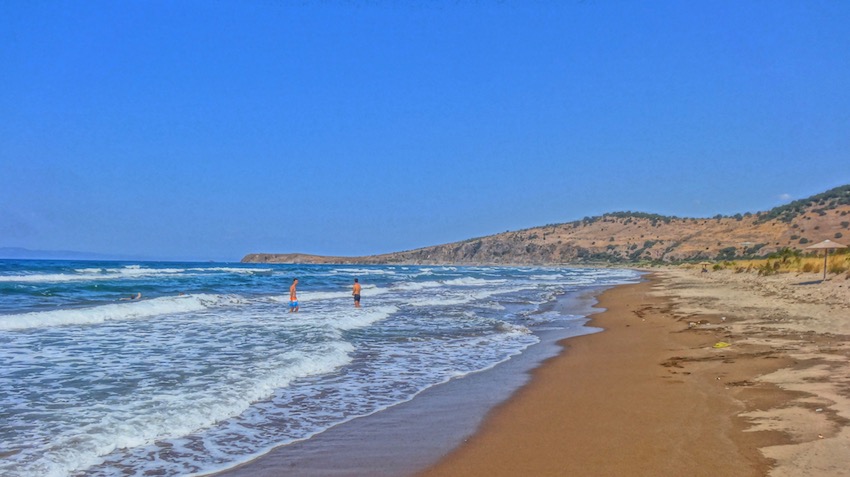 Lesvos
12) Use public transportation on the islands. The buses have daily schedules posted around the towns and beaches. Read them and plan your day around them.

13) Find the simple working-class restaurants. Eat horta (wild greens), vegetables, beans, sadziki and bread instead of heavy meat dishes. Share a main course plate. They are usually HUGE. When ordering for 4 people start with 1 salad, 1 or 2 starters and two mains. If you are still hungry order more.

14) Drink wine from the carafe, not bottled. Ask for 'hee-ma kra-see. See Matt's Guide to Retsina and Other Fine Greek Wines

15) Go to the Acropolis early and use your ticket to visit all the other sites and museums that it is good for.

16) If you are renting a car for the islands, rent them on each island if you need it rather than putting it on the ferry. Don't rent a car for Athens. Rent one beginning on the day you leave Athens if you are exploring the mainland. Check out Swift Car Rentals. They have not raised their prices in 20 years and they will pick you up at your hotel and drive you to the national road. They also cooperate with car rental agencies on the islands. Plan your holiday so that the "car days" are all in a block and just rent the car for that time. And on the islands wait til you get there to see the layout and decide if you even need to rent a car.

17) Make friends to share the cost of private tours of the mainland. Or if you are going with an organized tour keep in mind that it costs more if you are one person than if you are two. So find someone to go with you to share the room rather than pay what they call the 'Single Person Supplement". The same with cruises. Also one and two day tours of the mainland are a bargain. They pick you up at your hotel, take you to Delphi or Myceneae or Meteora, feed you, pay for your tickets to the museums and the archaeological sites, and you get a licensed guide, and then they take you back and drop you off at your hotel.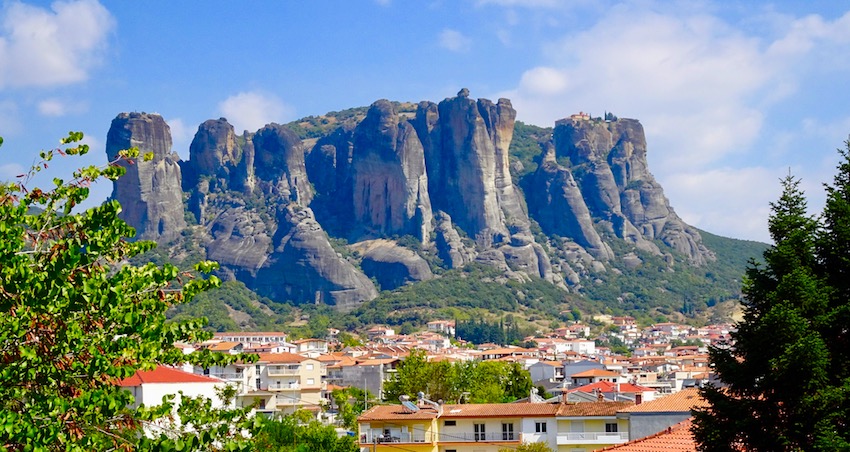 18) If booking hotels individually on Booking.com look for the words Budget Friendly and Budget/Backpacker and use the menu on the left to find 2-star hotels, hostels, and you can choose the hotel by the price per day.

19) If using a Greek Travel Agency tell them what your budget is. You can bring the price down by eliminating transfers and using buses, the metro and even street taxis. (But you will probably wish you had spent the money and had them do the transfers).

20) Decline optional hotel breakfast. Tiropitas (cheesepies) and spanakopitas (spinach pies) make a filling breakfast or lunch and they are cheap. You can easily have a 2 euro meal.

21) In Athens stay within walking distance of the Acropolis. That way you will be close to all the restaurants, shops, cafes, bars, museums and archaeological sites and the only time you will need to spend money on transportation is when you are arriving or leaving the city.

22) Staying at a hotel with free wireless will save you money. If they also have a computer room with free use of the computers that will help too, plus you can research your trip as you go and you won't need to bring your own laptop.
23) In the winter, admission to a lot of the cultural sites is half price (Acropolis: November through March; single-site ticket, not the combo package; ditto National Archaeological Museum, where the discount in the winter makes the combo ticket un-economical).
If you do all or most of these you will have a more authentic and more affordable trip to Greece than people spending more money to insulate themselves from everyday Greece.

If you have some more tips e-mail me and I will add them. Remember that you can find budget accommodations for all the islands through Booking.com's Greece Pages which also contributes to my website when you book.
Be sure to check out Trips for Budget Travelers which are inexpensive packages which can't be beaten in terms of price, quality of accommodations and convenience because they include transfers and tours. (and even breakfast)
Help Support Matt's Greecetravel.com
Do you enjoy using my site? Have you found it entertaining as well as useful? If so please show your appreciation by booking hotels and homes through the travel agencies and the links found on this page and on my Greek Travel Agency page. The small comission I make on the bookings enable me to keep working and in most cases you won't find them any cheaper by searching elsewhere. You can find hotels, apartments, rooms and even houses through Booking.com's Greece Pages which also contributes to my website when you book. If you are appreciative of all the free information you get on my websites you can send a donation through Paypal