Getting to Crete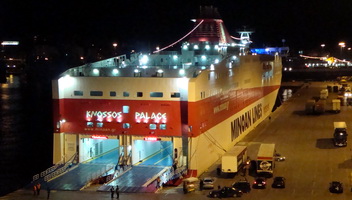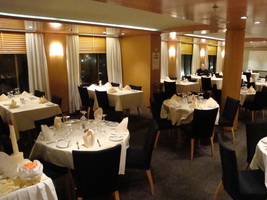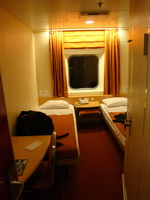 Getting to Crete from Athens is easy. If you are a backpacker you simply take the subway to Pireaus sometime before 8pm, decide which port in Crete you want to arrive at, buy a ticket and get on the boat. It's a 12 hour trip and if it is a warm summer night and you are in your sleeping bag under the stars on the top deck you may never want the journey to end. If you prefer a cabin then you should get your tickets in advance through a reliable travel agent in Athens if you are using them to book your hotels or at Ferryhopper.com if you are booking your own hotels. The boats have restaurants and bars, videos on TV in the lounges and in most cabins which are very comfortable. Some of the ferries are newer and better then others and your travel agent will be able to tell youwhich is which though in the case of Crete, most of the major ferries that service Heraklion and Chania, are the newest and best of the fleets. If you are a couple get a cabin for two. If you are three people get a cabin for four because there are no cabins for three. You will be given the option of buying the 4th berth for half price which I recommend unless you want to share the cabin with a stranger. Again to avoid such situations use a Greek travel agency for hotels and ferries. If you are a couple and get a cabin for two you will be quite happy on the newer boats, especially the Elyros which services Chania and the Superferry which goes to Heraklion and also has a swimming pool. The Minoan Lines ships may be just as nice but I have yet to travel on them. The restaurant food on the Crete boats is pretty good as well. They have a self-service and a fancy restaurant with waitors but they both serve the same food and in the self-service you can see what you are getting rather than be surprised when it arrives.
The ferries to Crete are to your far right when you get off the metro in Pireaus and face the harbor. You can walk or take the free shuttle which goes back and forth along the dock. There are signs that point the way too.
If you arrive from abroad and you need to get to Pireaus to catch the ferry to Crete I recommend George the Famous Taxi Driver. Plus if you have some time to spare, as some of you will, you can do a little tour of the city. For your return to Athens from Crete I also recommend using him to get to your hotel or the airport. See his web-site at www.greecetravel.com/taxi
Ports in Crete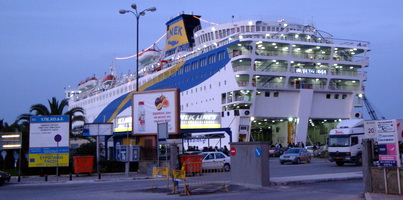 There are 3 main choices of Cretan ports to arrive at that have daily ferries. Heraklion is a big city with traffic, noise and all the chaos that goes with a large population. It's the closest place to ancient Knossos and for that reason many people go here first. It is the capital of the island so many of the travel agents, major hotels, car rental agencies, restaurants, nightlife and tours are based here, but that does not mean you have to be. H eraklion has a great port with a new terminal that has ticket offices, information counters, gift shops, a cafe and restaurant and is set up so that coming and going is easy. But if you are one of those people who gets on the boat to Crete expecting to find the little old ladies with signs for rooms for rent, you will be disappointed. When you get off the ferry in Heraklion (also spelled Iraklion) there is no doubt that you are in a big city so it is best to have some kind of plan because its not like getting off on a small island port with 300 inhabitants. This is a city of several hundred thousand people last time they counted so if you have a hotel booked through a travel agency you may want to have transfers too. If not you can contact Lefteris the Cretan Taxi Driver to take you to your hotel. For those renting a car on Crete ask your rental agency to have the car delivered to you at the port if you want to save the price of a transfer to your hotel. Ferries generally leave Pireaus at 9pm and arrive at 6am and return the same times but the Superfast which only takes about 6 hours leaves Pireaus and 3 and gets here after 9 and leaves Heraklion at around midnight and arrives in Pireaus at 6am. The boats to Santorini and the Cyclades also come and go from Heraklion.
Chania's port of Souda which is a couple hours to the west of Iraklion is more my speed and maybe yours too and there are ferries here from Pireaus that leave every night at 9pm and arrive at 6am. It is a smaller city but has plenty of life, with great restaurants, hotels, and all that you will need, without the congestion of Iraklion. The only drawback is that they are so far away from Eastern Crete, but that is not a good enough reason to not stay here, nor is it a good reason to stay in Iraklion and make that your base because of it's accessibility to the rest of the island. So my suggestion is to arrive in Chania and leave by way of Heraklion if you plan to spend most of your time in the western part of the island. If you are not then it is a moot point. There are also ferries which go several times a week to Rethymnon which you can use of you can't find a cabin on the other boats.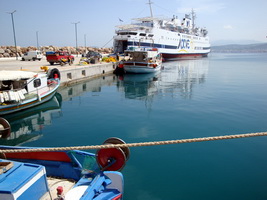 There are also ferries from Pireaus via Milos and Santorini to Agios Nikolaos and Sitia, Crete a couple times a week and maybe more in the summer and they connect Crete with Kassos, Karpathos and Rhodes. But it is a long trip on an old boat and most people who are not backpackers prefer alternative means though I have been planning to do it ever since I started coming to Greece. There is a boat from the Peloponessos to Kissamos (also known as Kastelli) in western Crete but finding the schedule for this one is tough and unless you happen to be in the Peloponessos not very practical. If you are in Crete you can take this to the islands of Antikythera, Kythera and Githeon and Kalamata and sometimes all the way back to Pireaus.

Use Ferryhopper to find all direct and indirect ferry routes for the islands of Greece, Spain, Italy & Turkey, compare ferry companies & prices, and book cheap ferry tickets with no hidden fees in one go!
Flights to Crete
Chania and Heraklion both have major airports with international flights, though most of them are summer charters. But there are a dozen or so daily flights from Athens and several a week from Thessaloniki on Aegean Airlines and Olympic. I prefer the ferry and if you are traveling with children they seem to have more fun on a boat than a plane plus you save the cost of one night in the hotel. But you can book flights and hotels through any of the recommended agencies at www.athensguide.com/agency.html
More Transportation
If you need transportation from the Cretan ports or the airports to anywhere on the island I recommend Lefteris the Cretan Taxi Driver who does tours of Crete as well. For Chania see Dimitris the Other Cretan Taxi Driver