The Right Way of Going to Edipsos
There are several good ways of getting to Edipsos and there is also our way. The easy way is to just get a travel agent to do it all for you and they will handle the transportation and the hotels. Another way is to hire a taxi for the 2 hour trip, which is the way the aunts go, using our friend George Kokkotos, the famous Greek taxi driver. Then there is the bus, which is how my mother-in-law would have gone, and which is why she kissed me when she was told she wouldn't have to. There is a ferry from the mainland in the town of Arkitsa that takes about half an hour, and puts you right in the center of town. Its about a three hour drive from Thessaloniki and a little more then an hour from Volos and the Mount Pelion area.

My Way of Going to Edipsos
Pt 1. Looking for the National Road
We rented a car from Swift car rental in Athens. But the day before we were going to leave, the person who was renting our 4-door, air-conditioned Hyundai, wrecked it. Elias gave us his personal car, a Honda Civic, which he used in such emergencies and while it was a better car then the one we would have gotten it lacked a critical element, which was the air-conditioning.
Swift offers to drive their customers to the National Road, which is a wonderful service because you don't have to get used to the car and Athens traffic at the same time. But Leonidas, the young guy who delivered the Honda to the Adams Hotel agreed with me that since it was Saturday, traffic was lighter and I was already an experienced Greek driver, I would have no problem finding the National road myself, and he could take care of other responsibilities. This made sense to me and with a squealing of tires, a sound I became so used to I stopped noticing it, we were off for Edipsos.
Leonidas had given me a map of Athens with the route to the National road inked in. Unfortunately our road out of the Plaka only went one way which was in the opposite direction of the line of ink that would lead us to freedom. Also the main road had a median and we had to drive several kilometers before there was a place to turn. Of course by then we had found an alternative route, the proverbial 'better way" and we made our journey in a zig-zag pattern to Omonia square, which is a circle, from where we could pick up the ink line on the map until we found the signs for the national road.
We ended up on Archonon street, driving endlessly until we realized that we would never cross the National road because we were driving parallel to it. We could drive to infinity and never cross it, like living next to a parallel universe that you can only suspect its existence. Once again we decided to improvise and took a left. We were instantly rewarded by a sign with an arrow that said National Road. That was the last reference we saw to the National road for the next two hours.
We found ourselves in a world of Gypsy camps, small factories and five story apartment buildings on unpaved roads, where we looked for anything that could be a larger road then whatever road we happened to be on. We stopped at a gas station and asked directions. "Go straight down this road, cross the tracks, take a left, then take your second right. Then ask someone else". We followed the directions as perfectly as possible and ended up at another gas station. "Go back three lights, where the road ends make a left and then ask someone else." It seemed to be some sort of traveler relay system where we were just being sent from one person to the next, like getting a residence permit or doing anything with the Greek bureaucracy. Everyone we asked told us to go several miles, turning left and right and then asking someone else. Wasn't there someone who could just tell us where the National road was, and not directions to some guy, who knows a guy, who knows a guy who knows where the national road is? We wanted to find this person.
We never did, but two hours later we found the National road somewhere near Kifissia. In the process we had visited the towns of Nea Liosa, and Metamorphosis, both areas later leveled by the September earthquake. We were possibly among the first and last tourists to visit the area and in retrospect I am glad we did, just because I now have an idea of exactly what was destroyed in the earthquake. My advice to the city planners is whatever they do, don't build it back the way it was, and stick some road signs that point to the national road where people can see them. If there are more road signs they will not need as many people giving directions.

Part 2. The National Road
Of course we missed the sign for the National Road since it was only about a five inches tall and a foot long and two feet off the ground. Plus it was right at the entrance ramp with no warning, on a road where everyone is driving around 120 kph, so we had to go another mile until we could make a U-turn that would not endanger all my complaining passengers. Then we had to drive past the National road until we found another U-turn since coming from our direction you could only go south and we wanted to go north. Every time I found a break in the endless traffic the tires would squeal like I was going zero to ninety in one second, which I think had something to do with my style of driving, but more to do with whatever substance was on the road that made other peoples tires do the same.
It took awhile to acclimate myself to driving on the national road, and it took five minutes to decide that I did not want to be on the National road. It was a mass of cars, all driving a little too fast, except for the occasional old clunker who was driving a little too slow and everyone had to swerve to avoid. But the further out of Athens we got, the easier the driving became. When driving in Greece I like to remember the words of George the Famous Taxi driver "Matthew, stay to the right. These drivers are crazy". In parts of the National road where there is no median it is not uncommon to have a car coming head on as he tries to pass someone else in the other lane. By staying on the right you are increasing your chance of survival since rear ending a donkey will cause you and your car less damage then hitting a truck head on.
At the exit for Halkida we had a decision. We could continue on the National Road and make it to Edipsos (remember?) in about an hour, though by now it would have been about five for us. Or we could go through Halkida, the capital of the island of Evia, and take the small mountain road, and enjoy the scenery. This would take an hour or so longer but we were glad we did it. We crossed the bridge that connects the island to the mainland, drove through Halkida and then stopped for lunch on the country road the goes north the length of the island. The roadside taverna we stopped at specialized in delicious tygano-psomo, a fried bread with cheese inside, plus some of the best lamb chops (pai-dai-kia) of the season.
The road took us through forested mountains and valleys and then to a long flat area that was very green and followed a small river. We pulled off the road near a group of cars at a sort of park area where we waded in the crystal clear water, along with a wedding party that was being held in a country taverna across the street, where music was loudly playing and people were dancing the tsifteteli in a large gazebo. Then we followed the river until the road turned off to the west coast of the island along the small sea that separated it from the mainland.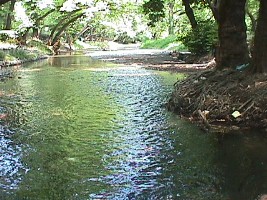 If you want to go to Edipsos my way then try to avoid everything I did until the last two paragraphs and you will save several hours and a massive headache. By the time we reached Edipsos I was in need of some radical healing. If you do somehow fall into the same pattern of mistakes then don't worry because once you finally get to Edipsos, there are facilities to care for any anxiety or trauma you may have suffered on the way.
If you are planning to rent a car and drive from Athens to Edipsos check out Swift Rent-a-Car . They will pick you up at the airport or your hotel and drive you to the National road and let you by-pass the notorious Athens traffic. See their website at www.greektravel.com/swift