These hotels are in or near Edipsos. You can click on the hotel name to find it on the map, see more photos and more information, get rates and actually book the hotel. If you would rather book through a Greek travel agency you can contact Dolphin Hellas Travel with this form
Hotel Kentrikon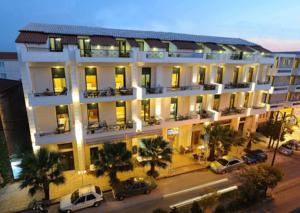 Hotel Kentrikon boasts a central location just a few minutes from the central park and the beach in Edipsos. It features an outdoor swimming pool with spring water for therapies and an indoor pool for relaxation. The 1935 hotel building depicts the glamor, charm and the style of this era. Today Kentrikon offers 50 spacious rooms with air conditioning, TV, and fridge. The private balconies offer views of the central road of Edipsos, or the hotel's swimming pool. Guests can participate in the exercise programs available at the gym.
Knossos City Spa Hotel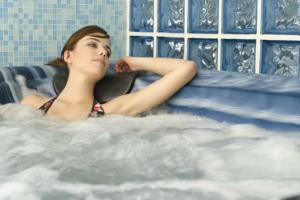 Located in the centre of Edipsos, Knossos City Spa Hotel offers state-of-the-art spa facilities and a roof garden with panoramic town views. Its rooms enjoy free Wi-Fi access. The hydrotherapy centre of the hotel offers a wide range of rejuvenating treatments, such as thalassotherapy, hot stone massage, Thai massage, chocolate therapy and aromatotherapy. Facilities also include a Roman steam bath, the Royal Vichy Shower, a hot tub, a sauna and a fully equipped gym. The air-conditioned rooms at CitySpa are fitted with a satellite TV, safe and mini fridge. They also feature a private bathroom with shower and hairdryer. Breakfast and lunch are served daily at the roof garden of the hotel. There is also an indoor lounge with fireplace, where guests can enjoy an evening drink or cocktail. The famous medicinal baths of Edipsos are located a short walk away. The seaside village of Oreoi, where guests can enjoy fresh fish, is within a 20-minute drive. Free on-site parking is available.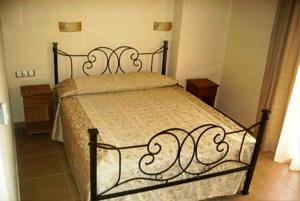 Situated in the area of Loutra Edipsou, Alkistis offers air-conditioned accommodation with a private balcony. It has a furnished inner courtyard and provides free Wi-Fi access throughout. Rooms at Alkistis hotel are tastefully furnished and feature a private bathroom with toiletries and hairdryer. Each room is also equipped with an LCD TV and a mini fridge. Just 150 metres away, guests can visit the thermal baths of Edipsos, famous for their healing properties. Free parking is available near the hotel.
Aktaion Hotel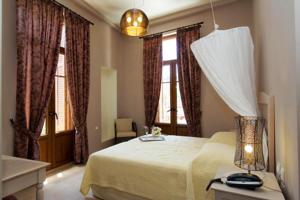 The family run Aktaion Hotel is a traditional building 33 ft from the beach. It features romantic-style rooms with free Wi-Fi and a private balcony overlooking the grounds and Evoikos Gulf. Featuring hardwood floors, mosquito nets and COCO- MAT furnishings, rooms at the Aktaion have an LCD TV and minibar. Each has a modern bathroom with a hairdryer, slippers and toiletries. Some units have a sitting area. Breakfast is served on the balcony or in the dining room. Drinks and coffee are provided at the lobby bar, offering mainstream dance, smooth jazz and rock music. Guests can choose a relaxing massage or an aromatherapy session. The hotel library is stocked with books and magazines and there are also board games for younger guests. Restaurants and bars are within a 2 minute walk from the hotel. Edipsos Port is within 165 ft and guests are 65 ft from a bus stop.
Thermae Sylla Spa & Wellness Hotel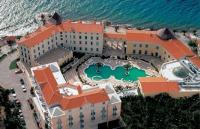 This spa resort is located by the beautiful coast of Edipsos, providing a calm and relaxing setting, with all the modern luxuries to offer you a rejuvenating holiday. According to the well-respected magazine Condè Nast Traveller, the Thermae Sylla Spa & Wellness Hotel provides one of the top 10 thermal spa services in the world. The hotel has a classical interior and is built by an ancient spring. The Thermae Sylla Spa Hotel is a 2-hour drive from Athens. Treat yourself to a refreshingly complete holiday, within a setting of pleasant odours and relaxing music.
Agnadi Hotel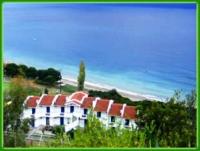 The charming Agnadi Hotel is proudly situated right next to the sea, amongst beautiful gardens and olive groves, close to the coastal village of Rovies, Evia. Each room has been decorated to offer warmth and comfort, with some featuring beautiful open fire places. Guests can also enjoy a magnificent view of the sea and sunset from their private balcony. The beach, directly in front of Agnadi, is perfect for swimming and water sport activities and there are plenty of local tavernas providing evening entertainment. The nearby village of Rovies is a great place for visitors, with its historic Venetian castle and lush olive groves. You will need a rental car to go to Edipsos from here.
Katerina's Bungalows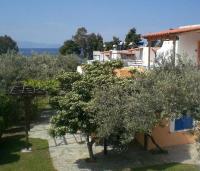 Ideally located just a few meters from the beach, these cosy bungalows are an ideal place to enjoy a holiday filled with total relaxation.
Spacious and clean though modestly furnished, the rooms and suites cover a range of tastes. The bungalows are fully equipped and 24-hour service is available to ensure your wishes are taken care of.
With the sun shining and the birds chirping, the surrounding garden is a lovely place to unwind with a book. Venture to the picturesque Lake of Evia and the spas of Edipso, both in the vicinity of the bungalows and easily accessed. The welcoming atmosphere and surrounding areas are sure to impress any visitor. You will need a rental car to go to Edipsos from here.
Nestled on the northern tip of the greenest Greek island, between the villages of Pefki and Artemisio (1 km), you will find our small, family-run lodge within the olive trees. We aim to offer you a beautiful, peaceful and friendly environment. The main building was inspired by traditional Greek architecture while the rooms, each decorated differently, combine the warmth of the wood with colour and convenience. Besides a welcoming smile and 24-hour hospitality, we also offer you a large, green garden with see-saws for children to play on, and a cafe-bar and restaurant with home-made food. You can also enjoy the use of our small library, with newspapers, magazines and internet access. You will need a rental car to go to Edipsos from here.

You can find hotels in Edipsos by location, price, whether or not it has a swimming pool, and see photos and reviews by using this link to booking.com. Excellent prices and many hotels you can book and then cancel with no cancellation fee. For those who want to book without using a travel agency this is the best way to do it.