There is good news and bad news about the Greek ferry system and finding schedules to the islands. The good news is that the boats are improving. They are faster, cleaner and more comfortable. The bad news is they cost more to run so ticket prices are higher and finding reliable schedules months in advance can still be a problem with some routes.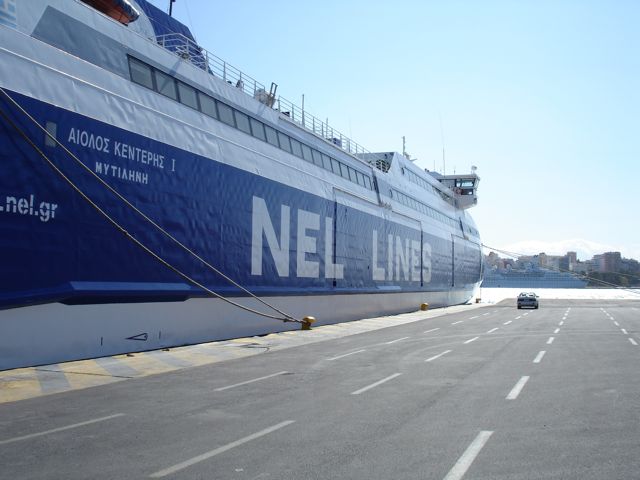 As you may or may not have heard, a few years ago Minoan Lines bought just about every ferry company in the Cyclades with all the money they made off the Greek stock market. Then as you may have heard the stock market crashed leaving everyone scrambling and many in debt. Right about that time the older ferries reached their age limit for service and had to be retired but now this old-ferry-rich but cash-poor company had no money to replace them. Of course it did not help when one of the ferries sunk and the owner of the company jumped out the window but in a country where a ferry owner can shoot another ferry owner, go to jail for a couple years and then get out and start a new ferry company, this is relatively normal. In the meantime the big beautiful highspeeds bought by NEL, of which they were so proud (people in small boats hate them because of the waves they create) had been repossessed by the bank. So the two aging ferries Mytilini and Theofilos were pretty much carrying the company until there was no longer a company. Minoan changed their name and are now Hellenic Seaways and seem to be doing quite well as are Blue Star with their modern fleet of ships.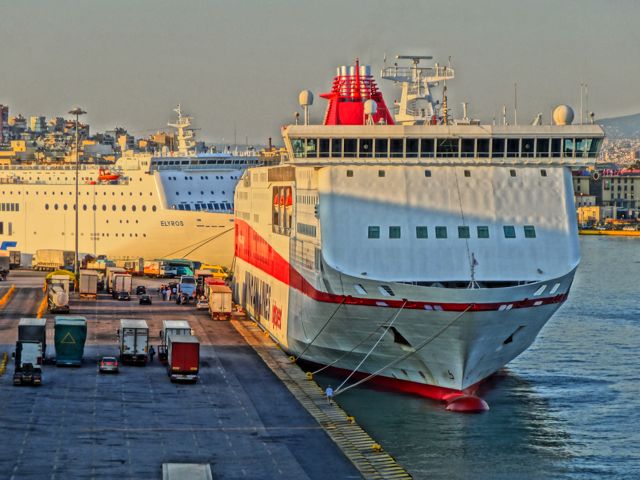 So what is the current state of the Greek ferries? Actually its pretty good considering. Lots of new fast boats joining the fleet and old ones finally being retired or sold to some far away country that does not have the same standards and laws about how long a ship can remain in service, replacing them when they finally sink. The Blue Star Lines and Hellenic Seaways have gobbled up the lucrative (popular) routes and the other companies with their older ships have settled for the dregs and are making a go of it. There are a few boats that have reached the end of their careers and look like it but for the most part the ferry experience is a pretty good one. The new boats are not only bigger and faster but cancellations are less frequent since no ferry company wants to lose money by keeping a boat from sailing. So cancellations can only happen when the Greek Port Authority believes it is too dangerous to sail, (rare in the summer but it happens) or if a ship breaks down.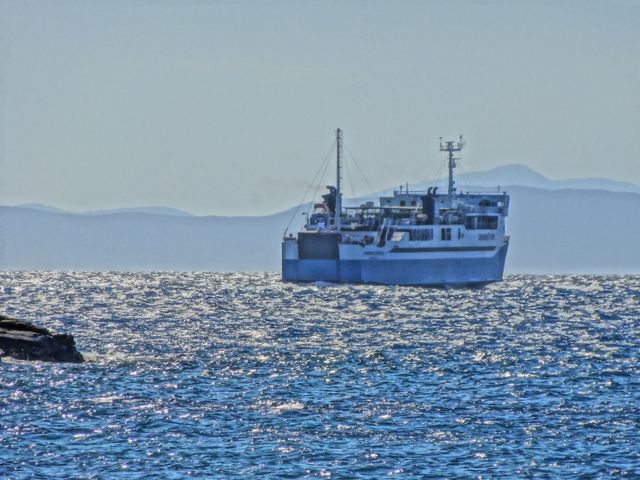 If you are planning to go to several islands you may want to consider going to those with regular connections to each other. What does that mean exactly? Well look at my Greek Island Synopsis and notice which islands are connected to other islands by ferry. Generally those are the islands you will have no trouble finding service between. For example if you go to Mykonos you will find it easy to go to Syros and Tinos. Santorini has daily connections to Paros and Naxos. In the summer there is a daily boat between Santorini and Crete. Sifnos has daily boats to Milos, Serifos and Kythnos. Rhodes is connected daily to Patmos, Leros, Kalymnos and Kos. Lesvos has daily ferries to and from Chios. And my little island of Kea has no daily connections to anywhere except Lavrion though on several days of the week we can get to Kythnos, Syros and a few others. If you have a week to spend on the islands pick the one you like best and take day trips around the island and to nearby islands or visit an island on your way back. In my opinion 'island hopping' is over-rated. You may have a richer experience by getting to know one or two islands in depth, than bouncing around from one port to the next.

Ferry Schedules on the Internet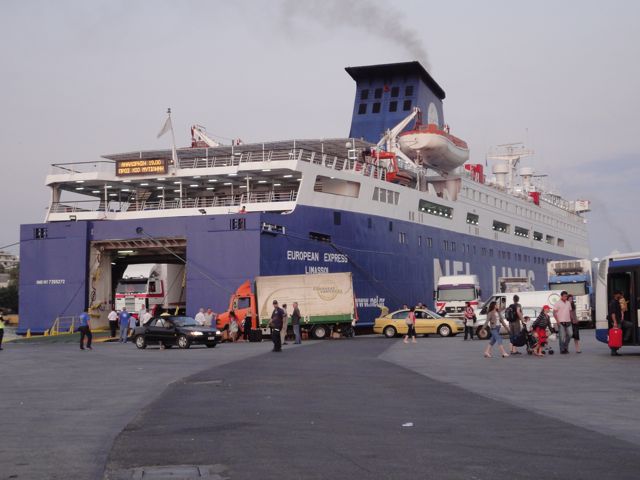 How accurate are the schedules you find on the net? A few years ago the Minoan office did not even know they had a Flying Cat going to Paros until a customer called Dolphin Hellas Travel to report that he was standing in front of one that was leaving in 10 minutes. When Dolphin called Minoan to ask about it, they insisted there was none. Clearly a case of one hand not knowing what the other is doing. So if the ferry companies themselves don't know then how can the schedules on the net (or anywhere) be correct? I asked Apostolis, the owner of Aegean Thesaurus Travel in Sifnos and he said "With ferry schedules there is a simple rule. If it is static it is probably wrong." Regardless of what the written schedules and those on the net say, a travel agent when booking a hotel for a client will call the ferry company and make sure that the schedule for a particular boat for a specific day is correct before he issues the tickets. So you can go to the web and find the schedule and happily make your plans, just as long as you also call the ferry company to make sure. (Be prepared to wait on hold).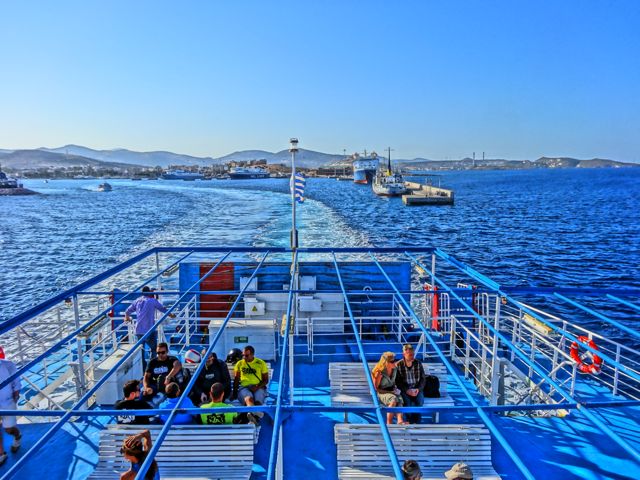 So how is it that in this modern age a simple thing like a ferry schedule can be so unsure? Well as it was explained to me, the ferry companies submit their proposed schedule for the week to the ministry 2 weeks in advance for approval. So if you are booking in January for a trip in July the schedules posted are not approved which means they can be changed. So in other words it is a 'projected' ferry schedule. If you are going to a popular island with several ferries a day then booking a ticket on-line is not such a risk. The worst that could happen is there will be a slight hassle of exchanging it for another ticket on a ferry leaving that day. But if you are going to an island that does not have daily connections to Pireaus or another island that you are planning to go to and have booked your hotel then you may have problems.
However, as Greece and the ferry companies and young entrepreneurs have embraced modern technology the situation is much better and most ferries can now be booked on line with companies like Ferryhopper who have made it easy for the rest of us and you no longer need a degree in tourism to book a ferry and with websites like Booking.com it is now possible to book hotels and ferries and be reasonably sure that everything, or most things will work out as planned. Of course if they don't you have nobody to complain to so I still recommend using a Greek Travel Agency, especially for more complicated island-hopping itineraries.
Yes we all love the ease in which we can go to a website and click on a few hotels and have an instant holiday on the Greek islands. As someone wrote to me "I have successfully booked my hotels through exped-o-locity and now I need to book my ferries". My reply was "how do you know you were successful?" Nine out of ten e-mails I get are cries for help from people who have booked hotels and now can't find the ferries to go with them or vice-versa. Do yourself a favor. Unless you have an aversion to working with someone more knowledgeable than you about a country go to www.greecetravel.com/create-an-itinerary and fill out the form and even if you don't book it you will at least know if what you are trying to do is possible.
Ferry Tickets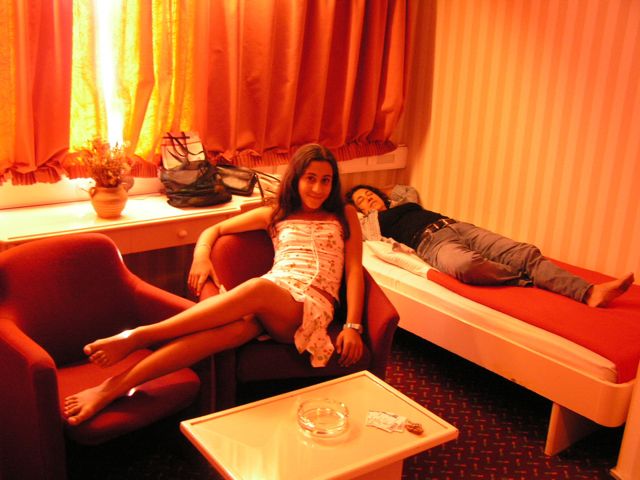 If you are contacting a travel agent to book only ferry tickets, good luck. They probably won't do it. The commissions are too low and it's too much work for nothing. However they do it for the customers who book accommodations with them. If you are going deck (don't take it literally. It just means without a cabin, usually the cheapest ticket which comes with a numbered seat) you can usually buy your tickets a day before and in many cases right at the boat. Cabins you will need to do in advance. As you may have figured out, the people who book their accommodations in advance with an agency will most likely have the cabins booked up before you get there. Anyway it's only the overnight boats that you will need a cabin for. Go for the 1st class cabins or the Lux, especially if you are a couple. The 2nd class cabins are not co-ed. What that means is that you may end up in a cabin with 3 strangers (though all of the same sex). If you are 3 people in a cabin of 4 you can find yourself with a roomate you don't know. But you have the option of buying that last berth for half price by buying one child's ticket. Don't worry. They don't care if you show up without a child.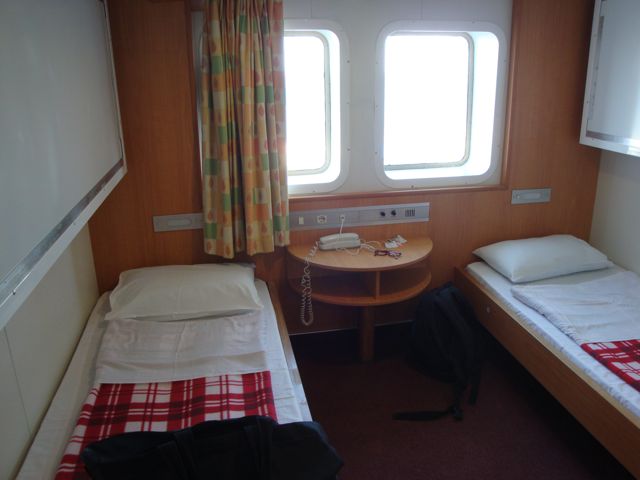 There are now many companies that sell ferry tickets that advertise on the internet that are worth checking out. Its probably a good idea to try several before you settle on one in case some ferry companies are represented on one website and not on another. Be sure to read the section on ticket pick-up and delivery before you book. You want to book with a company that allows you to pick up your tickets at the port, at the closest ticket office to the boat. The best ferry booking site I have found is Ferryhopper and I use their services all the time. If you have ever booked a flight on-line you will find their site pretty easy and you have the option of having the tickets sent to you or just using your name, passport and a code number and picking up your tickets at any ticket office in Athens, on the islands, or even at the airport.
Children under the age of 5 travel free of charge deck class on most normal ferries and all classes on the highspeeds. They pay half price for a berth in a cabin. Children from 5-10 years of age travel half price on the highspeeds. Only students from Greek public universities are entitled to student's discount. Almost all the ferries charge a cancellation fee but they also give you the option of using the ticket at a later date. Also if the ferry is cancelled because of bad weather, by government order or because the ferry company has decided not to go that day, passengers are entitled to a full refund. However, the ferry booking site may not be the one responsible for your refund so always read the General Terms and Conditions carefully.
High Speed Ferries to the popular Greek Islands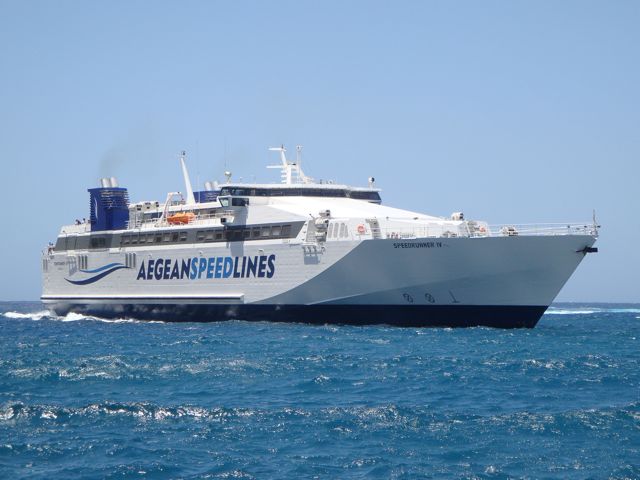 The high-speed ferry Aeolis Express shown in the top photo is like a giant speed-boat and revolutionized Greek island transportation, not to mention tourism on the islands of Lesvos and Chios. However buying three of them was a little too much for the company to survive at a time when the price of fuel is up and travel is down. These boats paved the way and there are now a number of other highspeeds which are like airplanes on the sea getting to the islands in half the time of a regular ferry at nearly twice the price. One of them, the Speedrunner, is the first to break the all-Greek monopoly of the sea and flies the British flag. Now there are a number of Speedrunners doing routes in the Cyclades. The Blue Star ships are something in between a highspeed and a ferry as are Hellenic Seaways Nissos Chios and Nissos Mykonos. If a trip normally takes 12 hours they can do it in 8. The newer Crete ferries are the same, leaving at 9pm and arriving at 6am.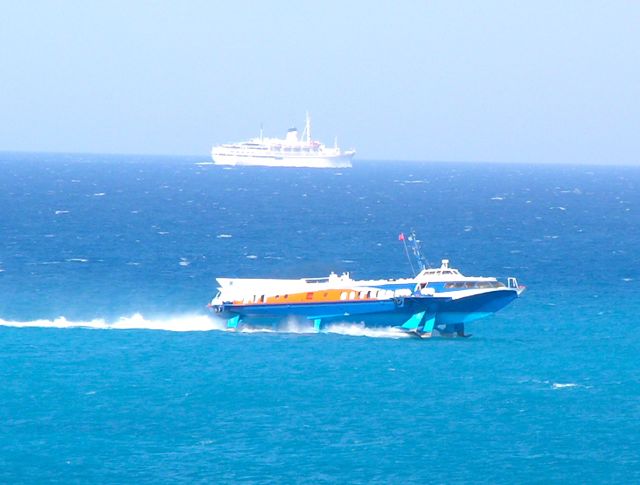 Also there are Flying Dolphins which are small high speed Hydrofoils that go to the Saronic Gulf islands which are protected from rough seas by the mainland. These are the best way to get to Hydra and Spetses. In fact from Pireaus the highspeeds are the only way to get to Hydra and Spetses. There are several car ferries a day to Poros, and dozens to Aegina. They pretty much go back and forth all day until nightfall. If you are prone to seasickness the only boats that may be a problem are the Flying Dolphins which were built for river and lakes, not the Aegean. But since they only use them in the Saronic Gulf your experience even on one of these should be OK. But there are a couple smaller highspeeds zipping around between islands in the Aegean and if you are on one of these, taking a dramamine is not a bad idea. If you tend to be fearful a valium might not hurt either. Not that anything bad is likely to happen. When it is too rough for these boats they don't leave the port. But too rough for the boat may be entirely different from what is too rough for you. There is also a larger highspeed catamaran that goes to the Saronic Gulf islands too and the boat that connects Mykonos, Santorini and Crete in the summer is somewhere in size between a normal ferry and one of these small ones.

Seajets is a company which began with one small highspeed that connected a number of the Cyclades islands which has now expanded to be competitive with the larger companies. The original Seajet was unreliable and unpleasant in bad weather but they now have a fleet of larger boats, mostly old highspeeds from other countries but still fast. The problem with them is that you can't really go outside, just like if you were on a plane you can't go out and sit on the wing. But for short trips between the Cyclades or if it is your only choice if you need to make your flight then they are OK. More comfortable than flying, though the smaller ones really are not fun in rough weather. If you have a choice go for the big modern Blue Star and Hellenic Seaways which are a little slower but much more enjoyable. You can walk around or sit outside, they have comfortable lounges, snack bars and restaurants, and you can even get a cabin. My philosophy is that if it is more than a 5 hour trip I want a cabin.
Getting to and from Pireaus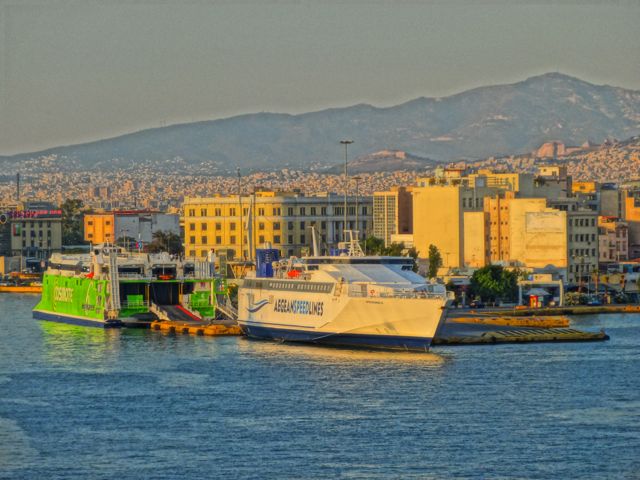 Most if not all Greek Island packages include transfers from your hotel to the port and from the port to your hotel. But if you want to do it on your own its not such a big deal. You can book a pre-arranged transfer with George the Famous Taxi Driver which should cost about 35 euros to Pireaus and more to Rafina or Lavrion. You can also get the concierge at your hotel to book a radio taxi which will be about half the price to Pireaus. If you are at a hotel near the Omonia, Monastiraki or Thission metro stations you can take the train and be in Pireaus in about 15 minutes. From any other metro station you have to change trains which is not a big deal unless you have a whole pile of luggage. When you get to Pireaus you just cross the street and the ferries are there. Look for the signs that point the way to the ferries for each island group. Your ferry ticket should tell you which gate to go to.
From Athens the 040 goes from the bottom of Syntagma square to Pireaus and the new X80 is an express version of the same route. There is also a stop near the Acropolis museum on Vas Amalias Street near Hadrian's Arch on the Plaka side of the street.
Getting a taxi from the ferry in Pireaus to your hotel or the airport used to be difficult. In the past there would be a couple hundred people getting off the boat and half adozen taxis waiting. Now with the crisis there is an army of taxis waiting at the ferries.
Taking a Vehicle on the Ferry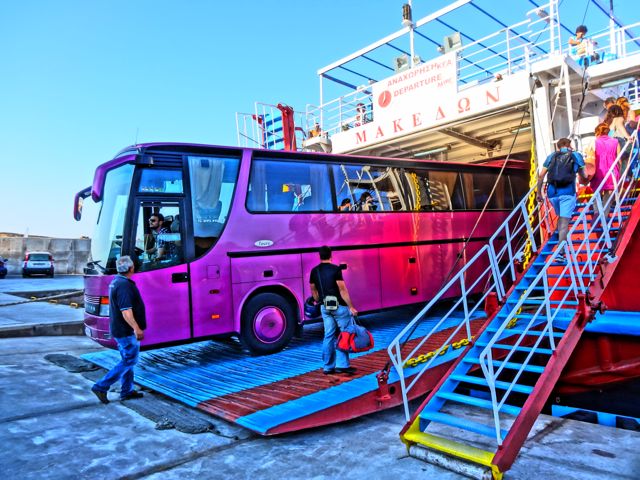 This is my field of expertise. I have taken my car on and off ferries maybe a hundred times and though it still makes me nervous I think this is just a habit because it gets easier every time. If you get to the boat early it will be less stressful. There is less activity and the guys in the ferry who direct you are calm because they are not trying desperately to get every car on board before the departure time. The only thing is that sometimes arriving first means your car is at the front of the boat, and since the door is in the back, it will mean sitting in your car longer when it is time to get off. But the more modern the boat the more organized and just is their system so if you are nervous about being yelled at because you don't know your right from your left in English, much less Greek, go early. Really small ferries sometimes require you to do this backward. Yes you have to back your car all the way on to the boat and to the spot they want you to park. I discovered if you control the impulse to look behind you and just follow the hand signals of the guy guiding you, he will get you in a spot you may not have considered possible. There is no better feeling than the relief you feel when he tells you that you are done and you can turn off the car. I usually put on the hand break. I don't want it to be my car that rolls around smashing all the others. Remember that you are not supposed to go back to the garage during the trip so be sure you have everything you need. As for valuables I have never heard of cars being broken into on a ferry. Getting off the ferry is much easier. Just don't be the last person to go to the garage and have everyone parked behind you pissed off because they can't leave until you do.
Final Ferry Comments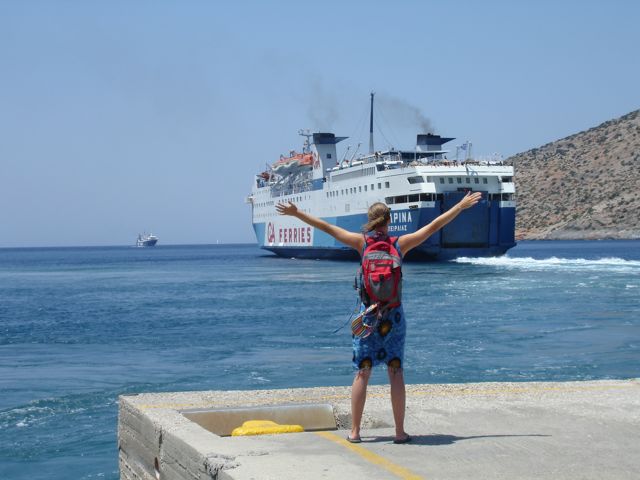 If you are booking directly with the hotels keep in mind that if you can't reach the hotel because there is no ferry when you thought there was one and you can't get to the island you will most likely still be charged for the room. I strongly recommend that unless you are a backpacker staying in youth hostels or campsites or are prepared to stay anywhere you find upon arrival, use a travel agency in Athens to book your hotels on the islands. They can get the schedules and won't book a hotel for a day that there is no boat. If you are going to more than one island this is especially true. Many agencies offer island-hopping combinations. If you are going to the popular islands (Mykonos, Santorini, Paros, Naxos, Rhodes, Crete etc) by doing one of these combinations of 2, 3, 4, of 5 islands you are letting the agent deal with the hassles of finding the ferry schedules and all you have to do is show up on time. It is not a tour. These itineraries are set up individually and you can choose the hotels and the islands. For more info on these island-hopping combinations see www.fantasytravelofgreece.com or www.greecetravel.com/dolphinhellas

If you know what islands you want to go to try www.greecetravel.com/create-an-itinerary and if you are not sure try www.greektravel.com/suggestions

Frustrated by the ferry schedules? Be your own ferry. Rent a sailboat. A one week trip can cost about the same as staying in a hotel and it's a lot more fun. There are also cabin-charters which are like cruises but with only a few cabins. See Matt's Guide to Sailing in Greece and in particular Greece Sailing Charters.

Any questions? E-mail me at matt@greecetravel.com

More Helpful Ferry Pages:


Use Ferryhopper to find all direct and indirect ferry routes for the islands of Greece, Spain, Italy & Turkey, compare ferry companies & prices, and book cheap ferry tickets with no hidden fees in one go!