By Aglaia Kremezi
Greece, I believe, is the only country in Europe to give its civil servants paid leave of absence in November, so that they may return to their villages to help harvest the olives: A perfect example of how much the produce of the land and traditional eating habits still affect modern life. At least four out of ten baby-boomers that live in the big cities -- Athens and Thessaloniki -- come originally from agricultural areas. They have moved to the cities during the last forty years, bringing with them the cooking and culinary habits as practiced in the villages by their mothers and grandmothers. The majority of the people who live and work in the densely populated capital of Greece continues to maintain homes and close ties with their places of birth. They visit them on long weekends, summer holidays, as well as every Christmas and Easter.
Surely, one of the most important reasons that drive all the new inhabitants of the major urban centers back to the land is the pure and unadulterated taste of food in their village homes. It evokes a different time in their lives, happier and more human. The foods Greeks dream of are not elaborate and complicated, but based on the humble but delicious regional produce: Seasonal vegetables, leafy greens –growing wild, or cultivated— grains, mainly in the form of homemade bread, fruity olive oil, home cured olives, beans and other legumes, local cheeses, yogurt, occasionally fresh or cured fish, and sometimes meat, are the basis of everyday Greek Cooking. Bread used to be the basic staple food, as it was in ancient and Byzantine times. Although now people can afford a great variety of foods, Greeks still consume enormous quantities of bread. Every meal ends with seasonal fruits, while sweets are part of the festive table, which almost always involves meat, lamb in most occasions.
Olive oil, the primary fat used in Greek cooking, is basic to every Greek's life and identity. "A stubborn and rebellious wife, who refused to submit to her husband and go to bed with him, was rubbed with olive oil for seven days. On the eighth day --according to Greek folk tales-- she became sweet tempered and loving, ready to let her husband make love to her..." This is the most exotic of the sixty or so folk remedies in which olive oil plays the leading role. Most of these remedies, with roots in antiquity, are still practiced in rural Greece. For Greeks olive oil is not just the main fat used in cooking. It is also tied to every ritual, both folk and religious, that marks the crucial events in the cycle of life. Priests anoint with olive oil the infants at Christening, and again with olive oil, mixed with wine, the bodies of the deceased are embalmed prior to burial. Most Greek families either produce the olive oil they consume –about 40 pounds per person each year— or they buy it from friends who have a surplus.
Common dishes like the green bean, eggplant, potato or zucchini stew, cooked in lemon or tomato sauce are called ladera (i.e. cooked in olive oil). The fruity juice of the olives is the principle ingredient in those delicious vegetarian meals, which are eaten with plenty of crusty bread and cheese. Greek food is simple, down to earth and forgiving, but not plain. It is tied to the natural produce of each region making the most of it and changes with the seasons. In the homes people still don't make stuffed tomatoes or melitzanosalata (eggplant dip) during the winter months, although one now finds these vegetables all year round.
Every day, the ingenious Greek cook manages to create a new, interesting and delicious dish from the same few, humble ingredients. Let's take horta –the wild or cultivated greens— as an example: Horta are steamed or blanched and made into salad, simply dressed with lemon juice and olive oil; they are sautéed with onions or garlic and supplemented with homemade pasta or cheese to make a more substantial meal. Greens are also added to a flour-based soup or porridge to feed the family, or mixed into batter and fried to make patties. When meat or poultry are available, the greens can be added to it and finished with avgolemono, the delicious egg and lemon sauce, to create a Sunday meal. And, of course, the various greens are the base of many pies, large or small, baked or fried. The most famous are the large pies baked in Metsovo, on the extreme northwest, while very popular are also the small fried greens turnovers of Crete. Both dishes contain seven or more different varieties of horta, each complementing the other in flavor and aroma.
Food follows the seasons, and the seasons are followed by religious holidays. These holidays have often evolved from ancient celebrations. Easter, Greece's most important feast, seems to have its roots in the pagan agricultural spring festivals of antiquity. Celebrated in the open country, amidst fragrant herbs and multicolored spring flowers, the Easter table features tiny succulent spit-roasted lamb or kid and salads of wild greens, tiny raw artichokes and fresh fava beans. The traditional Easter sweets are made with the creamy fresh cheeses of the season. Many traditional dishes are still closely related to religious holidays, although pizza and hamburgers, as well as gyro and "Greek Salad" tend to banalize modern Greek food.
The various rules of the Greek Orthodox Church have shaped people's eating habits. Even non-religious Greeks abstain from foods deriving from animals –meat, dairy products and eggs— during the numerous Lenten days that precede Easter, Christmas and other religious occasions. This is the reason why many dishes – stuffed vegetables, pies etc. -- come in two versions: One with meat (sometimes called the "festive") or with cheese, and one without, for the days of fast. Greeks, until recently, have been mainly vegetarian not by choice but by necessity. Conditions were such that it was not possible to pasture large herds and so provide meat for everybody. A rare, festive dish, meat was consumed on Sundays, at Easter and Christmas, as well as on important family feasts. With its many islands, Greece has more boats per capita than cars. Nevertheless, fish and seafood has never being plentiful enough to become a staple for the people who live near the sea. The fish and seafood of the Aegean is exceptionally delicious but scarce, while the best fish islanders manage to catch is sold to the big cities for the much needed cash.
Grandparents used to relate stories about the men and women of Crete who lived healthily past the age of one hundred, thanks to a diet poor in meat but rich in olive oil, greens and grains. Strangely enough, those stories have now been proven scientifically correct. The irony is that the very people who told these stories were the ones who in practice did exactly the opposite. In the sixties, as the country recovered economically, imported meat and other foodstuff became plentiful and our parents and grandparents started to eat to their hearts' content to make up for lost time. Also they considered it their duty to stuff their children with lots of meat and imported butter. Although a large percentage of Greeks are still heavy smokers and the country doesn't enjoy one of the highest standards of living in Europe, strangely enough, the inhabitants of Greece have one of the world's highest life expectancy. Certainly the old eating habits must contribute to this...
---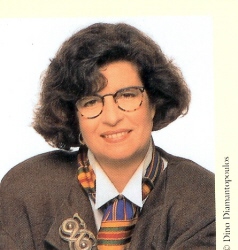 Aglaia Kremezi --a journalist, writer, photographer and food columnist-- lives in Greece and divides her time between Athens, and Kea --an island of the Cyclades. She is an international authority on Greek food and a contributor to many US food publications, including Gourmet, Cooking Light, Bonne Appetit, Food Arts and Food & Wine. The Foods of the Greek Islands: Cooking and Culture at the Crossroads of the Mediterranean, (Houghton Mifflin, 2000) is her latest book. Her first book, The Foods of Greece, won a Julia Child Award. She is also the author of Mediterranean Pantry, Creating and Using Condiments and Seasonings (Artisan, 1994) and Mediterranean Hot, Spicy Dishes from Southern Italy, Greece, Turkey and North Africa (Artisan, 1996). She is a consultant for Molyvos, the upscale Greek restaurant in New York city, which was awarded three stars by Ruth Reichl of the New York Times. Her books feature not only recipes but beautiful photographs and essays that explain history, mythology and religion and how they fit in with the cooking of Greece and the Greek world. Her books can be found in most bookstores in the USA, Canada, UK and Greece and can also be ordered through GreeceinPrint by using this form. You can find descriptions of of her books on the cookbooks page.
Join Aglaia Kremezi and friends on a culinary experience on the island of Kea at www.greektravel.com/greekislands/kea/keartisanal