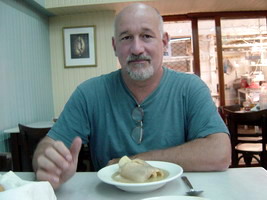 Sometimes it is just not convenient to go to Psiri, Gazi or my Athens neighborhood taverna for a nice Greek meal, especially when I am stuck in North Carolina where good Greek restaurants are like hen's teeth. I cook a lot of Greek food at home. I have become an expert at making paidakia (grilled lamb-chops) out of any cut of lamb, or even chicken and turkey thighs. So when my wife announces that we have a 4 day break from school and she wants to take our daughter to New York City and stay with her sister I think, sure, why not? While my wife and daughter torture each other going to endless shops, museums and galleries, I will go with a mission. To eat and drink in all the Greek restaurants with my pal Leigh, also a Greek-American and fellow Greek food-lover.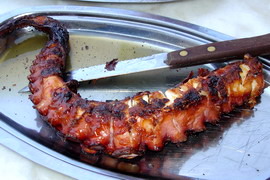 A little bit on Greek restaurants in New York. There are two kinds. There are the Greek restaurants for Greeks, found mostly in Astoria where many of the Greeks lives. These are restaurants that have the kind of food you might find at a working class estiatorio or psistaria (grill house) near Omonia Square in Athens. They are usually cheap, full of Greeks, some local, some from LI and some from NJ or upstate who have drifted into Astoria because it's a lot closer than Athens and probably at one time lived here. These restaurants serve simple food that tastes home-cooked and the chef is usually a guy who was cooking on a ship before he came to the states. You could call them no-frills but by Greece standards they are relatively frilly. Real tablecloths rather then disposable paper, wine glasses with stems, cloth napkins, bottled wine (though house wine in a carafe is available). One of the advantages these restaurants have over a Greek restaurant in Greece is the cost of seafood in New York which is much cheaper than Athens. So you can visit a simple working class restaurant in Astoria and have a whole grilled fish and eat like a king for a fraction of the cost in Greece. And the Greeks know how to grill fish. Presentation is basic but food is generally delicious since the clientele are usually Greek and will complain if its not.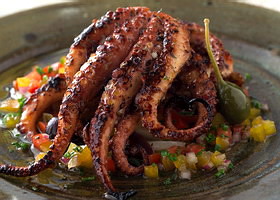 The other kind of Greek restaurants in New York are the ones for New Yorkers. These are mostly in Manhattan, many are associated with some famous or soon-to-be-famous cookbook writer whose books are on display, and they are generally upscale so not necessarily expensive by New York standards. The chef in these restaurants may have a degree from Culinary Institute of America or a European equivalent and the menu will be a collection of traditional dishes with descriptions that make them sound more sophisticated than they actually are, and semi-original dishes that are products of a Greek imagination or hybrids, most of which taste quite good for those adventurous enough to try them. Waiters will be nearby to fill your glass of wine (or retsina) from their extensive list of mostly Greek wines and there will only be a handful of Greeks among the well-dressed New Yorkers, usually visitors from Athens taking advantage of the fall of the dollar to the euro which makes NYC seem cheap for an Athenian. Simple dishes like grilled octopus for example may be augmented with chopped vegetables, capers, olives and more which not only makes for a better appearance but a tastier more diverse dish. Though when you get down to it the most important aspect is how good is the octopus itself.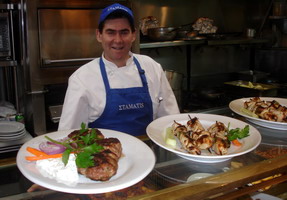 Most restaurants fall between these two extremes. My feeling is that when I go out for Greek food I want simple, home-style cooking, served in a leisurely way. Leigh is the same way. In one restaurant, now departed, one of the dishes was grilled sardines wrapped in grape leaves and stuffed with tarama salata. OK, the grape leaves are acceptable because there is actually a traditional dish like this. But stuffed with tarama? Isn't that going a little too far? You don't have to disguise sardines. Just grill them with pride! Don't be ashamed because they are lowly sardines. The sardine may be one of the smallest fish but nutritionally the sardine is king. And nothing tastes better than grilled sardines. You can't improve them (except maybe sardeles-pandremenos aka 'married sardines' which are stuffed with tomato, onions and cheese and baked). Greek food is constantly evolving. The bechemal sauce you eat on pastitsio and mousaka was imported from France by Nicholas Tselementes, a Greek chef from the island of Sifnos who trained in Europe and worked in some of the world's finest hotel kitchens. So I have no problem with the evolution of Greek food as long as you stick to the basic Greek ingredients.
So how am I qualified to write a guide to Greek restaurants in New York?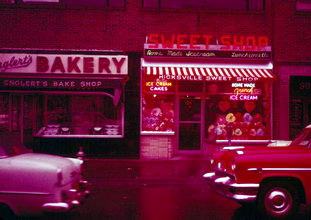 In the early 1900s my grandfather Giorgos Economopoulos came to America and eventually opened the Hicksville Sweetshop on Long Island which for decades was a sort of welcome center for Greek immigrants, particularly those from Sparta where he was from. (Zarafona to be exact). When my grandfather retired, two of his sons, my Uncle John and Uncle Gus took over the Sweetshop, while the third son, my father Nicholas Econopouly, became a teacher and moved us to Athens, Greece for all my teenage years. But in the summer of 1970 I came back to the USA and worked at the Hicksville Sweetshop. It was my first job and I was probably more of a liability than a hard worker.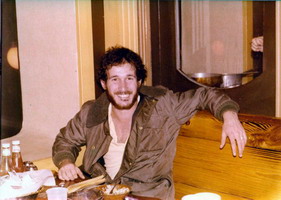 But the restaurant business was the only thing I knew when I graduated high school and returned to the USA in 1974 so that's what I did. When I moved to Chapel Hill, North Carolina I cooked in Greek restaurants and worked my ass off for 18 hours a day, seven days a week, (and they still called me lazy!) But restaurants, Greek in particular were my life, because I had no life outside of the restaurants. My friends were the other employees and my girlfriends were the waitresses. When eventually I became the night manager of a Pete Galifanakis Greek restaurant called Zeus and Sons at least I could entertain my friends in the back booth where I would hang out even on my night off (photo). In 1976 I invented for my friend Parthenon Huxley what came to be known as the Greek Grilled Cheese which was a vegetarian souvlaki with cheese instead of meat. I was vegetarian which drove my fellow Greek employees crazy. ("Mathios, you are Greek. You must eat meat." ). The Greek Grilled Cheese became the most popular sandwich in the history of the University of North Carolina. But I was very aware that what I was making was Greek food for American college students, more of a Greek-Italian-American hybrid.
Boss:Mathios you put too much garlic in the sadziki!
Me: It's impossible to put too much garlic in sadziki.
It is only in the last 15 or 20 years that Greeks have been opening Greek restaurants outside of Greek neighborhoods like Astoria. Before that Greeks opened anything but. They opened pizza places, sub shops, diners, steak houses and fast food places that sold gyros along with hamburgers and falafels. But to open a true Greek taverna was either considered too risky or else the transplanted Greeks had some kind of inferiority complex about their native cuisine. Numerous times I was told that Americans would not eat Greek food and there are not enough Greeks in the area to make a traditional taverna viable. I always disagreed because to me there was nothing better than Greek food and if Americans did not realize this then it was our job to teach them.
After ten years I left the restaurant biz. I had started out as a cook and worked my way up to manager(too much responsibility), then down to waiter (good money and you could meet girls), bus-boy (you got to leave as soon as it got slow) and finally ending my career as a dishwasher (the best job because you can listen to the music you want and people rarely bother you.) I became a musician, then started a company that put up flyers and eventually wrote about 5000 pages and put together my Greece Travel Guides which lo and behold, became quite popular. But my heart is always in restaurants and especially Greek food and whenever I come to New York the only thing I really want to do is go to Greek restaurants, eat Greek food and meet Greeks.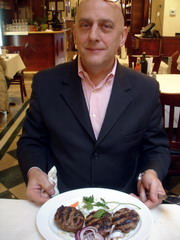 Luckily my best friend Leigh Sioris feels the same way, except he gets to live in New York and go out to Greek restaurants every night while I still have to commute from North Carolina. The best thing about Leigh is that he has worked in and helped to open several of the Greek restaurants in New York, not to mention Micky Mantle's and the first Wine Bar on West Broadway in Soho among others. Leigh is somewhat of a celebrity due mostly to his big friendly personality and probably because nobody in the Greek restaurant biz worked harder and had more fun doing it than Leigh during his restaurant years. I know when I go out with Leigh I am going to make a few friends and that most likely we will be the last to leave the restaurant after many glasses of wine, ouzo and hopefully some tsipuro. Leigh is the perfect guy to write a Greek restaurant guide with because without him I am just eating Greek food. With him I am living the way I would in Greece. With joy. With Exuberance. With wine and kefi. And unlike North Carolina where I have to show some restraint because I have to drive home, in New York I can let go because I can walk, take the subway or a taxi home.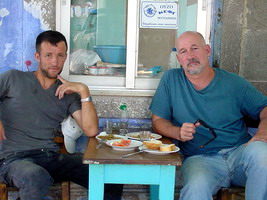 My wife always says to me "All you think about is food".
"That's not true" I tell her. "Food is just part of the package when I go out. The other ingredients are just as important and maybe more. They are wine, conversation, a little Greek music and friendship. Even if the food is lousy if I have the other four items I can be quite happy. Good food just makes it perfect." I don't expect her to understand. I can count the times on one hand that I left a Greek restaurant with her rather than stay there drinking with my friends, or the cook, or the people at the next table into the night. Nope. Its not about food. Its more about companionship and lots of people who go to Greek restaurants in the USA are looking for something they found while they were in Greece and feel a nostalgia for. If it was only about food then I would be satisfied eating a gyro in some North Carolina souvlaki joint run by Mexicans. When I visit New York I am seeking something on a higher plane. A perfect storm that will help me forget that I am in exile in America is wine, Greek food, conversation, and rembetika music. Any restaurant that provides three out of four will get praise and more visits from me.
So this is my Guide to Greek Food in New York. Its not static. In other words as I return to NY and visit more restaurants and even return to those that I have already visited I will add to this website. If you know of a Greek restaurant that I should visit then let me know by e-mail and I will check it out next time I am in the city. For you the reader, this guide should be helpful in exploring the ever-expanding world of Greek food in New York. For me it's a fun job, eating, drinking and meeting people and trying to replicate in New York the life I live when I am in Greece. And even if it does not make me any money, I can still write off my meals.