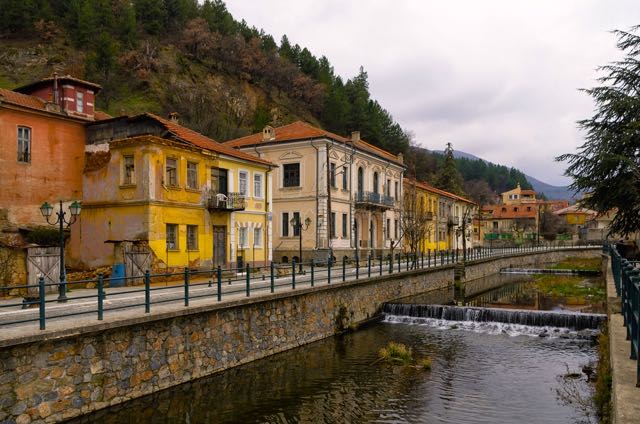 Formerly a very popular mountain town with tourists coming across the Yugoslavian border, Florina has seen its fortunes fall after the upheavals to the north. However just because the majority of the tourists who used to come here are basking in the safe warm glow of the Peloponessos and points south, that does not mean that you won't enjoy this very lively, interesting and beautiful town. There is skiing at the resort of Vigla and if you are going to the Prespa lakes you will most likely be coming through here by bus or train. There is also a casino above the town if you are looking for a little rural James Bond action. Famous for its large red peppers (peperies Florinas), there are a number of fast food and decent restaurants around Modi Square and Pavlou Mela streets. Lonely Planet recommends the Taverna Takis for its grilled food and its inexpensive prices. It is located at 25 Martiou 18th street. The Olympus restaurant is only open at lunch but has good food at reasonable prices. There are five to seven trains a day to Thessaloniki, six buses a day to Thessaloniki, 1 bus to Athens and two buses a day to Agios Germanos and the Prespa lakes at 6:45am and 2:30pm. there are 3 buses a day to FYROM and two buses to Albania.
If you are coming in the winter be prepared. It can get pretty cold up here. See Skiing in Greece

The town runs along a river and its main street, Pavlou Mela is closed to automobile traffic and leads into the central square of Georgiou Modi. There is an archaeological museum with some interesting pottery from the Neolithic, Iron and Bronze ages, Roman statues and Byzantine art. There are two art galleries, the Florina Artist Gallery, located near the archeological museum in a big building that looks like a train station, and the Museum of modern Art on Leoforos Eleftherias, which contains a permanent collection of contemporary Greek artists and also has exhibitions.

This is a great place to go in mid August when everywhere else is hot and crowded.
Featured Hotels in or around Florina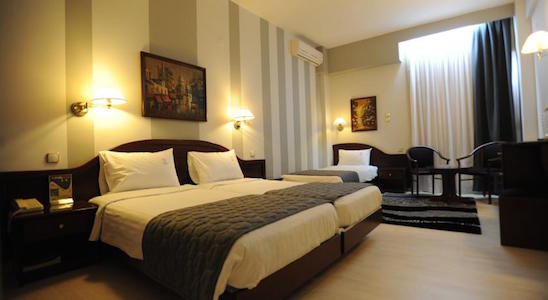 Best Western Lingos is a centrally located hotel in Florina, northern western Greece. It is fully renovated, offering you quality services. It consists of 34 standard fully equipped rooms, 4 junior suites and a presidential suite with living room and Jacuzzi. The hotel can also provide congress services in the modern congress rooms. You can enjoy the greek cuisine in the restaurant of the hotel or relax by having a drink in the hotel's bar. Wireless internet is available in the entire hotel and charges are applicable. Wired internet is available in public areas and charges are applicable. For more hotels visit Booking.com's Florina Page and on Matt's Hotels of Greece Central Macedonia Page. There are many more hotels in nearby Kastoria on the famous lake of the same name.