Top 10 Lesvos Restaurants and Village Life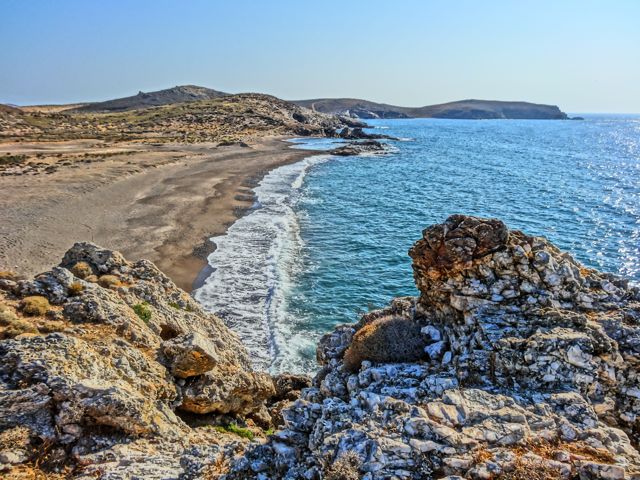 So how does one pass the time in a small mountain village on Lesvos? The main thing is getting through the day. I wake up. Make coffee. Wake Andrea. Drink my coffee. Eat some cherries (its cherry season). Answer my e-mail for about 3 hours and then walk down to the square, get in the car and drive somewhere for lunch and a swim. Lately it has been hot. In fact we are about to have another heat wave, though a short one. Only three days. But the town of Sigri on the tip of the island is always cooler. We were sweltering in the village and drove down there 3 days ago and the wind was blowing and in the shade it must have been 20 degrees cooler. We sat at the Cavo d Oro Fish tavern in the port, had a big meal and were quite comfortable. While we were there we met Cindy, the woman who runs Hyphenology which is a summer school for teens on the island. The program had just ended and the kids went home happy and with broadened horizons. We had wanted Amarandi to do the program but she refused. But when she met Cindy I think she was sorry she had because the first thing Cindy said was "Cool lip stud. Did it hurt?" Amarandi had found a kindred spirit in the older generation. Maybe next year. After a swim at Fanouromeni Beach which was cold and had big waves we met Cindy's father at the same restaurant who insisted on us coming to his house on Sunday for barbecued ribs, his own special recipe. Because I am a rib-fanatic it was hard to turn town. But tonight (Saturday) we are going back to Sigri to meet them for dinner.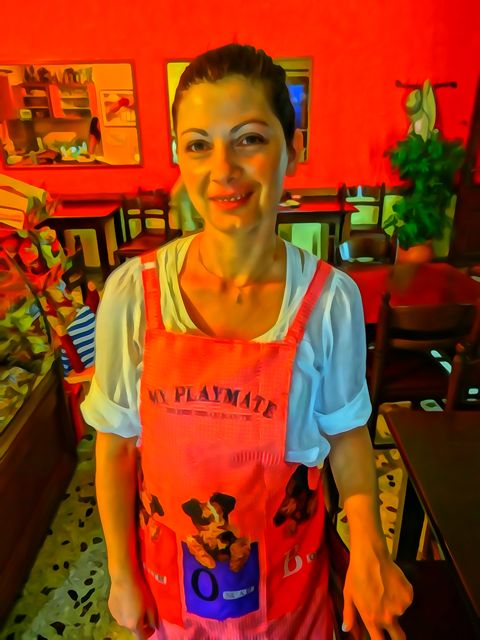 Normally after going for a swim we will return to Vatousa, answer more e-mail, maybe take a nap and then after the sun has set we go to Vasso's for an ouzo. Vasso is this beautiful woman with three beautiful daughters. She and her husband Panayotis had the restaurant in the lower platia (called the Hani). They split up last year and she opened a zacharoplasteion (sweet shop) in the upper platia which doubles as a cafeneon-ouzerie. She makes some nice simple mezedes and she and the girls pour the ouzo and serve the mezedes when the old men (and young men like me) order them. She has these photos of herself in Athens at a bouzouki club, made up and dressed to kill where she looks like a movie star or a Greek pop-singer, not a girl from a remote mountain village. But I think everyone who goes there has a crush on her. Vasso is a goddess. I remember the first time I saw her one of my first years in the village. She came down the steps into the upper platia with a flock of little girls around her, looking like a vision. She is tall and was wearing a long flower pattern dress in a village where most of the women wear black and are over sixty years old and rarely show themselves. I went into shock. Back then her appearances were so rare that I would forget she existed, only to be reawakened when she would turn up again, always with the girls who were a year older everytime I saw them. Now the girls are teenagers or close to it and Vasso is one of the major characters of the village. Like a beautiful den mother to a cub-scout troop of geriatrics.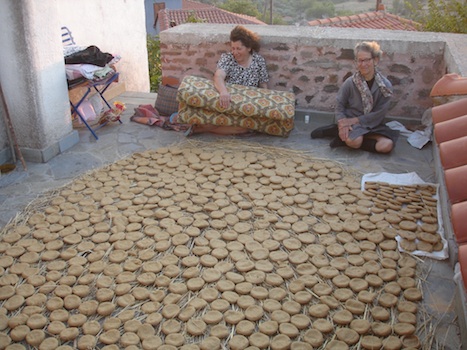 Pam has a big flat roof at her house so the women who make the trachana (see last entry) use it to dry them. What I did not realize is that they have to guard them for 3 days and nights. I asked the women who had set up a little sleeping area on the roof why they had to guard them. Who would steal trachana? The cats. Because it is made with milk they like to eat it and the women have to be very vigilant. They work in shifts of two so while one sleeps the other keeps a watchful eye for the cats who gather below plotting ways of getting the trachana. There was a form laying next to the trachana and Andrea asked what it was for. "It keeps the ants away" the woman told her. The next day the fork was gone and the woman told her that because the ants left she did not need to keep the fork there and would only put it back if they returned. No. I am not making this up.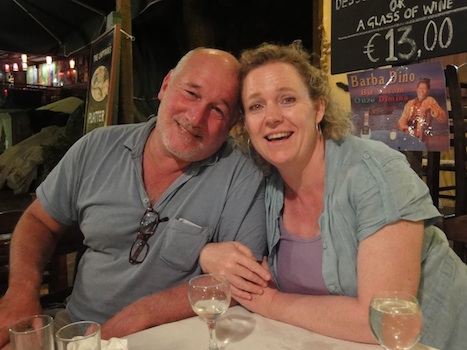 Yesterday we went to Kaloni to buy marble for the doors of the house we are restoring in Xidera. I forget what it is called. Its the piece that separates the inside from the outside of the house and sits under the door and keeps water from coming in from the patio. Actually we had about a dozen different chores and so I played taxi for Andrea while she went from place to place. It was about 35c. Afterwards we went to Molyvos to visit Melinda and Theo at the Captain's Table. They have a great restaurant that serves traditional Mytilini food but some of her dishes have a slight twist to the recipes, similar to the way Aglaia Kremezi's dishes do. For example she makes a spicy eggplant salad which is more like something you would eat in Turkey or Thessaloniki, or uses curry in some of her dishes. She makes the best gavros marinato (pickled fresh anchovies) on the island too. Going to her restaurant is a treat, one we look forward to everytime we come to Lesvos and we always try to have at least one night in Molyvos. I have heard of other restaurants in Molyvos complaining at the attention I give the Captain's Table, accusing me of favoritism. I don't deny it. The Captain's Table is my favorite restaurant in Molyvos. If I were a responsible travel journalist like the people who write for Lonely Planet or Rough Guide I would sacrifice my own pleasure and spend my time trying all the restaurants in Molyvos (not that they really do this). But truth be told I am not a responsible travel journalist. I am just a guy who writes about what he likes.
Here are my Top 10 Restaurants in Lesvos as of today.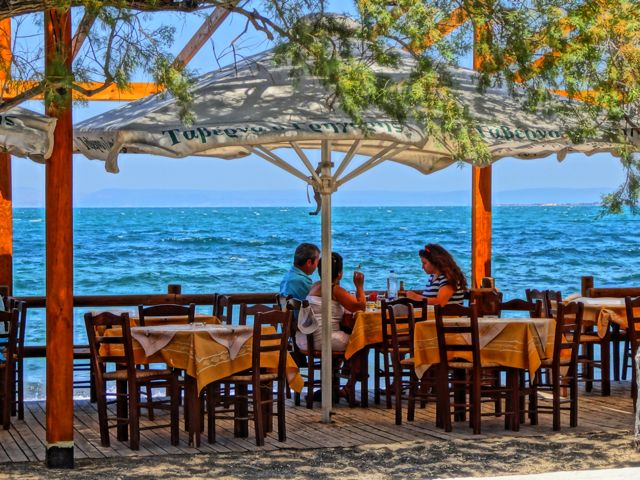 1) Grigoris in Nifida
2) Cavo d Oro in Sigri
3) Akrotiri at Ag Focas in Vatera Beach
4) Akladeri Taverna in Ancient Phyra on the gulf of Kaloni
5) Captain's Table in Molyvos
6) Blue Sardine in Skala Eressos
7) Eftalou Taverna in Eftalou
8) Medusa in Skala Kaloni
9) Kosta's in Campo Antissa
10) Adonis in Skala Eressos
Honorable mention goes to the Hotel Aphrodite Taverna in Vatera Beach for their pizzas, meze platters, roast whole suckling pig, paidaikia, loukaniko and the lobster macaroni which we turned down and then wanted to shoot ourselves when someone else ordered it and we saw what it looked like. Also you could include any of these restaurants in my Top 10. Soulatso in Skala Eressos for their fish, particularly the sun-dried grilled mackerel, and Remezzos in Sigri which has great fish, a huge lobster tank and more varieties of ouzo than just about anywhere else. Also the small Taverna in Yiota near Gavatha is really good as is To Kati Alo in Antissa. For more see www.lesvos.com/restaurants.html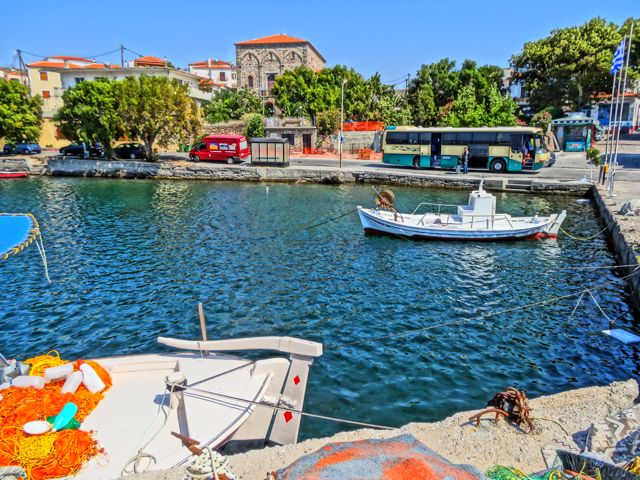 So how does one pass the time in a remote village on Lesvos? Eating or waiting for the next meal and filling the time with anything that keeps you cool whether it is swimming or sitting in the shade in Sigri.
By the way... if you are booking late and are getting frustrated because you can't find hotel rooms anywhere for August try Sigri. Last I heard they have plenty of rooms. Its not Mykonos or Santorini but if you want my opinion I would rather be in Sigri any day. It has an end-of-the-world feeling that I love, great beaches, the best restaurants and the nicest weather you will find in Greece. If you are afraid you can't take the heat of August this town is for you. There are even a couple wind-surfing schools and the world famous Petrified Forest Museum. Click here for Hotels in Sigri