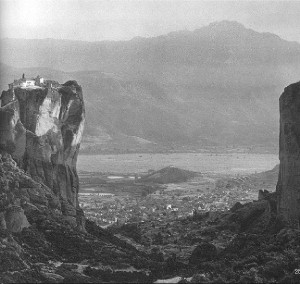 To visit Meteora you have a number of choices. You can go on a tour with thirty or forty other people which is fine. Even if you don't think of yourself as a 'tour group' kind of person you can't beat the ease of having a plan and a schedule and someone telling you what to do, what you are seeing, and it is a good way to make friends and even your meals are paid for. A lot of people who have written that they would never go on a tour, admitted that they found it to be pretty much fun. And since a lot of people who don't normally go on tours, do go on these Greek mainland tours, then you are not stuck with a lot of people you would think of as typical tourists. And if you happen to be a typical tourist, you are probably not as typical as you think since most typical tourists go to Athens, Mykonos and Santorini and have little interest in Meteora or monasteries in general. You can contact Dolphin Hellas Travel or Fantasy Travel and see what they have to offer. Group tours to Meteora are usually included in the 4-day classical tour or can be done as a two-day trip with Delphi so when you visit the travel agency websites click on 'organized land tours' or something that looks like that. There are only a couple tour companies and all the agencies feed into them and they only go on specific days so if you plan to visit the islands too you may want to work out the mainland stuff first since you can always get a ferry to an island but you can't go on an organized mainland tour every day.
Fantasy Travel's In the Footsteps of Saint Paul includes Meteora, Delphi, Corinth and the Argolis as well as a cruise that includes Mykonos - Kusadasi - Patmos - Rhodes - Heraklion - Santorini. Not that Saint Paul ever went to Mykonos or Santorini but he might have if he had known about them. Dolphin Hellas' version of the Footsteps of Saint Paul is a little more in tune with the actual journey's of Saint Paul though to be honest with you I don't believe he ever went to Meteora since there were no Christian monasteries when he was in Greece. There were hardly any Christians.
Fantasy Travel offers a 2-Day Meteora/Delphi Trip which won't cost much more than if you tried to do it on your own and without the headache of trying to organize it yourself. They offer a 3-Day Meteora/Delphi Trip as well. The 4-Day Classical Tour includes Epidavros, Mycenae, Nafplion, Olympia, Delphi and Meteora which pretty much covers all the important mainland sites, with the exception of Macedonia which is covered in the 5-Day Northern Greece Tour which also includes Delphi and Meteora as well as Thessaloniki, Vergina, Naoussa, Dion Veria, Pella and other places associated with Alexander the Great. And the 7 Day Grand Tour includes Meteora and just about everything else on the mainland.
You can go on your own with a rental car. The roads are pretty good though Greek drivers are not. But if you are an attentive driver with fast reaction time or have ever done any kind of professional racing you should be fine. As reckless as the Greeks drive, generally they are so wired on frappe that they can avoid trouble just as quickly as they get into it. That being said they are the worst drivers in Europe and the number of fatal highway deaths, especially on holiday weekends and in August is astronomical. (For more on driving in Greece see www.athensguide.com/driving). If I have not managed to discourage you then see www.greektravel.com/swift . I recommend Swift in Athens because not only does he have great rates but he will drive you to the National Road so you don't have to deal with Athens traffic. Once you get on the highway you just follow the signs which are in English.
Or you can get to Meteora by taking the train from Athens to Volos and connecting with the narrow guage train that ends up in Kalambaka. There is also a train to and from Thessaloniki. There are 2 express trains from Kalambaka to Athens and back. You can get there by bus from Athens to Trikala and then to Kalambaka. There are bus and train schedules at www.athensguide.com/practicalinfo
But the best way is to go with George Kokkotos, the Famous Taxi Driver who turns the trip into a two day adventure with the first day in Delphi. Traveling in an air-conditioned Mercedes and having George's experience in choosing hotels, restaurants and the best way to approach each of the monasteries is in the opinion of many, the best way to see Meteora. He will even handle the hotel arrangements. See www.greecetravel.com/taxi
But whatever way you choose to see this profoundly beautiful area of Greece keep in mind that in July and August this place not only gets crowded but it can get hot. Your best bet is to see it in the off-season but if this is not an option you might ask about air-conditioning in your hotel or your vehicle, yet another reason to book in advance or do the trip with George.