Hotels in Kalambaka and Kastraki
Most people who visit Meteora stay overnight either in the modern town of Kalambaka or in the smaller village of Kastraki. There are hotels and rooms of different categories as well as campsites in both towns. Kastraki is smaller and closer to the monasteries and many people prefer staying here. Kalambaka and Kastraki are only a fifteen minute walk from each other so if you can't find rooms in one town just go to the next. But in the summer months you are advised to book in advance since you may find something but there is always the possibility you won't. If you can't find a room in Meteora then stay down the road in Trikala which is less touristy and has a beautiful downtown and lots of cafes and restaurants. Also if you can't find a hotel consider doing a tour with Fantasy Travel who reserve rooms in advance and have availability when the other sites don't. You can also use Matt's Create an Itinerary Form to get assistance with hotels and putting together an itinerary that included Meteora.
Here is a list of hotels near Meteora. You can find more at Booking.com's Meteora Page and at Matt's Hotels of Greece Meteora Page. You can click on the hotel name to see photos, prices and more information and even book the hotel. For homes, villas, self catering apartments and Air BnB type accommodations see Matt's Meteora Villas Page.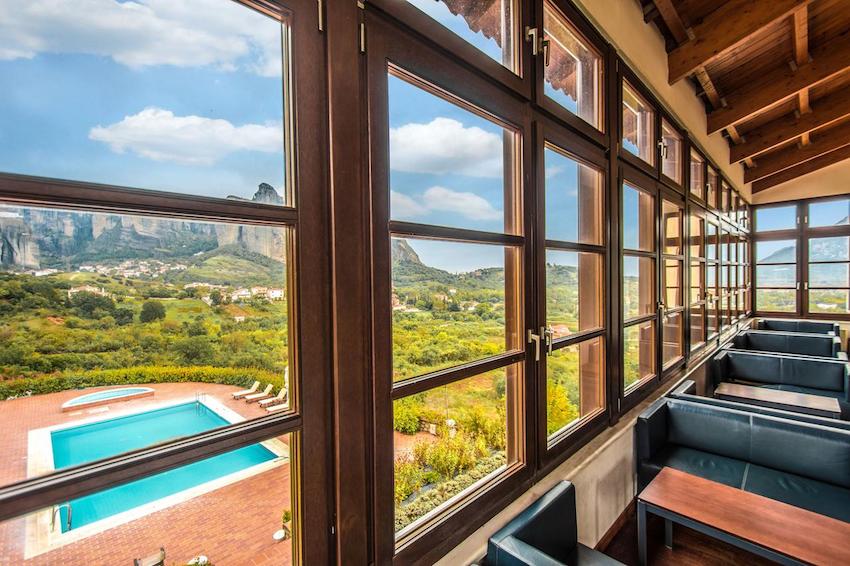 Meteora Hotel

Designed by the famous architects Nikos Valsamakis and Piotr Barelkowski, this hotel constitutes the most modern, yet at the same time most traditional hotel in the graphic region of Meteora. Opened in July 2006, the hotel offers unique comforts and splendid spaces of relaxation that characterise the attention to detail and the originality of the buildingís interiors. The hotel group to which it belongs carefully maintains the architectural tradition of the local region, incorporating the styles in subtle nuances and minimal elements. Residing in the higher point of the region of Kastraki, it offers the opportunity to admire the incomparable beauty of the natural landscape that features the rocks of Meteora. With such an ideal vantage point, this hotel is the perfect base from which to explore this stunning area.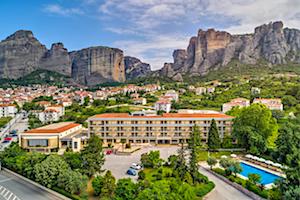 Divani Meteora Hotel

This stylish hotel is surrounded by the majestic, towering rocks known as Meteora, in the charming village of Kalambaka. With a design that is modern yet harmoniously blending with the adjacent natural splendour, the Divani Meteora Hotel offers a remarkable window to the stark beauty of Meteora. As one of the Divani chain hotels, the Divani Meteora Hotel provides guests the opportunity to enjoy traditional Greek hospitality in a contemporary setting. Sitting at the base of the Meteora rocks, the Divani Meteora Hotel boasts magnificent views, allowing guests to experience the beauty of the natural surroundings, within a luxurious setting. Relax in the complete tranquility of the hotel's spa, with everything you need to truly rejuvenate your mind and body, including indoor and outdoor pool, sauna, steam room, jacuzzi and exercise room.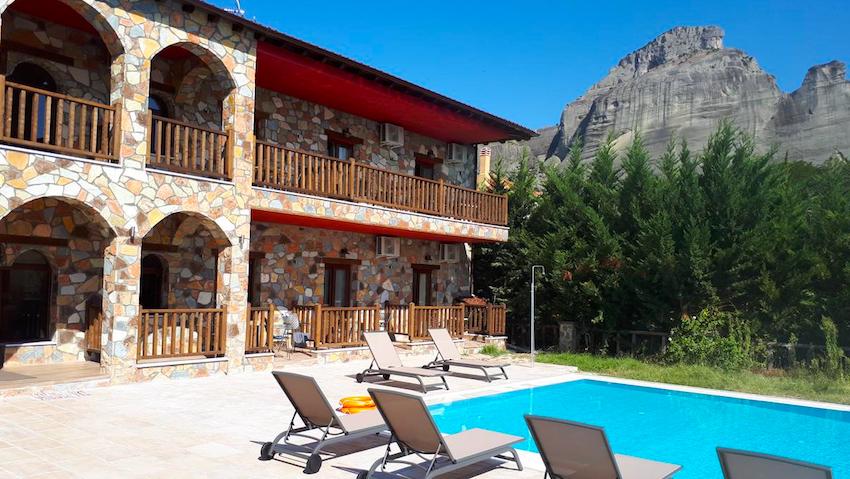 Monastiri Guesthouse

This traditional monastery style guest house is just a 2-minute walk (200 m) from the city centre of Kalampaka and next to the train station, offering magnificent views to the site of Meteora. A unique combination of stone and wood provides rustic yet comfortable accommodation. At this guest house, the Greek tradition and spirit meets modern facilities to guarantee that you will feel at home and at the same time acquire a taste of Greek hospitality. Monastiri Guesthouse offers a variety of 7 large, comfortable rooms all with wooden floors, ceilings and hand painted frescoes. The rooms range from simple rooms to suites, each one with its own style, colour combination, and all with a splendid panoramic view of the Meteora.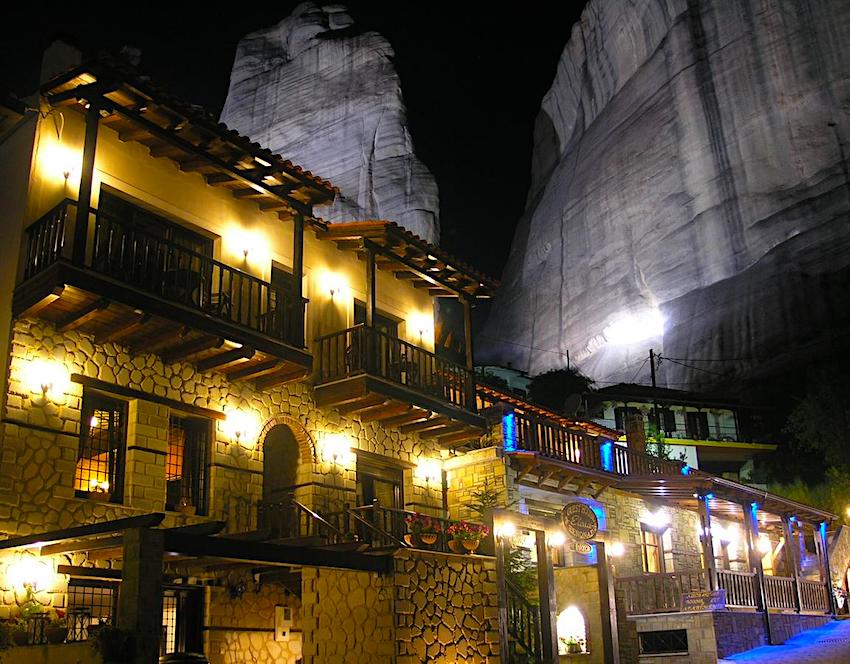 Elena Guesthouse

The ultra-modern and recently renovated guesthouse "Elena" is located in the old town of Kalambaka, 100 metres from the imposing rocks of Meteora, and 500 metres from the city centre. The guest house is built in accordance to the local architecture and traditional style and meets the most demanding of criteria. The warm colours, the natural materials and the discerning furniture all create an atmosphere of comfort and luxury. The visitors who love both nature and walking, will have the opportunity to visit the monasteries of Meteora, by following the lovely stone path that starts just 100m away from the guest house. Visit the unique 11th-century Byzantium temple and the Assumption of the Virgin. For unforgettable magical nights below the lit-up rocks of Meteora, trust to the quality and family atmosphere offered by Elena's guest house.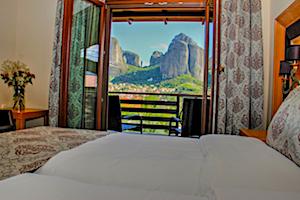 Grand Meteora Hotel

Located in Kastraki, Grand Meteora Hotel features a traditional restaurant, a bar and a lounge area with fireplace. It offers accommodation with views over the Meteora Rocks, and provides free WiFi access in all areas. Fitted with earthy colours and classical wooden furnishings, all units of Grand Meteora open to balconies. Each unit is air conditioned and includes a flat-screen TV, a fridge and a safe. The private bathrooms come with a bath tub, hairdryer and free toiletries. Breakfast, lunch and dinner, prepared with local ingredients, can be enjoyed daily at the classically decorated restaurant, while coffee and drinks are also available at the on-site bar. Kastraki Village is 1,650 feet from Grand Meteora Hotel. Kalabaka Town is 1.2 miles away, while the Meteora Monasteries are at a distance of 0.6 miles.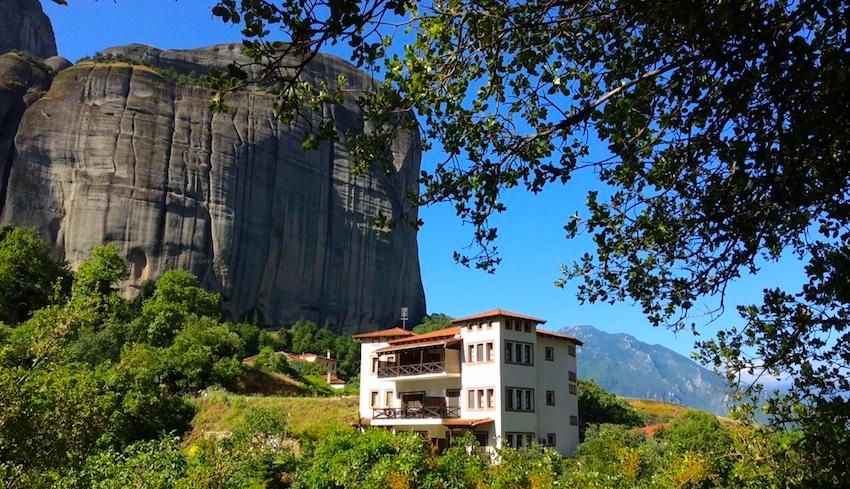 Set in one of the highest points of Kastraki village with fantastic views of the Pindos Mountains, Pyrgos Adrachti offers spacious rooms with large windows at the base of the Meteora. From each window and balcony of Pyrgos Adrachti guests can enjoy uninterrupted views of the famous rocks of Meteora, surrounded by green forests of pine trees. Each room has tasteful furnishings, oak-wood floors, traditional carpets, with many offering views of the Meteora rocks. All rooms have en suite bathroom facilities, free Wi-Fi and a TV. Guests can start each day with breakfast buffet served at the property's dining room. They can also enjoy a drink at the communal lounge featuring a fireplace. Pyrgos Adrachti Hotel is just 0.6 miles away from Kalambaka and within a short drive of the 6 monasteries and plenty of restaurants. A spacious free private parking is available in the premises. This property also has one of the best-rated locations in Kalabaka.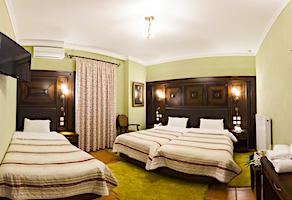 Right at the foot of the Meteora Rocks, in Kastraki village, and just steps from the Monastery of Saint Nikolaos Anapafsas, Dellas Boutique Hotel offers elegant rooms with free Wi-Fi and free parking. The stone-built hotel offers tastefully furnished rooms with views of Meteora, the mountains or the garden. Each of the spacious rooms is en suite and includes hairdryer. Buffet breakfast includes fresh fruits, vegetables, homemade marmalades and Greek yoghurt and is served daily at the hotelís breakfast hall. Dellas Hotel also offers a lounge area with satellite TV, as well as a bar with fireplace. The famous monasteries, built on natural sandstone rock pillars and dating back to the 14th century, are close to Dellas Boutique Hotel Kastraki. The town centre of Kalabaka is only 1.2 miles away. Free, multi-language brochures with all necessary information about the area are offered to all hotel guests.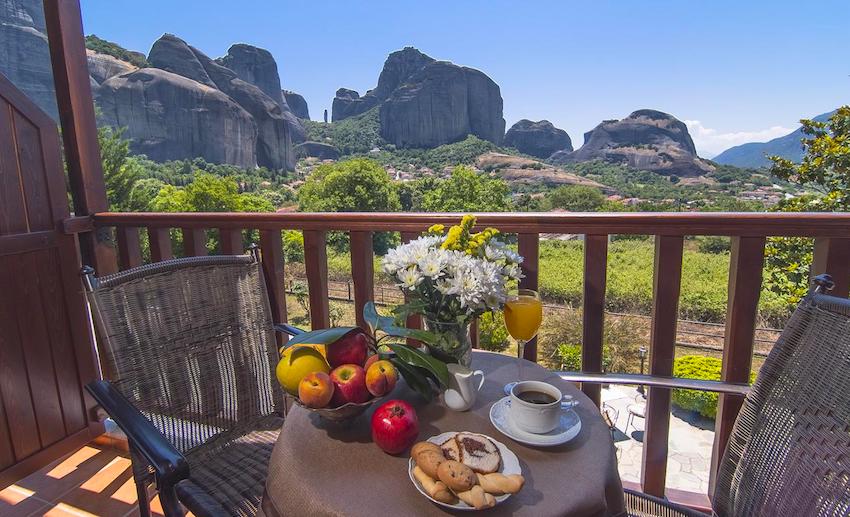 Along with amazing views of the Meteora, Hotel Doupiani House features cozy and well-furnished rooms with free WiFi. The Monastery of Agios Nikolaos Anapafsas is just steps away. Each air-conditioned room at Hotel Doupiani includes a flat-screen TV with satellite channels and a fridge. The private bathroom provides free toiletries and a hairdryer. Guests can start their day with the breakfast buffet. Later, they enjoy refreshing drinks from the on-site bar. The centre of Kalabaka Town is 1.2 miles away. Kastraki Village lies within 1,650 feet. Free private parking is available in the premises. This property also has one of the best-rated locations in Kalabaka. Famous travel writer Marc Dubin says "Doupiani House rocks. Proprietors Thanassis and and Toula bend over backwards for their guests; the views are second to none. As with all local hotels, there's no pool as per the archeo service rules; that's the only thing missing really. It's the closest lodging to the monasteries, good for the car-less to know."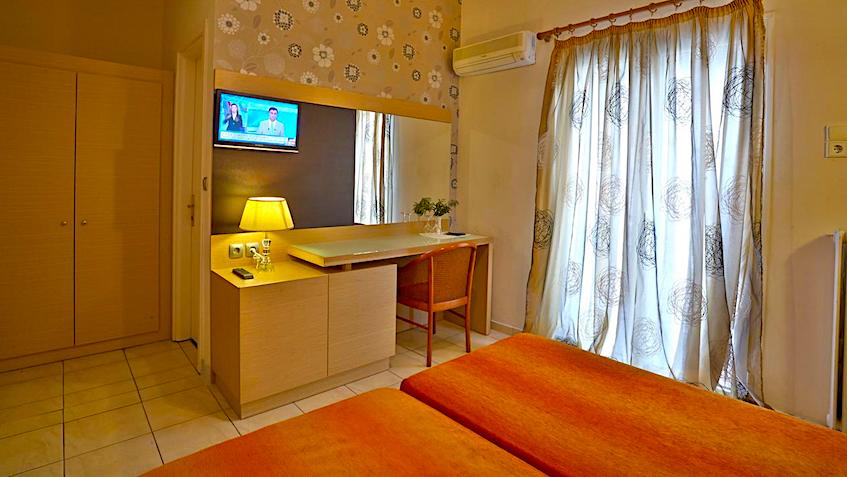 Hotel Rex

Hotel Rex is one of the most established hotels in Kalambaka, situated in the centre of the town, offering easy access to the monasteries of Meteora. In 2009 the hotel was renovated completely stressing its classical Greek style. This features soft colours and a classical-style hotel entrance. Its construction ensures sunny and well-aired rooms all year round. Hotel Rex is fully air-conditioned in the summer and heated in winter. When going sightseeing ask first at the helpful tours desk. For longer excursions, rent a car. Write home about the trip using the free Wi-Fi internet access available.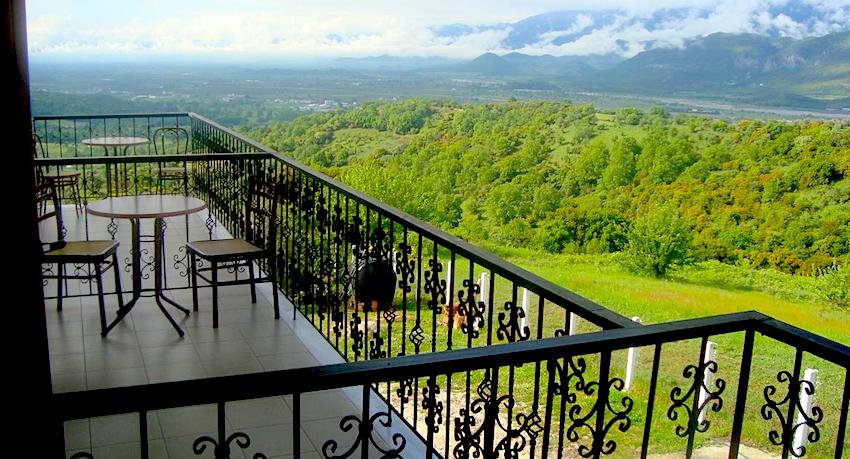 This family run hotel within a stones throw of the monasteries is well known to those who have gone to Meteora with George the Famous Taxi Driver. Reasonable rates and comfortable any season, the hotel has been recommended by a number of international guidebooks and is very popular with Greek travelers. The hotel has an excellent taverna too. All the rooms are spacious, fully equipped and provide a bathroom, air-conditioning, television, central heating and a fantastic view. The pension ARSENIS offers a cultural ambience with two bedded and family rooms, all with a fantastic view of the surrounding countryside. The hotel is comprised of 16 double, triple and family rooms. There is also a popular restaurant where breakfast and meals are offered, a bar and Sat TV. For the cold winter months central heating and a fireplace. At the hotelís restaurant a sumptuous breakfast is served. You will enjoy tranquil and relaxing holidays and the cleanliness of the pension will surprise you.
Located in the centre of Kalabaka, within 0.9 miles of Meteora Rocks, Hotel Galaxy offers accommodation with free Wi-Fi access and a private balcony enjoying views of the Meteora. It includes a bar, a lounge area with fireplace, and a 24-hour front desk. The air-conditioned Galaxy rooms feature wooden furnishings and parquet floors. They are equipped with a TV, minibar and safety box. Each unit has its own bathroom with shower and a hairdryer. Guests can start their day with a rich buffet breakfast served daily at the on-site restaurant, while drinks, coffees and refreshments can also be enjoyed at the on-site bar throughout the day. Within 150 feet of the hotel, guests can find bars, traditional taverns and a supermarket. The town of Trikala is a 20-minute drive away, while Kalabaka Train Station is at a distance of 500 feet.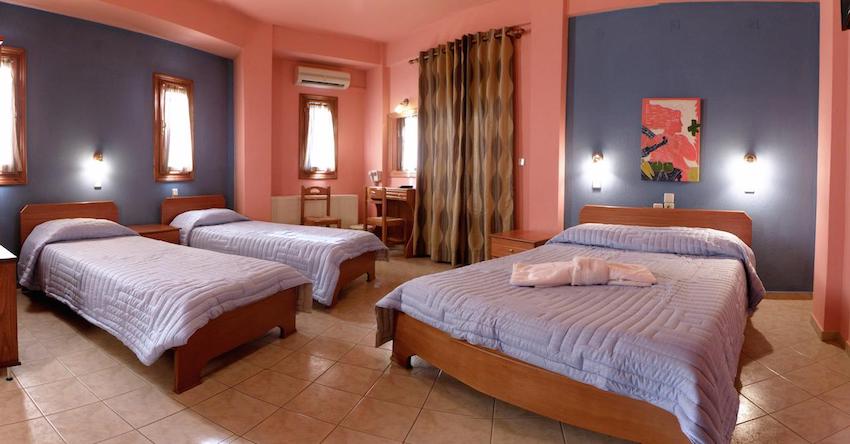 Plakias Traditional Guesthouse
Guest House Plakias is located at Kastraki, at the base of the Meteora. Every room has a balcony with panoramic views of the Pindus Mountains and the famous rocks. The family run Plakias combines traditional architecture with modern facilities. Each room is bright and comfortable, with an en suite bathroom and TV. There is free Wi-Fi and parking. The tavern is situated right next door and serves a complimentary breakfast and home-cooked evening meals. The communal lounge has an open fire, where you can enjoy a drink. The friendly Plakias guesthouse is 0.6 miles from Kalambaka. There are plenty of restaurants within walking distance of the property. This property also has one of the best-rated locations in Kalabaka!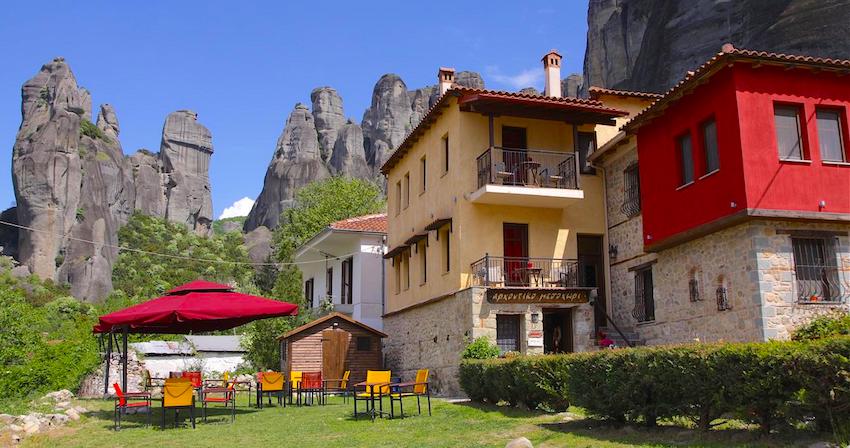 Situated at the old square of Kastraki (Mesochori Square), Archontiko Mesohori offers romantic suites with large bathrooms, free Wi-Fi, LCD TVs and views of Meteora rocks, the monasteries and mount Pindos. The carefully restored 19th century mansion Archontiko Mesohori offers traditionally decorated suites. Each has its own style and features elegant furniture, wooden floors, iron or wooden king-size beds and fireplaces. The common lounge has a seating area with a fireplace, ideal for relaxed afternoons. Alternatively guests can relax at the furnished courtyard. A homemade breakfast made with local ingredients is served every morning and can be enjoyed at the lounge area or the garden. All the monasteries are within a 10-minute drive from the hotel. Restaurants are a few steps down the hill. Kalambaka is 0.6 miles away. This property also has one of the best-rated locations in Kalabaka.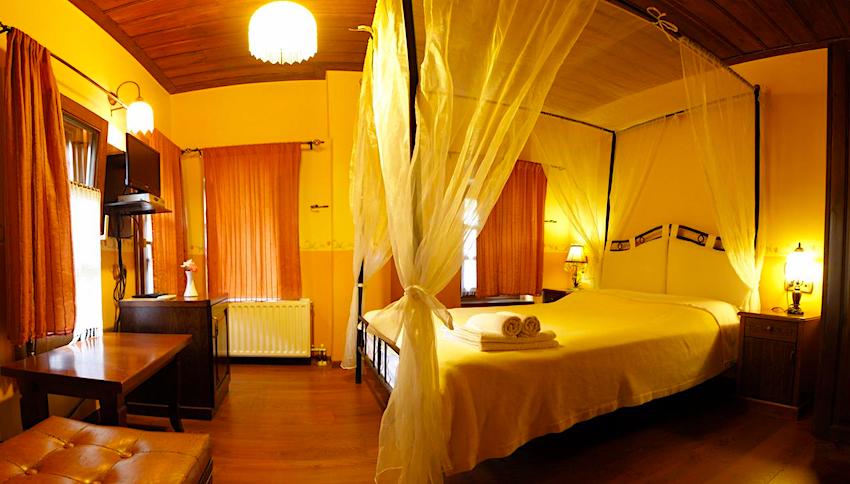 Housed in an 1845 authentic stone building, recently restored as a traditional guesthouse, Petrino Guesthouse offers modern accommodation with breathtaking views of Meteora. The guesthouse consists of 5 rooms, all of which feature a fridge, satellite TV and air condition. Some of the rooms have a fireplace, one features a spa bath, and one is disabled friendly. Petrino provides guests with free wireless internet and free parking. At Petrino Guesthouse guests may enjoy a delicious homemade breakfast with pies, jams, bread, trachanas (a kind of porridge) and traditional pastries served in the cellar by the fireplace or in the garden. This property also has one of the best-rated locations in Kalabaka.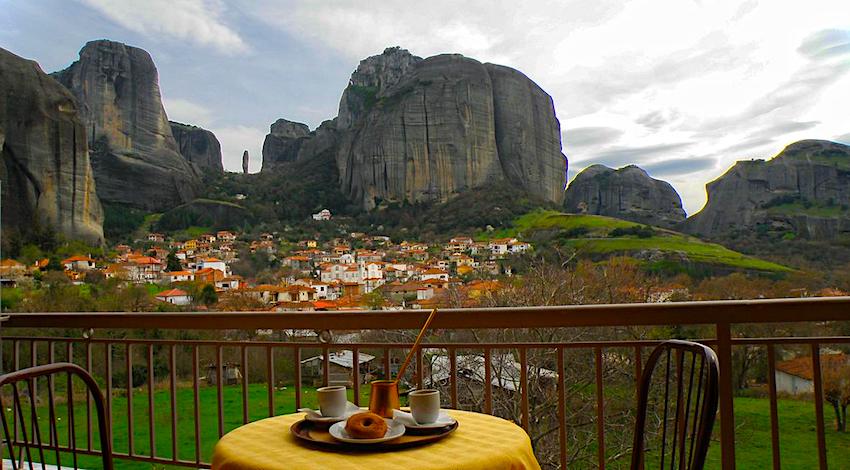 Spartacus House is located in the traditional village of Kastraki, surrounded by the rocks of Meteora. All rooms have a balcony, with stunning area views. There is free Wi-Fi and parking. Rooms have air conditioning and a modern bathroom. Choose from a variety of bedding configurations. The hotelís restaurant serves a rich buffet breakfast. You can eat both Greek and international cuisine for dinner. The Monastery of Saint Nikolaos Anapafsas is within walking distance. This property also has one of the best-rated locations in Kalabaka.
You can find more at Booking.com's Meteora Page and at Matt's Hotels of Greece Meteora Page. For homes, villas, self catering apartments and Air BnB type accommodations see Matt's Meteora Villas Page.