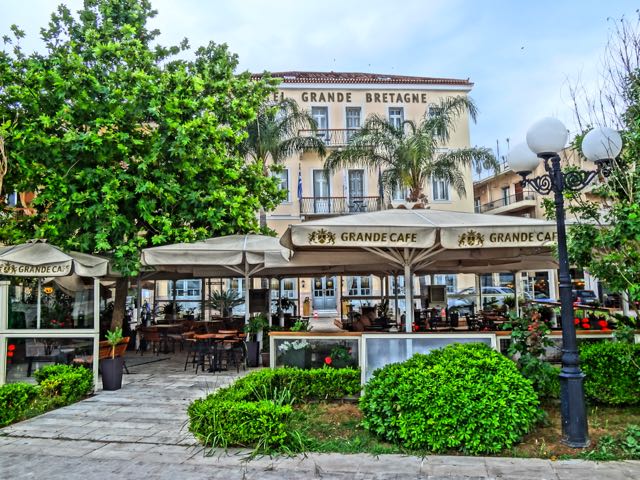 There are plenty of Hotels in Nafplion of all different categories and prices. If you are coming in the summer then book in advance because the hotels in the city and the resort and beach areas nearby fill up fast. If you are coming in the winter you may also want to book in advance because some of them are not even open and those that are fill up with Athenians especially during the weekends and holidays. Try to stay in the old part of town. In fact don't just try. Stay in the old part of town and you can park your car in the big lot by the port and never see it again until it is time to leave if you choose. If you go to Nafplion on a Sunday most places will have rooms. Sunday is traditionally the slow night as the Athenians head home and the hotels fill up as the week progresses. Make sure your hotel has free wifi!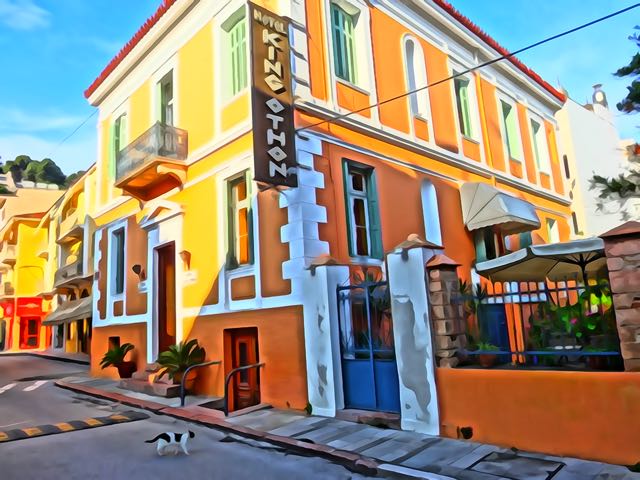 Our first overnight trip We stayed at the Hotel Byron which for us was expensive ($100), but not as expensive as my phone bill there after downloading and sending five days worth of e-mail back in the days before free wifi. But the rooms were magnificent, the air-conditioning perfect and plenty of water pressure in the shower. I would certainly stay there again. In fact if someone else would foot the bill I would live there permanently. The Byron is a carefully restored historical building at #2 Platanos street just above the Platia of Agios Spiridion a few steps from the best restaurants in Nafplio. My wife always wants to stay at the King Othon Hotel right in the center of town because that's where she used to stay 30 years ago. But unfortunately whenever we have tried to book it has been full. You may be more lucky. The next time we stayed at a dive of a hotel that I won't even mention because I am too nice and I don't want to get sued. But in their defense we made the mistake of booking last minute on a weekend and they had one room in the basement which was, well it was what you would expect from a room in the basement. Dark, wet and smelly. The reason I even mention it is to let you know that just because you may think that Nafplion is an undiscovered gem of a destination, think again. Weekends and in the summer you are unlikely to get a room because the Athenians love this town and take them all.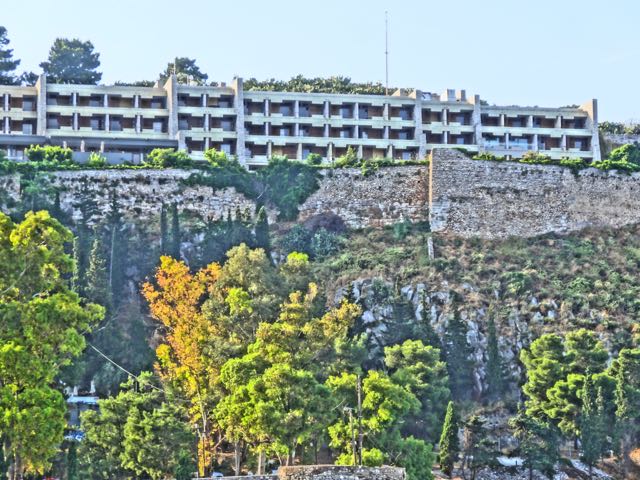 The next time we came we called George at Fantasy and asked him to book us a hotel, knowing that George always wants to make a good impression on me and always picks up the bill. This is good because he puts us in hotels that I would never stay in if I had to pay for them. Since some people only stay in these kinds of hotels then it is important that I check it out for them. This time George put us in the Nafplion Palace Hotel and Villas which is actually built on the ruins of the Acropolis of Nafplion, overlooking the town and the bay. The view rivaled some of the cliff top hotels in Santorini. I could have sat on my balcony drinking raki and watching the weather all day. There was a large swimming pool, a big bar and several restaurants. To get to the hotel we parked below and walked into a cave cut in the mountain and took an elevator up to the hotel entrance. Its an impressive place. In 2007 it was undergoing renovations. Some rooms a were finished and some were waiting til next season. Ask for a new room. We had an old room because George wanted us to have the best view in the house. The decor was like being in a James Bond movie, Sean Connery era. In 2008 it was fully renovated so you won't be able to stay in one of the old rooms. They also have some villas on the property each with its own private swimming pool. The cost? If you have to ask then you probably won't want to stay here. But actually they have specials through Booking.com and when we checked in 2015 it was not the most expensive hotel in Nafplion.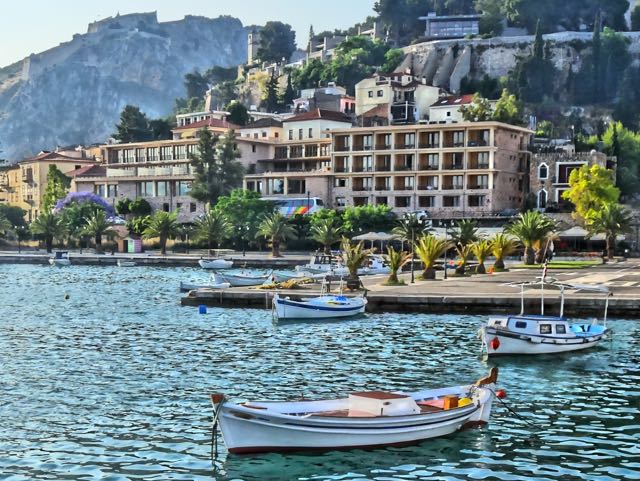 Below the Nafplion Palace is the sister hotel called the Hotel Amphtryon which is completely renovated and actually costs a bit more than the NP. Andrea's cousins say this is the best hotel in town. This also has a terrific view and sits just above the cafes in the harbor overlooking the Bourtzi fortress. I went in to check it out partly out of a sense of responsibility but actually because I had to use the bathroom and I did not want to have to walk back to the cave and up the elevator to use the one in my room. Since Amphtryon guests are allowed to use the pool at the Nafplion Palace while there's is being rebuilt, I figured that it is only fair that we guests of the Nafplion Palace should be allowed to use their bathrooms. If the rooms are half as nice as the toilets you will be quite happy here. Still no swimming pool as of 2015 but guests can still use the one at Nafplion Palace.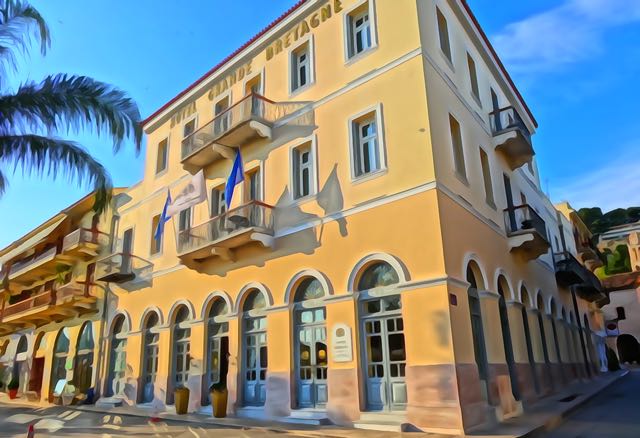 The Hotel Grande Bretagne is right on the square in the port and offers old world luxury and a terrific view like the hotel of the same name in Athens (though not as much luxury and nowhere near as expensive). We stayed here in 2015 and we loved it. In fact except for one other family we had the whole hotel to ourselves which was nice because instead of a breakfast buffet they just asked us what we wanted to eat. Anyway this is a lovely hotel with a beautiful lobby, an impressive breakfast room that doubles as a bar, and a cafe on the square outside. The rooms have big comfortable beds, high ceilings, nice bathrooms and a view of the harbor if you get a room in the front. (Ask for one and if possible ask for one with a balcony.) Since this hotel is half the price of the two above you might consider staying here and spending the money you save on drinks or dinner if you can live without a pool. You certainly don't have to walk far to be where the fun is. There are at least a dozen restaurants, bars and cafes within 100 meters of the hotel.
Other hotels include....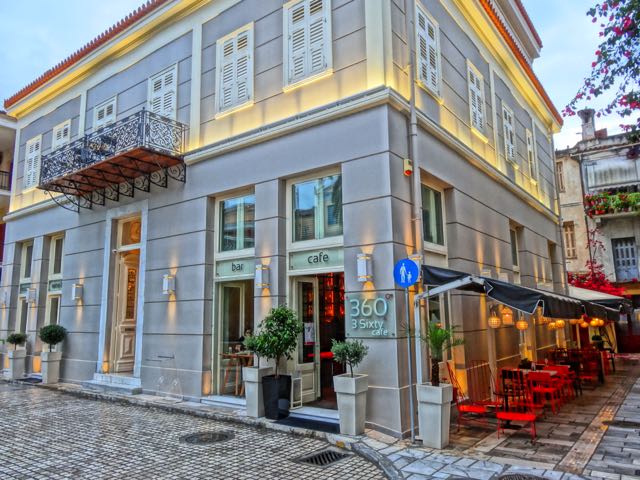 The neoclassical 3 Sixty Hotel & Suites which is located in the centre of Nafplio, just 100 metres from the port and close to both Syntagma and Filleninon Squares and all the restaurants, cafes and shops. This 4-star property offers free WiFi throughout and elegant accommodation with a spa bath. All air conditioned, suites include a seating area, a minibar, and a flat-screen TV with satellite and cable channels. Each has a private bathroom complete with a hairdryer, bathrobes, slippers and toiletries. The hotel also has a popular wine bar cafe and restaurant.
The Xenon Inn is housed in an impressive historic building in Syntagma Square. It offers free Wi-Fi. Each of the uniquely decorated rooms and suites features hardwood floors and painted ceilings. All rooms are soundproofed and include a flat screen TV with satellite channels and DVD player. The popular Cafe Xenon is on the first floor. The Hotel Nafsimedon is a refurbished neoclassical building in the old city, opposite the park with a view of the Palamidi castle. The interior is furnished with antiques and every room has air-conditioning, telephone, bathroom, TV, safe and mini bar. The Rex Hotel on Bouboulinas street is in a newer building, two blocks from the park, near the center of Naphlion. There are 42 rooms and suites, each with private bath, TV, mini bar and air-conditioning. The Amalia Hotel of Naphlion has 175 fully air-conditioned rooms, all with private baths, three restaurants, lounges, coffee shop and a large swimming pool. There are conference facilities and beautiful gardens. But it is way out of town and if you don't have a car you will wish you did. If you do have a car unlike most of the hotels in town there is plenty of free parking.
There are a number of small hotels that they call pensions but they are really just small, old hotels, usually in restored historical buildings, elegant some in a faded way and some restored to their former glory or at least appearing to. If you are on a budget and booking everything on your own these are your best bet.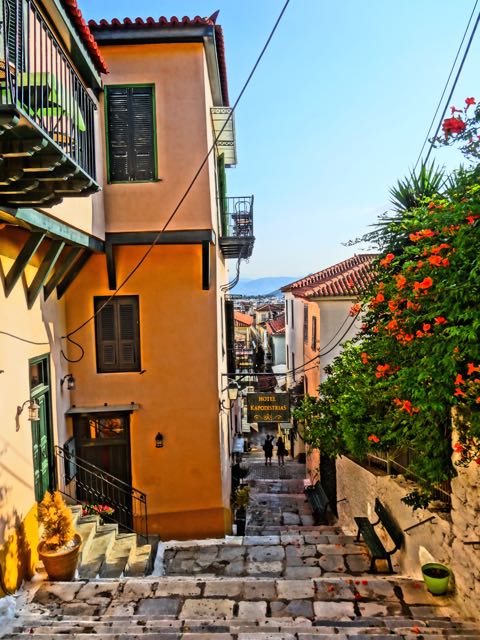 Hotel Kapodistrias is just steps from Kapodistriou Street, in historic central Nafplion. It boasts romantic rooms with bright walls, iron beds and hardwood floors. The elegant rooms blend old-fashioned charm and luxury with modern comforts. Each includes a working desk, air conditioning and satellite TV. The tiled bathrooms have hairdryer and bathroom cosmetics. A hearty breakfast featuring fresh pastries, croissants and local flavors is served every morning at the hotelís dining room. Here, guests can enjoy panoramic views of the city of Nafplion and the sea. This 19th century mansion is just up the hill from the main restaurant street, and a short walk to the main square and the Nafplion promenade.
The Acronaphlia Pension is actually four properly modified neoclassic buildings, decorated traditionally. Each room has bathroom, air-conditioning and TV. All four buildings are located in the Old City. The most popular and probably the best is the Acronaphlia Pension A but it sells out very quickly and if you are able to get a room there you are lucky. Situated in the heart of Nafplioís old town, the Four Seasons Pension offers spacious and elegant rooms equipped for your comfort, along with free internet access and free breakfast. This traditional hotel combines neoclassic features with modern luxury and each room has beautiful hand-made furniture and a luxurious bathroom. The Amymone & Adiandi Pension are 2 old mansions, renovated in 2009, with special attention paid to tradition. All the tastefully decorated rooms are furnished with wooden floors and ceilings, hydro-massage and unique antique artefacts. The hotel has an excellent location right in the old town.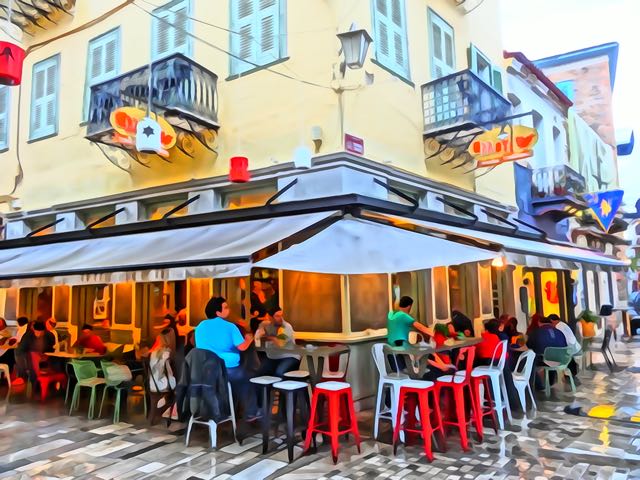 The pet-friendly Allotino Traditional Pension is housed in a neoclassical building in the historic quarter of Naflpion, and features free Wi-Fi and a popular cafe bar which serves aromatic coffees and fresh crÍpes. The air conditioned rooms at Allotino Pension are tastefully decorated, and include satellite TV and a minibar. Some of the rooms offer scenic city views and a private jacuzzi.
The Aroma Guest House is a luxurious traditional hotel in the centre of the old town in Nafplion. It is recently renovated and offers its guests all the amenities and luxury of a boutique hotel. Each room has its own name, its own separate color and consequently its own personality. Palazzo Rooms & Suites also in the center of the old town is a charming hotel. Free wireless internet is available throughout Palazzo and buffet breakfast is included. Each of the rooms and suites at Palazzo is unique and offers plenty of character. All rooms have air conditioning, en suite bathrooms and a hairdryer. The Suites have a comfortable seating area and large bath tub. The family-run Omorfi Poli offers a variety of individually designed rooms to suit the needs of solo travellers and families alike. Enjoy great hospitality and a personalised customer service from Omorfiís friendly owners. Savour a delicious breakfast of freshly baked pastries and home-made jams. Check your emails using Omorfi Poliís free wireless internet access.
You can find villas, homes and apartments in and around Nafplion on the Peloponnesos Villas page.
You can find hotels in Nafplio by location, price, whether or not it has a swimming pool, and see photos and reviews by using this link to booking.com. Excellent prices and many hotels you can book and then cancel with no cancellation fee. For those who want to book without using a travel agency this is the best way to do it. For my choices of the best hotels, apartments, villas, and holiday homes in the Peloponnesos see my Hotels of Greece Peloponnesos Page
Tolon Hotels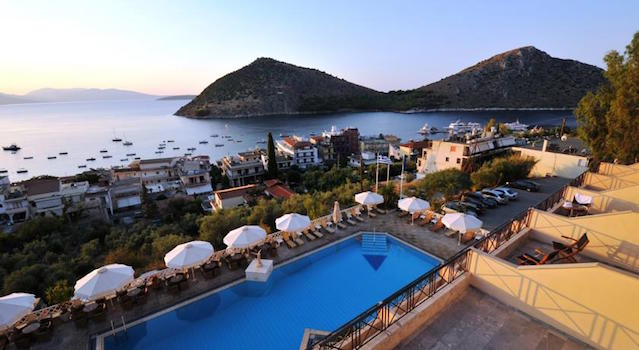 Tolon is remarkably well suited for visiting Naphlion and the sites of Classical Greece including Epidavros, Mycenae, Corinth, Sparta, Mystra, Argos, Tyrins and Olympia. The islands of the Argo Saronic Gulf, Spetsis, Hydra, Poros and Aegina are no longer accessable by hydrofoil though there are excursions offered in the summer. Tolo is essentially a fishing village which despite the tourism retains some of its charm or at least enough of it so you still know you are in Greece, as long as you don't mind Athens apartment style buildings that go from the sea up into the surrounding hills.
The King Minos (photo) is for those people who don't want to stay in the city but still would like to be close enough to enjoy its nightlife. It is located in a superb position, enjoying a wide panoramic view of Tolon Bay. It has a large swimming pool, spacious longe, pool bar, conference room and private parking. All rooms have satellite TV, mini-bar, hairdryer, safe, direct-dial phone and balcony.
Situated in Tolos old town, John & George Hotel has beautiful views across the bay and offers value-for-money accommodation with breakfast included. Each of the comfortable rooms at John & George Hotel ( not to be confused with the Paul and Ringo hotel down the street), is fully air-conditioned and their private balconies offer views of the Aegean Sea. Children can enjoy playing at the playground as you take a refreshing afternoon dip in the pool. This hotel got a great review from one of my readers: I've been looking around for a place to give a great online review for John and George Hotel in Tolo. Yanni from Aphrodite Hotel in Lesvos recommended it to us and we were more than thrilled with everything about the hotel and the town of Tolo. Staff was outstanding, view was fantastic, room clean, showers hot, food good, excellent prices...
Amaryllis Hotel Apartments is a luxurious, modern and newly-built complex only 200 metres from the beach. Located in the most beautiful spot of Tolo. Nelly Hotel Apartments perfectly situated just above the beach, provides luxurious accommodation and friendly service throughout the year. All rooms feature all modern comforts and amenities, such as a/c kitchenette with tea/coffee making faciilities, TV and balcony with sea view.
The Minoa Hotel is right on the beach. All rooms have TV, mini-bar(on request), hairdryer, safe, direct-dial phone and balcony. The hotel has a restaurant, bar, snack-bar and elevator and is suitable for disabled visitors.
The Heliotopos Hotel is on the top of a hill with a wonderful view over Argolic Bay. A short footpath leads directly to the wide sandy beaches that stretch along the coast. The complex offers tastefully furnished rooms and apartments designed with special care and attention, as well as modern facilities and a pleasant, friendly atmosphere. The rooftop terrace boasts beautiful views of Tolo Bay and includes loungers, umbrellas and a pool bar.
You can find hotels in Tolon by location, price, whether or not it has a swimming pool, and see photos and reviews by using this link to booking.com. Excellent prices and many hotels you can book and then cancel with no cancellation fee. For those who want to book without using a travel agency this is the best way to do it. For my choices of the best hotels, apartments, villas, and holiday homes in the Peloponnesos see my Hotels of Greece Peloponnesos Page
To book Hotels in Naphlion, Tolon and nearby contact Dolphin Hellas or Fantasy Travel
To see many more hotels and descriptions use Matt Barrett's Hotel Search for Nafplion

If you are planning to rent a car and drive from Athens to Nafplion check out Swift Rent-a-Car . They will pick you up at the airport or your hotel and drive you to the National road and let you by-pass the notorious Athens traffic. See their website