Volos is the capital of Magnesia in the region of Thessaly and is a good sized Greek city with a population of around 150,000 people. It is an important port city with apartment buildings, hotels and even more restaurants, cafes and bars. Volos is home to the University of Thessaly, with about 15,000 students so it is a young people's city. It is also a center of Greek gastronomy, one of the most important towns in Greece for those who love to eat. Volos is known for its mezedes, the small plates (like Spanish tapas) which are served with ouzo and in the case of Volos, with tsipuro, which is like ouzo without (or with) the anise flavor. There are a line of tsipuradiko on the waterfront which serve mostly fish mezedes though many have meat dishes as well. The true lovers of mezedes will tell you that the best restaurants are on the back streets.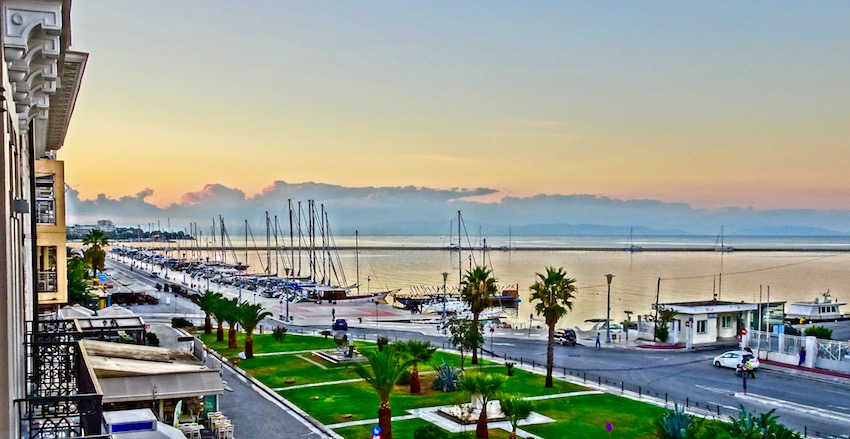 Volos has hotels as well as apartments and Air BnB style accommodations to suit every budget and type of traveler, from backpacker to families and weekenders coming from Athens. If you are driving or taking the train or bus from Athens it is not a bad idea to begin your Pelion holiday here, so you can arrive around lunch time, eat and drink, take a nap, wake up and explore the city, and eat and drink again. Then you can set off early the next day and explore Pelion. Or if you are a city person just stay in Volos and explore Pelion from here. For those who have an interest in building materials you have to visit the Rooftile and Brickworks Museum housed in the old Rooftile and Brickworks Factory of Nikolaos and Spyridon Tsalapatas at Notia Pyli (South Gate). It presents daily life in the factory, as well as all the production stages of different types of bricks and tiles. The Archaeological Museum of Volos, also known as Athanasakeion Archaeological Museum of Volos, houses many exquisite finds from the Neolithic through the Byzantine periods and is one of the oldest museums in Greece, open since 1909. The Volos Railway Museum occupies the first floor in the beautiful Volos railway station and features rare photographs, uniforms, old telegraphs, machinery for issuing tickets and the types of things that will interest any railroad fanatic. However you may have to find someone to open it up for you. The railway station itself was designed by Evaristo de Chirico, father of the famous painter Giorgio de Chirico. For Tours of Volos and Pelion see Eleftheria Psoma: Volos Tour Guide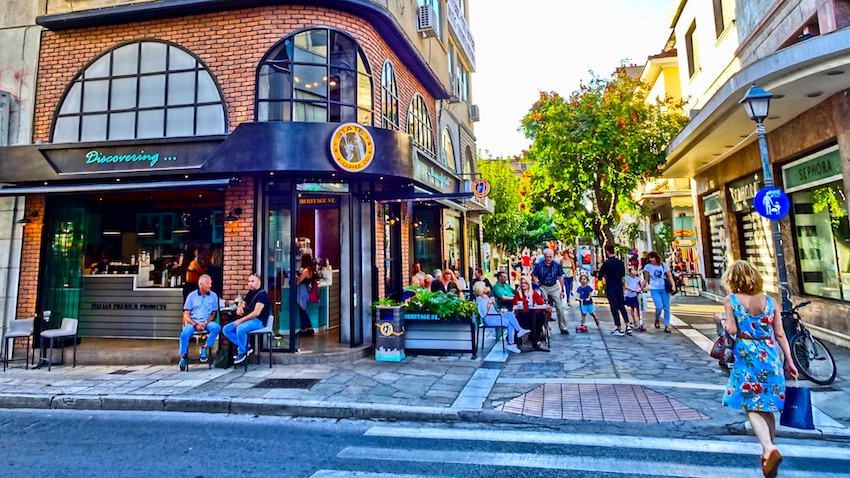 If you are a young person, or young at heart, the appeal of Volos is that it is a vibrant and lively city full of people who believe that life is for living. Most any shop you will find in Athens you will see in Volos, as well as coffee bars, fast food joints, hipster bars and more. It's a city perfect for walking with miles of pedestrian streets and the waterfont also closed to automobile traffic. And being flat it is great for getting around by bicycle.
But chances are you are coming for the tsipuro and mezedes.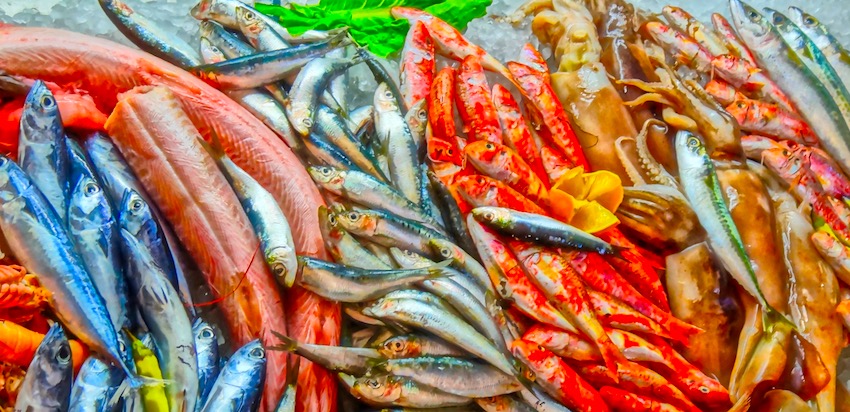 Volos Tsipuradika
Most of the people who visit Volos don't get beyond the tsipradiko on the Volos waterfront. That's OK. There are a few acceptable restaurants there though they say the locals don't go to them. They have large menus, with lots of choices but if you are a true fan of the Volos tsipuradika method of eating you won't even look at a menu. Let me explain.... One orders tsipuro 'with' or 'without'. What is meant is anise seed. I prefer it with. It clouds like an ouzo when you add water but its much smoother (after all its a grape distillate not alcohol from some other product). One does not order food. One orders tsipouro and it comes along with a meze, usually a 25 ml small bottle with two meze plates for about 4 euros. One is brought simple tastes to begin with. The more rounds you order, the more inventive and complex the tastes become. Don't order the food a la carte. It will be more expensive. Order just rounds of tsipouro, even if you don't drink it. It's only 4 euros after all, with the meze which are different each time. Take your time. Relax. Trust the owner of the cafe knows what he is doing better than you do. Tsipouro needs leisurely intervals and is much more fun with company so if you are traveling alone try to make friends with somebody, anybody ASAP. For the locals , tsipouro is a midday thing. Recently, customs have been changing though and the drinking and eating go on into the night.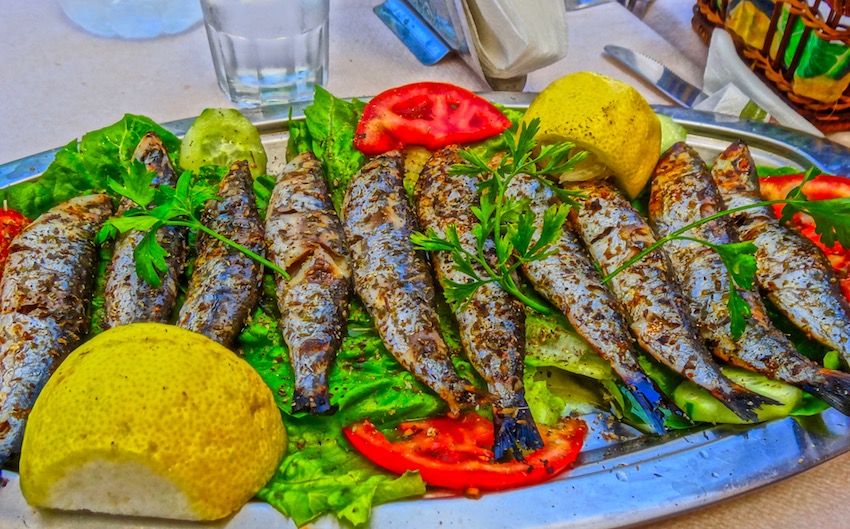 The best tsipuradika are situated in the Nea Ionia area towards the west of the city where the refugees from Asia Minor settled. It is about a 20 minute walk going north on 2nd of November Street, which is the main road to and from the port. To Filaraki at Giorgos Averoff #3 in Nea Ionia is relatively new establishment but run by people who really know what a meze is (they may bring you for example grilled fresh squid eggs). H Yota at Krokiou 15 is situated at the entrance of the city, in the area of the old market for blacksmiths, farming goods etc. The area is named Palia (the old shops). Try the cuttlefish grilled in its' own ink. I also recommend Demiris at Eframidou 23, another old established tsipradiko with great food.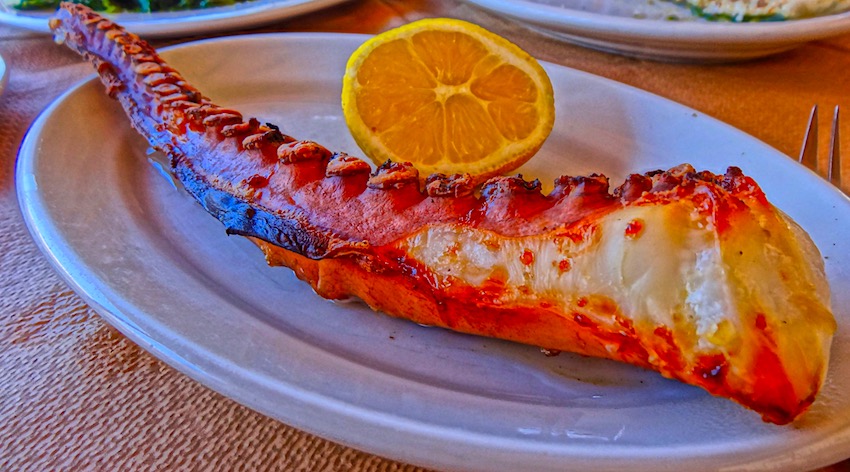 For those staying on the waterfront, try Mezen at Allonisou 8, a couple blocks up from the sea, an old established traditional tsipradiko which has been modernized in a very nice way. We spent several hours here. The easiest way to find it is to walk to Ermou, the pedestrian shopping street that runs parallel to the coast road, and directly in front of the large red stone Catholic church of Saint Nicholas is a small street that goes towards the sea. You will find Mezen there. Their philosophy is to have only the pureest tsipouro and the most authentic meze. They collaborate with small producers in Pelion and Kissavos for their vegetables, they smoke their own fish and meats, they produce the pickles and they go up to the mountains and find the mushrooms, the truffles, the wild greens and the herbs that they use in their dishes. If you can't find a table then try Me Mostra at Gamvetta 38, between Ermou and 28 October Street, another traditional tsipuradiko, or Xasomeri, right across the street for inexpensive mezedes, tsipuro and wine. Though many purists will tell you not to eat at the tsipuradika on the seafront because they are overpriced or whatever, I think that may be an unfair generalization. If you want to be on the sea try Papadis, in the harbor by the fishing boats, for a menu that is heavy on fish mezedes. Also try Lepi at 23 Argonafton, and Kavouras (only open for lunch) up a tiny street between Dimitriados and Iasonos about a block from the sea. Both are traditional tsipuradika that are popular with locals and visitors, (which generally means Athenians). Or try Bokos which is a little bit away from the coast at 143 Meandrou and Hellespontou, a neighborhood place which some people say is the best restaurant in Volos. Take a taxi.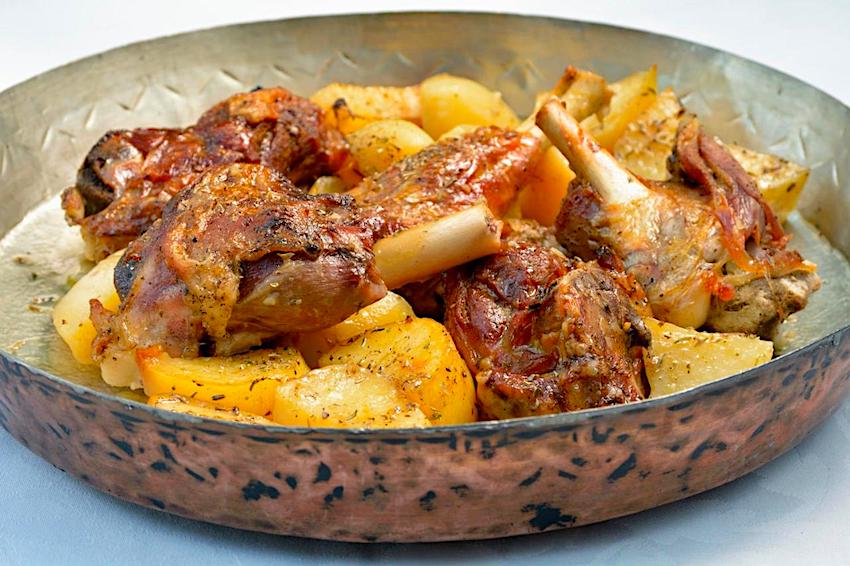 Nikos and Kostas Adamakis of Taxi in Volos have a few restaurants to add to my list:
"There is an excellent tsipuradiko called 25ari (25άρι) next to the playground of Agios Konstantinos on. Tsopotou 2, excellent for those with youngsters who can play nearby while the parents eat and drink. As for tavernas for me Veggera on Sarantaporou 39-41 Street is by far the best one in Volos. Located in the area of Palia, the owners gather traditional recipes from all over Greece and adjust it to the local cuisine. A huge menu , you cannot get out of Veggera unsatisfied. Right next to Veggera the same owner has created a Tsipuradiko that shares the same chefs with Veggera. I is called Stratos and during summertime you have to consider your self lucky if you find a table in each of those two if you don't book in advance so call them. +30 2421 023123
In Portaria there is a restaurant called Kritsa, which is also a gastronomy hotel. Every time I have guests at home or passengers that are foodies we go there. Original recipes from Pelion like you would eat in someone's home. They have a big menu, but they also have the daily dishes which I cannot recommend highly enough. It is located in the main square of Portaria. The experience is authentic, you even get your jar filled with water from a spring next to the tables. The photo above is from there. See Kritsa Gastronomy Hotel
My brother added La Marimba and I think he is right. It is on Nikotsara 46 street. It is a Mexican restaurant with outstanding environment in particular their garden. Their food is Mexican of course but they made it closer to the Greek taste than original Mexican food so it is really something unique. We people who live in Volos love it.
Hope this helps and we hope to see you and your readers in Volos! And remember us for all your transportation needs!"
Nikos Adamakis
Taxi in Volos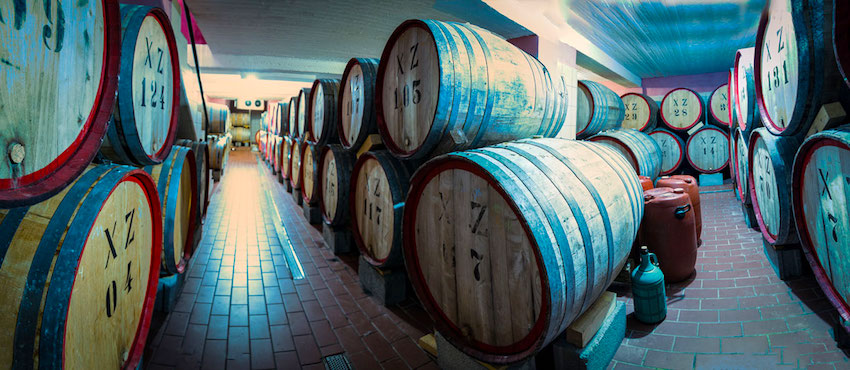 The Glombos Winery is on the corner Kountouriotou and Aristotelous, just a few blocks west of 2nd of November Street and worth a visit to see a modern, yet traditional winery and sample their white, red, rose and the retsina, which they are most known for. The winery began in 1891 when Yannis V. Zoitopoulos moved to Cairo to work at his uncle's taverna and then returned to Volos 10 years later to open the taverna To Steki tou Makrinitsis. Eventually they closed the restaurant to focus on the wine.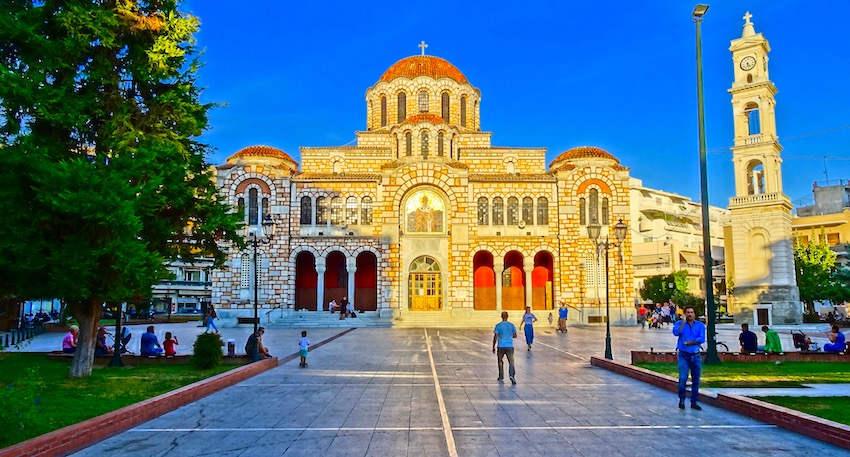 The neighborhood near the church of Saint Nicholas is called Volonaki, for Volos and Kolonaki, the upscale Athenian neighborhood, and is an area of bars, clubs, cafes and restaurants, full of young people. It is located around the intersection of Koumoundorou and Dimarchos Kontaratou streets, though there is no reason to limit yourself to that area as there are places to eat and drink all over the largely pedestrianized downtown. Check out Alter Ego at 38 Ag Nikolaos Street for jazz, blues, R&B, R&R, soul and other music for older people. It has been open since 1987. Otherwise just wander around until you hear the type of music you like.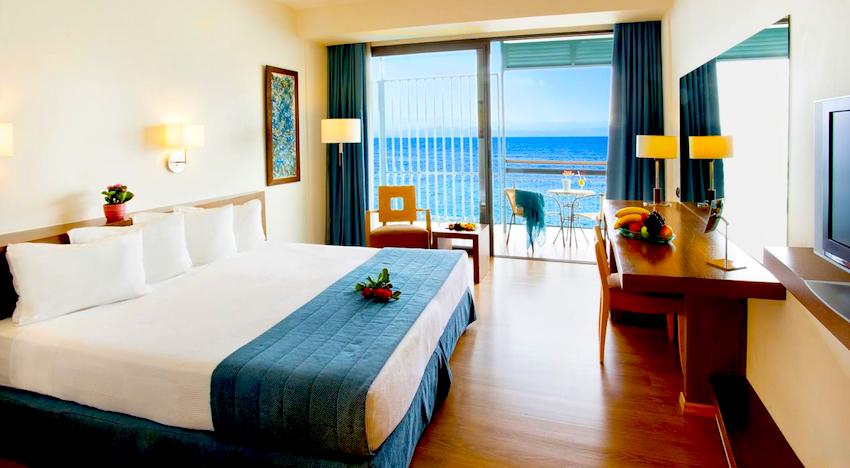 Hotels in Volos
Most likely you will want to stay on the coast in a hotel with a view of the gulf, and if you are in Volos because you are taking the ferry to the Sporades Islands then this will be the most convenient place to stay because the port is right across the street. We stayed at the Hotel Aegeli, right on the sea, with a sea view. The waterfront is closed to automobiles (though you can drive and park right by the entrance of this hotel). It is a clean, modern hotel, actually a couple older hotels that were merged and renovated. One side is on Iasanos Street which is a busy thoroughfare so try to get a room on the seaside if possible. But if not the double-glazed glass should keep most of the noise out. They have a very nice breakfast buffet too.
Otherwise the Hotel Kypseli is also on the waterfront and has a great view from many of the rooms and the rooftop terrace cafe-bar-restaurant, though most likely you will be heading out for dinner in search of mezedes. The Hotel Nefeli is a couple blocks up from the sea on a pedestrian street, and like the Kypseli it is a decent hotel in a good location. Xenia Volou Domotel(photo) is an old Xenia that has been refurbished into an elegant resort with stylish rooms, a spa and swimming pool and restaurants, located on the beach close to the center of town. The Volos Palace is another resort hotel close to the port and the center of town with great views, but no pool. Not that this matters. They have a wonderful garden.
Search for more hotels in Volos or Search Apartments and Holiday Homes. You can also use my Hotels of Greece Pelion Page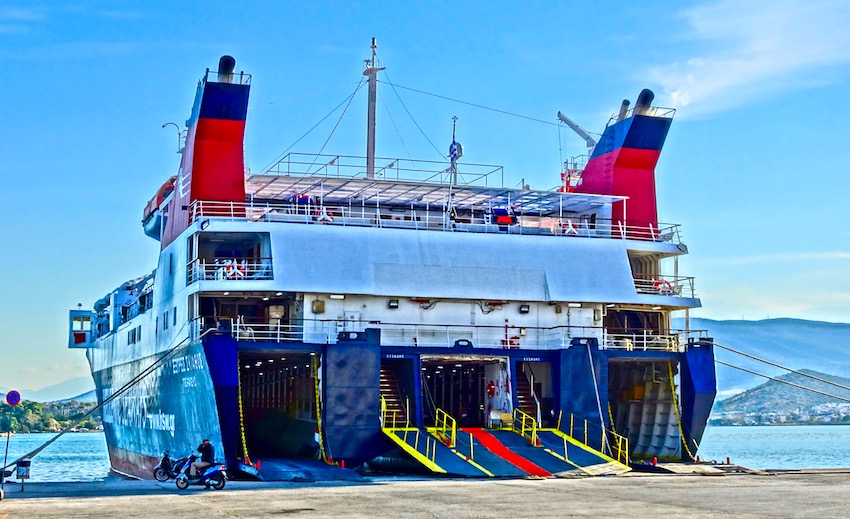 Transportation to and from Volos
If you are going to Volos as part of your visit to the Pelion Peninsula then chances are you are going to be driving. From Athens or Thessaloniki you take the National Road (E75) and follow the signs to Volos which will bring you to the E92 that goes right into the city. You can also reach Volos by KTEL Bus with 5 buses going every day from Athens and 8 a day from Thessaloniki. There are also buses from Larissa, Trikala and Ioannina. There is also bus service to many of the villages on Pelion. There are 7 trains a day to Larissa where you can contect to the trains from Thessaloniki and Athens. The Volos train station is 200 meters northwest of Plateia Riga Fereou, right by the Volos Palace Hotel. There is also an airport though whether they will have international flights depends on the whim of the airlines. There are also ferries from Volos going to Skiathos, Skopelos and Allonissos. You can find schedules at Ferryhopper.com

Taxi in Volos
For transfers to the villages of Pelion and taxi tours and excursions Taxi In Volos is a family business, owned and operated by two brothers Nikos and Costis Adamakis who through hard work and taking a customer-oriented approach provide superior service in Volos and surrounding areas. They have vehicles for every budget and every occasion, a Luxury Mercedes Taxi – Minivan – Minibus all in excellent condition and are committed to offering quality customer service to single passengers, families, and business travelers. Nikolaos Adamakis (founder – owner) studied Mathematics at Aristotle University of Thessaloniki, speaks English fluently and also a bit of Spanish. His brother Constantinos Adamakis (cofounder) is an electrical engineer by trade and can speak English fluently as well. Visit their website