THE DEEP MANI By Diana Farr Louis
This is the second of two articles about the Mani, the middle finger of the Peloponnese. An imaginary line from Itylo to Gytheio divides the peninsula into the Outer Mani and the Deep Mani.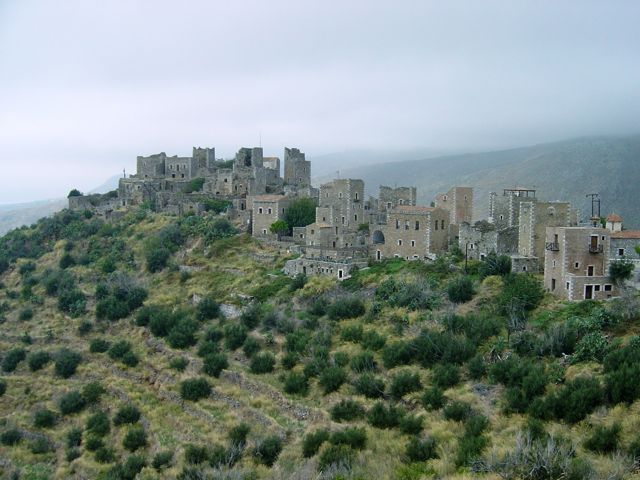 Welcome to the land of the prickly pear and the salt pan, the stone tower and the stone field. Welcome to the land of Evil Counsel and the Bad Mountains, whose capital is named after the god of war.
Are you really sure you want to make this trip?
If you liked the Outer Mani with its green gorges, olive-studded hills and villages of golden-stone, then perhaps the stark, treeless mountains and the wind hooting through canyons of grey, crumbling towers will not be your cup of tea. Perhaps in these unsettling times, you'd rather spend a carefree holiday on a party island than contemplate a place that was ruled by vendettas and cruel poverty for countless generations.
On the other hand, as unthreatening travellers were quick to notice, the Maniots may have been fierce warriors and ruthless pirates, but they were and still are unfailingly hospitable and generous to strangers. They're beginning to make money off them, too, as they convert towers into hotels or sell them to northerners hungry for undiluted doses of sunshine. While many hamlets remain hauntingly derelict, many more are being painstakingly restored. Nevertheless, don't expect bars or even shops in any but the very biggest towns.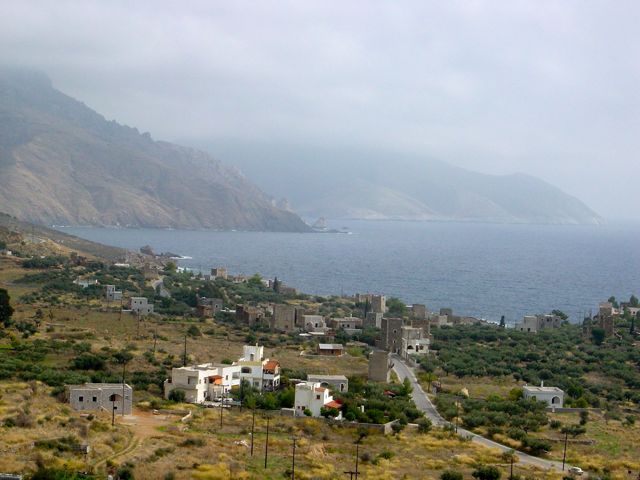 Forewarned is forearmed, so off we go. From Kardamyli south as far as Itylo, the transition from lush to bare occurs slowly, and the road slices through one charming village after another, passing a succession of eye-catching churches with high domes and intricate brickwork.
After Langada, the olive trees start shrinking to bush height and the cypresses turn pencil-thin, a sign that we're about to cross from Messenia into Lakonia and the Inner Mani. The first town here is Itylo, whose name appears in Homer's list of the ships that sailed with Agamemnon to Troy. Many hundreds of years later it belonged to the Union of Free Lakonian Cities, fostered by the Romans to keep Sparta under control, but any antiquities have long since vanished either under the sea or into the foundations of newer buildings. Below Itylo lies a deep bay dotted with fishing villages ranging in age from venerable to not-quite-finished – neo-Greek cement beach cottages and small hotels mingling awkwardly with the dignified stone architecture of the past and a brand-new "traditional Maniot village," Neo Limeni.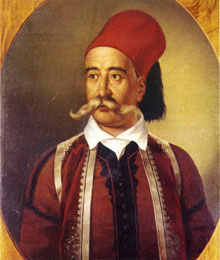 But in the 17th century, Itylo was the Mani's chief city and (old) Limeni its main port, and that is why looming above the two you see the forbidding walls of Kelefa, the fortress built by the Turks to remind the Maniots that the Sultan was boss. A similarly strategic castle above Porto Kayio at the southeast tip of the peninsula ensured the occupiers an eagle's view of the sea routes between Mani, Kythera and Crete.
Areopolis, next stop on the road, seems more a busy farming town than a warlord's stronghold, but this was where the Mavromichalis clan had their base. On March 17, 1821, Petrobey Mavromichalis, chieftain of that most powerful of all the Mani families, decided the time had come to throw the Turks out. Having achieved the impossible in uniting the other Maniot tribes behind him, he marched them up the coast to Kardamyli, where Kolokotronis and Mourtzinos were waiting and, on March 23, their combined horde of three thousand fighters stormed the Turkish garrison at Kalamata. Two days later, Archbishop Germanos raised the banner of Liberty at Kalavryta and Greeks from Epirus to Crete, Chios to Spetses rose up against their rulers.
More than a decade afterwards, when the war was over and at least some Greek territories freed, Petrobey found himself in a Nafplion jail over some disagreement with Governor Capodistrias. Incensed at the ignominy, the Mani erupted again and two of Petrobey's nephews assassinated Capodistrias. Petrobey's reputation remained unscathed, however, and on his return, his birthplace was renamed Areopolis – city of the god of war – in his honor. Up to then it had been called Tsimova, a hint that the Slavs who had terrorized the Peloponnese many centuries earlier had penetrated this far into the Mani.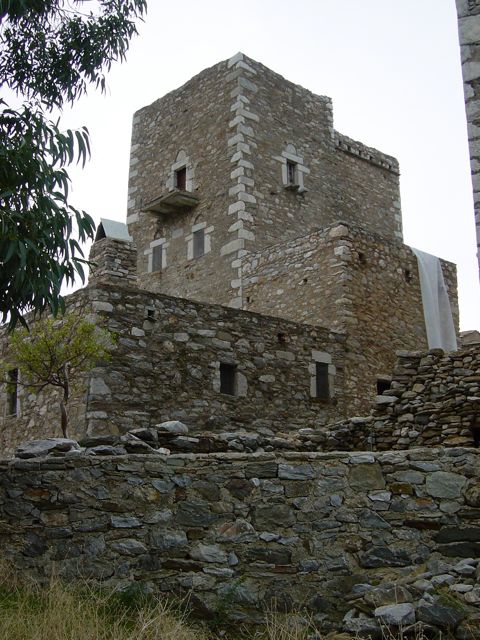 Our arrival in Areopolis coincided with market day, making parking a problem. As is often the case down here, pickups and battered cars barricaded even the main church, their owners indifferent to its austere beauty. We spent long minutes admiring the façade, which Patrick Leigh Fermor describes in minutest detail. When he saw it sometime in the 50s, the church was whitewashed, the "lumpy relief . . . picked out in yellow and black and green." Now all color has been removed to reveal the original stone, but the "nursery rhyme" sun, moon, lions, archangels, mounted saints and the Westernized coat of arms that so mystified him are perfectly intact.
A street or two away, the presence of a few hotels converted from fortress-like houses, which could easily have been lifted from the pages of Architectural Digest, shows just how far Areopolis has removed itself from both war and drab poverty. Spartan Petrobey would probably roll over in his grave if he could see their gardens, smartly painted interiors and plumply cushioned sofas. But I'll bet he would have had no objection to the prickly pear ice cream I slurped up at the sweetshop on the market square.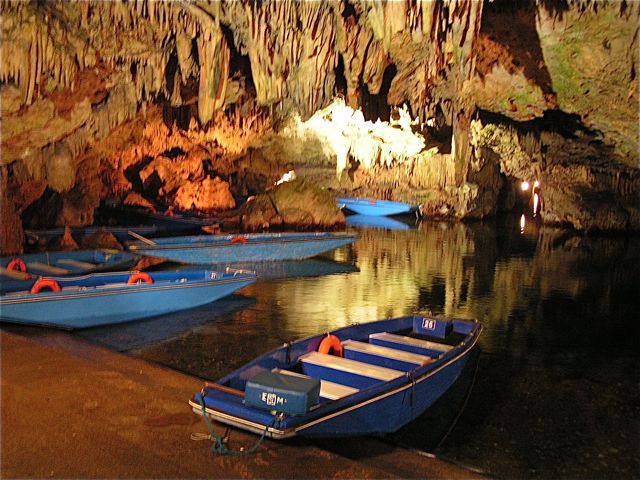 From Areopolis, it's a short drive to the sight that pulls in most of Mani's tourists – the spectacular caves on the coast below Pyrgos Dirou more commonly known as the Diros Caves. Stalactites and stalagmites in various shades of pink, lime, lavender, grey, rust, and mustard prickle the ceiling like a myriad icicles or rise out of the water like huge facsimiles of old bistro candles. A fleet of flat-bottomed boats glide hundreds of people every day but Monday through most of the 1200 meter-long rococo tunnels, while the boatmen point out the usual resemblances to the Statue of Liberty, elephants and etceteras. If you can plug your ears, you'll enjoy the trip more. Nearby, the dry Alepotrypa (foxhole) Cave/Museum showcases the lives of our neolithic ancestors who made it their home between 4800 and 3200 BC, when an earthquake abruptly sealed its mouth.
South of Pyrgos Dirou, the uncharacteristically straight road takes you past one semi-deserted tower hamlet after another. One of them is Kitta, scene of the Mani's final vendetta in 1870. Bob Barrow writes that it took "400 regular troops with artillery support" to suppress the fighting between the two families. These feuds, which often lasted decades, could be started by a pretext – a supposed insult, too long a glance at a daughter – but their real motive was to gain control of a precious well or a field where a few stalks of wheat could grow amongst the stones.
Down here the low, empty Sangia mountains have another name in local parlance: the Kakovounia or Bad Mountains. By a convenient slip of the tongue, Kakovounia became Kakovoulia, or Evil Counsel, an epithet that fit nicely with the Maniots' reputation. Leigh Fermor preferred to think the slur derived from the three-legged cooking pots their pirates were said to have worn as helmets; translated, that would have meant the rather innocuous "Country of the Cauldroneers."
Over a late lunch at Tsitsiri Castle-Hotel in Stavri, happy recipients of a more conventionally used cooking pot, we asked the proprietor Antigone Elafaki-Koulourianou about life today.
"Water is still a problem," she said, "it had to be brought in by tanker trunk until a couple of years ago. The electricity is so erratic that the Deep Mani has no banks, they can't run their computers. But we're not remote any more. People come from as far away as Larissa just for the weekend."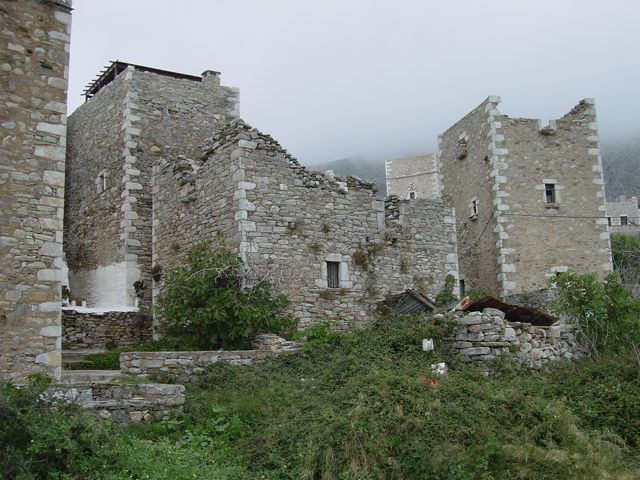 That afternoon I took a walk to one of walking-guide author Michael Cullen's "favorite picnic spots." Although his directions could not be faulted, I stood at the edge of the cliff looking vainly for the little chapel of the Virgin Odigitria that was my goal. So well camouflaged was it amongst the rocks and thistles, I would have missed it if a threesome of Greek hikers hadn't happened along. Michael was right; the setting was superb. Birds soared below me; Easter lilies, pink and mauve stock and yellow everlastings decorated the path; and the walls of the massive fortress of la Grande Magne stood out clearly above the Tigani, a jagged appendage that juts into the sea like a giant's frying pan. But I was left with two logistical problems to ponder: Why and how did the Franks erect a castle in such an inaccessible spot and why and how did present-day Greeks plant several heavy orange (!) chairs and a picnic table on the tiny ledge in front of the 13th century chapel?
From Stavri, a collection of tower-houses being lovingly restored without dislodging resident owls, we whizzed through the morose port of Yerolimenas and on to Vatheia. Vatheia epitomizes the Mani tower-village. Built along the ridge of a low hill, its severe geometry stands out against the skyline like a mini-Manhattan. Not long ago people were queuing up to stay here. The National Tourist Organization loaned money to restore the towers provided the owners operated them as hotels for a certain number of years. Who knows what went wrong? The time ran out and so did the owners. Now Vatheia is a ghost town again, with just one café.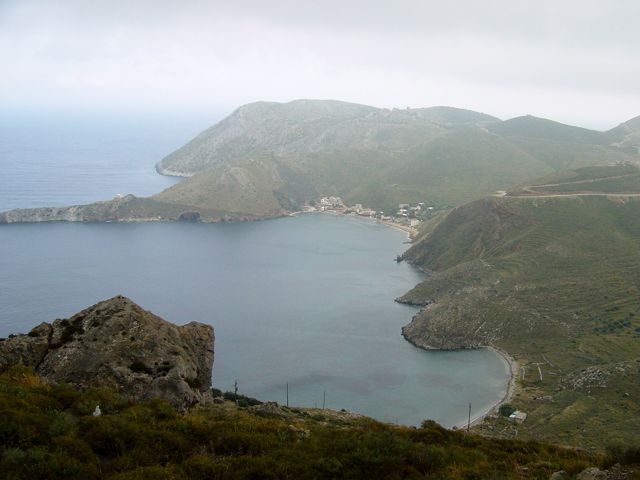 As you approach the bottom of Mani, the views are car-stopping, with the half-moon bays of Marmari and Porto Kayio on either side of a boulder-strewn neck of land that bulges out again before coming to a needle-sharp tip at Cape Tainaron or Matapan. Years ago I watched an old woman cast a net for quail on the cliff above the bay named for them. She could have been fishing the air.
Here at what feels like the end of the world, but is really only the south-east end of continental Europe, both myth and civilization thrived in ancient times. Orpheus and Hercules were said to have descended into Hades through a cave at the last bay before the cape (although it is disappointingly shallow and unspooky); near it Poseidon had a renowned temple, which has disappeared under the squat, primitive looking Byzantine church of Agii Asomati; and ruins of a substantial city sprawl over both sides of the bay. Among the overgrown cisterns, walls and terraces, we stumbled upon a mosaic floor. Black circles with curlicues set around a stylized six-petaled flower on a white background, its sophistication and delicacy came as a shock in this wild outpost.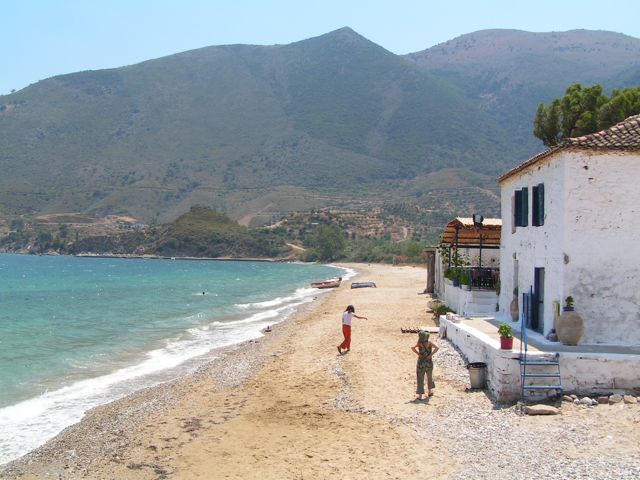 But in a way that mosaic symbolizes the surprises and contrasts of the Mani. The region can seem either stern and riddled with dark memories or flooded with light and warmth. The lines of the towers are sharp but the churches have soft contours and embroidered facades. The mountains may look bare but are thickly tufted with thyme, oregano, St. John's wort and sage.
So scratch beneath the surface when you make this trip, walk through the ghost towns and into the hills, and be sure to spend at least one night in a converted fortress. But if you still hanker for the greener, gentler side of Mani, then head north for Skoutari and Kotronas where there is a pretty collection of beaches, coves and bungalows and several nice seaside tavernas. You are also not too far from Githeon if you need somewhere more lively.
How to get there
There are buses from Kalamata and Gytheio to Itylo, Areopolis and Yerolimenas, if you haven't a car. You can enter the Inner Mani via Kardamyli or Gytheio and either make the whole circle down to the tip and back up the other coast or cross over Taygetos between Areopolis and Kotronas or Gytheio. The main roads are narrow but the surface is usually acceptable.
Where to stay
Built in the traditional style of Mani architecture, Ktima Karageorgou in Areopolis offers beautifully appointed rooms. Each suite includes a kitchenette equipped with a mini fridge. There is a lovely outdoor pool, comfortable beds with anatomic mattresses, along with complimentary buffet breakfast and wireless internet. Housed in an old mansion, the stone-built Sventoura Hotel features a sun terrace with views of the Messenian Gulf. Surrounded by a garden, it offers traditional accommodation and free Wi-Fi in public areas. Diros Caves are 1.4 km away. Located in the historic harbor of Limeni, the Pirgos Mavromichali is a restored 18th-century tower overlooking the picturesque bay. It has elegant, stone-built accommodations and a private beach area with terrace. Kastro Maini is in the heart of the historic Areopolis, in central Mani. The traditional stone-built building features a pool with hydro-massage and a pool for children. Accommodations at Kastro Maini consist of well-furnished, spacious rooms with traditional iron beds. The private balconies have view of the gulf of Messiniakos or to the southern part of the Mount of Taygetos. Located in Areopolis, Pappoudiko resembles a self-contained historical village, surrounded by stone-built pathways and courtyards. Uniquely decorated accommodation overlooks the gardens, mountains and the Messinian Gulf from its furnished terrace.
For more places to stay visit Booking.com's Mani Page as well as their Githeon Page.
Where to eat
We ate well at Tsitsiri Castle – Antigone Elafaki-Koulourianou adds her own original twists to traditional dishes – and at Papayiorgis's Castle at Marmari (ask for his mother's baked cheese with wine, herbs, capers and olives). There are fish restaurants at all the villages on the tip – Gerolimenas, Porto Kayio – and Limeni near Itylo further north on the west coast has a famous one called O Takis (tel. 27330 51327).
Extra reading
Patrick Leigh Fermor, Mani: Travels in the Southern Peloponnese, John Murray, London, 1958 but since reprinted; Bob Barrow, The Mani, Thomeas Travel Services, Stoupa, no date; and Michael Cullen, Landscapes of the Southern Peloponnese, Sunflower Books, London, 2003.
See also The Outer Mani
---
Diana Farr Louis is an American food/travel writer and long-time resident of Greece. She has published dozens of articles and two books on Greek cooking – namely Prospero's Kitchen, Mediterranean Cooking of the Ionian Islands from Corfu to Kythera, and Feasting and Fasting in Crete. She was the chief travel correspondent for the weekly Athens News from 1997 to 2007 and has written two excellent travel books, Athens and Beyond: 30 Day Trips & Weekends and Travels In Northern Greece, both highly recommended reading for those whose traveling in Greece goes beyond Mykonos and Santorini. Feasting and Fasting in Crete includes recipes and anecdotes, history and tradition about the island and is an essential ingredient in any Greek or Grecophile Kitchen. Prospero's Kitchen was recently republished in a new, third edition by IB Tauris in London/Palgrave in the US and is widely available through Amazon and other websites and bookshops. Feasting and Fasting in Crete can be ordered from the publisher, Kedros, books@kedros.gr or in the US from Greece In Print She also writes a bi-monthly column for www.weeklyhubris.com called "Eating Well Is The Best Revenge" and contributes positive stories about Greece to the Huffington Post. Since the demise of the Athens News and the scandalous closing of its publications department, Diana's travel books have become as rare as hen's teeth, but the occasional copy can be found by doing an online search.