OUTER MANI By Diana Farr Louis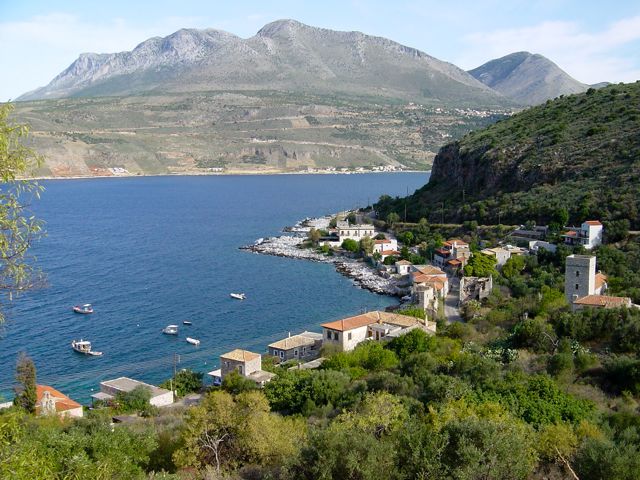 This is the first of two articles about the Mani. An imaginary line from Itylo to Gytheio divides the peninsula into the Outer Mani and the Deep Mani, which is in turn separated into Inner Mani on the Messenian Gulf to the west and Lower Mani facing the Laconian Gulf to the east.
In the 1950s when Patrick Leigh Fermor climbed over Mt. Taygetos into the Mani, roads were practically nonexistent in this middle prong of the southern Peloponnese. He and his wife Joan relied on guides, mules and kaikis to get from place to place and the book he wrote depicts a world quite different from the rest of Greece, wilder, poorer and very mysterious. You could say that he put Mani on the map, at least for readers of English, and it is impossible to visit without thinking about him and what it was like then.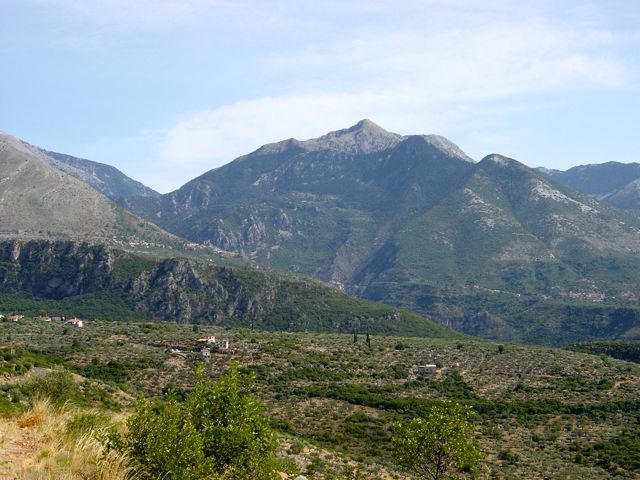 Today, although getting to Mani is much simpler, an aura of remoteness still hovers about the place. This intensifies the farther you get from shore and the higher you ascend into Taygetos, a magnificent mountain whose spine stretches down to the tip of Cape Tainaron or Matapan. Even if you are not much of a walker, you can get some sense of its size and beauty by driving from Sparti to Kalamata over the Langada pass. The road is a series of tight squiggles alongside the harrowingly deep gorge of the same name, here and there even burrowing under gravity-defiant, nearly horizontal ledges. Near Tripi, just beyond Mystra, it skirts the Kaiadas pit, where Spartans were said to have jettisoned enemies, malformed infants and others who did not conform to their strict code. Gradually fir trees replace the scented broom and lush mix of pines and leafy trees, where there are signs of past fires, before becoming exuberantly green again as the road nears Kalamata.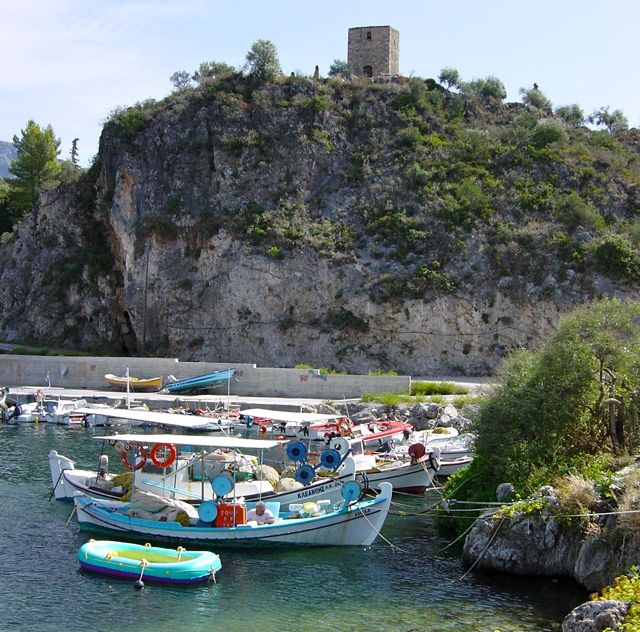 Kalamata is worth a stop but if you are pressed for time, continue down to the coast and head south into the foothills of Taygetos to get to the Mani proper. Here signs abound of new wealth: flamingo pink villas poke obtrusively through the olive groves, hotels large and small claim their place on the sea. Before long, though, the hairpin bends start bisecting mountain hamlets with only a few cement additions and you finally get a glimpse of your first Maniot tower.
It belonged to the Koumoundouros family, one of whom was appointed Bey or Governor of the Mani by the Ottoman rulers in the late 18th century when they eventually despaired of pacifying and taxing the fiercely independent region. Needless to say, the system rarely worked since Maniots were even more opposed to the Turks than they were to each other. A later descendant, Alexandros, was ten times prime minister of Greece between 1856 and 1882, which shows how volatile politics used to be, in fact until recently.
But those towers are another matter. You won't find anything like them anywhere else in Greece, not in the north or Pelion where fine fortified stone mansions are a dime a dozen or in Western Crete, whose residents were similarly untamed and fond of vendettas. Built solely of stone – of which there is plenty in Mani – these towers stand tall, narrow and unadorned, with slits for windows just wide enough to accommodate a musket. They were also equipped with zematistres, short platforms from which a cauldron of boiling oil or water could be tipped onto assailants. Only the aristocracy were entitled to erect a tower and they closely monitored the height. The object of the exercise was to demolish your rival's tower, decimate his family and gain control over his property, there not being enough decent soil to go round in this barren land.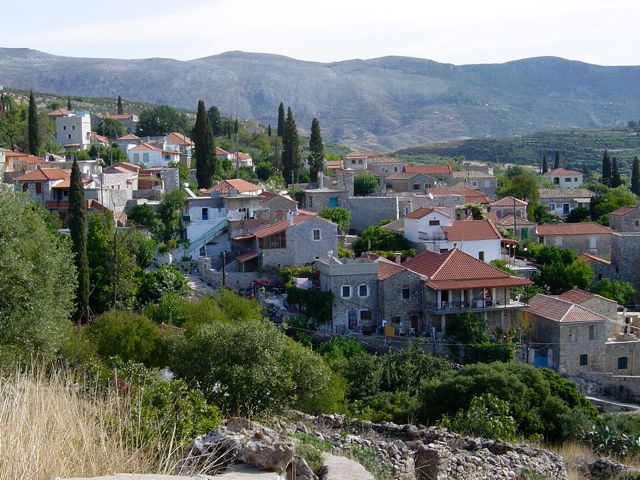 By all accounts, Mani appears to have been no different from the rest of Greece in antiquity, with several city-states that often sided with Sparta, probably more from necessity than choice. It seems to have become isolated in medieval times when Greeks from further north fled here to escape first from invading Slavs and later from the Franks who conquered the Peloponnese after toppling the Byzantine emperor from his throne in Constantinople. As a consequence, Mani's population grew to be far larger than the region could support. In 1805, Colonel W. M. Leake on his travels recorded 130 tower villages with 30,000 people living in them. In 1990, on the other hand, the peninsula was practically empty with just 5,000, mostly elderly inhabitants, rattling around abandoned husks of towers. Don't think the drop in population was due to feuding; that was officially ended in 1870. Afterwards, emigration took its toll.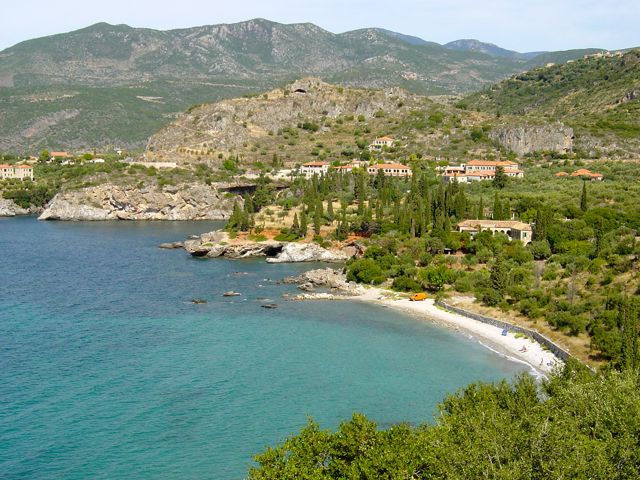 There is little sign of strife in the Outer Mani. Being far more fertile than the Deep Mani, rivalry was never as intense and the towers do not seem as grim. Instead, in the vicinity of Kardamyli, especially, they have been converted into charming hotels or homes for expatriate northern Europeans. To someone like me, whose acquaintance with Kardamyli only goes back about fifteen years, this is a village that has become more rather than less appealing as poverty diminishes. But I wonder what Mr. Leigh Fermor thought, who after all paved the way by building his house here first.
This is what he wrote when he saw it for the first time: "Kardamyli, a castellated hamlet on the edge of the sea. Several towers and a cupola and belfry rose above the roofs and a ledge immediately above them formed a lovely cypress-covered platform. Above this the bare Taygetus piled up. It was unlike any village I had seen in Greece." He also concluded that "it is too inaccessible and there is too little to do there, fortunately, for it ever to be seriously endangered by tourism."
Fifty years later, few places in this world are beyond the reach of tourism, while as for there being little to do, that depends on your point of view. It's true there are no golf courses, but you might relish just lying on the beach or reading a magazine under an olive tree. If, however, you are a hiker, you could spend weeks in the area and not exhaust all the trails. So many people, particularly Germans, come here to walk that the newstand sells hikers' maps and guides, and hotel owners often have their own hand-drawn xeroxes to which they add their own scribbles.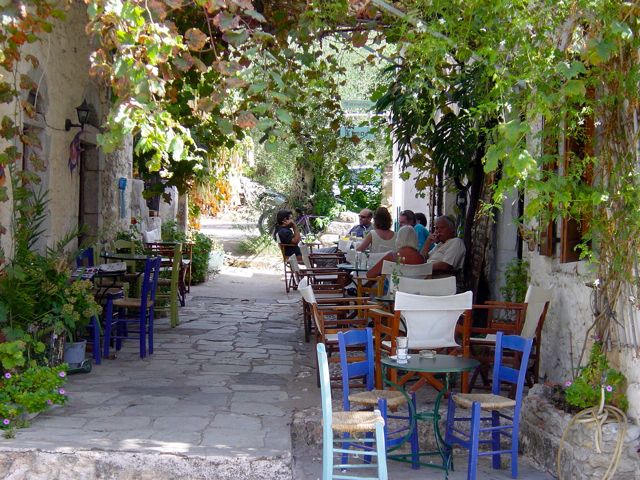 Unlike Leigh Fermor, who actually rattled in on a derelict bus, I arrived in Kardamyli on foot with a small group of trekkers in 1992. Admittedly, we had not braved Taygetos, but had taken a taxi from Kalamata to a tiny village called, improbably, Kendro (Centre) and then set off, rucksacks and all, down old mule tracks or kalderimia. It was spring, there were flowers everywhere, whose names one of us actually knew. The days were wonderful, the nights a bit dicey; on one occasion we two women took over a farmer's double bed, sheets unchanged, through some mixup. But the morning eggs were impeccably fresh.
I remember climbing up to Agia Sophia, a church and village above Kardamyli, and then entering through Old Kardamyli, where there is a beautiful large church with naif reliefs above the door and the Mourtzinos Tower, also built by a former Bey, which is open. Kolokotronis, the Revolutionary general, was alleged to have played chess in this courtyard using real soldiers.
Kardamyli's history goes back before history. It took its name from Kardamos, a son of the first king of Lakonia, and sent ships to Troy. Agamemnon offered it to Achilles as a sop to quell his rage at the commander's theft of Briseis, Castor and Pollux were rumoured to have been buried there, and Pausanias reported a district in Kardamyli that was sacred to the Nereids.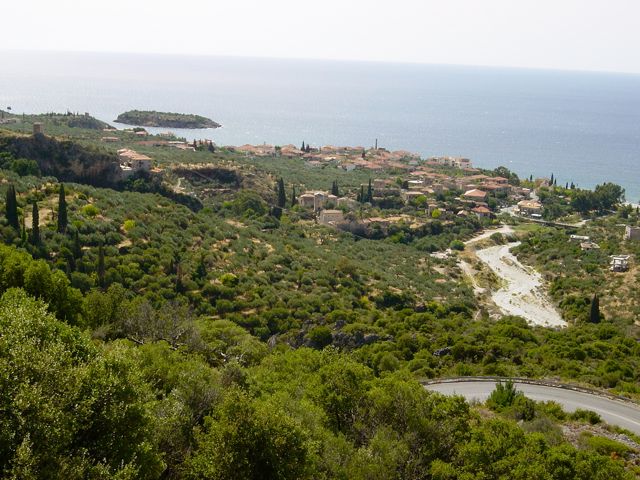 Actual antiquities are not obvious around Kardamyli and it is far more productive to search for Nereids. This we did on my second visit by taking more walks, using the book written by my '92 guide, Michael Cullen, and directions by our hotel staff. In mid May, the hills were still green and splashed with bright red as hundreds of euphorbia plants prepared for summer. Might this be the original burning bush? The shrub loses its leaves in the heat, not the cold, and goes out in a blaze like the maples of New England. Amongst them were a whole larder of herbs and a few late orchids on the cool side of the path down to the Sotiros monastery in the Viros gorge. Going there, Taygetos did indeed pile up above us, its highest peak, Profitis Ilias, looking like Cheops' Pyramid flown in from the desert. On the return, the sea beckoned beyond Kardamyli's tiled roofs and the old smokestack from an abandoned soap factory.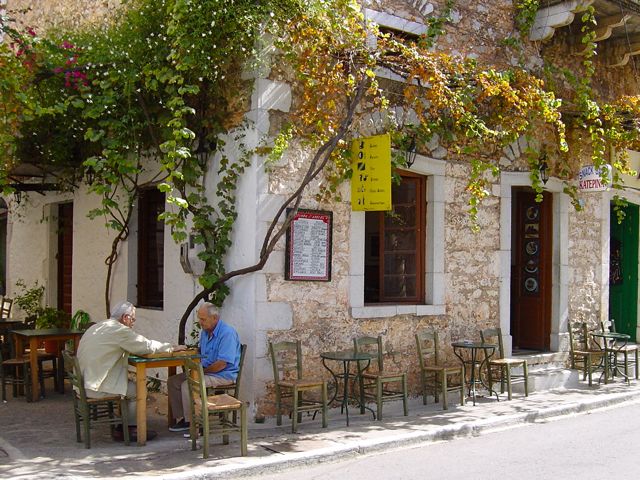 The area is signed better for pedestrians than motorists and it is easy to find your way to the various landmarks: churches with high domes like pointed chef's hats, unspoiled villages like Exohori (where Bruce Chatwin is buried), Tseria and Proastio, and the Foneas (Murderer's) cove, once perhaps a pirate's lair. Near Proastio, where there are least 30 chapels, is the quarry that provides the yellow stone found in almost all the churches and houses. Extremely soft, it is sliced out of the hillside as cleanly as if it were butter.
But there is one landmark you can stroll to without hiking boots. That's Lela's taverna, on the waterfront in about the middle of town. Kyria Lela is Kardamyli's other legendary personage, and indeed she used to cook for Leigh Fermor. Dressed in widow's weeds but with nothing mournful about her, Lela defies the dictum "never trust a thin cook." The food she serves is traditional Greek home cooking – roast chicken, pork lemonato, unbelievable potatoes – but much better than what you get at most homes. You could find her recipes in 101 Greek cookbooks and still never duplicate them. Is it the generous hand with olive oil, the fact that she shakes instead of stirs, or just "meraki" – that untranslatable Greek word for sheer pleasure in doing what you do well?
If you have a meal at Lela's, you will know one more reason why Patrick Leigh Fermor stopped his wanderings in Kardamyli.
How to get there
Once with friends, we took a taxi from Kalamata train station to Kardamyli and walked everywhere. This time we drove from Sparti over the Langada pass to Kalamata. The road between Kalamata and Kardamyli is even more twisted, so don't leave it until twilight. And take it slowly, there are many more places than I have mentioned to explore on the way. But you could of course enter Mani via Gytheio, south of Sparti. Of course there are buses from Athens every day to Kalamata and from there you can connect either by local bus or by taxi. Most likely though you will want to rent a car to explore the area and if you do that you may as well rent it in Athens and drive here.
Where to eat
The smells coming from the Kalamitsi kitchen were tempting but how could I resist going back to Kyria Lela, who now only opens in the evenings? Luckily she spent eight years passing on her secrets to her daughter-in-law, Stavros's wife, who is quickly making Elies the best place within miles to have lunch. The keftedes (meatballs), courgette fritters, horiatiki salata and stringbeans with tomato sauce (fasolakia ladera) were perfect and the iced white wine blissfully refreshing after our long hike.
Extra reading
Patrick Leigh Fermor, Mani: Travels in the Southern Peloponnese, John Murray, London, 1958 but since reprinted; Bob Barrow, The Mani, Thomeas Travel Services, Stoupa (just down the road from Kardamyli, where Nikos Kazantzakis actually met Zorba the Greek and wrote the book commemorating him), no date; and Michael Cullen, Landscapes of the Southern Peloponnese, Sunflower Books, London, 2003.
See also The Deep Mani
Where to stay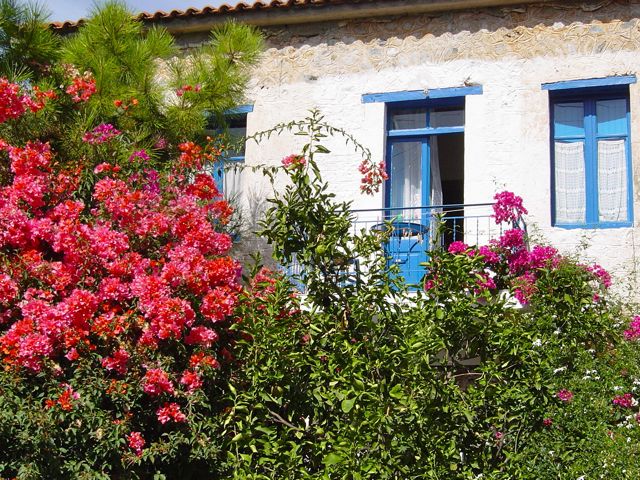 In Kardamili Village, the stone-built Kastro Zoi is a restored 1900 property offering self-catering units with a balcony overlooking Mount Taygetus and the Messinian Gulf. It provides free Wi-Fi in public areas and lies within 250 metres from Ritsa Beach. Just a 5-minute walk from Beloyianni Beach, Maison Viros features an outdoor pool with sun loungers and self-catered accommodation overlooking the garden or sea from its terrace or balcony. Katikies Manis is an exclusive, luxury hotel that offers traditional suites which include private verandas with sea views, separate bathroom with bathroom amenities, kitchen and seating area. Just a 3-minute drive from Kardamili beach, Polismata offers self-catered accommodation rooms eaturing a balcony overlooking the Messenian Bay, each one with an outdoor hot tub. Free Wi-Fi is also available. For budget travelers Stella Rooms is set amidst an olive-tree garden, just 200 metres from the beach. It offers self-catering units with free Wi-Fi and views over the Messenian Gulf, the garden or the surrounding area.
Booking.com has a number of hotels on their Kardamyli Page as well as their Stoupa Page.
---
Diana Farr Louis is an American food/travel writer and long-time resident of Greece. She has published dozens of articles and two books on Greek cooking – namely Prospero's Kitchen, Mediterranean Cooking of the Ionian Islands from Corfu to Kythera, and Feasting and Fasting in Crete. She was the chief travel correspondent for the weekly Athens News from 1997 to 2007 and has written two excellent travel books, Athens and Beyond: 30 Day Trips & Weekends and Travels In Northern Greece, both highly recommended reading for those whose traveling in Greece goes beyond Mykonos and Santorini. Feasting and Fasting in Crete includes recipes and anecdotes, history and tradition about the island and is an essential ingredient in any Greek or Grecophile Kitchen. Prospero's Kitchen was recently republished in a new, third edition by IB Tauris in London/Palgrave in the US and is widely available through Amazon and other websites and bookshops. Feasting and Fasting in Crete can be ordered from the publisher, Kedros, books@kedros.gr or in the US from Greece In Print She also writes a bi-monthly column for www.weeklyhubris.com called "Eating Well Is The Best Revenge" and contributes positive stories about Greece to the Huffington Post. Since the demise of the Athens News and the scandalous closing of its publications department, Diana's travel books have become as rare as hen's teeth, but the occasional copy can be found by doing an online search.