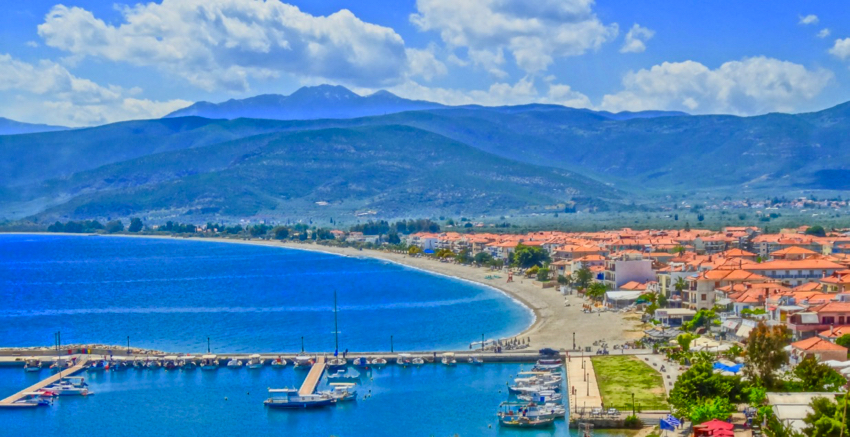 When I was in high school I had a friend named Nick. He was older than me by a couple years and he and his best friend Arthur were what we called heads back then. A head was what our parents and some of the more conservative kids would have called a 'drug addict' but actually it meant someone who was interested in expanding their consciousness through things like meditiation, mysticism, music, philosophy, and yes, drugs. Usually very good drugs. LSD, opium, and mostly hashish. This was in the late sixties and early seventies during the dictatorship in Greece and there were not many people doing drugs in those days, at least young people. The prisons and underworld was full of addicts and of course the musicians, like musicians everywhere, were using drugs recreationally if not for inspiration. But recreational drugs had not yet exploded onto the cultural landcape in Athens which meant you could take drugs and do and act pretty much however you wanted to because if you were acting crazy people would not assume that you were on drugs but that you were a nut or had too much ouzo. It was a good time for heads.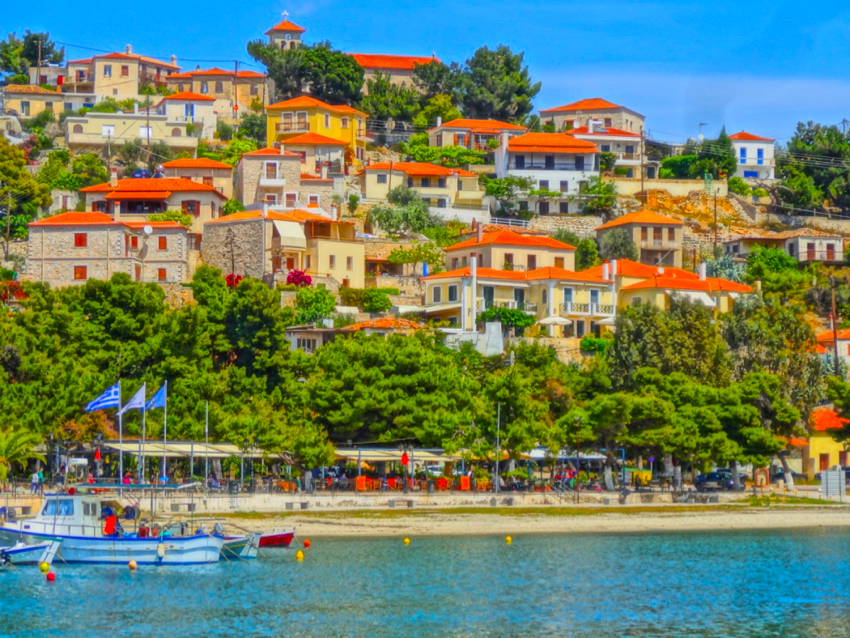 Nick's mom happened to be good friends with my parents since she taught at the same school as my Dad and lived in the same neighborhood. My father knew all about Nick and Arthur but because they were both very smart kids, in fact Arthur might have been the most brilliant kid at school, he chose not to focus on the negative and where if I was taking drugs it was an attempt to escape reality and would lead to a life of hardship and bring shame upon my family, Nick and Arthur were more like explorers going where no man has gone before using the vehicle of their minds, with a little help from some psychedelics. So when I started hanging out with Nick and Arthur both views collided and whether I was going to bring them down to my level or they were going to bring me up to theirs, didn't matter to my father. From his point of view nothing good could come of this, and indeed he was right. At least from his way of thinking. I spent the next 20 years getting high and listening to Pink Floyd, the Velvet Underground, Traffic and other bands I discovered through my mentors, and also managed to have a career in music and later in travel writing, all without going to college which is what my father had planned for me. Arthur and Nick had so many adventures that each could have written a memoir longer and more fantastic than Lord of the Rings, before both passing away long before they reached old age. Some bodies are just not made to last forever when life is lived to its fullest with forays into art, antiques, philosophy, eastern religion, robbing banks, smuggling drugs, prison, addiction, and lots of romance. If I had the courage to live like Arthur and Nick I would be a much more interesting person.

Which brings me to the village of Astros, which is what this page is supposedly about.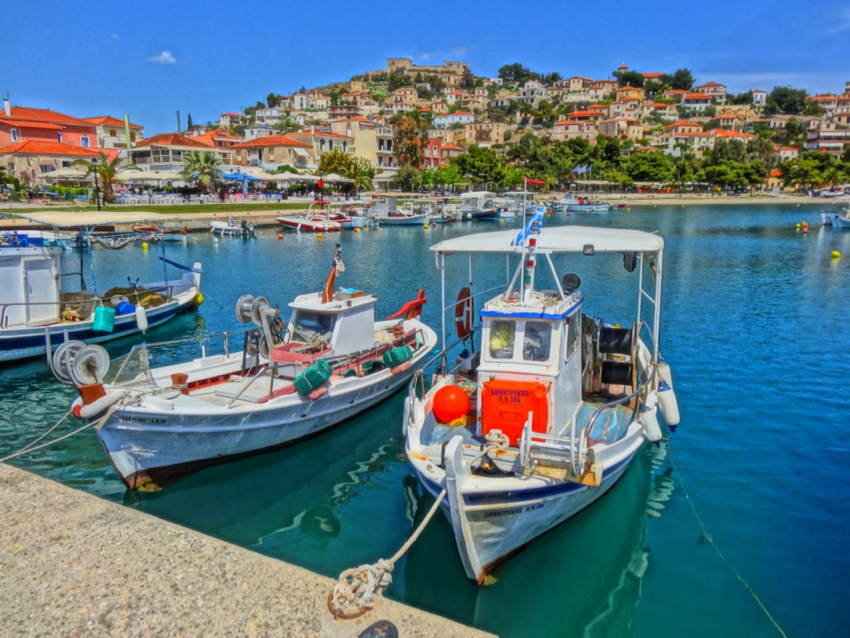 Nick's mom had a house in Paralio Astros from the sixties and it was one of the handful of places we would visit from Athens for long weekends and even short ones. It was a small village with the ruins of a castle on the hill above it, a pier that was excellent for swimming and diving off, a beach right in the town with a couple nice tavernas and a beach just outside the small harbor that stretched forever. It was here in Astros that I can remember one of the few times, as a teenager, having fun with my brothers and sister at the beach. Where was Nick? Who knows? He wasn't there and if he had been I probably would not have been doing something as innocent as playing with my family in the sea.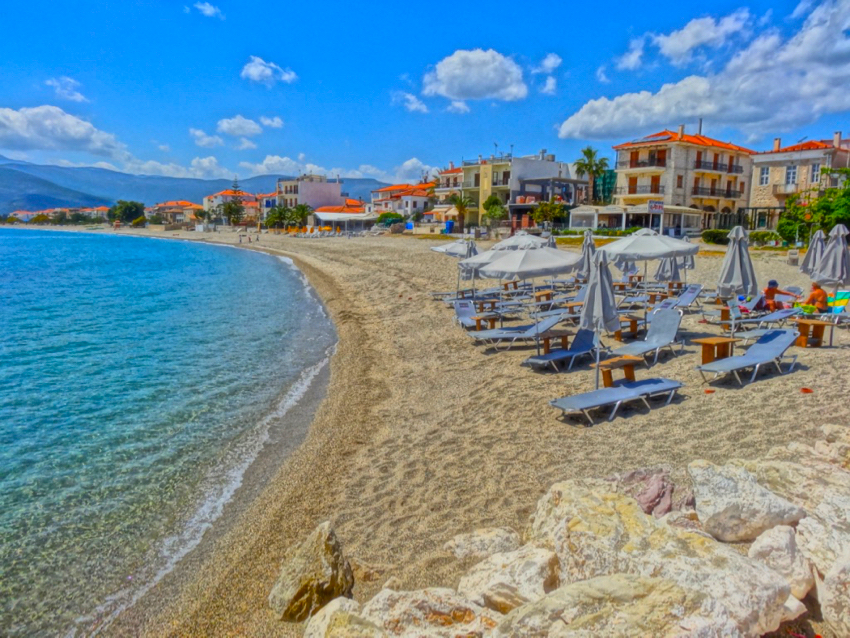 Astros has changed since then. It was Nick who told me I would not recognize the place and he was right. It is now a beach community full of two and three story summer homes and apartments. The coast is a line of cafes and fish tavernas and the little dock we used to swim off is like a small marina where sailboats and yachts stop to send the night on the way up and down the Peloponnesos. However, before you get the wrong idea that this is me complaining about the good old days I have to say that Paralio Astros is a really nice place to stay if you want to spend a summer holiday on a big beautiful beach without the loud brash tourism that you will find in popular destinations like Mykonos, Santorini and other islands since most of the 'tourists' come from nearby Tripoli. You can eat at fish tavernas that don't charge an arm and a leg, swim in clean open seas on a beach that tops just about any beach in the Cyclades, and even visit the nearby Mostou Natural Wetlands a protected area which contains a large number of birds and other wildlife. Astros is also close enough to visit Nafplion and the Argolis, Ancient Nemea, Ancient Corinth, Leonideion, Kosmas and just about anywhere in Lakonia and Arkadia.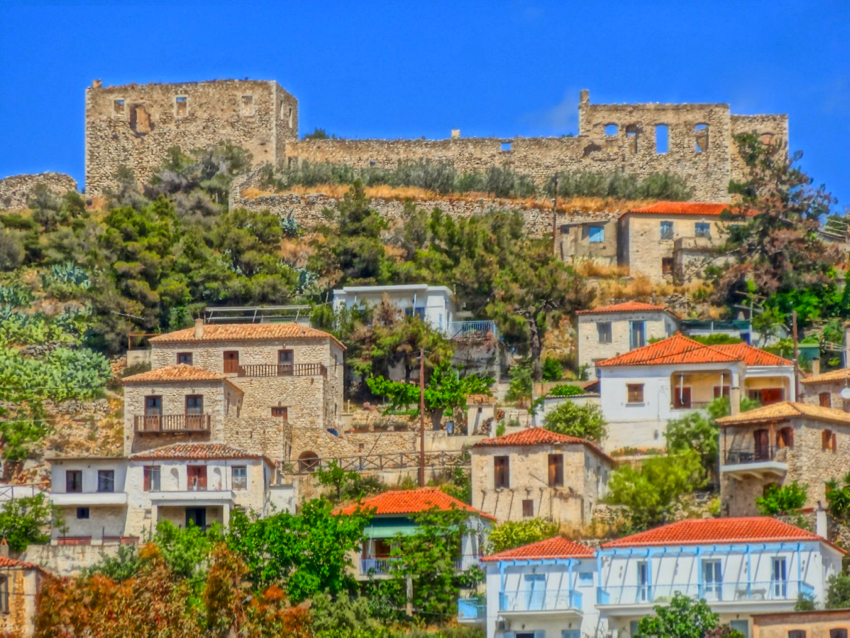 The castle above the beach and port was built in 1256 by Gillaume de Villardhuin who called it Castello della Estella. It is also called "The Castle of Zafeiropouloi" for the 3 brothers of the Zafeiropoulos family who in the 18th century had become rich abroad and returned to Astros to support the fight for Independence and built 3 houses within the castle. Astros was the site of the Second National Assembly of the Hellenes during the Greek War of Independence, under the presidency of Petros Mavromichalis which produced the first constitution of Modern Greece. To be honest with you I totally forgot there was a castle in Astros until I went back there. You would think that would be one of the things I would have remembered.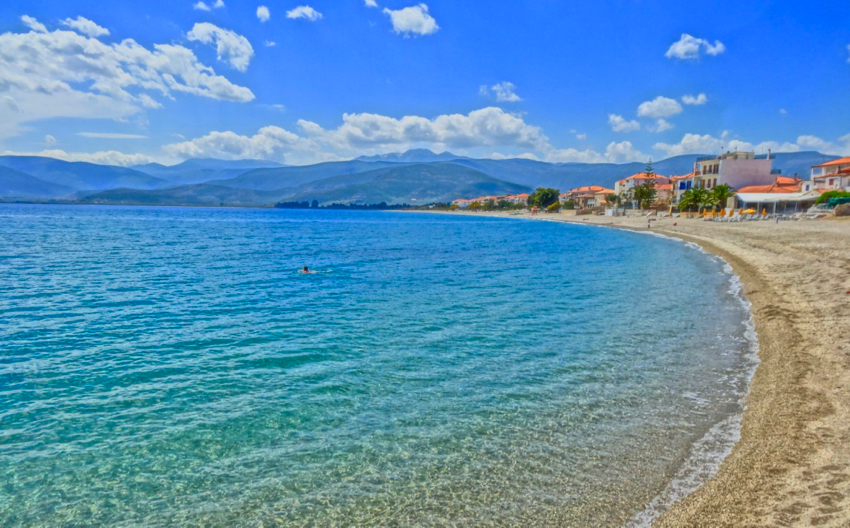 The long beach in Paralio Astros is a good place for families with children. There are beach beds and umbrellas that you can rent though some of them belong to the nearby cafes and all you need to do is buy a drink and it is yours for the afternoon. July and August the beach is busy, especially on weekends, but in May, June and September you can have much of it to yourself. The sea is among the cleanest that you will find in Greece, as is much of the southeastern Peloponessos.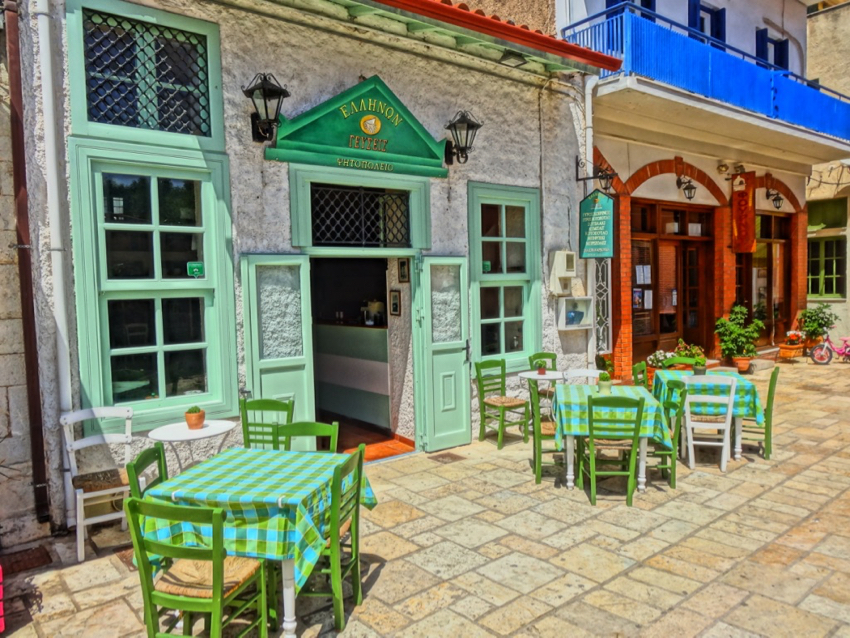 Restaurants
On the food front Batis is a family run restaurant serving home style cooking which has been around forever, maybe even when I was here in 1970. Rabbit Stifado, dolmades (stuffed grape leaves), lamb kleftiko with roast potatoes, stuffed tomatoes, eggplant papoutsakia, vegetarean and meat oven cooked dishes and some fish and local wine make it a popular place with the tourists that end up here. Avra Fish Taverna is on the beach and is open year round,which means the locals eat here so it has to be good. Ellinon Yevsis is a popular souvlaki-shop/psistaria (grill house) where you can get lots of food for very cheap. Ippokeros is an Italian/Mediterranean restaurant and cafe in the harbor with a large menu of pastas and rizotos as well as a number of meat and fish entrees as well as meat from the grill. Lots of interesting salads, appetizers and deserts as well and the prices are reasonable. Estella is an upscale Greek/Mediterranean bistro style restaurant with a large and interesting menu of traditional and neo-Greek as well as Italian dishes, with attentionpaid to the use of healthy local ingredients. From grilled meats, to seafood, pasta and pizzas, (they even have turkey burgers) this is a restaurant you would expect to find in Nafplion or Mykonos. They also have a cafe/bar and year round events. They have a very nice list of Greek and Italian wines too. There are several other restaurants on the beach and in town as well as a number of souvlaki shops and cafes which have food. For those who like to eat in their rooms or apartments there are supermarkets and grocery stores in town.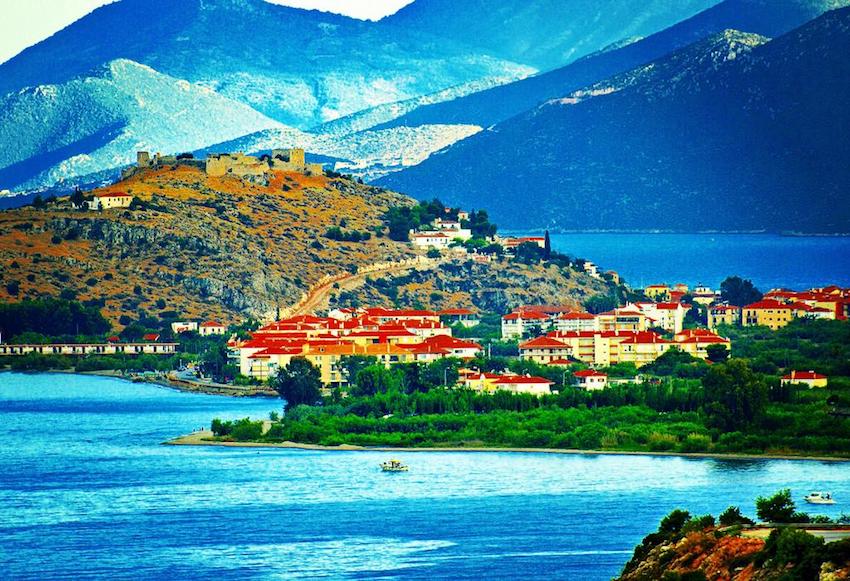 Hotels
The family-run Theoxenia is centrally located in Paralio Astros near the village square and 100 m from the beach. It offers apartments with a private balcony enjoying views over the garden or the Argolic Gulf featuring lively colours and wooden or iron beds. They come with a kitchenette with mini fridge and coffee maker, as well as a TV and an en-suite bathroom with bathtub or shower. Just 100 m from the beach, Georgakakos Homes is a 5-minute walk away from Paralio Astros Village. It features air-conditioned accommodation with free Wi-Fi. Several taverns, restaurants and bars are available within a short walking distance. Fitted with iron beds, all studios and apartments at Georgakakos are simply yet tastefully decorated and open to a balcony. Each features a dining table and a well-equipped kitchenette with an oven and a mini fridge. A flat-screen TV is in each apartment. On the north sideof Astros Blue Horizon Suites (photo) is a complex of holiday rooms and apartments a 3-minute walk to the beach. All units include a flat-screen TV. Some units have a terrace and/or balcony. There is also a kitchen, equipped with an oven. A refrigerator and coffee machine are also available. They also have a swimming pool and hot tub. Galaxy Rooms is right in town and features a sun terrace and views of the sea. Some units include a terrace and/or balcony. There is also a kitchen, fitted with an oven, refrigerator and stovetop. Every unit is fitted with a private bathroom with a bathtub. The property also has its own restaurant. Located in Kato Vervena a couple kilometers outside of Paralio Astros, stone-built Anigraia features traditionally decorated apartments with a fireplace and a furnished balcony overlooking the Argolic Gulf. The pool offers views to the countryside and free Wi-Fi is provided in the entire property.
For more hotels, apartments and rooms see Booking.com's Astros Hotel Search.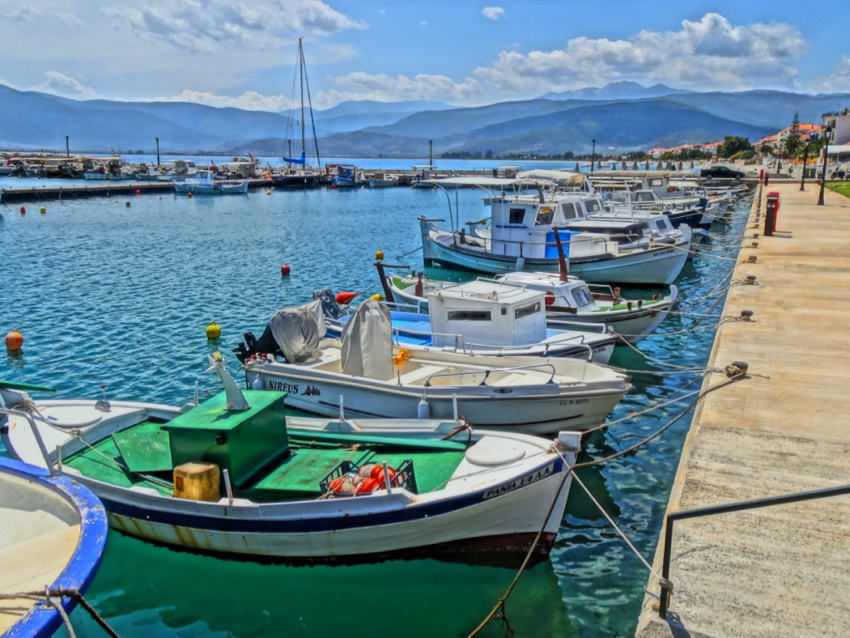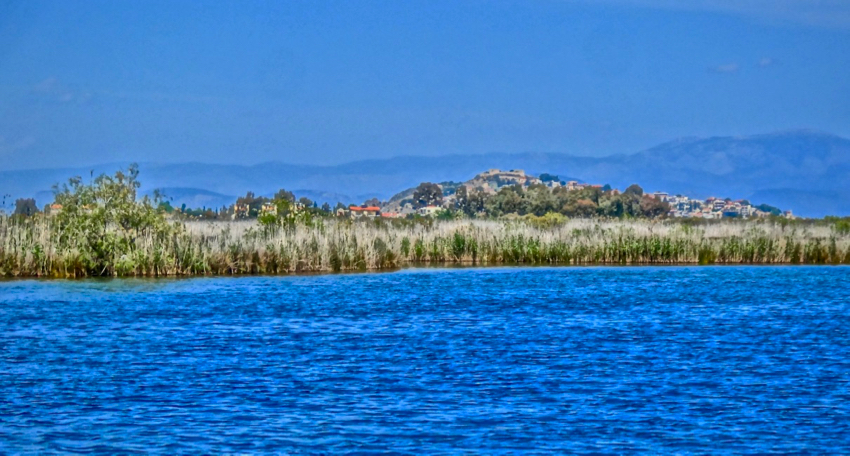 The natural spring in Lake Mostou is part of the Mostou Natural Wetlands, a protected area which contains a large number of birds and other wildlife. The spring is located just south of Astros right at the turnoff and parking area that overlooks the lake.
Astros, Greece in 1970 by Nicholas Econopouly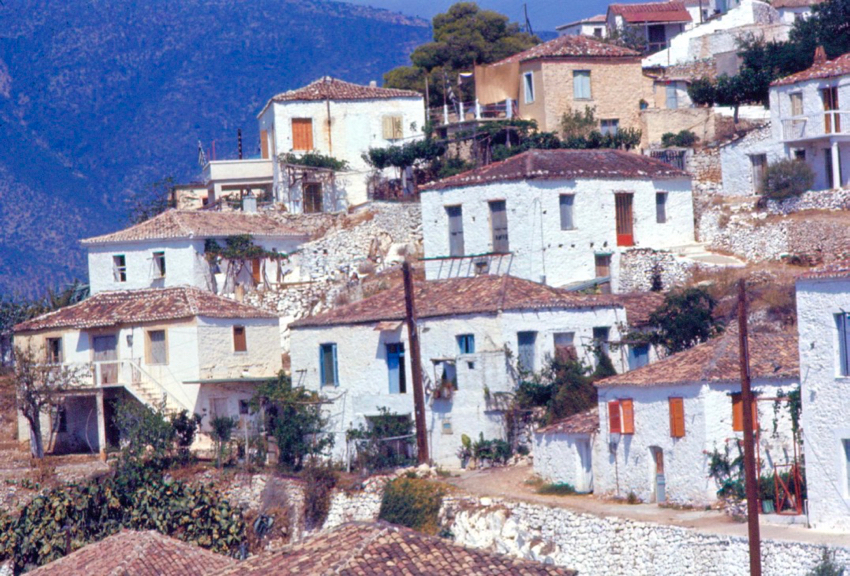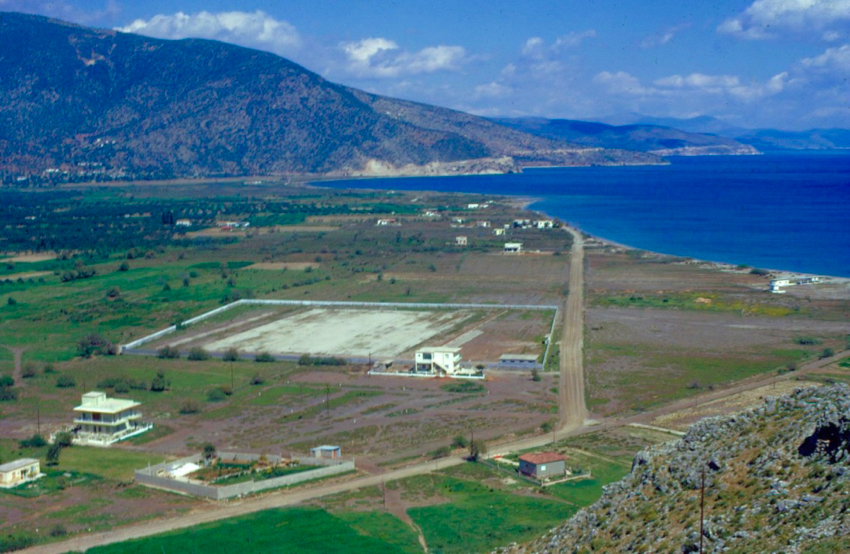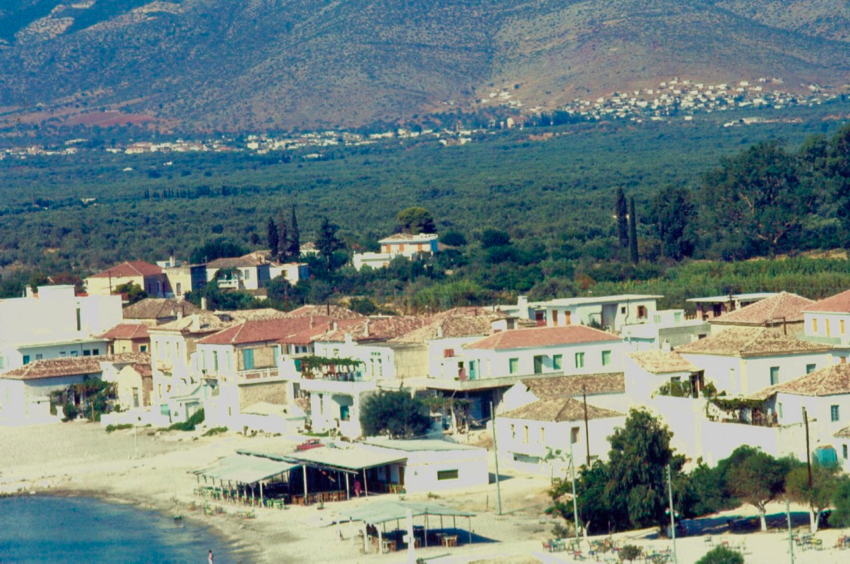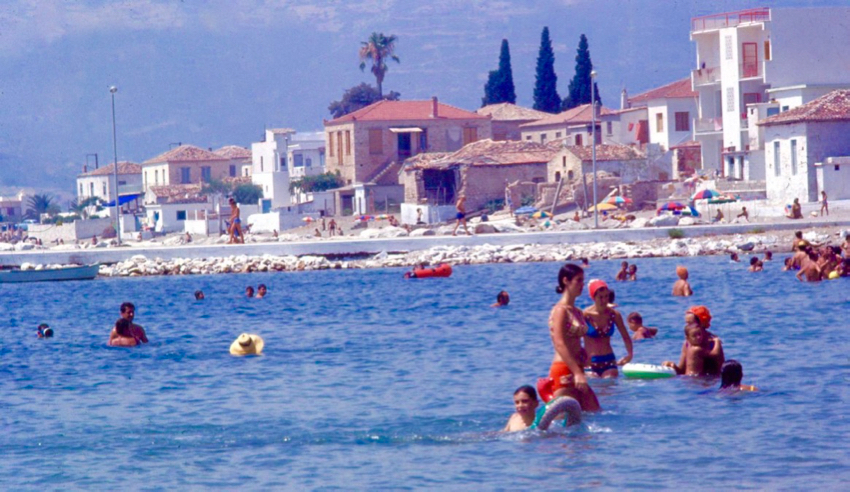 You can see more photos by my father Nicholas Econopouly at Greece in the Sixties Photos