Helpful Travel Information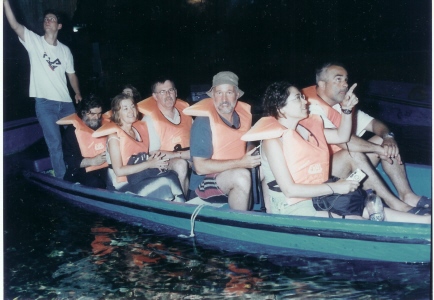 Some guidebooks warn people with claustrophobia that this may not be for them. Possibly not, but it would be a shame to miss it so maybe take half of whatever sedatives you need to get on an airplane because it is a lot less scarier. In fact I did not find it scary at all until I read in Frommers about the giant eels that live there. (I asked and there are no giant eels.) If there is someone in your group who has a serious fear of caves they can go to the museum or go for a swim (it is right on the sea) while the rest of your group goes into the cavern. The boat trip takes around half an hour and then there is a ten minute walk to the exit. The price is a little high for a half-hour tour but with some things you can't think about what it costs. You just have to do it. This is one of them.
The Diros caves are just an hour from Gythion so stay there. Here is a list of Gythion hotels with photos and reviews. You can also stay in the town of Aereopolis in the Mani which is even closer than Githeon and you can find hotels there by clicking here. It's a cool place to stay and some of the hotels are the historic towers that the area is known for.
You can do the Diros Caves as a day trip with George the Famous Taxi Driver but it is about a 4 hour drive from Athens so it is better to do it as an overnight trip. For car rentals see www.greektravel.com/swift

Pictures don't do them justice but just to give you some idea I have included these postcards.
You can click on them to enlarge.