One of my favorite places in Greece is Gythio in the southern Peloponessos. It is a port town with lots of good fish restaurants, some great ouzeries and is within driving distance of the Mani, Mystras, and much of the south-eastern coast of the Peloponnesos. It also has some amazing old buildings built in the last two centuries. Gythio (or Gythion) is a pleasure to wander through with the neo-classical houses, shops and spectacular old apartment buildings, hugging the side of Mount Koumaros all the way down to the sea. It makes you feel like you are in the type of Greek port that disappeared with the introduction of mass tourism into the country. Gythion to its credit is still Greek. But don't get the impression that this is a coastal tourist resort whose citizens are out each day making the city spic and span for the bus loads of visitors. This is a working class town with a crumbling infrastructure and unemployment, a fading once-important port with derelict buildings and an uncertain future. It's the kind of place I like but that does not mean you will, particularly if you are expecting something like Kardamili or Stoupa. It is an authentic semi-urban Greek port town with both positive and negative aspects.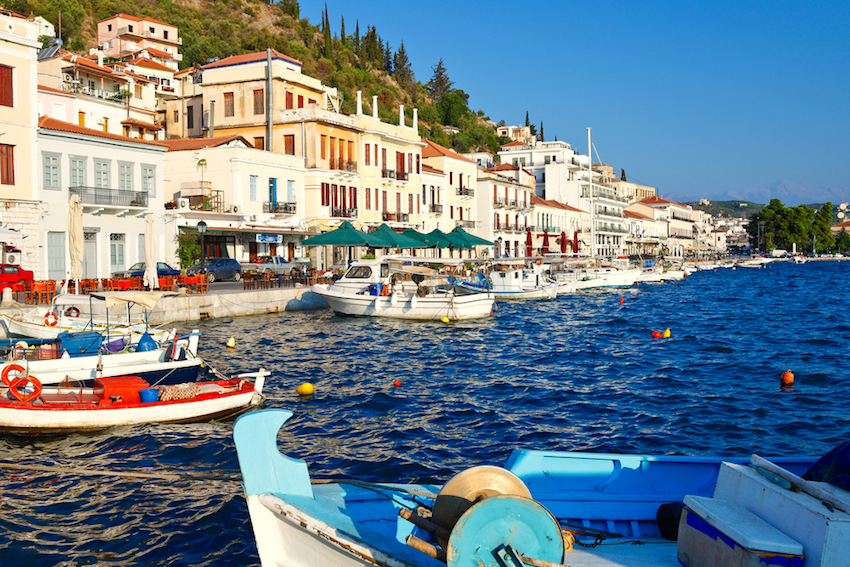 The waterfront has three sections. The middle part is the harbor with its fishing boats and a few restaurants, pizzerias, cafes and shops,a great place to take an evening promenade with the locals and their families in the summer months. There is a small square known as Platia Githeiou and the Ouzerie Korali has some tables in the square and some great mezedes. In a town like Gythion whose visitors are primarily Greeks and Greek-Americans it is hard to go wrong when going out to eat. Also recommended is the O! LIVE at 35 Vassileos Pavlou for traditional Greek dishes with a modern Greek style, fresh fish, grilled meat and fish and lots of interesting and imaginative main dishes and appetisers, as well as Greek micro-brew beers and desserts including Ben and Jerry's ice cream. The Saga Restaurant has been serving fresh fish since 1961 and is known for its great food, friendly service and location right on the sea. Or go a few steps further to Palirria Fish Tavern, which along with fish has your favorite oven cooked dishes and grilled meat.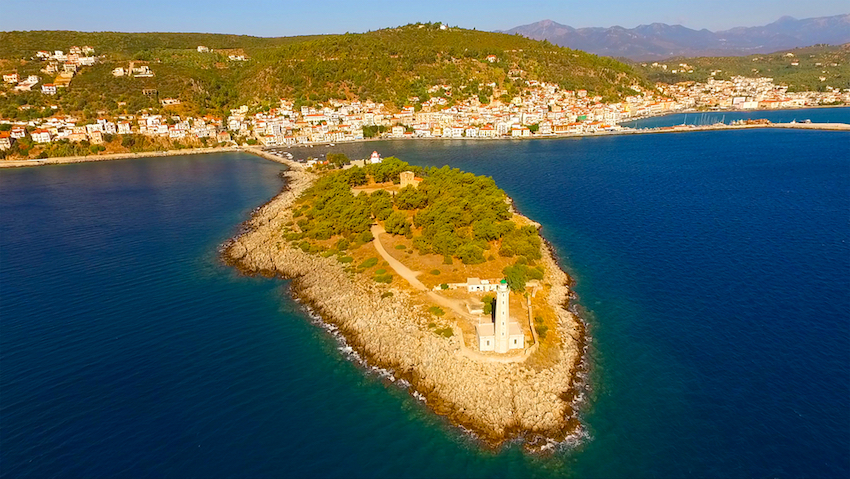 Around the corner on the south side of town is the coastal road lined with fish tavernas which end at the small island called Kranai, now connected by a causeway, where Paris and Helen left for Troy after he abducted her from King Menelaous in nearby Sparta. Gythion was the original port for Sparta in the days of the Illiad and the Odyssey. On Kranai you can visit the Tzanetakis Tower, built during the Ottoman rule and which supposedly houses the Ethnological Museum though nobody I know has ever seen it open. The lighthouse of Gythio was built in 1873 and is 25 meters tall with a range of 9 nautical miles. Like much of the area around Gythion, Kranai is covered in pine trees.
The other side of the waterfront is an area of cafes and restaurants as well as the town hall, built by Schiller in 1891 which houses the archaeological museum. Schiller also designed the Maiden School up the street, which was built in 1886. Nearby is the ancient theater built in the first century. This is the more modern part of the town and there are apartment buildings and shops including a couple internet cafes.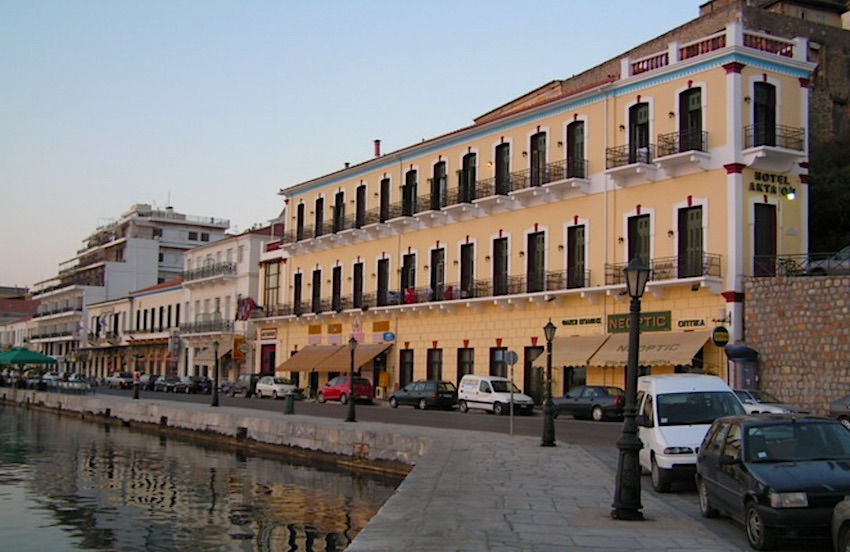 Right in the middle of the waterfront is the beautiful neo-classic Aktaion Hotel, not only my favorite hotel in Gythion, the only hotel I have ever stayed at in Gythio. With every room having a balcony overlooking the harbor it is the kind of place you have to prod yourself to leave and explore the town. The ground floor of the hotel has the International Press Center which also has a CD shop and a pretty decent English language bookstore upstairs. You may have to ask them to turn on the lights. Just up the street the shop of Yiorgos Hassanakos is a gallery, bookstore, gift shop and one of the more interesting shops in Greece. George, a respected artist, uses the store as his workshop which includes creating figures of the Greek shadow pupper theater Karagiozis, portraits and a variety of styles of visual art. A couple doors down is another shop rich in content, this one an antique shop one of the best in Greece. It was in this shop that I bought a turn of the century bronzed baseball which had been brought back from the USA by a returning Greek immigrant in the twenties! Tom Mazarakis now has it on his desk. It is probably worth millions but the guy sold it to me for 15 euros because the possibility of someone else coming into an antique shop in Gythion and buying a bronze baseball was about one in a million.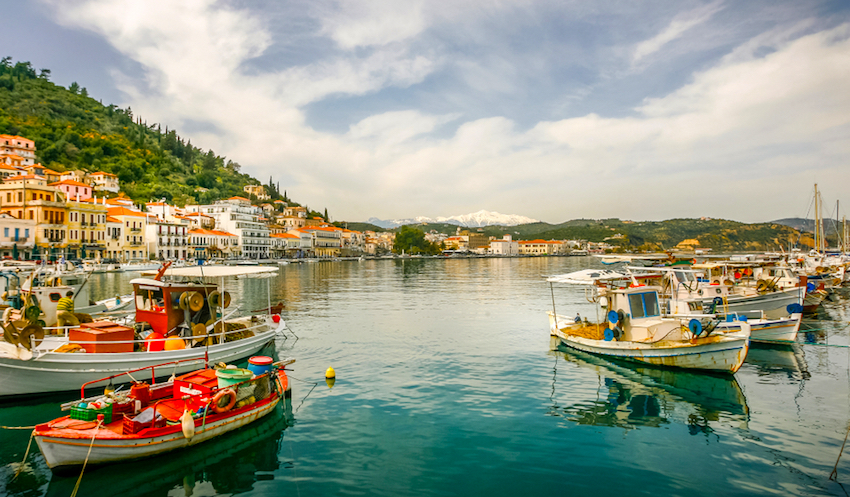 Gythion is the largest town in the Mani with 5000 permanent residents. The drive from Athens is a little more than three hours so like Nafplio many Athenians come for weekends. Sparta is a twenty minute drive north so you can visit Mystras and then come back to one of the many beaches and spend the entire afternoon swimming and eating fish.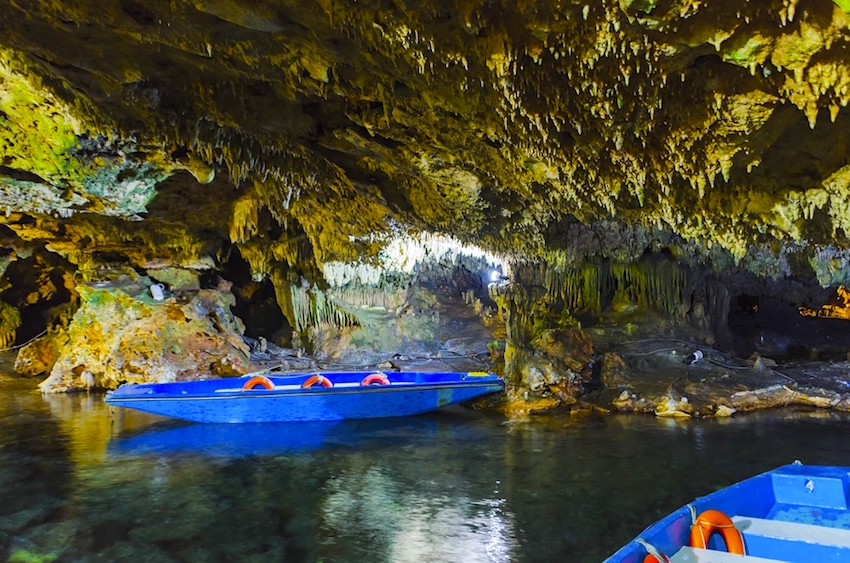 The most important and interesting place to visit in the vicinity of Gythion is the Diros Caves which are a half hour drive southwest. From there you can continue into The Mani going down the west coast and returning up the east.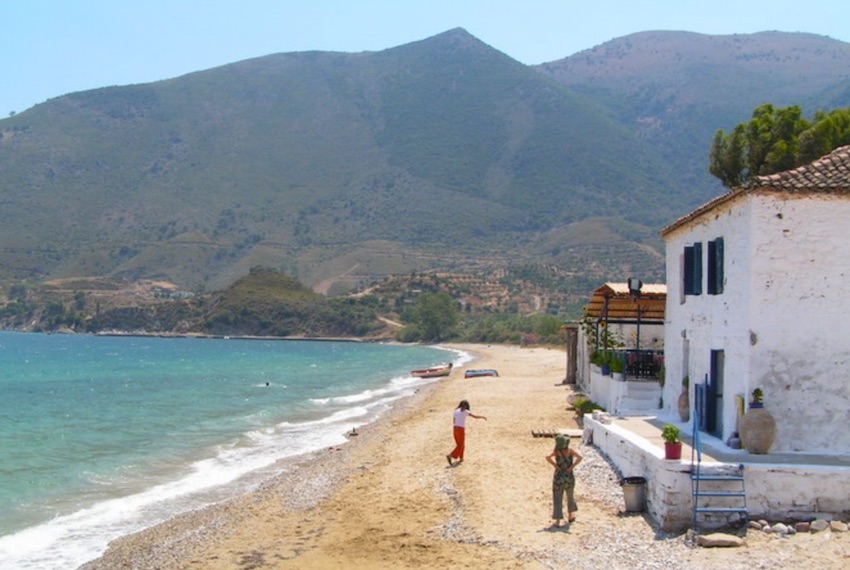 The beach at Skoutari is one of the most lovely in the Peloponnesos and the small family run seaside taverna To Akroyiali serves inexpensive fish they catch with their own boat.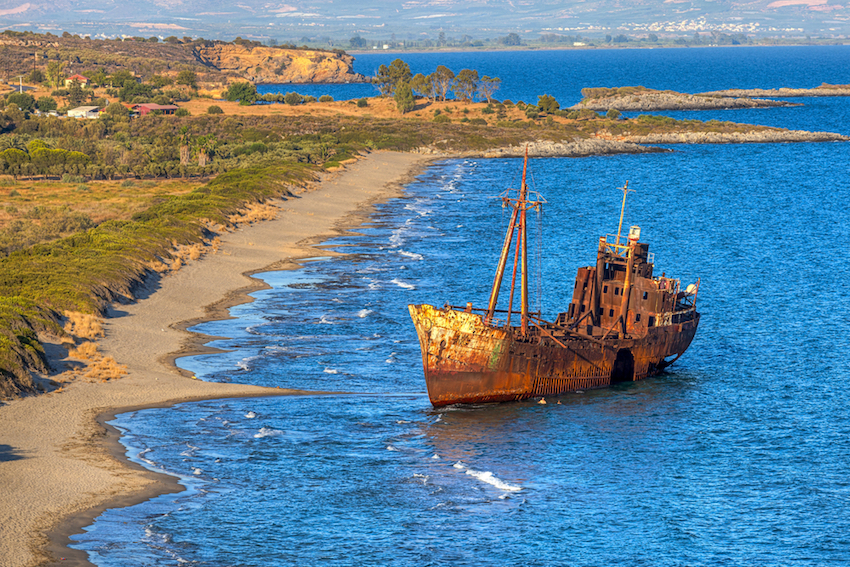 North of Gythio along the coast you will find a long sandy beach that you can't miss because there is a big rusted hulk of a ship sitting on it. The Lakonikos bay is home to Loggerhead sea turtles, also known as Caretta Caretta and nests are found along the Evrotas beach, Mavrovouni, Selinitsa, Valtaki and Vathi where sand dune restoration is taking place, the first of its kind on Greece. The town of Skala has an Environmental Awareness Center run by the Archelon Organization who also have an information kiosk in Gythion in the summer where you can buy pictures, books and gifts that help to support the protection of the turtles. (For more info you can e-mail them at stps@archelon.gr)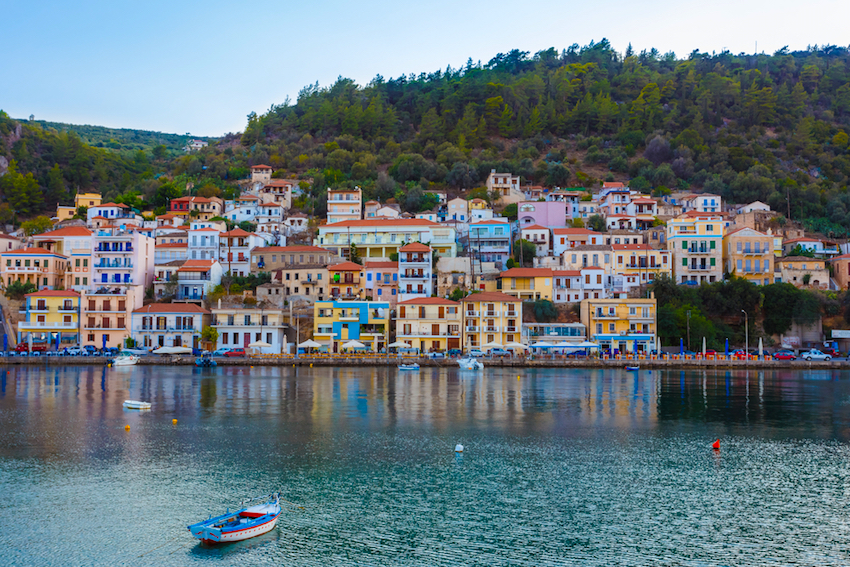 For exploring the southern Peloponessos I can't think of a better place to base yourself than Gythion. Even Monemvasia and the island of Elafonisos can be done as a day trip. And an evening in Gythion, walking in the port, eating and drinking in the fish tavernas or sitting and watching the sea from your balcony in the Aktaion Hotel you won't even know that you are not on an island. Gythion can be visited any time of year. For those of you movie buffs who saw the Paul Mazursky film 'The Tempest' with John Cassevettes, Molly Ringwald, Susan Sarandon and Raul Julia and wondered which island it was filmed on, it was actually not filmed on an island. The Tempest was filmed near Githeon and probably if you ask around you can find out where exactly.
George Hassanakos puts out a small guide to Gythion which you can find in his shop. It is well written and has suggestions of day-trips, where to shop, where to eat and what to see around town.
Suggested Hotels in Gythion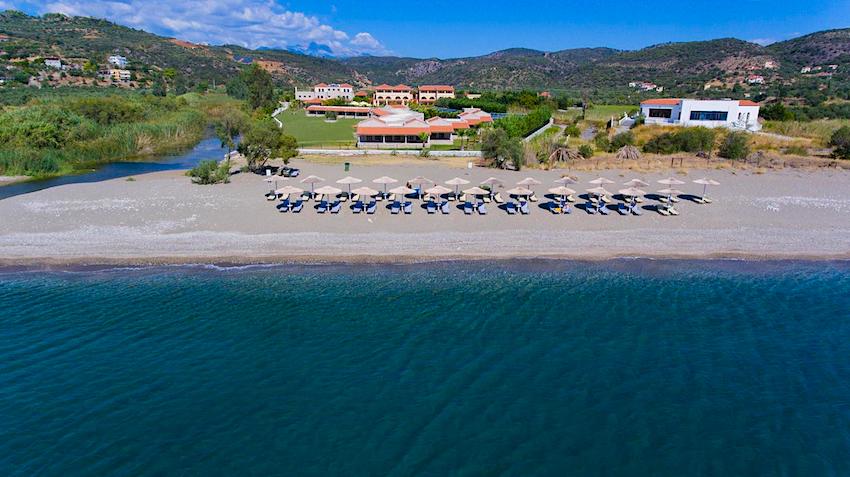 With a great location on the beach of Gythio, Aktaion Hotel offers rooms with views of the sea. A guest lounge with free Wi-Fi and TV room is also available. Housed in a beautiful neoclassic building, Aktaion Hotel offers rooms with private bathrooms, air conditioning, fridge and TV. Breakfast is included in the room rate and can be ordered through room service. Infinity Hotel Gytheio has a seasonal outdoor swimming pool, bar and shared lounge, a restaurant, and free WiFi. The 4-star Thirides Beach Resort is a complex of stone buildings featuring a swimming pool, restaurant and 2 bars, just 30 meters from the beach of Mavrovouni and 2 miles from downtown Gythion. Just 30 meters from Selinitsa Beach and 1.2 miles from Gythion, Niriides Resort offers air-conditioned accommodations with sea and garden views, and free Wi-Fi. Free sun beds, umbrellas and showers are available on the beach. Hotel Milton offers air-conditioned rooms with free Wi-Fi access and a private balcony enjoying sea views. It has a bar and serves traditional Greek breakfast in buffet style. Just a few steps from Mavrovouni Beach and offering a sun terrace, Studios Resbithas is a self-catering accommodations located 1.2 mi from Gytheion. It offers children's playground and garden with BBQ. Free Wi-Fi is available throughout. Just 11 meters from the sandy beach of Gythion, Aktaion Resort (above photo) offers an outdoor pool with hot tub and poolside bar. Free on-site parking is also provided. Luxury and comfort are provided in the fully equipped and air-conditioned rooms of Aktaion Resort. Each has a satellite TV, bathroom with hairdryer, and veranda with pool and sea views.
For more hotels, apartments, holiday homes and villas use Matt's Gythion Hotel Search
Helpful Travel Information

The best way to get to Gythion is by rental car or by taxi though there are frequent buses and a rare ferry that goes to and from the island of Kythera and Crete.
For transfers by taxi to Gythion see www.greecetravel.com/taxi
For car rentals see www.greektravel.com/swift

You can find hotels in Gythion by location, price, whether or not it has a swimming pool, and see photos and reviews by using this link to Booking.com. Excellent prices and many hotels you can book and then cancel with no cancellation fee. For those who want to book without using a travel agency this is the best way to do it.