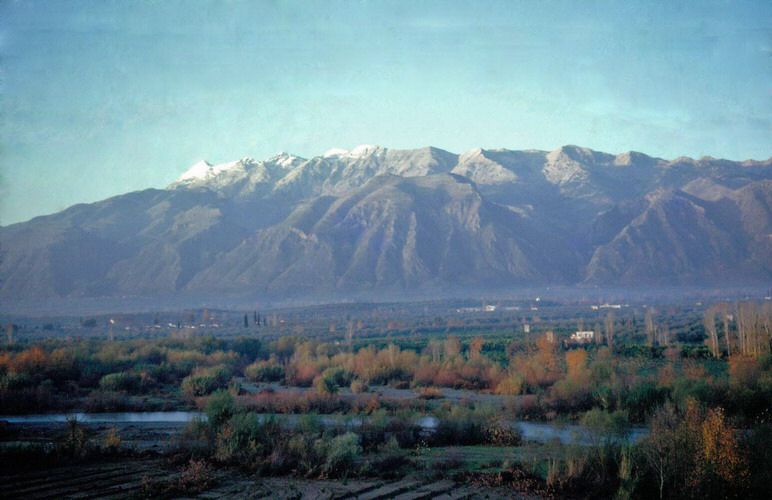 I guess I have always had an affinity for Sparta. After all it is my home town. Kinda-sorta. I'm a Spartan despite never having spent even one night here. I don't think my father has ever spent the night here either. My grandfather maybe. Like many of my fellow 'Spartans' my family came from a small village near Sparta. In my case it was the village of Kalithea, originally called Zarafona. But when people asked where we were from in Greece it was easier to say Sparta. People have a general idea of its history and where it is and it enables me to say I am a Spartan which implies heroic ancestry, rather than I am a Kalithean which means I am someone with a nice view or a Zarafonian which I am not sure what it means. Maybe someone who shops at a Spanish department store and brags about it.
But even though I am not really from Sparta I still know that it is within the realm of possibility that my ancestors fought alongside of Leonidas when the Lacedemonians held off the Persians at Thermopylae, or defeated Athens, subjugated the Helots, and destroyed the armies of foreigners and neighbors. I am not a 'proud Spartan'. I am pretty sure that had I been born in those days I probably would have been one of those babies thrown from the cliff or left to die of exposure to keep the Spartans from becoming a race of degenerates. Nevertheless, once I get past Tripolis and the main highway goes towards Kalamata and the exit to Sparta leads to a two lane road past farms, villages and rocks, I start to get the feeling that I am entering my home territory.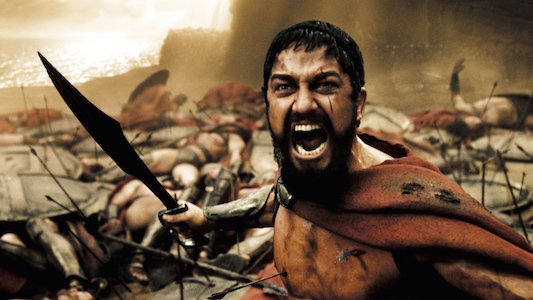 The success of the film 300 (which I still have not seen) has put Sparta on the tourist map of any family with an adolescent. Unfortunately the Greek tour companies have not caught up with the rest of the world and tours with names like 'Classical Greece' seem to visit everywhere except Sparta, even going all the way to the monasteries of Meteora which had nothing to do with Ancient Greek history. The great city of Sparta seems to have been completely overlooked when they created the tourist maps of Greece.
OK. To be honest the ancient Spartans did not leave impressive temples like the Parthenon, or walled fortresses like the Acropolis of Athens or Corinth. Yes there are a few scattered ruins of buildings scattered around but nothing you would go out of your way for, with the exception of Mystras, which is a Byzantine city. In a way Sparta is like Thermopylae. You can go there in search of Greek history but there is not much to see. Sort of like going to the historic Gettysburg battlefield and realizing you are just looking at a field and some hills, or going to Marathon and seeing a mound of dirt, some olive trees, and a beach. There is very little evidence left of ancient Sparta. Certainly not enough to send hundreds of fully loaded tour buses, like Myceneae, Epidavros and Olympia. Chances are if you are a tourist in Sparta you came in your rental car and are on your way somewhere.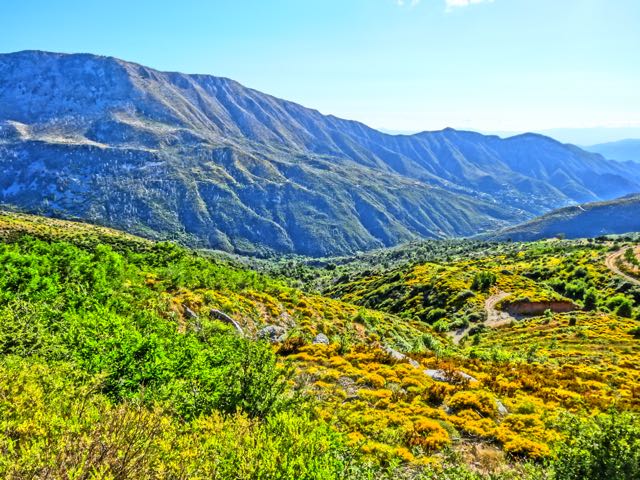 But hold on just a second. I have not come to discourage you from visiting Sparta. In fact the opposite. No, I am not saying you should spend your entire holiday here or more than a day or so. There are nicer places nearby to base yourself, with beaches and fish tavernas, like Githeon, and the Mani, or Monemvasia, and an endless number of beach towns. But a night at one of the beautiful hotels near Sparta's main square, where children play as their parents fill the cafés and restaurants, will give you a Greek experience that few tourists have. You want to experience 'the real Greece'? What could be better than a large agricultural town in the middle of the Peloponessos? Especially one with a history as long and as glorious as Sparta.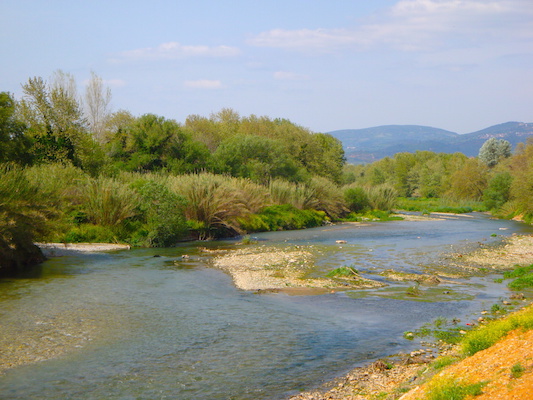 Sparta sits on a large plain next to the Eurotas river and in the shadow of Mount Taygettos, which in the realm of Greek mountains is an impressive one, with snow on the peaks as late as May. The mountain has a number of traditional villages, hiking paths and some Eco-tourism, and in the summer can be as refreshing as a dip in the sea. Sadly, the beautiful forest that people once drove through on the spectacular road that connects Sparta with Kalamata no longer exists, and despite the plaque which pays tribute to the donations from wealthy Greek-Americans for the reforestation, there does not seem to be much evidence of it. But as I said, Taygettos is a large mountain and there are plenty of areas that have not been destroyed with well posted hiking trails through river beds, gorges, traditional villages, remote churches and monasteries and yes, forests.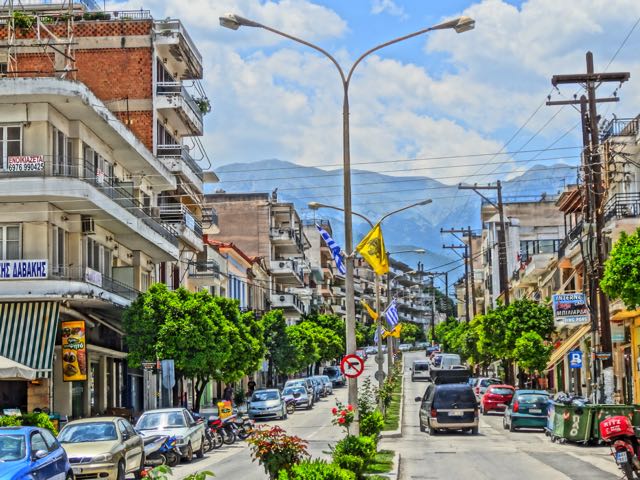 Sparta is not a beautiful town. You won't wax poetically about it when you arrive and it won't inspire you to write a song about it when you leave. It looks like the outer fringes of Athens with four story apartment buildings and the occasional single family dwelling on large avenues as well as narrow streets. Finding the center of the city will require at least one person to keep a sharp vigil for signs. But chances are good that you will wind up there anyway though you may not know you are there. A good landmark is the beautiful historic Hotel Menelaion at 91 Palaeologou Avenue, which is pretty much Sparta's Main Street, running from the Statue of Leonidas on the northern edge of the city, to the Githeon road to the south. The other main Avenue is Lycorgou which runs east to west and intersects with Palaiologou. If you are spending the night the Hotel Menelaion would be the place to stay, sort of a provincial Grande Bretagne, with a cafe-bar and a very nice restaurant. It even has a swimming pool. Believe it or not Sparta does have restricted parking and on some streets you need a sticker. But you can buy a sticker at one of the kiosks and the restrictions are only from 8am to 3pm.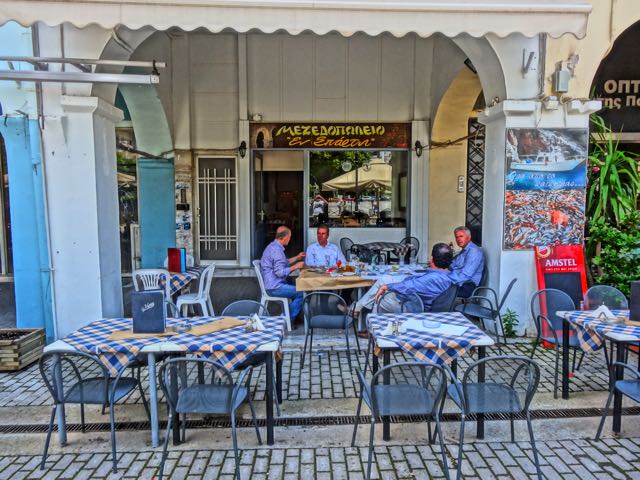 Once you park ask anyone for the platia (square) or the dimarchio, which is town hall. It is one of the larger platias in Greece and with the financial crisis has seen better days but there are a number of cafés and two nice ouzeries, one called En Epalti, a simple, unpretentious family owned mezedopoulion that specializes in fish that they catch with their own boat, and the other a more upscale ouzeri like one you might find in Athens, called Kapari which gets great reviews on Tripadvisor. Not surprisingly we ate at the one that was not mentioned at all on Tripadvisor and had a very nice meal. Like any Greek platia the time to be here is before 1pm or after 6pm. If you come in the afternoon, especially in the summer, there won't be much going on. There are also a couple restaurants, fast food, and cafe-zacharoplasteons (pastry shops) on Palaeologou Avenue.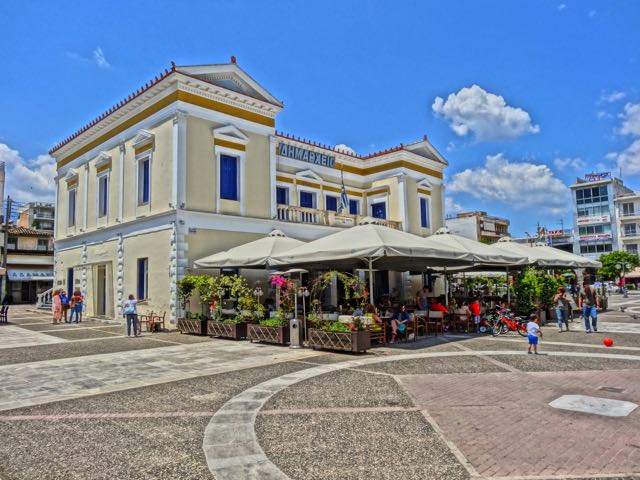 Besides the impressive Dimarchio, the City hall building, in the square, there are only a few things to see of major touristic importance and most of them out of the actual city. The first is the ruins of the Byzantine city of Mystras, which you can locate by following the signs or by heading west on Lycourgou towards the mountain and praying. The Olive Oil Museum, which is in the old electric company building, is another. This can be easily found by kidnapping a local and demanding he take you there. Art lovers may be impressed with the Koumantarios Art Gallery with its collection of Western European art from the 16th to the 19th century. Thankfully this is located at 123 Palaiologou Avenue and is easy to find. Perhaps the most important place to visit in town is the Archaeological Museum of Sparta on Lycourgou Avenue which is just off Palaiologou Ave very close to the main platia. The building itself is of historical importance, built in 1876, it was the first museum to be built in a provincial town and contains artifacts from ancient Sparta that are still being found on a daily basis from the numerous excavations going on in and around the city.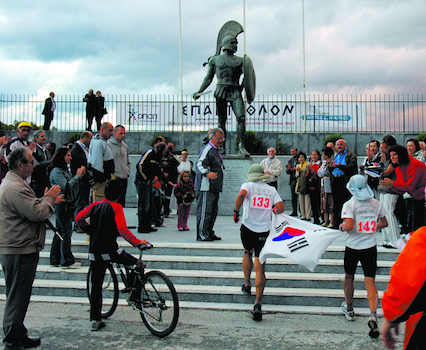 The most important event in Sparta, one which attracts visitors and participants from all over the world, is the Spartathlon which commemorates Phidippides run from Athens to Sparta in 490 BC to ask for help in repelling the Persian invasion at Marathon. The race, described as the most difficult of all long distance foot races, takes place at the end of September and the route takes over 20 hours to run a distance of 246 kilometers from the foot of the Acropolis to the Statue of Leonidas. The idea for this event began when John Foden, a British RAF Wing Commander, wondered if modern man could actually cover the distance from Athens to Sparta in the time that it took Phidippides to do it. He and three of his collegues came to Athens in 1982 and ran the distance in roughly 36 hours, proving it could be done. From then on it became an annual event, like the Athens Classic Marathon, though much more difficult. For more information visit the Spartathlon Official Website.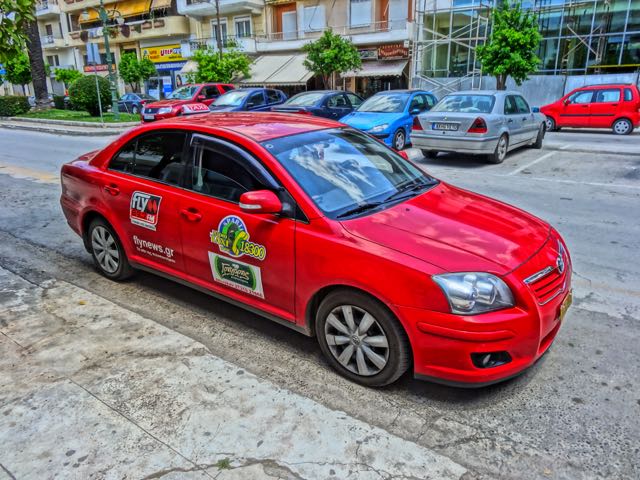 Another important statue in Sparta, the Statue of Lycurgus by American sculptor Avard Fairbanks, for which he was knighted by King Paul of Greece, is located on Lycourgou Avenue near the Old Court Building, one of several impressive neo-classical buildings in the city. The Leonideon is a large structure from the fifth century that may have been a temple to Apollo, despite being associated with King Leonidas, who as you know, led the 300 against the Persians and until recently was only the third most famous Spartan. The first two were of course King Menelaos and his wife Helen, better known as Helen of Troy, the girlfriend of Paris, and the woman who caused the Trojan War. The Menelaion, the Sanctuary of Menelaos and Helen, is on the banks of the River Eurotas on the eastern edge of Sparta. Also in the river valley is the Tholos Tomb of Vafeio, and the Sanctuary of Apollo Amyclaeus on the hill of Agia Kyriaki, about four kilometers from Sparta, and the Sanctuary of Orthia Artemis, near the river bank in the district of Limnes, where there are the remains of the ancient amphitheater. If you don't have a car these places can be reached by Sparta's distinctive red taxi cabs, which I mention just as an excuse to use this photo. It is also one of my favorite things about the city because I love seeing them on the highways and in Athens. Plus I don't have any photos of those places I mentioned. I must add however that some of these archaeological sites, due to the economic crisis are closed to the public and may not be safe. So make the Archaeology Museum your first stop and ask there which sites are open.
Hotels in Sparta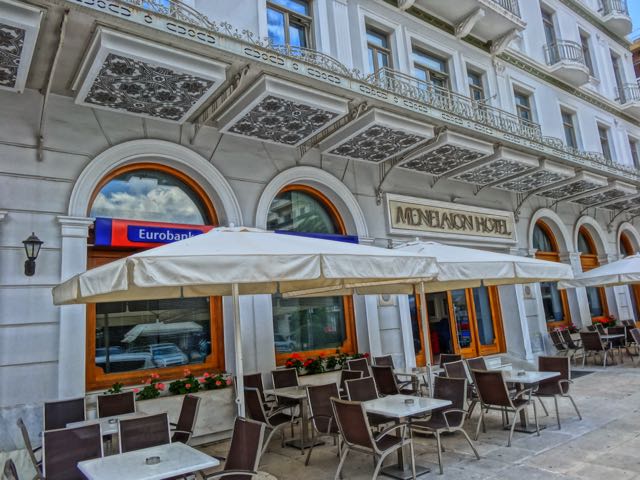 As I wrote before, the place to stay for old world charm is the 3-star Hotel Menelaion which is as centrally located as you can be. They have a pool that is open year round, free wireless internet and if you don't have a computer or hand held device you can use the hotel's computers for a small charge. Rooms are beautiful and air-conditioned and the hotel has a cafe/restaurant. The Lakonia Hotel features air-conditioned rooms with satellite TV, free wireless, and a bar a few metres away from Tomb of Leonidas. The elegant 3-star Dioscouri Hotel offers rooms with mountain-view balconies and cable TV. It serves a certified Greek buffet breakfast including organic products and provides free Wi-Fi access throughout the hotel. Hotel Dioscouri rooms are bright and spacious and are equipped with air conditioning, hairdryer and minibar. Their furnished balconies boast spectacular views of Taygetos Mountain and the town and their restaurant serves Greek and International dishes. The modern Maniatis Hotel is situated in the centre of Sparti. It has a marble lobby with elegant seating areas and lounges, an a la carte restaurant and a breakfast area and is famous for its buffet breakfast. Free Wi-Fi is available throughout the hotel.
You should also consider Hotels in Mistras as well as Hotels in Githeon which have a much larger selection and are close enough to be somewhat convenient, particular Mystras.
Eating in Sparta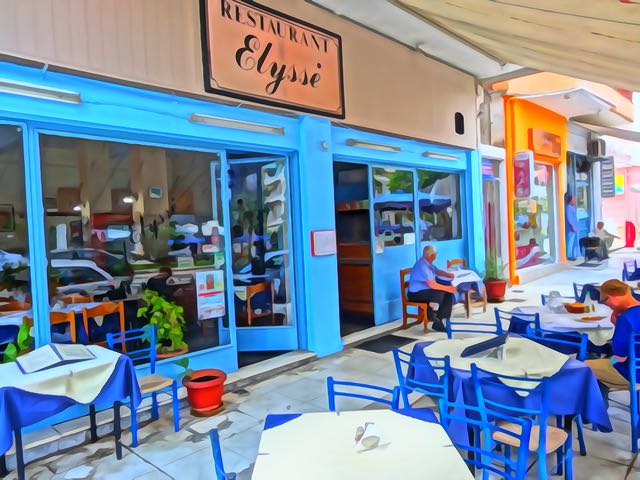 There are a large number of restaurants to eat at in Sparta and few if any could be called 'tourist restaurants' except for perhaps those in the hotels. But even those are not typical tourist places because let's face it, Sparta does not get many typical tourists. In fact most foreigners are probably Greek-Americans or Greek-Australians. This is good news for people who like authentic Greek food. Both ouzeries in the square that I mentioned are a good bet, whether you are just going to have an ouzo and meze and watch the people or even if you plan to have a whole meal. Kapari has pastas and even a burger with mushroom sauce, and a grilled mushroom dish and has large servings that are pretty satisfying. En Epalti is like a small hole-in-the-wall fish place that you would be more likely to stumble upon by the sea. Get their grilled sardines and take it from there. The Elysse Restaurant, about a block north of the Hotel Menelaion is an estatorion, which means that it has oven baked dishes which are best eaten at lunch when they have just been cooked. But it gets high marks from most people who have eaten here since I was last there about ten years ago. It used to be owned by a Greek-Canadian family but I don't know if it still is. Next to Elysee is the Diethnes, with a grape-vine covered garden and traditional home-style Greek food just like your yaya used to make if you are Greek. Further down is Lambros, which has been here since before the war and serves patsa among other traditional Greek dishes. Also around the corner in a pedestrian mall check out the souvlaki shop of Canadian Jimmy, who will happily tell you all you want to know about Sparta... in English. Another good place is Tsipouradiko at 50 Evangelistrias street, which as the name implies, is a mezedes restaurant, like the two ouzeries in the square. For more taverna type food visit Dionysious Garden Restaurant on the road to Mystras. Don't be afraid to venture into the villages of Mount Taygettos for authentically Greek food in restaurants like Taygettos Balcony Restaurant in Giorgitsi for home cooking that is loved by travelers and Greeks.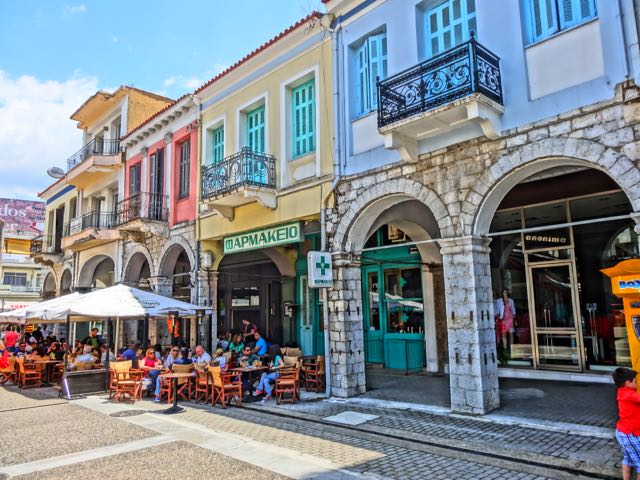 In summing up, Sparta, if being by the sea is not essential, actually makes a good base for exploring the southeast part of the Peloponessos, specifically Lakonia. You will need a car though people traveling by bus can get here from Athens easily and frequently and once you are here connect locally to Githeon, Monemvasia, Neapolis and the Mani. Still a car is recommended, or a driver who speaks Greek would be even better. Sparta is HOT in the summer and wandering around the city streets in July and August may not be to everybody's liking. But the summer evenings are comfortable and as these large provincial towns often are, full of life when the sun disappears behind Mount Taygettos. For those of you who are looking for "the real Greece" it does not get any more real than Sparta.
By the way the top photo of this page was taken by my father in 1963. You can see more at Greece in the Sixties Photos
Tour of Sparta
Visit Sparta and the Olive Oil Museum for the day from Athens with George the Famous Taxi Driver and Sons! See George's Website for More Information

In the village of Xirokambi a short distance from Sparta, is the workshop of Dimtra, a self-taught mosaic artist from Toronto Canada. Each mosaic piece that she creates is completely unique, the individual sections of glass are cut by hand and puzzled together piece by piece, glued and grouted to form an intricate design that can be used as a decorative item or simply worn. All year long her 4 hour mosaic art workshops are held in a courtyard outside her home studio and other locations . For more information see her website
The new highway gets you to Sparta from Athens in record time. But the old road between Tripolis and Sparta is much more interesting and there are no tolls. It goes past the town of Kerasitsa which is the cherry capital of the Peloponnesos and there are farmstands along the road where you can buy them for 3 euros a kilo. There are also two popular traditional restaurants that all the Greek-Americans know about. One is called Rigane and the other is called Ardamis. Ardamis looks like a truckstop on an American highway but the food is good and they have a shop full of local specialties. Make sure to buy some kidonitsa wine. The Nasiakou is a rose made from kidonitsa and is the Holy Grail for long time Greek travelers, a really nice wine in a plastic bottle for under 5 euros a liter.