Byzantine City of Mystras
It was a fine day as we set out to visit the Byzantine ruins of Mystras at the base of Mount Tagetos, overlooking the city of Sparta and the fertile plain surrounding it. As we climbed the hill on crumbling streets we looked in awe at the beautiful churches with their elaborate brickwork, while lizards scurried to safety from where they were sunning themselves. "Look Dad! Some ancient pottery" shouted my daughter Amarandi gleefully as Andrea and I ran over to see what kind of treasure she had found in this holy city. Sure enough it was a small clay piece with the traces of some kind of design. "Can I keep it? Please?" she looked at me with those innocent eyes. I looked at Andrea who had worked on an archaeological dig in Crete many years ago and would know the legalities of keeping antiquities. She smiled and shrugged. "I am sure it will be OK," I told her. " And if you get arrested at the airport I will say it was mine as long as you promise to visit me in prison". My daughter smiled back at me and stuffed the shard in her bag. The birds were singing all around us and the flowers of summer were in full bloom. It was like being in heaven and all our troubles were forgotten. We found a grassy spot near a cliff where we could see the entire Spartan plain below and ate our simple lunch of brown bread, still warm from the bakery, some feta cheese and a few olives. We looked at one another as we enjoyed our meal in this spectacular environment. Indeed life does not get any better than this we silently spoke to each other and.....
...No, I am lying. This is not what happened at all. This is the kind of writing you find in travel magazines from first-time visitors to Greece or professional travel writers.
Here's what really happened. We went to Mystras. It was hot as hell, being July and we did not even want to get out of the car. But I did. I jumped out of the car every few minutes to take a photo and then jumped back in to the air-conditioned splendor. Everyone was in a really bad mood. It was really miserable and it got worse but that's another story.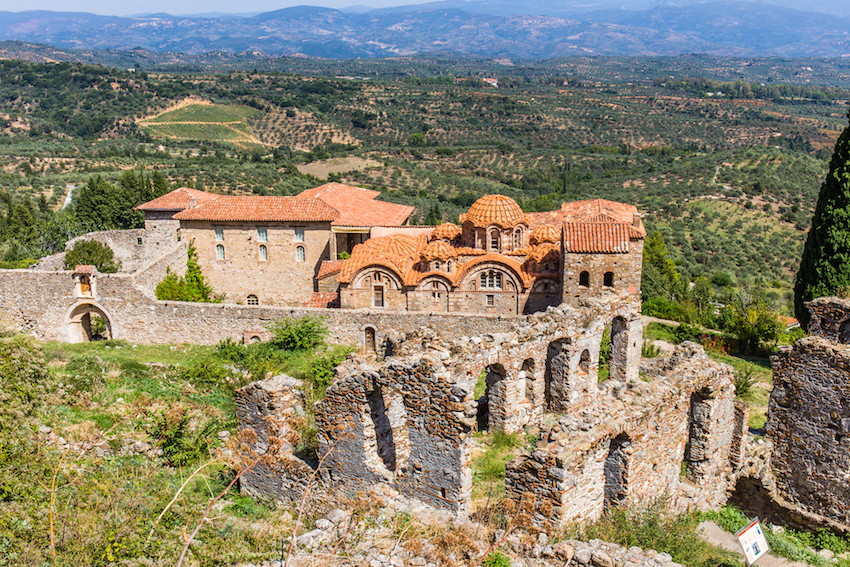 We were planning to go to the island of Kythira but the boats were full because it was the weekend and all the Athenians were taking a little mini holiday. So we had a few days in the Peloponessos that we had to figure out what to do with. I had already written my Peloponessos Guide but had not made it to Mystras so I suggested going there and taking some photos. We stayed in Githeon and the next morning drove to Sparta and sat in the big square and had some coffee. By the time we got rolling again the sun was high in the sky and when we got to Mystras, which is about 10 minutes west of town, it was pretty hot. There were several tour buses in the parking lot and Andrea and Amarandi were already complaining and refused to get out of the car. So I had a choice. I could climb through the ruins of Mystras by myself and leave them in the car, or I could do the lazy travel-writer thing which was find the best vantage points and use my telephoto to take photos and maybe nobody would realize that I did not actually go through the site. Then I could write one of those travel magazine stories, like the one I began this article with, and let people figure out if I really went there or not. (I have heard that some travel writers do this).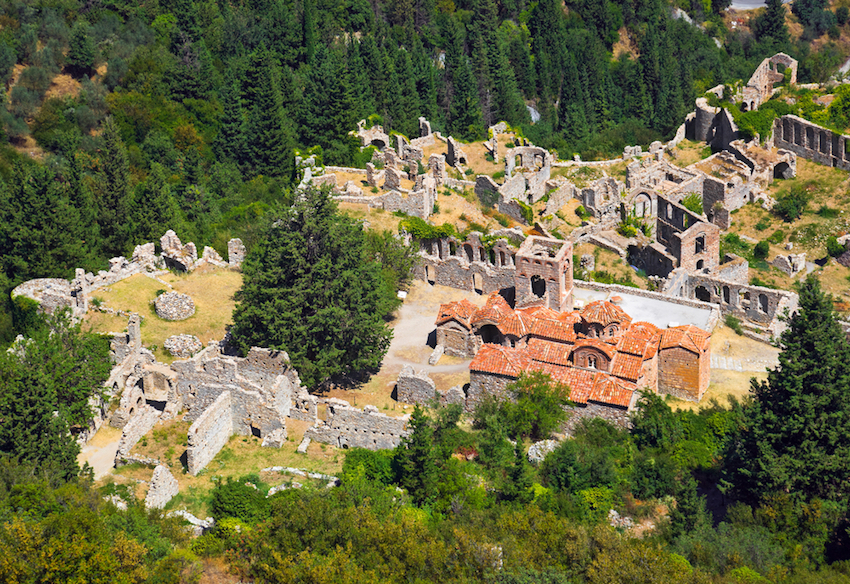 Anyway as it turns out I did break down and go into the site and take a few photos and walk around but I didn't do the feta cheese and olive thing. I did get an instant of recall and remembered my parents taking me here in 1963 when I was 8 years old. I remember climbing through the ruins and seeing all these churches and ruined houses and thinking "I'm hungry". This time I was not hungry but I was hot and for that reason I suggest choosing the time you visit Mystras (and Sparta for that matter) carefully. Try to come here anytime but July-August, but if you can only be here in July-August and it is hot, as it can be on the Laconian Plain, come early in the morning. Mystras opens at 8am. By 11 you want to be on your way to the beach or to the higher elevations of Mount Tagetos.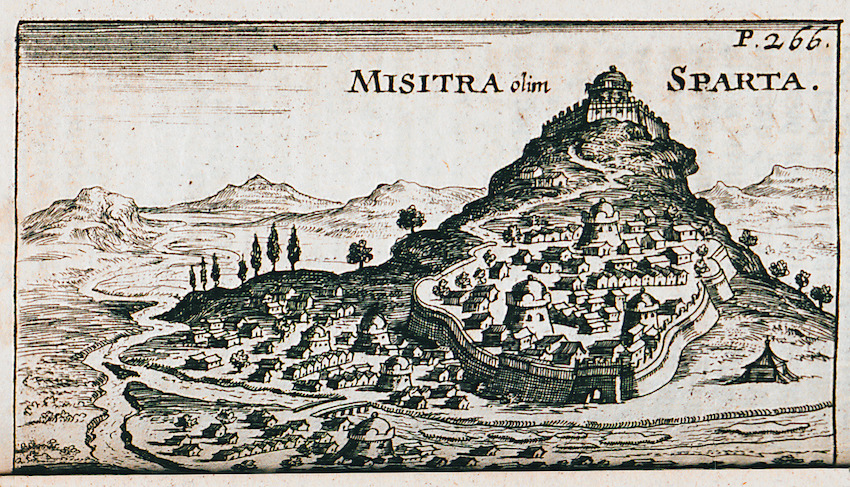 The city was founded in the 13th century during the Frankish occupation of the Peloponnesos by the Frank William de Ville-hardouin who built a fortress, his palace and surrounded them with the walls that defended the city for another 400 years. Ville-hardouin was defeated by the Byzantine Greeks in 1259 and it was during this period that the churches were build as well as the Palace of the Despots and over 2000 houses. The city had a population of over 25,000 and after the fall of Constantinople in 1453, became the center of the Byzantine empire until it fell to the Turks just seven years later. In 1687 the city was captured by the Venetians under Morosini (the guy who blew up the Parthenon) and it became a center for the silk industry. At that time there were 40,000 inhabitants. (The modern city of Sparta now has a population of under 15,000 to give you some idea of the size of Mystras.) The original name of Mystras was Myzithras which means cheese-maker and why it was called that nobody knows for sure.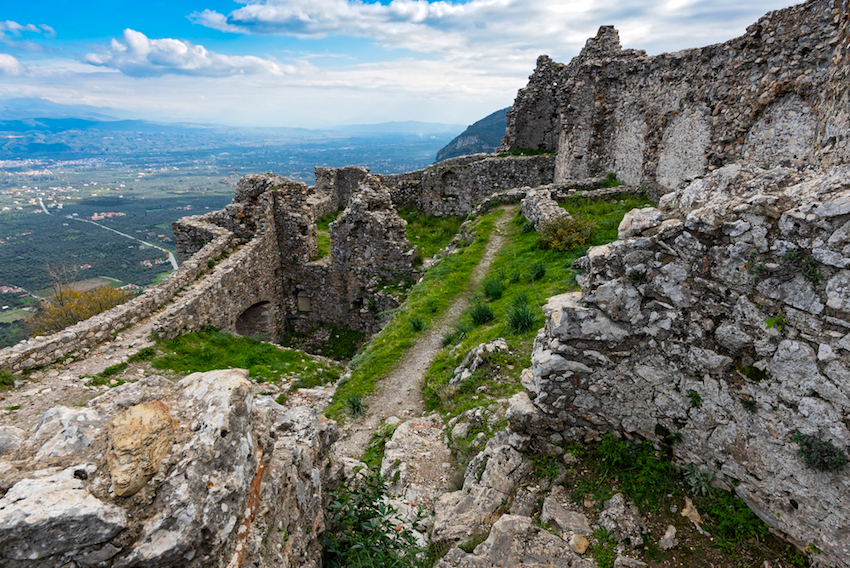 So we rushed through history, missing all the incredible frescos inside the churches of Agios Demitrios, the Odigitria, the Pantanassa, Peribleptos and Evangelistria, and jumped back into our air-conditioned rental car and got on the road to Kalamata that goes over and through Mount Tagetos. This turned out to be the most spectacular part of the journey and one of the most interesting drives in the Peloponessos. If you like mountain climbing, the Lagadas Climbing Park, twenty minutes or so above Mystras on the road to Kalamata has a number of trails. I wish I could tell you more but I could not find any more information on the web. However if you take the drive there is a map of the trails posted at rest stop along the way. Be sure to stop at the roadside taverna under the waterfalls and sample the Stefanouri Ouzo and Raki. (Sample! Don't drink too much because the road is very curvy and ouzo will make it seem more so.) Also stop at the guy who sells honey and pine-cone baskets and see his Stellios Kazantsidis Eparcho Ouzo sign and his JFK and RFK Icons. If he is still there. A fire burned up most of the forest a few years ago so where he is going to find pinecones I don't know.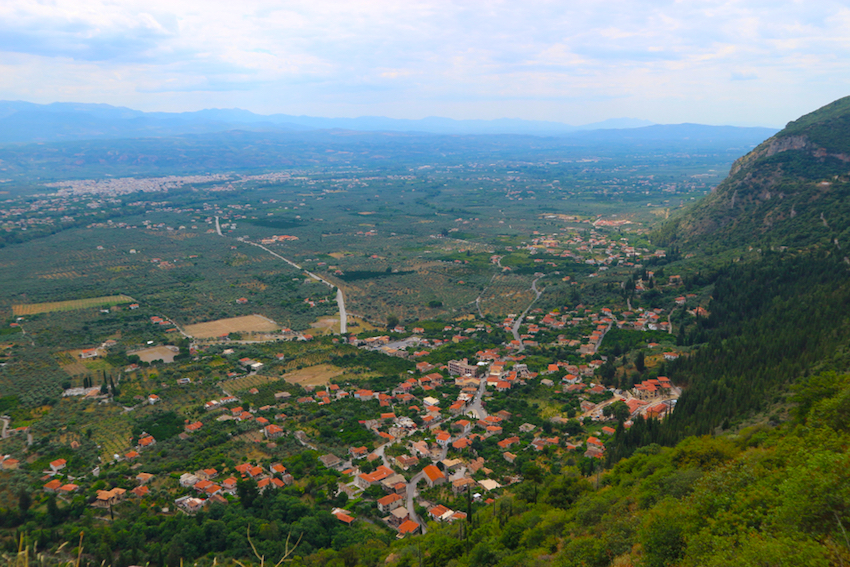 If you are visiting Mystras you will may want to stay in Sparta to get an early start. But you could also stay in Githeon and be there in an hour if you would rather be on the coast. Mystras is about a three hour drive from Athens so you could actually do it as a day-trip with George the Famous Taxi Driver, stopping in Corinth or Nemea on the way back. The archaeological ruins of the town of Geraki, on the site of the ancient city of Geranthrai, 45 kilometers east of Sparta are also worth seeing. They are being excavated by the Dutch School of Archaeology and go back as far as the Neolithic period. Besides ruins from the Bronze, Hellenistic, Early Christian and medieval periods, the summit is crowned by the 13th Century Frankish castle of Guy de Nivelet, one of the Barons of the Morea (Peloponessos).
Hotels in and Around Mystra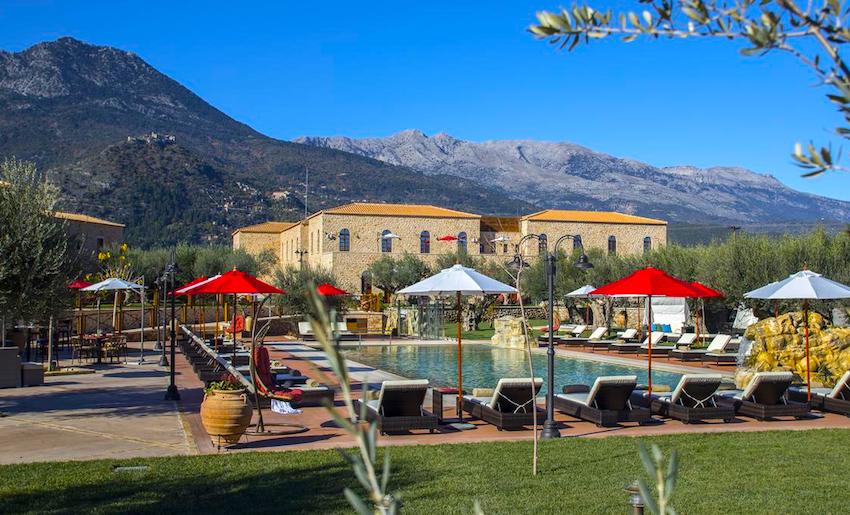 The Pyrgos of Mystra is a small luxury hotel, built in 1850 in the ragged shadow of Mount Taygetos. This imposing mansion has been transformed into a stately guesthouse. The Mystras Grand Palace Resort has free bikes and seasonal outdoor swimming pool. The 5-star hotel has air-conditioned rooms with a private bathroom and free WiFi. The hotel features a restaurant, and Mystras is an 11-minute walk away. Located at the foot of Mount Taygetus and surrounded by its private forest, the 5-star Euphoria Retreat - A Holistic Wellbeing Destination Spa has a unique architectural design drawing inspiration from Byzantine architecture. With a specific philosophy aiming to provide physical and emotional transformation, the hotel offers personal consultants for wellness and nutrition, a variety of activities such as Yoga, Pilates and Detox therapies, and has a 3.000-m2 spa center with a sphere indoor-outdoor pool . Set amid greenery, Mystras Castle Town is located in Mystras, just 30 m from the central square. It offers air-conditioned accommodations, some with mountain views from their balcony. Located at the foot of Mount Taygetos, in scenic Mystras Town, the traditionally built Mystras Inn features a stone-paved courtyard and a restaurant. It offers free Wi-Fi and air-conditioned rooms with a balcony or patio. Also in Mystra, Pikoulianika Apartments offers self-catering accommodations with stone and wood. Each studio and apartment has a balcony with spectacular views of the castle and the whole valley.
Built in 1932, Archontiko is a traditional property located in the center of Anavriti Village, at an altitude of 901 m. It offers traditionally decorated rooms with a balcony overlooking the surrounding area. I recommend the Hotel Menelaion in Sparta which is like a small version of the Grande Bretagne in Athens. It has a pool too. In Githeon I love the Aktion City Hotel which feels like faded aristocracy.
For more Hotels in and around Mystras see Booking.com's Mystras Hotel Search
More Helpful Information

If you have a week or so the best way to see the Peloponnesos is by rental car so either contact Elias at www.greektravel.com/swift if you are a confident driver or George the Famous Taxi Driver at www.greecetravel.com/taxi if you need a driver-guide-translator which makes the trip even more fun
These are the pictures I told you about. If you click on them you can see them full size.