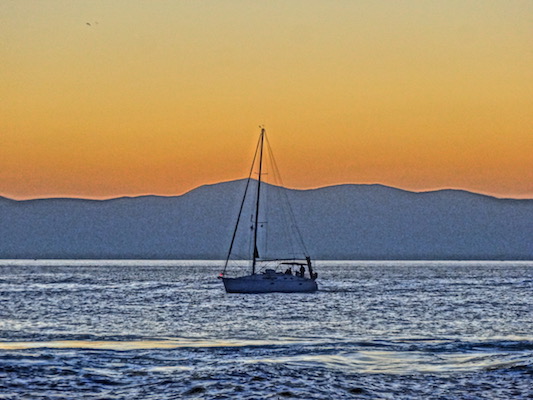 The beauty of the Greek seas and islands are famous all over the world. They are appreciated by thousands of visitors every year for the stunning coastline, picturesque villages, the remains of their ancient civilization and last not least for their hospitality and the characters of the inhabitants.
There are many ways of traveling the islands, of which we favor of course the individual travel by sailing yacht. Only in this way you have the ultimate freedom of a truly personal itinerary and can enjoy the real experience of the closeness to the nature, remote places and extraordinary people.
An often asked question is about when the best time to visit Greece, and often I feel a bit of uneasiness, when I do not actually suggest the summer period.
I actually experienced the most beautiful sailing around Christmas time and New Year, when the famous time of 'Alkyonidis', the short summer during the winter makes you forget entirely the time of the year for 2-3 weeks. But not just during this period, I generally do favor visits to the Greek islands and coasts during the Off-season.
First of all it is cooler, which makes it much more bearable to actually visit a place and to appreciate its beauty, nature or wildlife. Whatever your interest is in a location, apart probably from the bustling nightlife, you are able to experience it undisturbed of any tourist crowd and under conditions much more pleasurable then those of an oven, what many seaside ports unfortunately turn into during the merciless summer sun.
Ancient sites can be visited and actually studied without any rush to escape the sunstroke; the necessary several bottles of water in the summer may be replaced by this pleasurable bottle of wine, thus even enhancing the experience. Birds and other wildlife may be watched in peaceful surroundings and friends of hiking may follow their tracks without the constant fear of becoming trapped by a bushfire.
Since many islands, especially the Cyclades are virtually closed to tourism during the off-season and the number of inhabitants often is reduced to less then 10% of the summer population, a visit by sailing yacht comes in handy again, because you carry your accommodation and necessary supplies with you.
In most places you still find a Taverna and a 'Kafeneion' to service the local population, so that you can be assured to become very quickly a part of the true genuine and very interesting 'Island culture'. If you are looking for a taste of the disappearing 'real Greece' then this is it..
Of course you do not have that sort of 'weather guarantee' like in the summer month, but that is generally more then compensated for by the absence of the strong summer wind 'Meltemi'. You have to keep a sharp eye on the weather, and have to be prepared to be occasionally stuck for a day in port or being caught in a bit of rain, but the general rule says that the few occasions of a couple of stormy days are followed by at least 3 beautiful ones.
An experienced skipper with local knowledge will ensure that you follow a suitable itinerary for the cruise, but still this type of traveling is probably one of the few remaining 'soft adventures' in Europe, and probably 'The-way-to-get-away-from-it-all'.
Considering that quite some of the beautiful mainland ports have alpine mountains near them, there is the opportunity like in just a very few places in the world, to interrupt a sailing cruise with a day of true winter sports! Normally winter and snow is not associated with Greece, but there are several locations waiting to surprise you and to give you an entirely different picture of this magnificent country. Rafting down wild rivers, Dog slide races and Alpine ski are all possibilities not yet commercially recognized but locally appreciated.
Together with Fantasy Travel we can set up a truly unique program combining winter activity with sailing delights.
Especially the Saronic islands maintain a certain liveliness that makes them very interesting for winter visits during the holiday period. This certain merriness and peace of mind lies in the very nature of these islands and invites you to relax from any troubles or stress that are after you in the real world. Not to mention a refuge from all the obligations usually connected with the Christmas and New Year celebrations back at home.
Stefan Ritscher is a popular skipper in Greece who does charters of the Greek islands and coast year round. . You can read more about him at Sailing with Stefan Ritscher