Thinking of charter a yacht, but confused by all the options? Let's see if I can help you with the basic planning so that your trip will turn out to be everything that you expected!
Bareboat, skippered or in-between?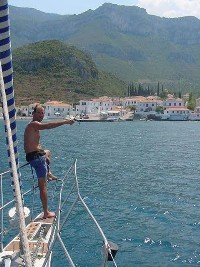 The first thing you need to determine is if you will need a skipper or if you or someone in your group is competent and qualified to sail the yacht. Competent means you have the knowledge and experience to sail the yacht. To be qualified means that you have presented the Port Authorities of Greece a sailing certificate and/or signed affadavit stating that you are qualified to sail a yacht.
If you are qualified then you can choose a bareboat yacht (although a lot of experienced sailors choose to have a skipper- it will relieve you of responsibility for the yacht AND give you a 24-hour guide for you trip- believe me, a skipper is worth his weight in gold and will show you places on land and sea that you would very rarely chance upon yourself.- and they make great translators also! BJ (in the photo) is one of my favorite skippers.
If you are qualified to sail but a little leery about sailing in foreign waters then maybe a flotilla is for you. In a flotilla you would be the skipper of your own boat, but you would be one of a group of boats following the "lead boat". The lead boat has the flotilla leader aboard who will guide you through the cruise and make you aware of what to expect for each days sail. It's a great way to have the freedom of skippering your own boat, but not being completely on your own.
Seascape offers a Don't lift a Finger All Inclusive charter which covers almost all onboard expenses.
The final option is the skippered by owner yachts. These are usually larger yachts- 4+ cabins. These have an advantage in that the owner is on board and you are sailing on his pride and joy and they sometimes come with a skipper and crew.
As for the size of the yacht, most cabins sleep 2(double bed or two twins). You'll want to get a yacht that has at least one berth(bed) for each person and then determine whether there will be two people or one person in a cabin(room). Once you've figured how many people will be in each cabin, you can choose the yacht by the number of cabins(add one for the skipper as he will need his privacy also).
The other consideration is the number of heads(bathrooms). All yachts have at least 1 head, but you'll have to determine whether you want more than the minimum.(And keep in mind, you probably don't want to spend your sailing trip waiting to get into the one occupied head!)
Cabin Cruise?
A cabin cruise is when you charter a cabin on a larger yacht, not a cruise ship, but a yacht that has 8 to 50 passengers in 4-20 cabins.
Two of the smaller options are The Poseidon Archaeological Cruise and the Seascape Singles and Couples cruises are on 45-55 foot sailboats and take 8-12 passengers. These are smaller more intimate cruises on a sailboat.
If you would like to charter a cabin on a larger yacht you'll want to look at the Cabin Charters. These are approximately 50 passenger motor yachts and motor sailing yachts(they depend on their engines but have some sails to help them move). As these yachts are larger they will be more stable on the water(although you will have to expect some swaying no matter how large the yacht is). The cabin charter cruises have some great itineraries that allow you to see a lot of Greece in a very short time.
Hope this helps... if not e-mail me:
David Econopouly/GM Charters
You can get more information, rates and advice as well as book your cruise at GM Sailboat and Yacht Charters