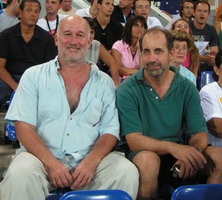 In 2003 when the American Yacht Charter Company GPSC went bankrupt, leaving behind a number of unhappy clients standing on the quay I realized that there must be a better way to charter a yacht. So I spoke to my brother David who is not only a sailor but a hard worker and smart enough to recognize a good idea when he hears one. Why not start our own company and try to match people up with the individual skipper-owners or the companies that most suit the needs of the client? I know that when I went sailing or when I talk to skippers in the harbor at Vourkari on the island of Kea where I spend my summers they often grumble about what they are paid by the big companies. So why not work directly with them and at the same time find smaller companies that are run like happy families rather than disfunctional ones. If we have what they want (customers) why not get them to give our clients what they want? (An unforgettable cruise at a low price.)
When you work with David at Globe Merchant you will have a valuable contact in the USA (Chapel Hill NC) who can help you plan your charter and will be accessible to answer any questions you may have. Like me, David has lived in Greece for many years, travels back and forth on a regular basis and has first hand experience and suggestions that will help you make the most of your sailing trip to Greece. His expertise is not only in the charter business, he is a sailor who has built his own 34-foot cutter which he sailed extensively, including about 4000 miles down the Eastern US and through The Abacos in The Bahamas where he lived for 7 years. He can also advise you on a land itinerary, places to visit and the most efficient way of planning your trip. It is like having a coach who helps you plan your sailboat trip.

There are several options that they offer: Crewed/Bareboat Yacht Charters which are on skipper-owned yachts. Next there are the Cabin Cruises which have a great 1or 2 week itinerary that takes you to a series of islands on large yachts which are like cruise ships (but small). And finally one of the more interesting options- Charter by Owner where you will have the opportunity to sail with the Skipper/Owner of the Yacht who knows the cruising grounds as well as his yacht like Stefen Richter on the Caraya II. There are also spots in flotillas available where you join a group of sailboats and cruise the islands.
Through David's connections in the airline industry he can offer you competitive fares on most major airlines from the US to Greece plus he work directly with George Gerassimidis, owner of Fantasy Travel Of Greece. Together they can help you with the reservations for your flights, car rental, hotels, cruises, tours and other plans you need to make while you are in Greece to make your Greek holiday a success!
So this is why I recommend David. Oh yeah. Plus he is my brother.
(Yes I know we look like bums in the photo but that is David and I watching Australia play Cuba in the baseball finals at the Athens 2004 Olympics and it was the only photo I could find of him)
You can get more information, rates and advice as well as book your cruise at GM Sailboat and Yacht Charters or if you have a good idea of what you want by filling out this form