A journey through the Greek Islands on a charter sailboat by Matt Barrett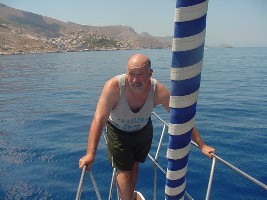 In June of 2001 my friend Dave and his family came to visit me on the island of Kea on a chartered yacht. He has been away from Greece for more than 20 years and was using the trip to get to know the country again while fulfilling the last wishes of his mother, to have her ashes scattered in various places in the Greek islands. When I went down to meet the boat he told me that I knew the skipper Billy Joe, and indeed I remembered him from a visit to the island of Hydra some twenty years earlier when we had hung out, played guitar and talked of our lives, loves and losses. I had lost contact with BJ but not before I had given him a couple cassettes and records of my music. When we met again on the boat in Kea he told me he had been listening to my songs for the last twenty years. I was quite flattered.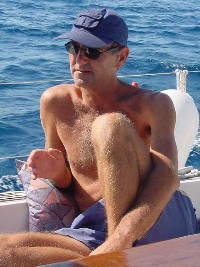 BJ is one of the most well known skippers in the Mediterranean. After graduating from Kingsland Public School (England), he went on to the Plymouth College of Art and Design. Dealing with a lot of sailors and yachts, he developed a tremendous urge to learn more about sailing and navigation, completed a 3 year course and received the Yacht Master diploma in Southampton. BJ moved to Greece 20 years ago where he took a job as an Interior Designer for private sailing yachts. Having 5 years experience in the branch, he then decided to move on to what really interested him. He took off for a couple of years, delivering yachts from one continent to the other and working on many different private world renown sailing yachts such as S/Y Zolana owned by the famous S. Niarchos of Greece, S/Y Yanbu owned by Emir Fahdi of Oman and many more. In 1998 he began working as a professional skipper and has over a hundred thousand miles experience, fifty thousand miles of which he sailed in Greek waters.

We spent the two days they were in Kea swimming, exploring and of course doing what most boaters enjoy doing the most when they come into port, eating and drinking. In Kea there were several fish tavernas in the yacht harbor known as Voukari and all the yachters were crammed into two of them. But BJ informed us that these were not the best, just the most popular and we found ourselves in a small Ouzerie called Thalia that was empty but had the best mezedes I have ever had in an ouzerie, and we hung out until late, talking about sailing and the Greek Islands.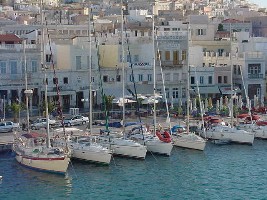 My wife Andrea, daughter Amarandi, and I had planned to go with David and his family with BJ and sail on to Kythnos and Kea, but because a relative was coming to the island to see us that day we could not leave. We met up with Dave again in Syros. We were in the main town of Hermoupolis while they had left BJ on the sailboat on the other side of the island. The Meltemi winds had picked up and BJ had to stay with the boat to keep an eye on the lines and also to help sailors with less experience guide their boats into the harbor. David raved about BJ and his ability not only as a skipper but as a teacher. "I bet I could skipper a boat right now after my week with him", he told me. But the best thing about sailing with BJ was not his knowledge of the sea but of the land. They went to the best restaurants and met very interesting people with BJ acting as host and translator. They found hidden springs that BJ knew about on the islands and beautiful coves that were sheltered and clean. "You need to sail with BJ", Dave told me.

Matt's Greek Island Sailing Trip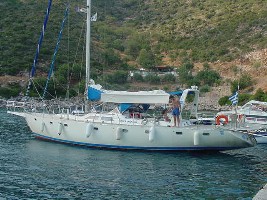 A month later I got my opportunity. We chartered a 70 foot sailboat called the Grigoris with not one but two captains for the price of one: BJ who we had requested and Antonis Kondaxis who was the usual skipper for that particular boat. To be honest I was a reluctant sailor. My brother has a 44 foot sailboat and I sailed with him in the Long Island Sound and actually made it as far as Staten Island one summer on a trip from LI to the Bahamas.(I made them let me off when I realized I would never survive the trip). I thought of sailing as alternating periods of boredom and sea-sickness. But it was hot in Athens and Amarandi wanted to go and so did Andrea so I swallowed my anxiety and agreed to take the trip. It turned out to be the best thing I have ever done in Greece so much in fact that I want to buy a sailboat with BJ and charter it out myself as soon as I become a millionaire.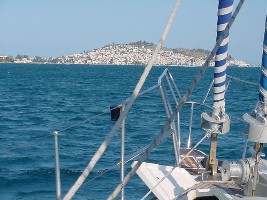 We brought my friend Ana Kamais from Villas of Greece and my friend Stephen Papadopoulos, an up and coming Greek-American poet and we sailed off for the islands of the Saronic Gulf. Sailing has to be the best way to unwind. I drink enough coffee to be pretty high-strung and I truthfully did not think I would be able to relax. But I did. It was like meditation. And having friends aboard is a wonderful experience because you become like a family. Even Captain Adonis who only BJ knew, was like our big Uncle Zorba who would take us to tavernas and dance with the guitarist, eating, drinking and toasting us all for one reason or another. We visited Aegina, Poros and Hydra and then sailed down to the Peloponessos, each day better than the last and before we knew it the trip was over. We had only five days but I wish I could have gone for 10 or more, sailed the Cyclades and maybe as far as the Turkish coast and the Dodekanese islands. Some people sail through the Corinth Canal and do the Ionian islands.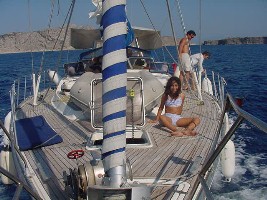 Why was the trip great? I don't know where to start. First of all the companionship was something new to me. Skippers are always in this situation, with new passengers, so they know how to relate and to communicate. The discussions we had while sailing or even sitting in the harbor drinking wine or coffee contained subjects that I had not thought about in years. The conversations were like you imagine a very interesting and communicative family having at the dinner table at thanksgiving. BJ was like a camp councilor or a den mother. He knew enough about a variety of subjects so that there was always an interesting conversation going. And he knew a lot about Greece. Twenty years in the country will do that to you. (Yes he knew more than me). Adonis was great because you would get the feeling that he was this big strong silent type of skipper and suddenly out would come this lesson of ancient Greek history or archaeology. (Did you know money was invented on the island of Aegina?)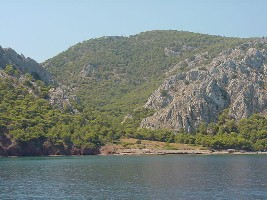 Another thing is that I had enough time to reflect. I think I get caught up in my holidays going at the same pace that I go at during my work days only doing different stuff. You know like on a cruise on one of those floating mall ships where they have one activity after another and you come home more tired than when you left. But sailing puts you in a time warp and in a way you get to know yourself again. I felt like I was falling in love with my wife again. Not that I was falling in love but I was slowing down enough to be aware of that love. It was an unexpected extra. Of course one of the best reasons to take a boat around the islands is that you can go to places where you can't get to by car or on foot. Places that are completely unspoiled and the sea is crystal clear and when you put on your mask and snorkel and flippers you feel like you are in the Caribbean.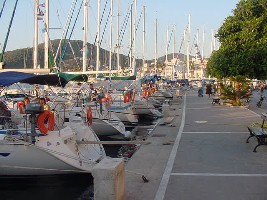 When you get to a port you line up with your neighbors who all seem to arrive at the same time in the late afternoon, and it is like this club. There is a comrardarie among sailors, even first timer's. I guess we all want to belong to something and it is fun exchanging stories with the people in the next boat about the experiences of the day, especially if the next boat is full of beautiful Scandinavian women. When we pulled into the harbor in Poros my first reaction was that being on a sailboat was like living in an apartment in the city with your neighbors so close you can hear them flush the toilet. But what I thought would be an irritant turned out to be something quite fun and I found that I felt a certain pride in being one of the boat people rather than one of the hotel people or camping on the beach people. What was even better was seeing the same boats on other islands. After awhile you become friends in a way. I know it was great for the skippers because they would see all their other shipper friends and go to play backgammon in the cafes like a wandering tournament.

Skipper versus Bare-boating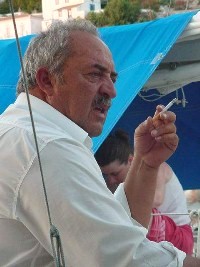 Some people go bare-boating. That means they know enough about sailing that they can take a boat out on their own and not worry about sinking it or crashing into a rock or another bareboater. Lots of people who are skippers of their own boats at home will do this and some people who are not very good skippers at home do it too (the boats are insured). But my feeling is that even if you are a damn good skipper, unless you are so used to being captain of your own ship that the thought of being on the same boat with another captain makes you uncomfortable, then I would get a skipper. The reason, besides the obvious one that they are familiar with the islands, coves, winds, currents etc. is because they also know the best restaurants, the best dishes at the best restaurants, the best wine, the best cafe for espresso, the best places to hang out at night and they speak Greek so they are not just your skipper on the boat but when you go out to eat they are your translator and host (like a George the Famous Taxi Driver of the Sea). If you are stung by a bee and you need to buy medicine, if you need to make an emergency call home because you left the water running, if you are looking for a local craft to buy as a gift, they can help you do that, and they can also tell you as much about an island as you will find in the guidebooks and even some stuff that you won't find in any guidebooks. And in the case of BJ not only was he the world's best baby-sitter but I think he is one of the most brilliant improvisational singer-guitarists I have ever heard. (the last night on the boat we hung out on the deck and jammed while people in the boats nearby listened.)

Fellow Travelers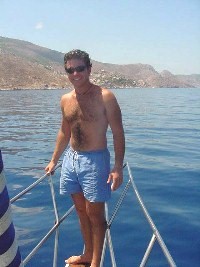 Stephen, my poet friend had come along with a motive. He wanted to learn all he could about sailing. BJ and Captain Adonis were willing to oblige and they had him tying and un-tying ropes from the moment we left the dock in Kalamaki. After the first day he had decided this was the life he was looking for and continued to ask questions and play the role of deckhand, while I sat around like a lazy rich guy. When we sailed into a small cove the Captain would hand Stephen the rope and tell him to dive in and swim to shore and tie it to that rock and Stephen would happily do it. On the way home we were short of water so we sailed into a small bay where there was a beach and a canteen and Stephen swam to shore with a flotation device and came back with several jugs of water. At night, Stephen and BJ stayed out later than the rest of us, talking about sailing and meeting beautiful girls who probably wished they had brought their mothers with them to occupy BJ while they flirted with Stephen. At the end of the trip Stephen was standing on the front of the boat as we got closer and closer to Athens and the responsibilities which awaited him at home. I could see his sadness even though his back was turned to me. But his hard work and eager attitude paid off and Stephen got his wish when BJ told him that if he was interested he would love to have him for a crew. When Alex, the sailboat company manager, met him and found out that he had Greek citizenship, he became interested too. Who wouldn't want to hire someone who writes poetry, looks like a Greek God, speaks English, Greek and French fluently, loves to sail, and can work legally in Greece? (So if you book request BJ and Stephen).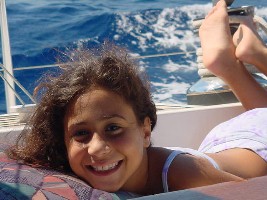 My 8 year old daughter Amarandi loved the trip and was crying when we almost ended it in my grandmother's village in the Peloponessos. It was the last day and I thought we could just spend a few days in the village and let the others sail back. Even for me it felt like betrayal to me even though it made sense since we would just be sitting around Athens for a few extra days before our return flight. But to abandon my comrades didn't seem right and I was having a terrible time with the decision. Captain Adonis came to the rescue. "Your daughter wants to stay on the boat. That is the decision. Let's go!" And we pulled up the anchor and sailed away and I felt a tremendous sense of relief. (Skippers are like fathers sometimes and they can handle the tough decisions.)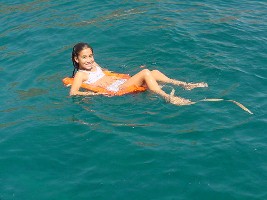 I was a little nervous about my daughter being on the boat. I was afraid that I could not relax in fear that she might fall off and nobody would notice. But as time went on I realized it would be impossible for her to fall off and not be noticed. First of all because her energy and enthusiasm level was so high that she was constantly with someone, either BJ asking him about the sea or with Captain Adonis, learning how to tie knots, or with anyone else. But the reason she could not fall off and nobody notice her was because when we were sailing, being on deck was the most comfortable place on earth. Maybe it was 100 degrees in Athens but on the sea there was a breeze, and with the canopy providing shade, there was nowhere more pleasant to be and if by some chance she fell into the sea (almost impossible) there would be someone there to see. Plus after a few stops I realized she was a much better swimmer than me.

It was with Amarandi that BJ was at his best. He was the perfect uncle, teacher, coach and baby-sitter. I suppose when you skipper boats for twenty or thirty years you get a lot of families and you learn to relate to kids. But BJ was so good I was thinking of rewriting my will so that if anything should happen to me, BJ would become Amarandi's guardian. He had already raised one daughter and Amarandi would get to live on the sea and not have to spend the rest of her life in land-locked Carrboro, North Carolina. But I thought this might be unwise because if Amarandi knew she might make plans to somehow get rid of us because she really loved being on that boat. At one point Amarandi was practicing the knots BJ had taught her and left the rope tied to the railing. As we were leaving the port and BJ was pulling up the anchor and Stephen was releasing the ropes, Captain Adonis started yelling "stop!! stop!!!" and threw the boat in reverse. Amarandi's knot was still tied and was about to pull the entire railing off the boat.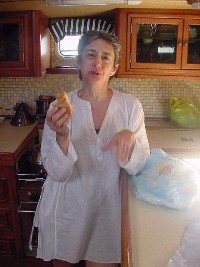 Ana was secretly terrified. She was sure that she would be throwing up from the moment we left the harbor but she also realized that to not go on a free yacht trip through the Greek Islands would be pretty dumb. Before we left she grilled the charter company staff on Dramamine, the patch and any other methods of avoiding seasickness or getting rid of it once you had it. Ana was great because she was voicing all my fears and I felt stronger knowing there was one person on the boat more nervous than I was. Ana has a day-job in Athens so she could only go out for the first day (we left on a Sunday) and then take the Flying Dolphin back from Poros on Monday morning and just be an hour or two late for work. Well, Ana never got seasick and she never got off the boat until we all did five days later at the end of the trip. She kept calling in and telling her boss that she would try to get back tomorrow. But she did get stung by a bee and went from the marina to the hospital for antihistamine because she was allergic and then the next day she broke her toe at home and went to the hospital again. So for all her fears about getting seasick she ended up with two land-based injuries.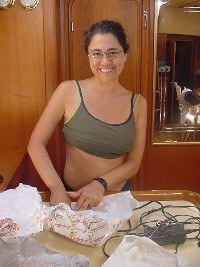 Andrea had sailed before. Not only had she sailed before but she had even mutinied. She was on a large yacht in the Caribbean where she was the cook. The boat was owned by an abusive rich man and his alcoholic wife and after a month of torture the entire crew left the boat in some port and all flew home. She had also sailed to Turkey on a caique, a Greek fishing boat that had been converted into a yacht (sort of) and putt-putted it's way across the Aegean to Turkey every year so the owner would not have to pay taxes, until he was so tired of the trip he decided to just pay up. She was also a guest on a 100 foot yacht sailing the islands with her previous boyfriend and the couple who owned the boat who stayed drunk the entire time and then charged all their 'guests' $500 to tip the captain. (We tipped Adonis about $300 and he kissed Andrea when she handed him the money). Andrea loved the boat and she loved the cabin too. It was kind of cozy. It was also her job to make sure the coffee was strong enough, a job she is well suited for since without strong coffee she can't function.
The Boat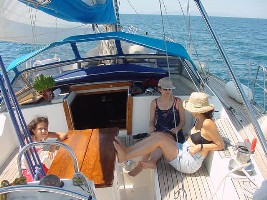 Maybe I should talk about the boat too. As I mentioned it was a seventy footer but some of these feet were extensions. I think it was closer to a 40 or 50 footer which is good because it had a lot of room and if you can squeeze so many cabins and a nice sitting area and kitchen into a 40 foot boat then if you get totally hooked on sailing you can always buy one for a hundred grand. Anyway if you are doing the Greek islands then you won't need more than a forty or fifty foot boat, depending upon how many people you are. Ours had berths for 10 plus the captain's cabin. Our cabin was big enough for a double bed and lots of closet and shelf space. My wife and I shared ours. Everyone else had their own, even Amarandi. All the cabins had their own toilet. I was a little intimidated at first and vowed I would coordinate all my trips to the bathroom so they would be on land but quickly came to the conclusion that this was unrealistic. There was nothing bad about the toilets, it is just that they were different. You could not just flush it and be done with it. You had to flick a switch to the left and pump this plunger a dozen times and then flick it to the right and plunge it another dozen times. The first flick brings the water in and the second sends it out. But I was terrified that if I did it in reverse something horrible would happen and I was too embarrassed to ask BJ to show me the toilet lesson again. But Andrea showed me and before long I was flushing with confidence.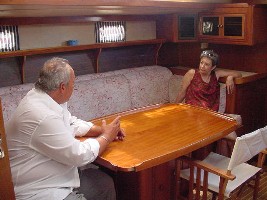 I think I could live in a boat that size for about a year with the right books and the right itinerary or even sitting in some nice port like Nafplio or Hydra or Mytilini. It had a big sitting area like a dining room living room kitchen, but we did not spend much time there. Mostly we were on deck in the cockpit which had a table and was our main hang-out area. One night I slept on the deck but even on the hottest nights the cabins were cool and had a breeze. I suppose they are designed that way. The boat had air-conditioning but we didn't find it necessary to turn it on once, which is strange for Andrea and I because we are convinced that we can't survive without it. In fact that was why they gave us this particular boat. The kitchen (they call it a galley) is like the kitchen in a New York City East Village apartment with a stove, oven fridge, sinks, counters, cabinets, plates, utensils and whatever you need. Of course we went out every night to tavernas so we did not use it for much more than making coffee in the morning or sandwiches during the day but there is no reason why you could not stock up and eat the same meals you have at home. (Or you can hire a cook for the trip at about $100 a day.)
The Islands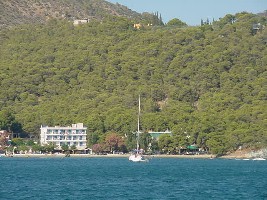 Because we only had 5 days (four really because we left late on Sunday) we chose to visit the Argo-Saronic islands of Aegina, Poros and Hydra. We were going to go to Spetses but instead sailed to the Peloponessos. I think if I had more time I would do the Cyclades, but these islands were nice and even though I had been to them a dozen times before it was a little different doing it by boat. It was a whole new perspective. Sailing through the straits of Poros is always fun because it is as if you are sailing down a river with the island on your left and the Peloponessos on your right. The island is green and full of pine trees and there is a very nice breeze that runs through the channel. As soon as we docked we all jumped off the boat and ran to get espressos in the nearest cafes. Captain Adonis took us to his favorite restaurant called The Platanos where we stuffed ourselves with grilled meat and drank kilos of wine and not only made it back to the boat but woke up the next morning ready to go (after a few more espressos at the nearest cafe.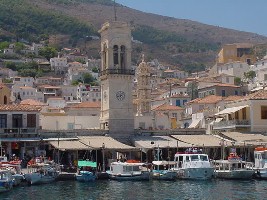 We got to Hydra very early because we knew there would be lots of boats there and we wanted to get a good spot, meaning we didn't want to have to walk across two other boats to get to shore. Instead two other boats had to walk over us but that was OK because we made friends. In Hydra you swim off the rocks just outside the port so we raced over there as soon as we docked and then came back to the boat for sandwiches. As a special treat to Amarandi we went to the Brasera hotel and swam in their pool and drank Freddos (iced lattes) in the shade. That night we went to a taverna on a square in the back streets where Captain Adonis knew everyone and even got up with the singer and performed a Spanish song each wearing a giant sombrero. Ana was horrified but all the tourists at the other tables loved it and I could see that this routine might be popular with clients. Hydra is a very popular island, a sort of Mykonos of the Saronic so we were not really looking for authentic-traditional Greek. A 300 pound sea-captain dancing around in a black sombrero was fine with us.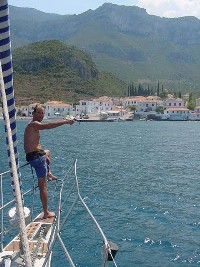 The Peloponessos was really something special and in retrospect I would have loved to begin my trip there in Leonideon and work my way down to Monemvasia and all the way around and back through the Corinth canal, or maybe to the island of Kythera and on to Western Crete. The water was so exceptionally clear and clean and the landscape was simply beautiful. There were beaches half a kilometer long that were totally empty and in the small village restaurants the food was inexpensive, simple and delicious. You have to be careful when you sail, not just in the Peloponessos but anywhere, because you might dock up on the outskirts of town only to discover that the little hut on the hill next to you is a disco that plays music until Am. We were fortunate. BJ convinced the owners to turn off the music since there were no customers and they were keeping some of us awake. (Not me. I didn't even notice it after the first couple beats). But generally unless you pick some way off the beaten track village, the skippers will know where the discos are and if you want to anchor in a quiet bay for the night you can be sure that it will be quiet. A trip down and around the Peloponessos would be just as enjoyable as going through the Greek islands. There are areas that are completely unspoiled and the difference in landscape can be dramatic.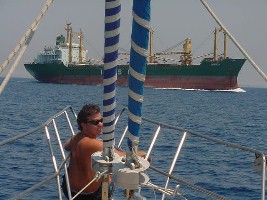 The last night we spent in the town of Perdika on the island of Aegina, the closest island to Athens because the boat had to be back that afternoon for another charter. I didn't really want to go there because I figured it would be an unattractive close-to-Athens fishing port and I was right, at least compared to Poros and Hydra. But there were some great restaurants and a cool breeze and a row of cafes and even a nice place to swim off the rocks. We had been sailing all day from the Peloponessos so we jumped off the boat and ran for ouzo and octopus and talked about our trip like we were a family that had not seen each other for months. It was really a great experience and Perdika, despite being so close to Athens, had all the charm of a small village on a distant island. The last day we stopped for a swim and then sailed through the shipping lanes between Aegina and the mainland which was pretty exciting to me. Did you know that a sailboat has right-of-way over one of these things?

The Cost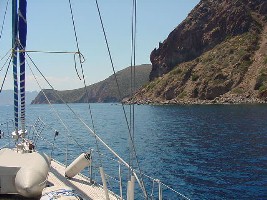 I think there is a misperception that renting a sailboat is expensive. It isn't. We figured it out that this boat cost about $680 per day. The captain cost $140 per day. So if you have 8 people on a trip it will cost about $100 per day per person. That's like staying in a hotel on Santorini or Mykonos. Plus the Grigoris is one of the expensive boats. You could get a boat that is just as comfortable inside but a few feet shorter for between three and four hundred dollars and then a sailboat trip costs about the same as staying in a lousy hotel in Salamina. Another factor is upgrades. You can book a 45 footer for a week. But if during that week they have a 55 footer that has not been booked they will often upgrade you. If the boat is available you can have it. It makes sense really because it does not cost any more for them to send you out in a 40 footer then it does to send you in a 50 footer. But don't rent a twenty footer with the intention of getting upgraded because you may end up on a twenty footer.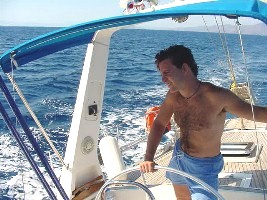 Considering the experience you have while sailing and then comparing it to the experience you have staying at a hotel, you would expect it to cost a lot more. No satellite TV but the comfort level is comparable and anyone who spends his Greek holiday sitting by the pool and eating hotel cuisine would be just as happy in Nassau or Cancun as he would in the Greek islands. But sailing versus staying in a hotel is like the difference between sitting in the Lagos, Nigeria Hilton or going on Safari. Some people prefer comfort and some like adventure. But the difference is that with these sailboats you get some comfort with your adventure or some adventure with your comfort. And if you are sitting in your hotel room what are the chances that you are going to see a dolphin unless you are watching Flipper?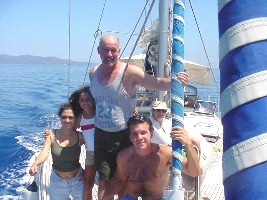 What else can I say? I vowed when we sailed back into Kalamaki harbor that in September I am going to go with Andrea, Captain BJ, first mate Stephen Papadopoulos and a couple friends and do a longer trip, at least ten days and maybe sail to the Dodecanese and Turkey or the Ionian Islands. That is my plan. Baseball has a way of coming between me and my Sept/Oct trips to Greece but with the NY Mets so far out, this could be my year instead of theirs.

So if you really want to see the Greek islands and have an unforgettable trip, rent a boat. If you have a small group of friends and relatives you will get to know each other a little better and have something to talk about forever. If you are traveling alone or are a couple then a charter company can put you with a group looking for others to share the journey. Sure the idea is a little scary but so was your first day of kindergarten and look how much fun you had in school in the years that followed. Sailing is the same thing.

If this article has perked your interest then I encourage you to contact David Econopouly who has a company based in the USA called GM Yacht Charters that works with several sailboat companies and individual skipper-owners in Greece to find the customer the best and most suitable boats at the best price. Whether you want to charter a large sailboat with some friends with a skipper or on your own, or join a group of boats called a flotilla, he does the research and gives you the choices. A great service and very helpful whether you know little about sailing or are an experienced skipper bringing a group and looking for the right boat. He also does power yachts and sail cruises. You can read about him and other boats and skippers on Matt's Sailing in Greece Page. For more on BJ see Featured Skippers. Also see Greece by Sail one week charters and cruises.