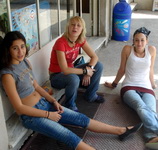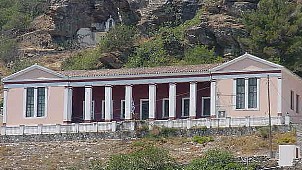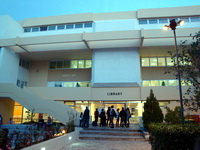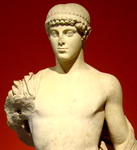 What could be better than going to a European country like Greece and earning university or college credit? Or learning painting on an island from an instructor adventurous and spirited enough to actually teach painting on a Greek island? Or what about learning Greek while living in Greece? Or learning to sail in the waters of the Aegean? Or learning about the Greek Gods and Goddesses, Plato, Socrates, Aristotle and Euripides in the land where it all happened? Nobody needs an excuse to go to Europe, but if you want a reason, more than just the sheer enjoyment of it, have a look at some of these study abroad programs and schools for all ages. Not listed? Schools and educational programs can get a free link just for linking back to my website or by making a donation through Paypal. Interested? E-mail Me.
Lexis Center of Greek Language and Culture: Learn Greek on Crete. The Centre offers programs to adult foreigners of every nationality who want to learn modern Greek language, to improve it or to perfect their knowledge of the language and at the same time discover modern Greece from lively teaching methods and also from various activities offered out of the classroom.
COLLEGE YEAR IN ATHENS: College Year in Athens (CYA) is a study abroad program focused upon the history and civilization of Greece and the East Mediterranean region. Its mission is to offer each student an academically rigorous program of studies combined with the vibrant experience of day-to-day contact with the people, monuments, and landscape of Greece – a rapidly changing country with a uniquely varied past.
The Athens Centre: From a beautiful neoclassic house in Metz in the shadow of the old marble Olympic Stadium the Athens Centre offers modern Greek classes at all levels, university programs in the classics, formal and informal cultural events. The Centre also organizes summer public theatre presentations of classical Greek drama in afiliation with different theatre departments.
Greek with Heart is a community & project-based language courses on tiny Schinousssa, Lesser Cyclades run by language teacher Eleni Konidari. Greek with Heart facilitates non-native speakers to learn and practice Greek meaningfully through stories, arts and experiential community-based learning.
Sigri Arts: Painting and Writing Workshops: Summer programs that cater to every skill level, from absolute beginner to semi professional. The only requirement is a passion to create and an openness to push beyond your limits. For more information see their website
Ancient History and Philosophy Workshops in Athens: Combine your visit to famous archaeological sites of Athens with authentic, highly interactive, thematic workshops and events, a once-in-a-lifetime experience for your body, mind and soul
The Alexandria Institute organizes Greek language and culture courses in Andros, Paros, Chios, Methoni, Lesvos and Athens as well as on-line lessons via Skype. The Institute's work involves promoting Greek cultural heritage and conservation, as well as participating in digitisation and documentation projects. As a group of young researchers, we share a passion for humanities and thus our aim is to pour all our energy into researching, studying and promoting the Greek language and culture, and philological, historical and archaeological research.
PeekatGreek.gr We are a group of teachers specialized in teaching Greek as a second/foreign language for foreigners who want to learn Greek and Greeks living abroad who wish to strengthen their Greek language and to individuals or groups who wish to spend a creative holiday learning Greek at various locations in Greece. We organize one or two week lessons in Thessaloniki and in various other regions of Greece. We cooperate with guest houses that support agricultural tourism and eco-tourism and we combine our Greek language lessons with activities that promote Greek culture and history (e.g. sightseeing, outdoor activities, etc.).
HYDRAMA THEATRE & ARTS CENTRE on the island of Hydra in Greece offers a unique opportunity to train, rehearse and perform in a Greek amphitheatre and to learn about the ritualistic origins of theatre in its birthplace. Hydrama promotes the study and practice of ancient Greek theatre through accredited theatre training and performances. Suitable for actors, drama and classics students,teacher and anyone with a passion for Greece and drama.
OMILO Language and Culture in Greece: Greek courses in Athens, Nafplion, Andros and Syros. A highly trained staff combines its teaching skills with your own experience to obtain the required results – either ordering a coffee or having a conversation with a neighbor, a friend or a colleague at work. With OMILO, you will learn to communicate in Greek and at the same time you will acquire a better knowledge of contemporary Greek life. Group courses and private lessons at all levels. Email lessons also available.
The Kalikalos Living Learning Centre in Pelion, Greece is dedicated to demonstrating the power of authentic community as a vehicle for building a new holistic world of peace, partnership and sustainability. We offer an educational programme of workshops, retreats, workcamps, conferences and living-in-community guest weeks in the summer months that include healing (self, society & planet), creative arts, communication science, and Self-enquiry.
Pottery Classes in Delphi: Combine your holidays with a creative and artistic activity. Make a vase with your own hands and learn about the laws, forms and aesthetic principles governing an art form that is thousands of years old and has helped shape modern aesthetics and western culture. The Polytropon workshop organizes a limited number of courses in ancient Greek ceramics annually. Lessons take place at the workshop and are open to anyone interested in learning about Greek ceramics, from beginners to advanced ceramists. At our workshop we firmly believe that knowledge which remains theoretical is at best only superficial. For this reason, our lessons combine theory with practice. At Polytropon, students come into direct contact with clay, learn how to prepare raw materials, how to work a pottery wheel and fashion their own objects. Students also learn how to illustrate their ceramics and finally experience the firing of a kiln. This hands-on experience allows participants to better understand and assess both the technique and the art form. Visit our Ceramic Classes Page for more information and if you are just visiting Delphi for a day or so please visit our workshop.
Hellenic American Union:The Modern Greek Language Program has been offering courses in Modern Greek to foreign students in Athens since 1957. Since then, every year, more than 800 students from approximately 75 countries join the Program. Among other services, the Program also offers methodology courses for teachers.
The Hellenic Culture Centre: Well known institution which is included in the lists of recognized schools of the European Commission and World Universities offering since 1995 Greek Language and Culture courses all year long in Athens, and cooperates with AEOLIS on Lesvos Island, for its summer courses. The courses have been accredited by the European Commission which offers grants to European citizens. It has an expertise in Language Teacher Training programmes. The aims of the institution are to promote language learning and language teaching and to contribute to adult education and intercultural education methodology. E-learning programmes will start in 2010
Kairos Garden Holistic Retreat: This villa in a small village near Kavalla hosts summer programs in Pilates, Yoga, Greek cooking, food and herb exploration, Creative Writing with bestselling Irish author Tracy Culleton, and a number of other spiritual anc cultural programs in a beautiful setting by the sea.
Watercolor Workshop with James Foot in Kyparissi: Watercolour artist James Foot will hold a 2 week-long summer workshops in Kyparissi, Peloponessos in May and June
Masticulture: Cultural Tours and Classes on Chios: Participate in the cultivation of mastic trees, press grapes, collect olives, harvest wheat and bake your own bread. Grow organic vegetables. Dance like the people of the island of Chios. Eat like the people of the island of Chios

AEGEAN CENTER OF THE FINE ARTS IN PAROS:Founded on the island of Paros, Greece in 1966 as an independent, Not-For-Profit Institution, The Aegean Center continues to maintain its autonomous, non-profit status offering small group and individualized study in the visual arts, creative writing and music. Their facilities are located in two of the worlds most compelling locations--the Aegean Islands of Greece and Italy's Tuscany
Aegean Arts Circle: Creative Writing Workshops on Andros with writers from all parts of the United States, Canada and Europe. Every summer they feature different writers, many well known and all talented.
Grecophone's Intensive Language Courses in Kavala have proven to be one of the most effective ways of learning Greek whilst on holiday in this beautiful city. Greek courses consist of three hours tuition per morning. Students then have the opportunity to explore the area and sample the Greek culture whilst practicing their newly acquired language skills and interacting with the locals.
ARIADNE INSTITUTE FOR THE STUDY OF MYTH AND RITUAL: Founded by Carol Christ, Ph.D., a pioneer and founding mother of the Goddess, women's spirituality, and feminist theology movements, Ariadne Institute programs address the mind, body, and spirit, encouraging "embodied thinking" and personal transformation. Several hundred women of all ages—including artists, writers, educators, students, businesswomen, and homemakers— have participated in their programs since 1993.
HELLENIC INTERNATIONAL STUDIES IN THE ARTS ON PAROS: Brings together in the historical and classical landscape of the Aegean island of Paros, Greece, an interaction between students who desire more than a traditional lecture format and talented teachers and artists who wish to share their experience and knowledge.
Ikarian Center: Greek Language and Art Association: Assists students in improving all their skills (listening, writing, speaking and reading) in the Greek language. The Centre's aim is to make each course a cultural experience. Through a variety of guided activities (interviews, projects, lectures, pair work, etc.) students are brought in touch with the local community and learn more about Greece and its people on the amazing island of Ikaria.
Anatolia College: One of the most prestigious secondary schools in Greece, Anatolia College comprises a preparatory school and the International Baccalaureate program with an enrollment exceeding 1,300 students.
The American College of Thessaloniki is a private, non-profit American College, accredited by NEASC, the New England Association of Schools & Colleges (U.S.A.) and also validated for its undergraduate programs by the University of Wales.
SPIRIT OF LIFE: Offers retreat and holistic holidays on the beautiful Southern Greek mainland. Enjoy a stunning natural environment in which you can relax and unwind while taking holistic workshops, pilgrimages and retreats with different themes including yoga, tai chi, healer retreats and their exclusive dream healing pilgrimage.

American Community Schools: Best American High, Middle, and Primary School in Athens. An international school, embracing American educational philosophy, principles and values, through excellence in teaching and diverse educational experiences, ACS Athens challenges all students to realize their unique potential: academically, intellectually, socially and ethically -- to thrive as responsible global citizens.
THE AMERICAN COLLEGE OF GREECE: American liberal arts college in Athens, Greece, accredited by the New England Association of Schools and Colleges. The College offers a bachelor of arts in dance, economics, English, history, history of art, music, philosophy, psychology, and sociology; also a bachelor of science in business administration, with concentration in accounting and finance, management, marketing and computer information systems.
ISLAND CENTER FOR THE ARTS: Presents a series of Programs for artists on the beautiful Aegean Island of Skopelos. The courses are designed to allow you to immerse yourself in your artwork and in the life of a Greek Island. Once you've experienced The Island Center's Programs you'll understand why so many program veterans have returned to Skopelos to continue exploring the paths they have discovered here.
Not listed? Schools and educational programs can get a free link just for linking back to my website or by making a donation through Paypal. Interested? E-mail Me. Join Matt Barrett's Greece Travel Guides Group on Facebook for comments, photos and other fun stuff. You can also e-mail Matt if you have any questions or comments. If you enjoy this website please share it with your friends on Facebook. If you are appreciative of all the free information you get on my websites you can send a donation through Paypal