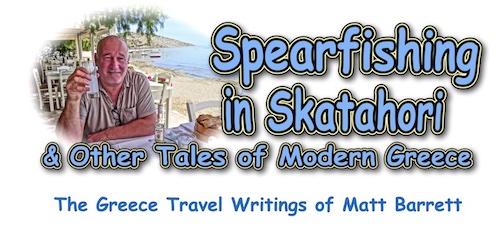 The Greece Travel Writings of Matt Barrett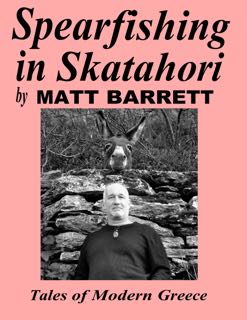 Skatahori is not a place. It's a state of mind. It's the state of mind one has when he visits a beautiful remote seaside village and discovers his best friend is leaving for the summer and the only way to survive his crazy family is by spending a large portion of the time underwater. It is also the anguished cry of thousands of Greek-American kids, who forced by their parents to take the yearly family trip around the Peloponessos and the Greek mainland searching for their roots, exclaimed from the back seat "Oh no! Not another shitty Greek village!"
For those of you who have enjoyed reading my guides and asked me why I have not published a book, this is the answer. I have. Spearfishing in Skatahori is actually Book One of a trilogy. It will be followed by I Married a Lesbian and In Search of Sardelles Pastes which I will publish as soon as I am convinced that enough people have actually read the first book. By the way, unlike other writers who put the best chapters out in order to entice the readers who then find the actual book disappointing, I just posted the first part of the book, which in my opinion is not as funny as later parts, particularly A Predator in Paradise, which is really the meat and potatoes part of the book, or where I "found my voice" as we writers say. In fact these early chapters are the foundation for what became my Greece Travel Guides. So if you like these bits you should probably buy the book, and if you don't like them, well the book is better so you should buy it anyway.
Read more of Spearfishing in Skatahori by purchasing it on Amazon.com
Please share this with your friends on Google+ and Facebook or whatever social media you use
My first trip there was in 1963 when my father got a Fulbright fellowship to teach at the University of Athens. In those days many of the streets were unpaved and shepherds still grazed their sheep in the empty lots between the occasional apartment buildings. Now there are no more sheep and no more empty lots, but Athens is an endless sea of apartment buildings... This is sort of the story of how I ended up doing what I do, whatever that is.
Part One: The Athens Gang
I used to love the Plaka. Now it's more of a love/hate relationship, a microcosm much like my relationship with the rest of Greece. The fact that there are about three restaurants in the whole area that serve something besides souvlaki, mousaka, pastitsio and lobster has a lot to do with it
I lay down on the floor, breathing deeply, focusing my attention on my breath rather then my problem. Gradually I cooled out and began to look at the situation in a positive light. Life is full of experiences, some pleasant and some not, each with its lessons. A trip through the Greek Army might be just the experience I needed for my own spiritual growth.
Dorian's apartment is piled high with cheap novels and there are several he must have for his collection. Rumor has it that a truckload of cheap novels had been hijacked on the national road and some of them are sure to turn up here in the flea market at one of the notorious second-hand bookstores.
Saturday Night Apollo Express Fever
I'm too scared to tell Andrea our daughter is missing so I run back to look for Amarandi again. I search the ship like a maniac, up and down stairs and hallways. Finally I realize that the only way I will find her is by getting Andrea to tell the crew to start a ship wide search.
Part 2: The Sifnos Monster & Other Tales
I've been coming to Sifnos since the late seventies. My parents and brothers and sister first came in 1972 during the summer while I was off in Mykonos. Back then Sifnos was primitive and totally undiscovered. There was no dock and the ferry would pull into the bay and be met by the fishermen who would take people back and forth in small boats. There were a few foreigners living in rented rooms or tents, mostly seasoned travelers who would rather experience the real Greece of the time, than be partying with me and my decadent friends on Ios or Mykonos.
"Do you hear that?" he asked. I could hear it. Even above the roar of the motorcycles the sound of heavy breathing came from the ravine that ran down the mountainside and passed under the road beneath us. It was unbelievably loud and it scared the hell out of us. We raced back to Kamares and ran into the Old Captain Bar. "There's a monster on the road! There's a monster on the road!" we cried in terror to the few remaining customers who looked blankly up from their drinks.
When we arrive in Sifnos it is three AM. There is a small group of people on the dock including Kosta who owns the convenience store, there to pick up the daily newspapers, and Bouli's brother who is there because it is his job to catch the rope and help tie up the ship. I like getting in so late because I can walk down the street in quiet anonymity and not have to say hi to every single person I know from twenty years of visits.
How did I get this passion for spear-fishing? I don't know if you can really call it a passion just as you wouldn't call watching TV every night a passion. Drinking ouzo and eating octopus is a passion, but I can't spend all day doing that. There are certain rules regarding passions and one of them is that if you do it all the time it's not a passion but a compulsion or mental illness.
Meanwhile on shore a demonstration had been organized and the crowd marched to the end of the dock carrying a large banner that said "NO TO THE GHOST SHIP". They chanted slogans and yelled at the ship with a megaphone. Many of them were tourists who had no idea that they were demonstrating, thinking they were taking part in some traditional island custom or welcoming ceremony.
The basketball court was only a rumor when we searched our knapsacks for our sneakers on that cloudless July day in 1984. Nobody we knew had actually seen it. It was one of many Sifnos myths. It was said to have been built by the Gods, then passed down from generation to generation of tourists. Now we, a fresh new generation were about to embark on the arduous journey to Vathy in search of what was said to be the most beautiful basketball court in the world.
With Godfrey on the Holy Mountain or The Last Temptation of Matt
Perhaps there was some unseen force guiding me in the search for the spirit, but not with the passionate commitment of this monk I was speaking to who after traveling the world as a sailor, tasting life and deciding he wanted something more than the transitory pleasures of the flesh, had devoted himself to the pursuit of peace and inner truth. Who was I but some kid from the suburbs who saw religion as a new high with no apparent dangerous side effects, and my relationship to God as proof that I really was a cool guy. In that brief shining moment I felt really stupid which if you believe Socrates is the first important step to enlightenment.
I know that you are wondering what a kamaki is. It translates literally as harpoon. What it means is Casanova. It's practically a profession in Greece. It is seasonal and the pay is meager, but it keeps the young men, and some older ones, busy during the summer. Most of the victims are tourist girls. Actually all the victims are tourist girls and many of them would not classify themselves as victims. Many women, mostly from cold Scandinavian countries, come to Greece with the intention of spending their vacation with one or a few of these semi-professional hot-blooded lovers. A trip to Greece without a romantic experience would be an empty one.
Read more of Spearfishing in Skatahori by purchasing it on Amazon.com