Where to eat and play in Thessaloniki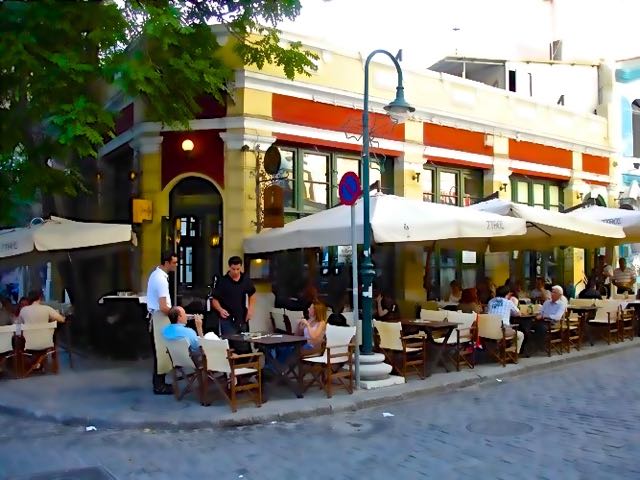 Apart from the many elegant restaurants in the city and the suburbs, there are also numerous "ouzeries" and taverns. Excellent grilled meat and chicken are served at the popular shops along the coast on the outskirts of town Check out the newly renovated Ladadika district near Aristolelous square where there are a number of traditional restaurants and ouzeries on Odos Katouni. This is a working class area similar to Psiri in Athens which has been developed into an area of eating and entertainment. Frommers and Lonely Planet raved about Zythos, Frommers about the food and LP because you can get a pint of Murphy's for not much more than the price of an Amstel. This was one of the first restaurants to open in Ladadikia, way back in 1990. They have another restaurant by the White Tower. I ate at Foul Tou Meze which had a Greek grocery store motif and a large menu, good service, great food and a nice selection of ouzo and tsipuro. Palati has live Greek music as does Vyzantino II. Try also Ta Spata on Aristoleous square, Ta Nicia at 13 Koromila for seafood. Lonely Planet likes O Loutros Fish Taverna at 5-7 Kountoura Miltou street, near Ionos Dragoumi street.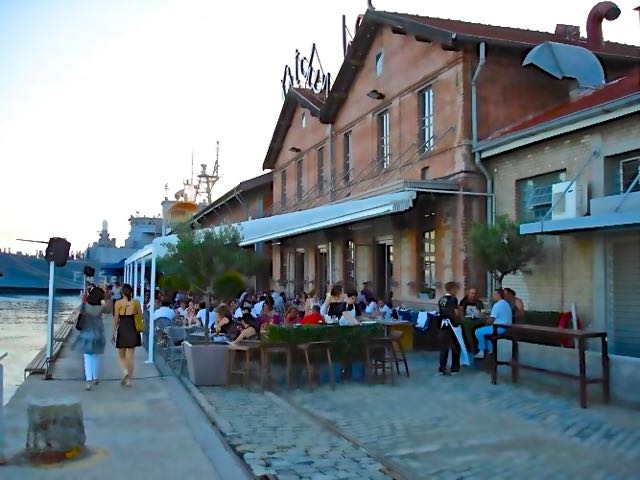 Aristotelous Ouzerie is in an arcade off the left of Aristotelous a block from the waterfront at 8 Aristotelous street. I ate here with my cousin George, a monk on Mount Athos, many years ago and apparently it has only gotten better. Check out a restaurant called The Kitchen Bar in the port in one of the old customs buildings for its indoor decor or to sit by the sea. Its similar to TGI Fridays or one of those mainstream shopping center bistros though in a much more dramatic setting and better food. The family run fish restaurant Rodi & Meli at 5 Aigyptou Street in Ladadika has traditional Greek food, fresh fish , grilled meat, ouzo mezes, pastas, all of good quality and features exciting dishes such as Pork rolls stuffed with chesnuts, Grilled fresh Cod and Grilled fresh shrimp (photo above), lamb baked in the oven, seafood risotto, and many, many other local traditional and modern dishes. They also serve nearly a dozen ouzos and almost as many brands of tsipuros as well as a large number of regional and imported beers and wines.
Or take a taxi to Kalamaria and try To Taxidi at 91 Nikolaou Plastira street which we just stumbled upon and loved. Its a clean, upscale-looking fish taverna with a large and interesting menu which also features some beautiful salads. The prices are reasonable too.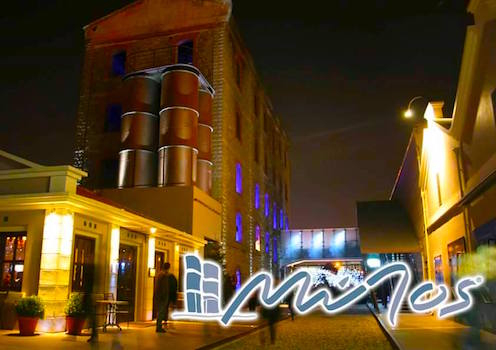 Music Halls, night clubs, discotheques are open till late at night, whereas those who prefer the bouzouki music can choose from a range of special tavernas in the area near the Airport. There are a number of bars and clubs near the White Tower. Discos are generally on the outskirts of town near the airport where the noise is less likely to bother people. Mylos is a large entertainment complex in the warehouse district of the port. There you will find bars, galleries, restaurants, cafes, theatres and plenty of varieties of live music but difficult to get to without a taxi. The Fix Community has clubs with live shows by known Greek artists like Glykeria and Giannis Kotsiras as well as DJs. W Nightclub is at 3 Frixou street in the Fix area and is known for authentic club music and extraordinary dancing shows.
Many people do the Volta (evening stroll) along the harbor from Aristotelis Square all the way beyond the White Tower where it gets quieter and more romantic. You will certainly find somewhere to sit that interests you on the way there or back.
There are a number of movie theatres almost all showing English language films with Greek subtitles. Some are indoor and some are outdoor which are generally open only in the summer.
But like anywhere in Greece sometimes the best idea is to wander around and peer into the various ouzeries, cafeneons and restaurants until you find something special.
Want to know where to eat in Thessaloniki? Where to go dancing or hear the best Rembetika music? Ask a taxi driver. See the Restaurant , cafes and nightlife reviews of Grigoris Moisiadis
Kathleen's Favorite Restaurant/Bars
Hi Matt. My name is Kathleen I've been living in Thessaloníki all my life, and I would like to suggest some more bar-restaurants to add to your wonderful Greek Travel Guide!:)

Valaoritou Street: Is the new Greenwich Village of Thessaloníki. In the past 2 years several beer houses, bar, tavernas have opened in the area. Its the hot spot for young people, especially students. The Street of Valaoritou has a long history. It used to be a merchants paradise since you could find all sorts of things especially fabrics, traditional embroideries, anything a bride needs to make her "proika" which is the greek word for dowry. For the past 10 years the area had been dying...a lot of new classical buildings were abandoned and of course closed since the embroidery business wasn't going that well and shop owners decided to invest in others types of business away from Valaoritou Street. Some years ago though a bar-restaurant called "Paparouna" opened at the area in the Arcade of Malakopi which used to be the home of the famous "Alattini Family" in 1906. Since then several bars started dwelling in the area giving it life again. Every night the street is full of little tables and they are always full of people drinking beer and having a good time! There is no way you won't see someone you know since everyone is there.
The best bars to visit are:
"Paparouna": Established at 2004. The bar is divided in

four different devisions. It functions a restaurant and a bar which aspires your senses. The four devisions communicate via the gallery in which you can enjoy the food and your drink listening to jazz melodies. The menu includes a wide variety of flavours. The menu is renewed twice a year, in Spring and in Autumn so that the flavours you enjoy harmonise with each season. The wine-cellar includes a large variety of wines (220) which come from different prefectures of Greece and from European countries like Spain, Italy and France


Address: Syggrou 7 & Vilara 2, 54625 Thessaloníki/Center Phone number: 2310-510-852
"Gambrinus":Established at 2006. One of the best Czech- beer houses of the city. Generally it serves Czech beers, draft or bottled, but you can also combine your beer with some of the delicatessens it offers. Such as its famous sausages. It is the bar where most people go since the prices are lower compared to other nearby bars. The music is usually classic rock or alternative rock. The atmosphere is very warm and laid back and it is definitely a bar you should go while visiting Thessaloníki.Address: Syggrou 9 ,54625 Thessaloniki/Center. Phone number:

6955-166-821
" 4 Epoxes" ( 4 Seasons): Established at 2004. It is located in a little paved narrow where no cars go by. It gives the feeling of going back to another period of time...4 Seasons is not the average bar it is more like a "kafeneio" (traditional greek cafe) but mixed up with a modern touch. It has small tables inside and outside and you can drink your ouzo or tsipouro combined with a lot of special appetizers (meze). The decoration is simple but color full and warm. It usually plays ethnic type of music like French,Spanish etc. Address: Paikou 2, 54625 Thessaloniki/Center.

Phone number:

2310 540-913
Help Support Matt's Greece Guides
Do you enjoy using my site? Have you found it entertaining as well as useful? If so please show your appreciation by booking hotels through the travel agencies and the links found on my Hotels of Greece site. The small commission I make on the bookings enable me to keep working and in most cases you won't find them any cheaper by searching elsewhere. You can find hotels in Greece by location, price, whether or not it has a swimming pool, and see photos and reviews by using this link to booking.com which also contributes to my website when you book. If you are appreciative of all the free information you get on my websites you can also send a donation through Paypal or Venmo
Join Matt Barrett's Greece Travel Guides Group on Facebook for comments, photos and other fun stuff. If you enjoy this website please share it with your friends on Facebook and other social media.