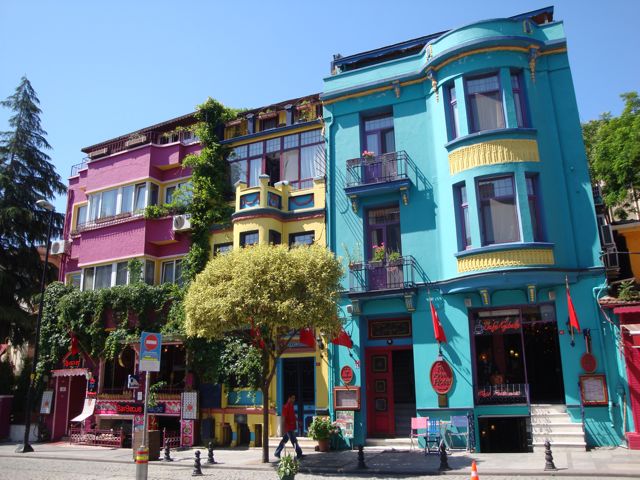 Sunday morning is a great time to walk around Istanbul because everyone who has a car is probably asleep and the usually crowded streets are empty. This past Sunday Andrea and I woke up early and had breakfast and coffee at the Hotel Neorion where we stay and just walked out the door in the general direction of the Grand Bazaar. Yes, I was aware the the Grand Bazaar is closed on Sunday but outside of it there is a street market or flea market which is between the bazaar and Beyazit Tower that sounded interesting, to Andrea at least since I am not much of a shopper. But it seemed like an OK thing to do and I certainly could use the exercise. From the Hotel Neorion we just walked uphill and southeast and ended up at Sultanhamet Square between Agia Sophia and the Blue Mosque where there were already crowds gathering. On the way there we stopped at the Cagaloglu Hamam, featured in Patricia Schultz's 1000 Places to See Before You Die and located at Kazim Ismail Gürkan Cad. 34 which was pretty much empty on Sunday morning so we made a mental note to return for a bath but of course never did since our hotel has a hamam in the basement and there is only so clean you can get. We followed the tram line west on Divan Yolu Cadessi, and passed a few tourists going towards the important sites and stopped at the Sultanhamet Hamam where we met an African guy named Joseph who showed us around and told us he had just received his visa and tickets to move to the USA to be reuinited with his family from Sudan. He seemed very pleased about it but had few complaints about the years he spent waiting to leave Istanbul. We also stopped at the famous Pudding Shop which on the sixties and early seventies was where all the cool westerners hung out, sort of the way Papaspiros in Syntagma Square used to be in Athens.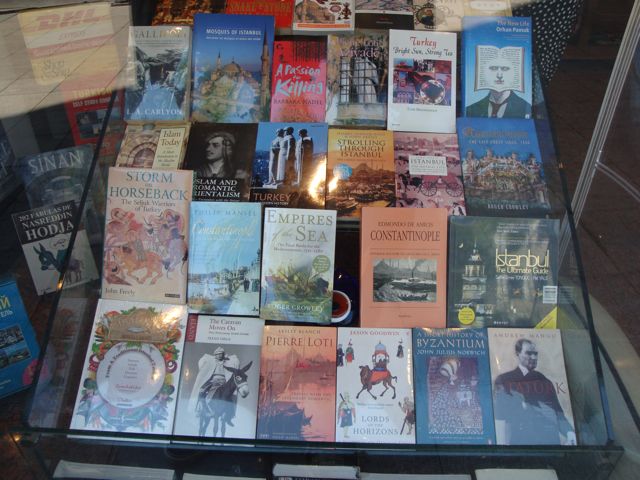 Just beyond the Firuz Aga Mosque and the German Fountain there are a couple good English language bookshops owned by the same people, one on each side of the street to make sure nobody misses them. They are hard to miss since they have given themselves the generic name of BOOK SHOP and they have a large glass window displaying books. Though their stock was redundant, you would see the same books in differents sections of the store, their collection of Turkish travel guides, Turkish art books, books by Turkish writers and foreigners living in Turkey like John Freely was excellent. Freely who apparently visits the shop has called it "the most elegant bookshop I have ever seen". Of course if you are coming from the USA, particularly a university town, you won't be that impressed by its elegance. It just looks like a really nice bookshop. But unlike Robinson Crusoe Bookshop on Istikial Avenue in Beyoglu which is the classic book lover's bookshop with shelves packed full of books, that reach the ceiling, crammed into a very small space,(really similar to Sheakespeare and Sons in Paris) the Book Shop has a generous amount of room and you are not overwhelmed by the task of reading every title on the binder until you find one you like. Books are sensibly displayed face forward and the whole place feels comfortable. There are comfortable chairs and you can browse and hang out all day if you like, at least that is what the owners say. They also hope to expand to London, New York and Paris and to be a window on Turkey for the rest of the world. But if you come to Turkey and need a guidebook or want to read the latest Orhan Pamuk or some of the other Turkish writers, current or historical, or any books on Turkish history, culture or even a Turkish phrase book, this is a good place to visit at the beginning of your trip and also at the end. They have a website at www.bookshopistanbul.com of course.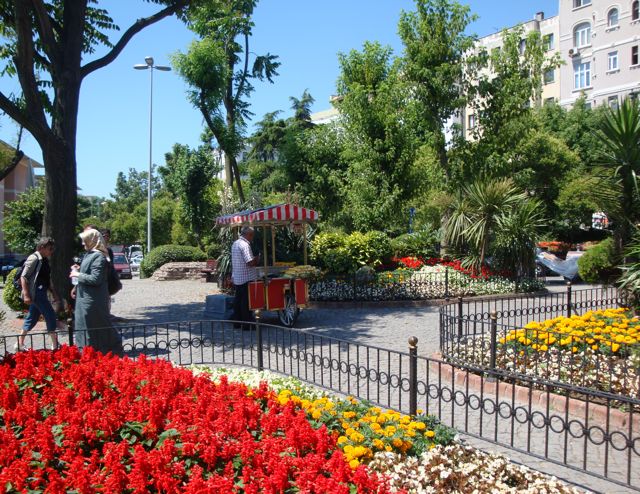 However since we had our totally outdated Lonely Planet in the hotel room and were at the beginning of a long day of walking, we left without buying anything, telling the girl at the desk that we would return. We didn't. But we meant to. That is one of the problems with Istanbul. There are too many places that you stop in and want to spend more time in but you can't because your time is so limited. You would have to spend a couple weeks here just to see the important historical and cultural sites and most people have to cram them into three or four days. Of course you can take the attitude that if you see one mosque you have seen them all and then once you have visited the Blue Mosque, you can cross the other 2,994 mosques off of your things-to-do list which will open up a lot of time for you. Or limit yourself to two museums instead of the forty or more scattered around the city. Or you can tell yourself that you will only spend a couple hours at the Grand Bazaar instead of spending all day there, and the next, and the next, exploring the thousands of shops and exhausting your (or your parents) credit card. The point is you should probably accept that if you go into an interesting store like the Book Shop, or Robinson Crusoe, or any of the thousands of unique shops that you will find all over the city and you see something you want and you tell yourself that you will come back later and buy it, my advice is to buy it now. You will find that there is so much to see and do that you won't come back to the shop. You may be too exhausted or going back may mean missing something else. I am not trying to save the Turkish economy. It does not appear to need saving. But if you really, really want something then buy it. Unless it is right next to your hotel you probably won't come back to get it later and then you will end up like me, trying to remember the title of the interesting old book about Istanbul that I saw so I can find it on Amazon. OK. Books may not be such a problem. You can find lots of John Freely on Amazon. But try buying pastourma on line.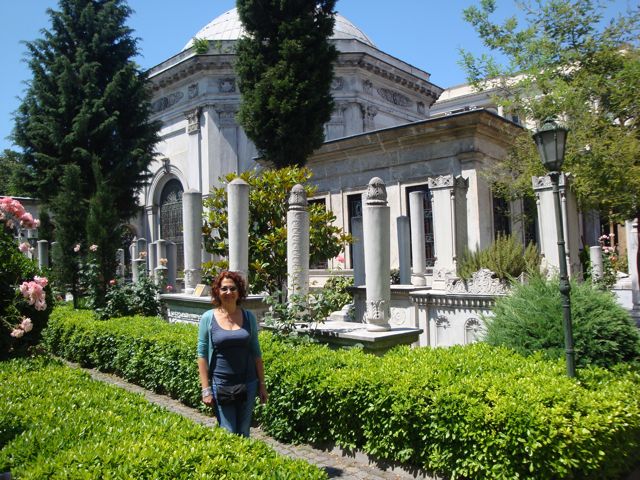 As we walked up Yenicerlier Cadessi, the street the tram runs on that changes names about ten times within a couple miles just to make people more confused about where they are, we came upon the beautiful cemetery of the Sultans where we were surprised to find tombs that were quite recent. It had never occurred to me that like the Greek royal family, the Ottoman family still exists. Following the Turkish Republic's foundation, all members of Ottoman family were expelled from Turkey and settled in different parts of the world. At this point thinking about Sultans and Royalty we are reminded that we need to see if our Greek credit cards still worked, since there was a rumor that so many people in Greece were withdrawing their money in fear that Greece would return to the drachma that the banks were about to collapse. We found an ATM machine and tried our luck and sure enough our request was denied. I suppose you can't blame a Turkish bank for not wanting to give money to a Greek customer. It is not that they don't trust the customer but they are giving us their money with the expectation that our bank is going to give them the money back along with a small fee. But if they don't believe our bank will have the money to pay them then why should they give us the money we request? It is perfectly understandable. But when you are a tourist traveling in a far away country and you can't get money from the bank, being understanding of the banks is not your first reaction. Your first reaction is a sense of panic. You know your bank is still in business and you know your money is in the bank and you know the ATM machine has money otherwise it would not have asked you if you wanted to make a withdrawal. So you try asking for a lesser amount.
Rejected again. It must be true. There is a run on the Greek banks and so they are not letting anyone have their money until it has been converted to drachma, just as we feared. The crisis now has a human face: Mine. But instead of panicking we are philosophical about it. We still have our American Express card. Most likely the guy selling mussels in front of the train station won't accept it but we can eat in fancy restaurants for the rest of our trip and get cash advances and pay enormous interest like rich people who don't care how much money they spend and even get miles on Delta for our next trip. Or we can beg on the street. Our hotel is paid for. How long would it take to get money for a kebab? Whatever extra we earn we can use so one of us can go to a museum. They say the Turks are generous people and there are hardly any beggars here so there is little competition. We can use the AMEX to buy a cheap guitar and I can play on the street just like I used to in Athens. Maybe I will be discovered and I won't have to sit in front of a computer again. I cansee myself playing at a small Turkish club to an appreciative audience, not those uber-hip creepsters in Chapel Hill. Sensitive people and intellectuals who will respect the pain and suffering that has led me to the small hole-in-the-wall club with the cute blond bartender from Munich (who loves me for my songs, not my body), and shout out requests for my songs which they sing along to.
Andrea points to an HSBC ATM machine outside the Grand Bazaar. It accepts our card and gives us our money. So much for the collapse of Greece and my new career.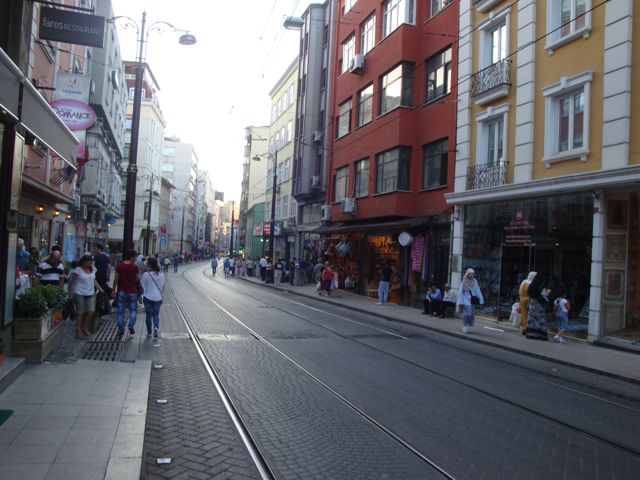 Amarandi has awakened at the hotel and sends an sms, which is the only way we can stay in contact with our Greek cell phones because they are pay-as-you-go card phones and cost only about fifty cents a message compared to about a hundred euros a minute to talk. We each have the very useful Istanbulkart which enables us to use all the buses, trams, and ferries just by swiping it at the turnstyle, but if I tell her to take the tram what if she misses the stop for the Grand Bazaar at Beyazit and continues on to whatever strange land is beyond the city walls and we never see her again. I think in this situation it is better to just have her walk out the door of the Hotel Neorion, turn right, walk a half a block to Hudavendgar Cadessi, turn right and follow the tram tracks on foot for twenty miles until she sees us. That way she can't miss us. It's not really twenty miles. Maybe closer to two and surprisingly she agrees to this plan and does not make us come back and get her. It takes her about half an hour and when I see her walking up the street she looks like a beautiful Turkish woman and from a distance I am not sure if it is my daughter. But when I see the look on her face that says "I can't f#$%ing believe you made me walk all this way" I know it is her.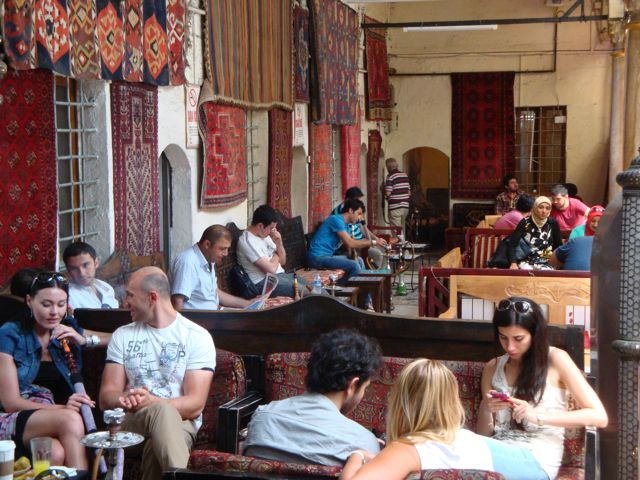 Andrea has gone into a covered market in the Corlulu Alispasa Medresesi and discovered an amazing area of traditional teahouses around a narghile shop which was supplying them with waterpipes and hot coals. It looked pretty authentic but the funny thing about Istanbul and being a westerner is that you have to throw out some of the rules of tourism. Here's what I mean. We are in this tea shop and there are people around us who look Turkish and are speaking a language that is not English, French, or German and they don't look Chinese so we assume they are Turkish. But actually they could be tourists from Syria or Jordan or Iran or anywhere in the middle east. If you are the kind of traveler who comes to Istanbul and says that you only ate at the restaurants that the Turks ate at how do you know? Did you go to every table and ask if they were Turkish? As a westerner not only do you not know what Turkish sounds like, you don't even know what Turks look like because they all look different, just like the Greeks. Our pal Cem has long red hair and is about six foot seven. Our friend Hasim looks like Anderson Cooper. The beautiful blond girl in the breakfast room at the hotel looks like she is visiting from California with her surfer boyfriend. One of our waiters looked like Wally in Leave It To Beaver and the masseuse at the hotel looks like the lead guy in Metalica only younger and without tattoos. So in Istanbul, particularly in the touristy areas, if someone looks Turkish they probably are not. Even your waiter may be from Iraq or Iran or Cyprus or he may be Kurdish. In one cafe three well dressed gentlemen came in who I assumed were Turkish and spoke English to the waiter and then discovered that they were all from Iran, the waiter too. And the young people out at night in Beyoglu look like young people from everywhere and separating the locals from the visitors by appearance would be an impossible task. So really, don't know what Turks look like. You just think you do.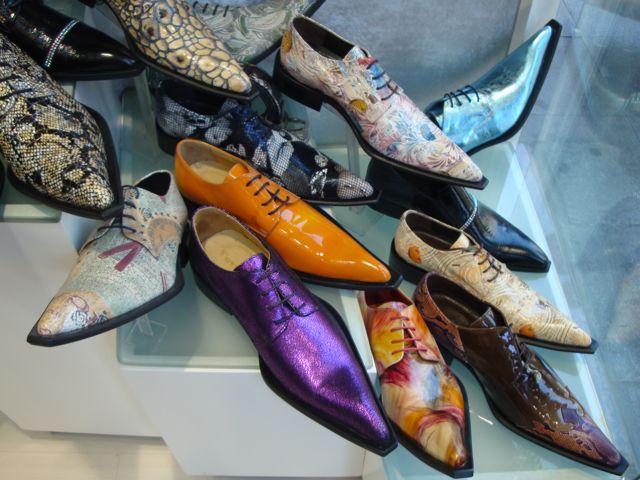 As we walked back towards Sultanhamet Square we passed a show store with the most amazing shoes I had ever seen. None that I would ever wear of course but certainly shoes that I could take great pleasure in photographing and posting on Facebook as typical Turkish footwear. It is a small shop, pretty nondescript until you take a closer look at the shoes in the window which are the pointiest and most outrageously designed that I have ever seen and I can only assume that any actor or rock star from LA who has visited Istanbul must have at least one pair of them. The shop is called Ferudun Footwear and is between the Grand Bazaar and Sultanahmet Square at Yeniceriler Cadessi 17 which is the same street as Divan Yolu Cadessi(it changes names several times even though it is the same street, the one the tram goes on). They have a website at http://ferudunkundura.com but it only has two shoes on it whether you go to the English version or the Turkish version. Very nice design though. At this point we could have continued on to the major sites but it being Sunday we assumed that this is what most people would be doing today and going anywhere would mean standing in line. But my excellent sense of direction told me that if we walked down the hill towards the patch of blue we would come to the sea, and on a hot day in Istanbul the sea is where you want to be.