These are among the best Villas, Vacation Houses, self-catering apartments and Air BnB Style accommodations you will find. They also fill up quickly. If the property you want is booked you can use the map on each hotel page or use the suggestions to find other similar properties. If you still can't find what you want then I suggest you contact Fantasy Travel and they will help you. If you plan to visit other islands I recommend you use Matt's Create-an-itinerary form. Lesvos is one of the most beautiful and interesting islands in Greece, almost like another country. For more information see Lesvos: More Than Just Another Greek Island.
If you can't find availability in any of these villas try using the Lesvos Homes and Villas Search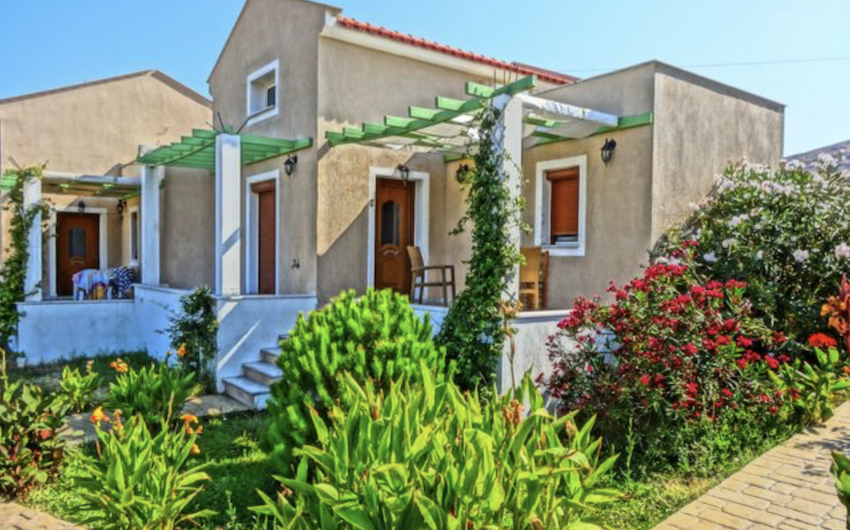 Sigrion Villas
Located in Sigri, Lesvos these are 5 independent condominiums, all of which face the sea and offer visitors front porches with sea views owned and built by an American family from Mississippi. Each unit consists of three levels: on the ground floor is the living room (couch, coffee table), kitchen (fridge/freezer, kitchenette, kettle), dining area (table/chairs), bathroom (shower, toilet) and master bedroom (double bed). The second level has two single beds, and the loft area has another bed/futon. Furniture can be rearranged, according to guest numbers and specific requirements. The atmosphere is familiar, cozy, with wooden beamed ceilings, marble floors, and minimal décor, which has been carefully chosen. Click for more info and booking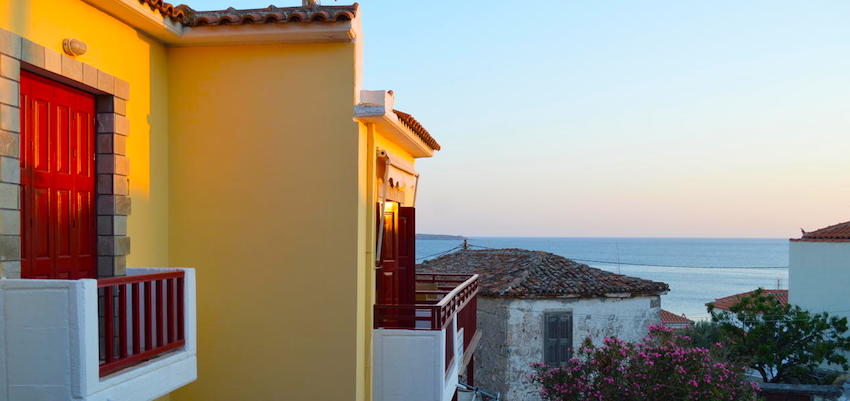 Evangelia Apartments
Located in the heart of the village of Sigri, Evangelia Apartments is an established and popular accommodation unit. Visitors have a choice of two types of rooms here: one-room studios or two-room apartments. There are 6 studios, three on the ground floor and three on the first floor. The first floor studios offer sea views from private balconies, with superb views of Sigri castle and the Aegean sea. Each studio has two single beds, fridge, kitchenette, kettle, private bathroom (shower and toilet), closet, and fans. Evangelia also has two apartments, which are ideal for a family with young children or for 2 persons wanting more space. Click for more info and booking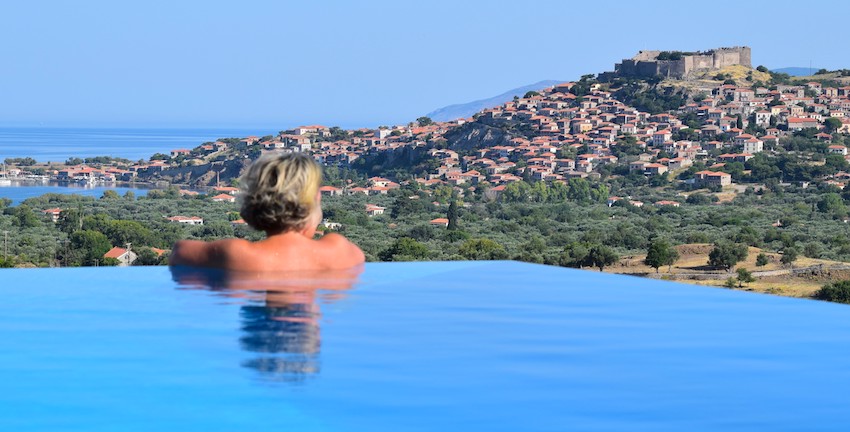 Villa Molivos Views
Villa Molivos Views is a newly built, architecturally designed villa within close proximity to the historic and picturesque village of Molyvos. Offering a high level of luxurious accommodation, the villa is located in a quiet and beautiful setting, unspoilt by tourism, within easy walking distance of local beaches, restaurants, shops and historic sites. With a mountainous backdrop, the villa has stunning views of Molyvos, its Byzantine castle, the bay of Molyvos, the Aegean and the Ottoman coastline. Click for more info and booking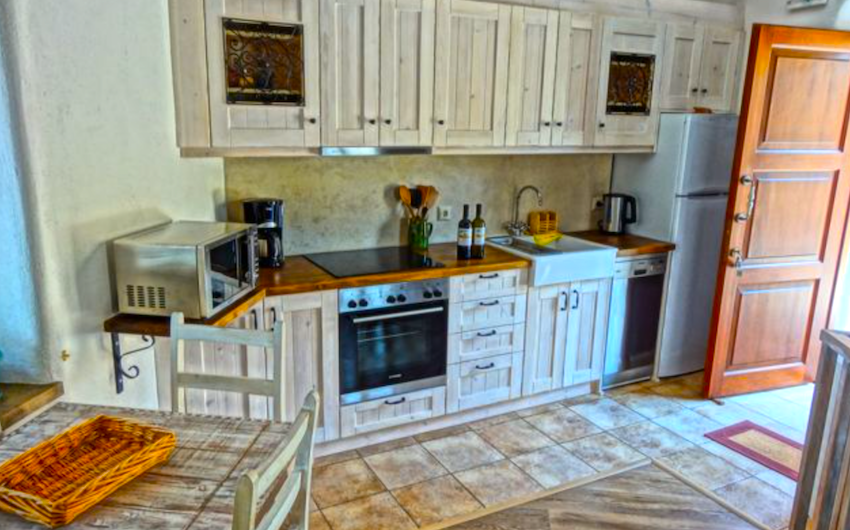 The Grand View Houses of Molyvos
These 3 houses are cleverly designed to create authentic Greek homes and include all the latest modern conveniences so one can experience the best of both worlds. For one who wants a more upmarket holiday in a self catering villa, this is ideal. Every room has a spectacular view, either of the mountainous region of Lesvos or the great sweeping views of the north Aegean and the bay of Molivos. There are also views of the castle and village from the front veranda. A postcard in real life. You can enjoy amazing Sunsets, every night with your aperitif. Each house is air-conditioned throughout, has free Wifi access and has its own parking space. We are ecologically aware and in the construction and running of these 3 houses have done our utmost to take in to consideration and abide by all green issues. The houses are fitted with coco mat mattresses, sheets and towels. Click for more info and booking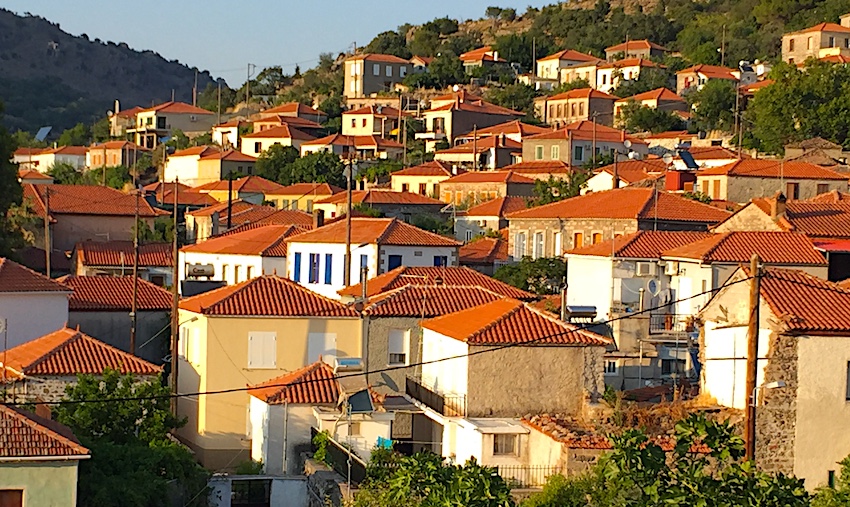 Two Sisters Villa in Skalahori
The beautiful traditional village of Skalohori now has rooms to rent as Two Sisters Villas has opened its doors and invites travelers from across the globe to experience Greek life at its most authentic. Two Sisters hosts two villas, Hope & Harmony. While Harmony is a private residence, Hope boasts two studios for rent. Hope is located on the ground floor and is a fully contained studio for two, while Hope 2.0 on the first floor can accommodate two adults and two children. Click for more info and booking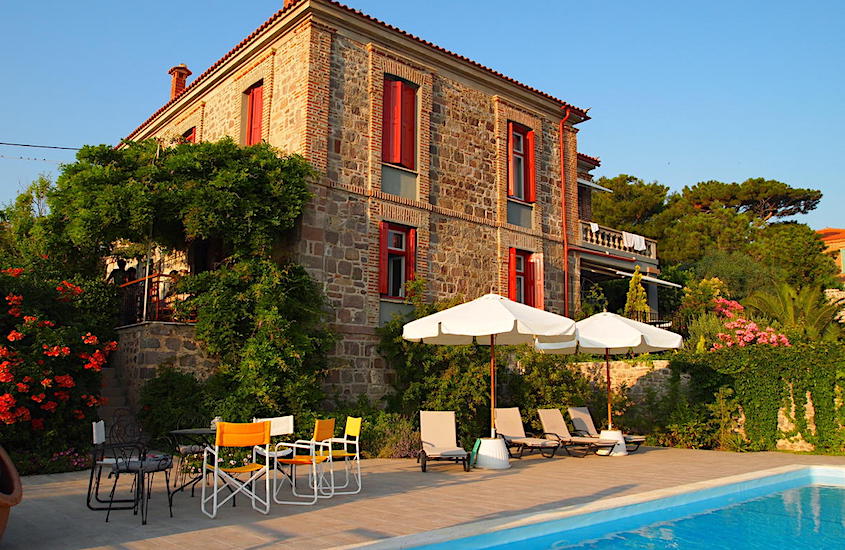 Molyvos Manor
Overlooking the Aegean Sea, Molyvos Manor is a split-level villa in Molyvos. Just 500 feet from Molyvos harbor, the property features a swimming pool with sunbeds, garden and sun terrace. Free Wi-Fi is available throughout. This elegant 3-bedroom villa has two floors. The upper floor features two bedrooms which are accessible via an internal staircase. The third bedroom is on the ground floor and comes with a private bathroom. On the same floor, there is a spacious living room, a fully equipped kitchen and a dining room. There is also a shaded terrace with sea views. All air-conditioned bedrooms come with closets and windows with sea and garden views. Each floor has a bathroom with bathtub. Molyvos Manor is 1,300 feet from the popular Molyvos Beach and just 500 feet from shops and local restaurants. Click for more info and booking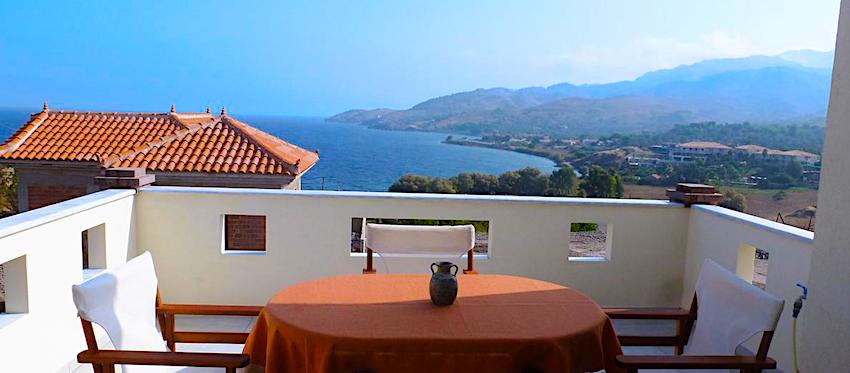 Agnanti Houses
Featuring air conditioning, Agnanti Houses is situated in Molyvos. Free private parking is available on site. All units include a dining area and a seating area with a flat-screen TV. Some units feature a terrace and/or balcony. There is also a kitchen, fitted with an oven. A microwave, a toaster and refrigerator are also offered, as well as a coffee machine. Every unit is fitted with a private bathroom with a shower and a hair dryer. Towels and bed linen are provided. Click for more info and booking

Villa Molova
Overlooking the Aegean Sea, the traditional Villa Molova is a holiday home just 1,300 feet from popular Molivos Beach. It boasts a spacious outdoor relaxation area with sun loungers, a sun terrace with view and a private swimming pool. The upper floor in the 2-storey Villa Molova features 3 air-conditioned bedrooms with ceiling fans, closets and windows with views of the garden or the sea. A spacious living room, bathroom with bathtub and a shaded terrace with sea view and a kitchenette are featured. The bedrooms on the upper floor come with air conditioning, ceiling fans, closets and windows with sea or garden views. Free WiFi is provided. The ground floor features one single bedroom with fan, fully equipped kitchen, living / dining room, bathroom with shower and spacious shaded terrace with sea view. Other amenities include LCD TV, DVD player, dishwasher, hairdryer and a washing machine. Both floors have access to the garden through different entrances and are also accessible through an internal staircase. Guests may relax, overlooking the Aegean Sea at the blossomed garden, where BBQ facilities can be found. Click for more info and booking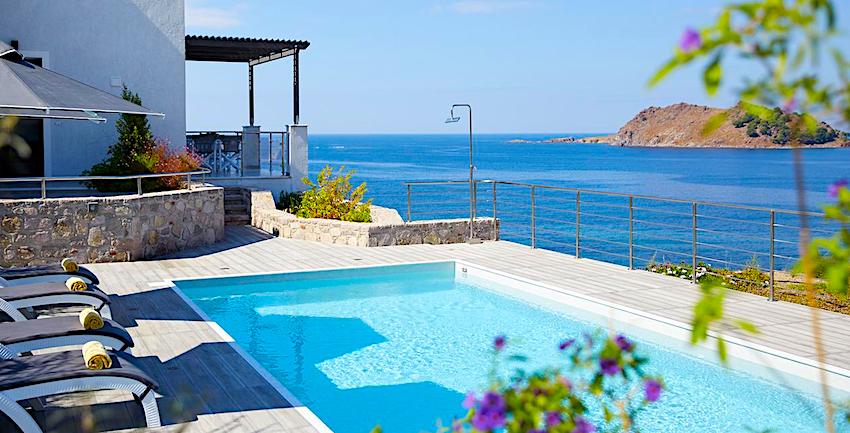 Eleia Seafront Villas
Located between Petra and Anaxos villages, Eleia Seafront Villas features 4 individual villas with private pools offering panoramic views of the Aegean Sea, the medieval village of Molyvos and the Turkish coast. Free WiFi is available in all areas. The property is 1.2 miles from Petra Beach. Each villa comes with 2 bedrooms and 2 bathrooms, while sea views can be enjoyed from all rooms. The bedrooms come with COCO-MAT mattresses and pillows, and a flat-screen TV. Additionally, a full kitchen, a dining and a living area with TV are offered. Damana Paris amenities, towels, bathrobes, slippers and linens are provided, as well as pool towels. Daily cleaning, housekeeping services and grocery deliveries are offered at Eleia Seafront Villas. For photos and more information click here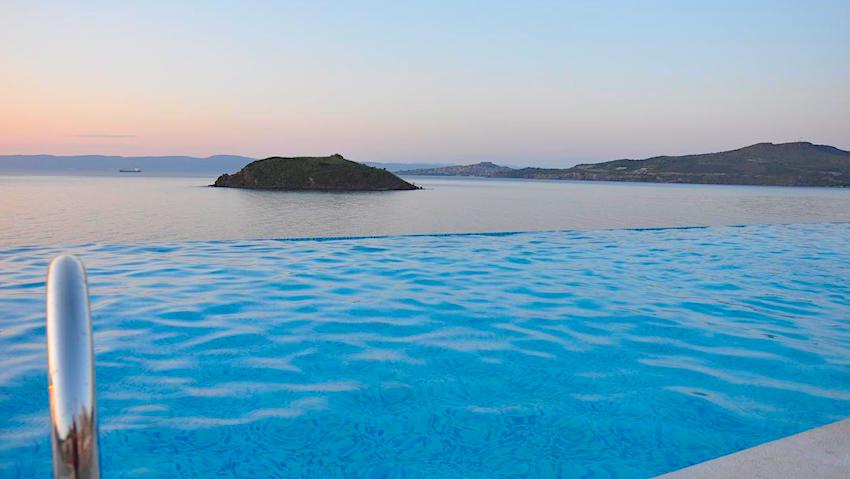 Birds Bay Seaside Homes
Birds Bay Seaside Homes in Petra is a community of beautiful rental homes with views of Molyvos and its castle, nearby islands, and the coast of Asia Minor beyond. The homes are complimented with hints of tradition and contemporary hues with accommodation for up to five people, its open-plan design makes it a place to be shared by friends and family or as a private nest for couples. Greet the glorious sea and feel the sun and cool sea breeze from either the bedroom or the living room balcony. Watch migrating birds flock to the small islets across the bay or, hire a sea kayak or charming local boat to get there for a closer glimpse of protected bird species. The homes have fully equipped kitchens too and it is an easy walk along the coast to Petra. For photos and more information click here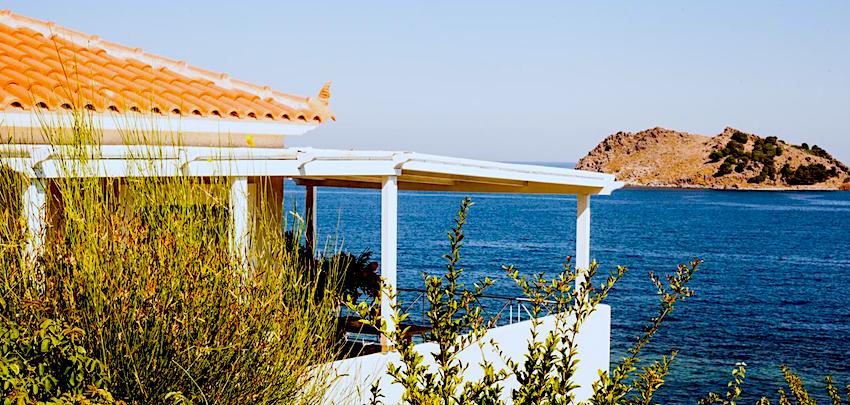 Little Bird Lesvos
Situated 1.2 miles from Petra Beach, Little Bird Lesvos is an aparthotel with a seasonal outdoor swimming pool that offers free WiFi. All of the air-conditioned units feature a private bathroom, flat-screen TV, fully-equipped kitchen and terrace. A balcony with sea views is offered in each unit. For photos and more information click here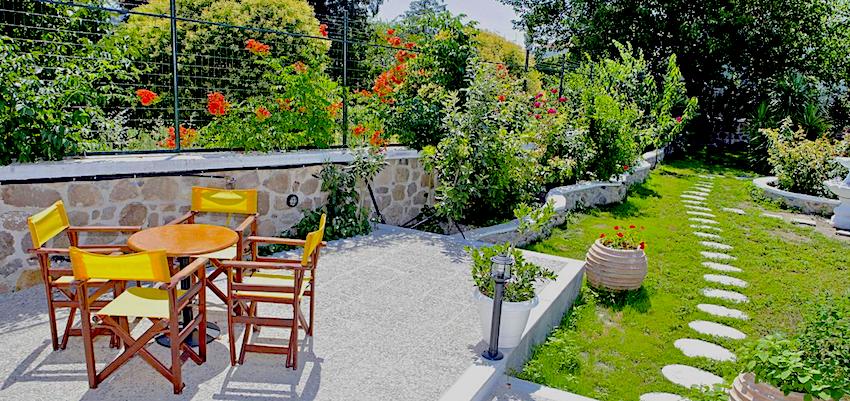 Villa Archontiko of Petra 1821
Villa Archontiko of Petra 1821 is a stone-built, country style villa of 1821, located in the north of Lesvos Island, in the traditional village of Petra near Molyvos. It serves American breakfast with local handmade delicacies. The romantically decorated rooms and suites feature English country-style furniture and unique antiques. They all have a sofa and a satellite LCD TV, DVD player and air conditioning. The luxurious bathrooms offer free toiletries. Some units also have a spa bath. Guests can spend relaxing moments in the 2 communal living rooms of Archontiko Petras each featuring a big fireplace, and a large LCD TV. On the ground floor, they will also find a country-style kitchen, which they can use throughout the day. On the ground floor there is a lovely veranda with a green spacious garden, left and right full of fruit bearing trees, where you can relax, enjoy and taste the fruits from the trees. The road leading to the mansion is with pebbles, within a 10-minute walk you reach the "agora" centre, full of restaurants, bars and shops, while the sandy beach of Petra is at 0.6 miles. For photos and more information click here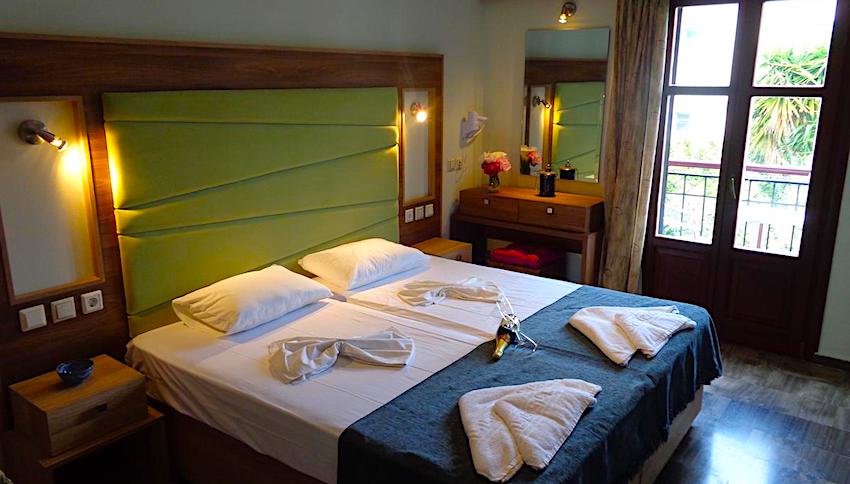 Niki Studios
Located right on the seafront of Petra, Niki Studios offers views of the Aegean Sea and Mytilene's neighbouring islets. More free facilities include an open-air hot tub and seating areas in the garden. Each with a private balcony, the studios have views of the mountains or the sea. Each has a private kitchenette with fridge, kettle and 2-ring cooker. Air conditioning, free Wi-Fi and a satellite TV are included. Only 350 feet from Petra's centre, Niki Studios are just 150 feet from local taverns. Molivos Port is just 3.1 miles away and the bus stops right opposite the studios. For photos and more information click here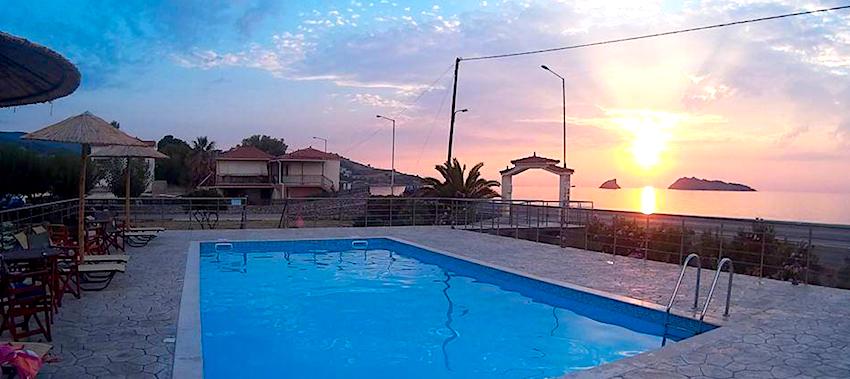 Villa Vicky
Boasting a seasonal outdoor swimming pool, a garden as well as a terrace, Villa Vicky is set in Petra, within 1,950 feet of Petra Beach. Free WiFi is provided throughout the property. All units include a fully equipped kitchen, allowing guests to prepare their own meals. A microwave, a toaster and fridge are also featured, as well as a coffee machine and a kettle. This property also has one of the best-rated locations in Petra! For photos and more information click here

Hotel Deucalion
Hotel Deucalion is a self-catering hotel situated on a green hillside, North of Lesvos in the beautiful village of Petra, offering great views of this beautiful corner of the island. Hotel Defkalion is conveniently located only 400 meters from the private beach of Avlaki, 800 meters from the centre of both Petra and 4 kilometres from Molivos. Defkalion is an intimate, family-run hotel with a friendly atmosphere and great hospitality. All its studios come with fully equipped kitchenettes. Click for more info and booking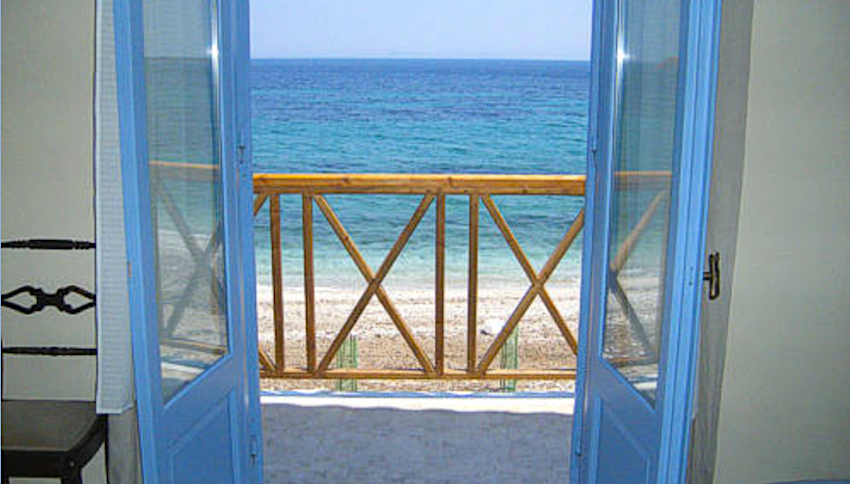 Kyparissis Beach Houses
Located in the village of Skala Mystegna, Few places in Greece, the Aegean, or even Lesvos, have this kind of view with the tiny picturesque fishing harbour to the left, and then across the straits of Toukmakia to the purple hills of Asia Minor. Just open the door and walk straight out on to the beach at magical Skala Mystegna. And what a beach it is - the beautiful white pebbles, truly crystal blue waters of the Aegean, without the crowds. Click for more info and booking
Heliotopos Apartments and Studios
Heliotopos Apartments and Studios in Skala Eressos is set back a couple hundred yards from the beach surrounded by fruit trees and green fields. It is a catagory A and consists of three apartments and five studios in two buildings.Each has a fully equipped kitchen. The property is within walking distance of the restaurants and nightlife of Skala Eressos. The extensive garden is home to many birds. It is also across the road from the famous turtle pond where you can actually feed the turtles by hand. The apartments are run by a very nice American couple. Click for more info and booking

Eressian Hotel & Hammam Spa
The Eressian Spa Hotel and Villa is a Boutique Hotel in Skala Eressos, Lesvos with an awarded private Hammam & Spa that can accommodate groups of up to 10, offering the ultimate rejuvenation experience, combining the privacy of a Spa Villa with the luxury service of a Hotel.
In 2021, the Eressian Hotel & Hammam Spa won the "Small Hotel Spa of the Year" award at the Greek Hotel of the Year Awards, solidfying its position as a world-class wellness retreat & repositioning Lesvos as a top Mediterranean Wellness destination.
The Conde Nast Traveller UK magazine featured The Eressian Hotel & Hammam Spa in the "Islands" special of its September 2021 print issue referencing our award-winning purifying hammam experiences and the petite size of the hotel making it ideal for groups who want to rent the whole hotel privately, as a villa. Click here for photos, reviews and booking information.
Sappho House
Sappho House is a detached holiday home is set in Skála Eresoú a one minute walk to the sea. Free WiFi is featured throughout the property. There is a dining area and a kitchen complete with an oven, a toaster and refrigerator. Towels and bed linen are available in this self-catering accommodation. There are 2 private bathrooms with a shower. Click for more info and booking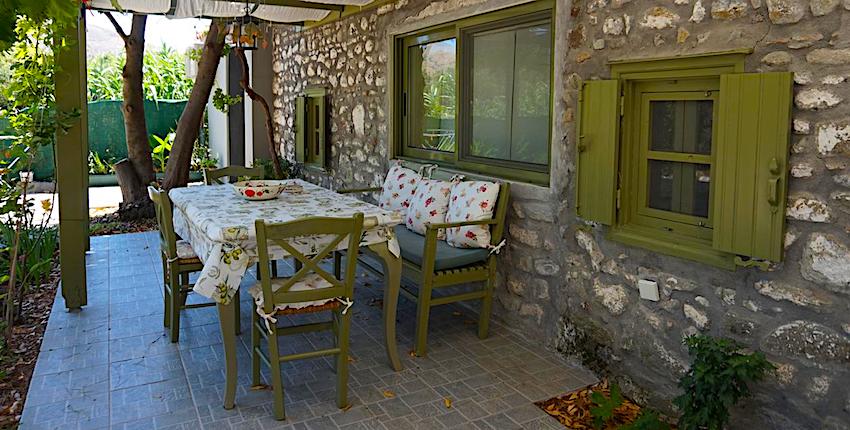 Chalantra Residence
Featuring free WiFi and a terrace, Chalantra Residence offers accommodation in Skala Eressos, a 12 minute walk from the beach, cafes, restaurants and shops. Free private parking is available on site. You will find a shared kitchen at the property. Bike hire is available at this guest house and the area is popular for hiking. Click for more info and booking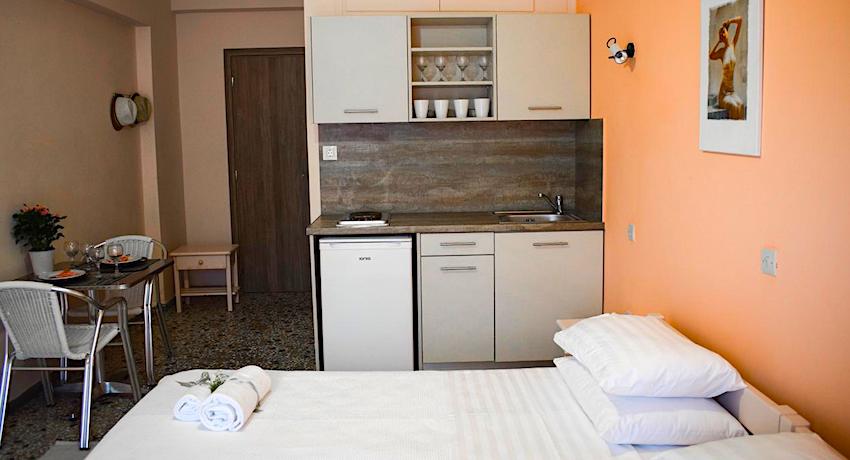 Natasia Studios
Natasia Studios is in Skala Eressos, just one minute walk from the beach and the restaurants, cafes and shops. Free WiFi is available throughout the property. There is also a kitchenette, equipped with a refrigerator and stovetop. Towels and bed linen are offered. All units are located on the 1st floor. Click for more info and booking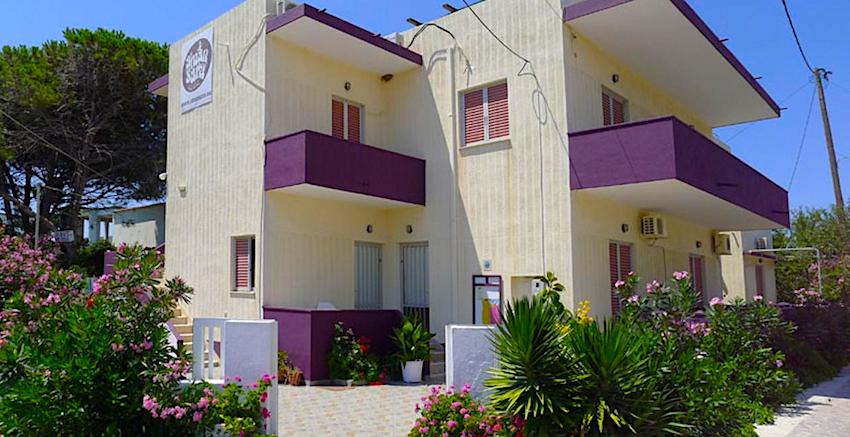 Aumkara
Just 1-minute walk away from Skala Eressos Beach, Aumkara features self-catered accommodation amidst a blossomed garden. Guests can relax at the 100m2 rooftop terrace enjoying views of the Aegean Sea. Free Wi-Fi is available in public areas. All air-conditioned studios and apartments are spacious and open out to a balcony with mountain or sea views. Each has a kitchenette with a mini fridge, cooking hobs and coffee maker. A TV and hairdryer are included. Click for more info and booking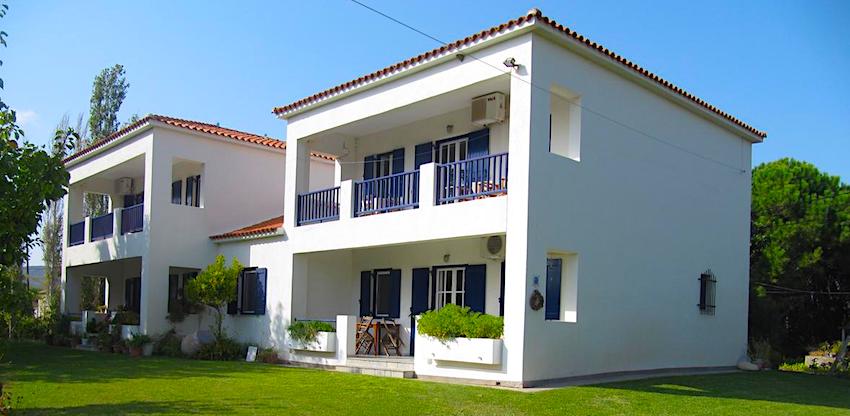 Eressos Ilios Apartments
Featuring a sun terrace and garden, Eressos Ilios Apartments is located 350 feet from the beach in Skala Eressos. Within 650 feet guests can find a restaurant and cafeterias. Each air-conditioned apartment includes sofas and a kitchenette with stove. The bathroom comes with a bath. Click for more info and booking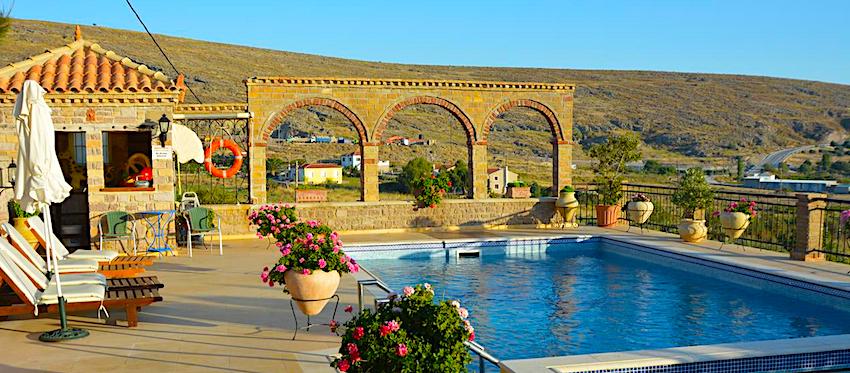 Lesvos Tower House
The Tower in Sigri is a traditional building with obvious middle age elements mixed with the Lesvian architecture. Built on a mountainside on an eight – acre farm full of olive trees, citrus trees and other vegetation, it has a wonderful view of the sea. You can walk through the small paved paths that lead you to various parts of the farm. The beautiful flowers and trees, as well as the rock gardens with running water offer visitors the ideal environment for relaxation and rest. Each apartment has central heating, air-conditioning, NOVA TV , internet, rest room , kitchen, dining room, bedroom with traditional furniture and bed antiques over 200 years old. Washing machine for personal use. Click for more info and booking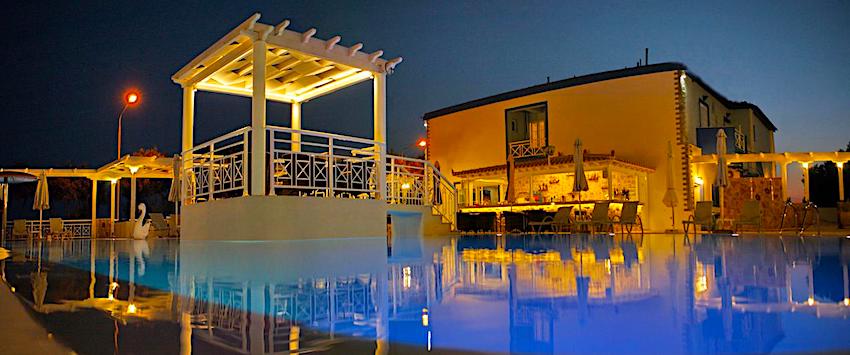 APHRODITE BEACH HOTEL
The APHRODITE BEACH HOTEL on Vatera Beach in Lesvos, has rooms, studios and apartments to offer not only families but honeymooners, couples and singles. The studios & apartments have fully-equipped kitchens, telephones, air-conditioning, music, television, video, hair-dryers and more. Not that you will be spending much time in your room with one of the world's most gorgeous beaches right outside. This is one of the best hotels for families with children, who will spend hours on the trampoline or in the pool or on the beach while you watch them from the restaurant-cafe. Click for more info and booking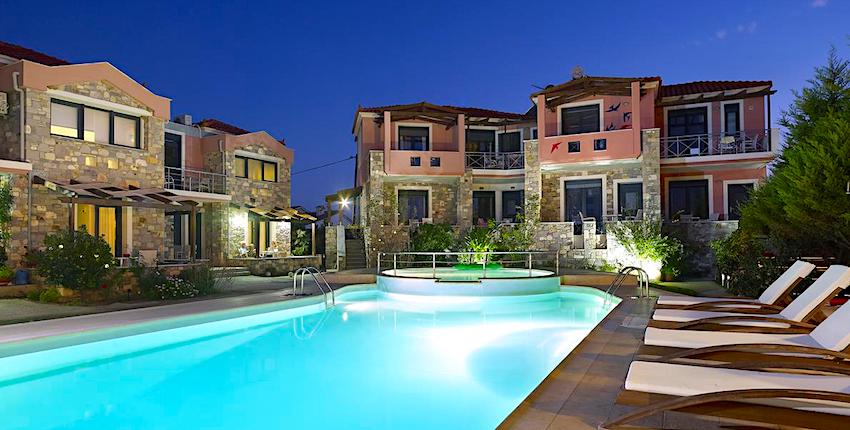 AEOLIS Luxury Apartments & Studios
AEOLIS Luxury Apartments & Studios are brand new and are located in Evriaki, a coastal resort in Gera Gulf. They are a complex of autonomous stone built residences that combine modern aesthetics with the traditional Aegean design. Aeolis residences are spacious maisonettes (split-level houses) that can comfortably house up to 5 individuals and studios that can easily accommodate 3 individuals. They all have a splendid view to the sea since they're situated only a few meters away from the beach. Click for more info and booking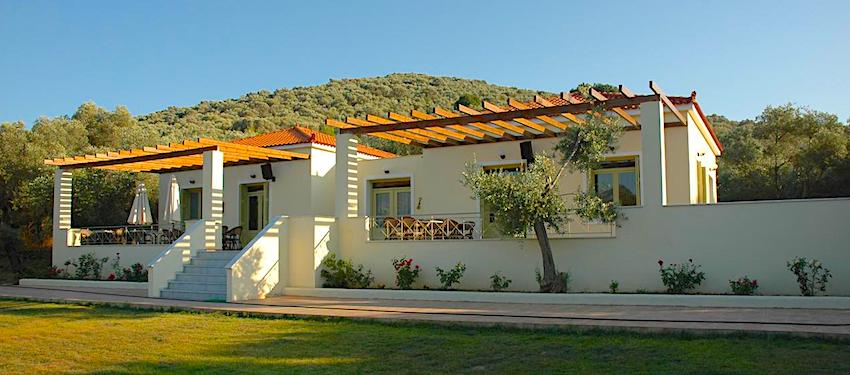 Gera's Olive Groves
This traditional guest house in Gera offers beautifully appointed accommodation with its own farm and animals, a private fishing boat and fresh produce from its own land. There are 3 self-catering lodges that combine rustic charm with modern luxuries. Enjoy spacious rooms with marble and wooden furnishings. There are plenty of outdoor dining areas at Geras Olive Grove, perfect for enjoying the fresh food made with the farm's own produce by local housewives. Click for more info and booking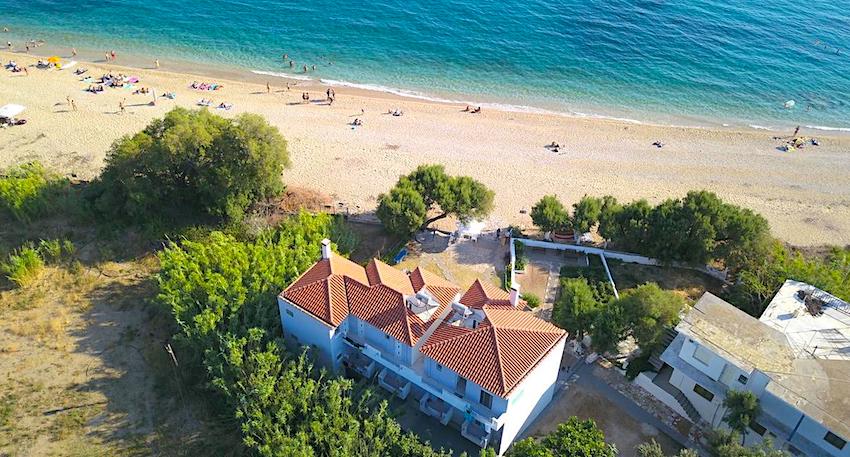 Pano sto Kyma
Located by on the beach of Agios Isidoros, Pano sto Kyma offers self-catered accommodation with open sea views. Outdoor seating areas are available, and shady trees line the beachfront and surround the hotel. With large windows and balconies facing the sea, the studios and apartments of Pano sto Kyma have a private kitchenette with fridge and a ceiling fan. The complex is just a few minutes from Plomari and Barbayiannis Ouzo Museum. Free private parking is provided on site. Click for more info and booking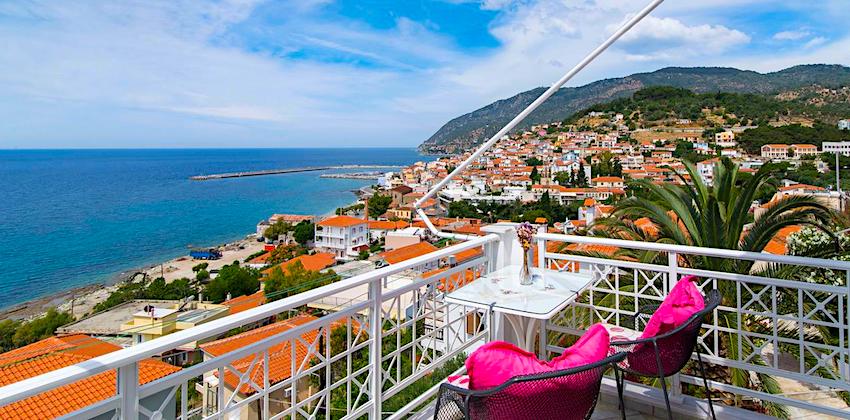 Maria's Apartments
Just 350 feet from Plomari Beach in Lesvos, Maria's Apartments offers self-catering accommodation with free Wi-Fi and panoramic views over the Aegean Sea. It includes a swimming pool and a blossomed sun terrace with sun loungers. Opening to a balcony, the apartments of Maria have a kitchenette with fridge, cooking hobs, coffee machine and toaster. Each unit is equipped with air conditioning, TV and safe. The private bathroom comes with bath tub or shower, hairdryer and free toiletries. The centre of Plomari Village, where taverns and mini markets are featured, lies within 800 feet from the property. Click for more info and booking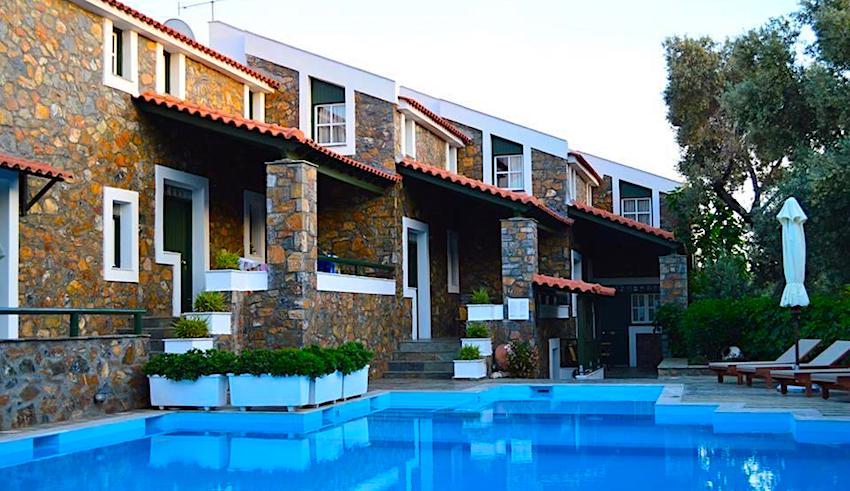 Elia Village
The stone-built Elia Village offers traditional accommodation surrounded by olive groves, only 650 feet from Agios Isidoros Beach. It has a swimming pool with sun beds and umbrellas and a poolside bar. Maintaining the local style of Lesvos, Elia units have a balcony with views over the olive-tree garden. They are all equipped with air conditioning, a TV and private bathroom with free toiletries and hairdryer. Some units also feature a fully fitted kitchen with dining and living area. Guests can relax around the pool with a drink from the bar, while children can swim in the own pool. A lifeguard and showers are also available on site. Within 800 metres, guests will find a mini market. The town of Plomari, famous for its ouzo, is 3.7 miles away. Click for more info and booking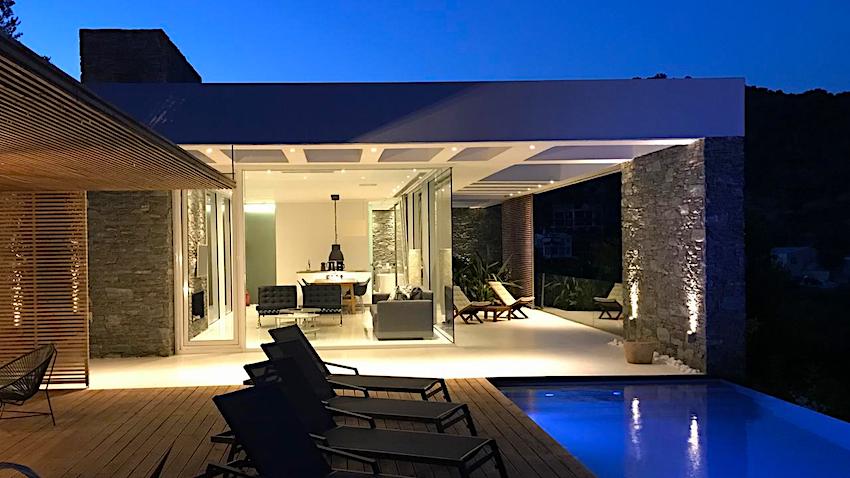 A - Luxury Villas
Set amidst a lovely olive grove, the award winning A - Luxury is located in Plomari and offers modernly decorated villas with private pools. They also include a sun terrace, a wine-bar and a cellar. All units are air conditioned and include a dining area and a seating area with a satellite flat-screen TV. Each unit features a terrace and balcony. There is also a kitchen, fitted with an oven. A microwave, a toaster and refrigerator are also available, as well as a coffee machine. Each unit comes with a private bathroom with bath robes and slippers. Towels are provided. Guests can enjoy a drink at the on-site bar. Click for more info and booking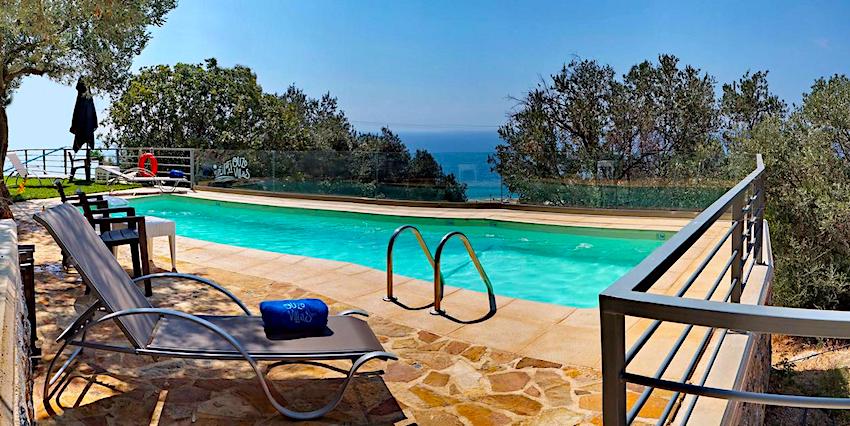 Ouzo Villas
Surrounded by lush greenery, in Agios Isidoros, Ouzo Villas feature an outdoor pool and views of the Aegean Sea. It offers spacious, split-level villas with fireplace, free WiFi access and free on-site parking. The nearest beach is 1,000 feet away. Opening to a private terrace with sea and mountain view, each air-conditioned villa consists of 2 separate bedrooms, 2 bathrooms, a spacious living room and a fully equipped kitchen with oven, fridge and microwave. Facilities include a washing machine, a dishwasher, a coffee machine and a flat-screen TV. The scenic Plomari Village is 1.2 miles from Ouzo Villas, while Ouzo Museum is 0.6 miles away. Click for more info and booking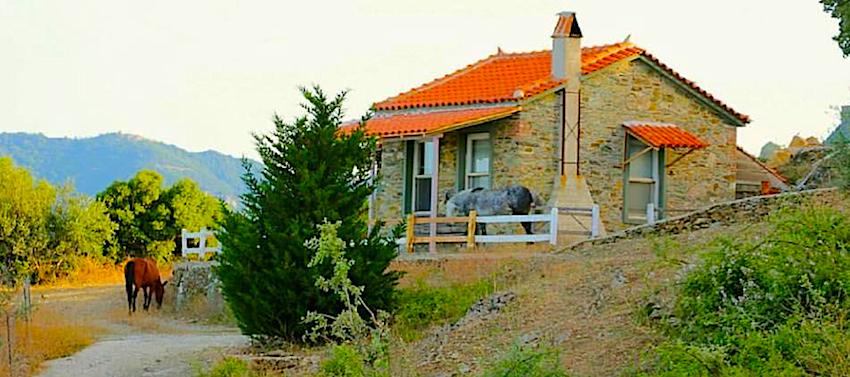 Toumba Eco Farm Guesthouses
Set in Milies, near Plomari, Toumba Eco Farm Guesthouses features free private parking. The guest house has views of the sea, and guests can enjoy breakfast and meals at the restaurant or a drink at the bar. The guest house has a small, well-equipped kitchen fitted with a fridge, featuring views of the sea. Guests can find free WiFi access at the cafe. An array of activities are offered in the area, such as horse riding and cycling. The guest house also offers free use of bicycles. Click for more info and booking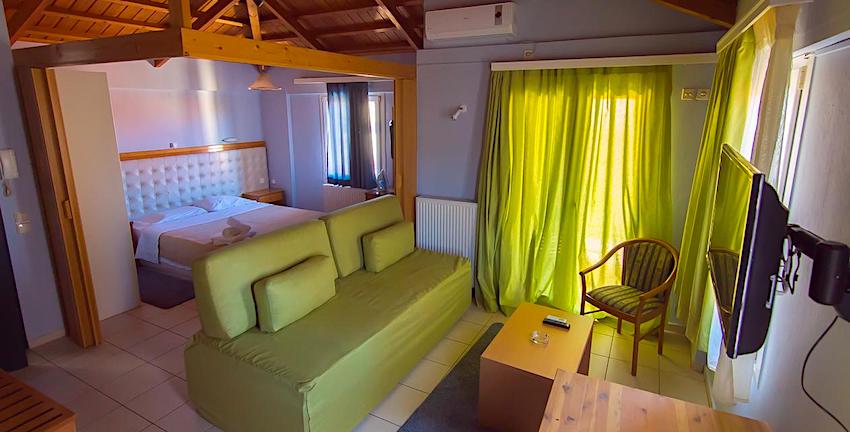 Heliotrope The Studios
Centrally located in Mytilini, Heliotrope The Studios is only 350 feet from the market and 500 feet from the scenic port with cafés, bars and restaurants. It features self-catering accommodation with free WiFi. All apartments come with a separate bedroom, fully equipped kitchenette with dining area and balcony. Extras include air conditioning, two 32-inch flat-screen TVs and ironing facilities. All the apartments have a washing machine. Heliotrope The Studios is just 1,300 feet from the nearest beach, while Mytilene Airport is 3.7 miles away. Click for more info and booking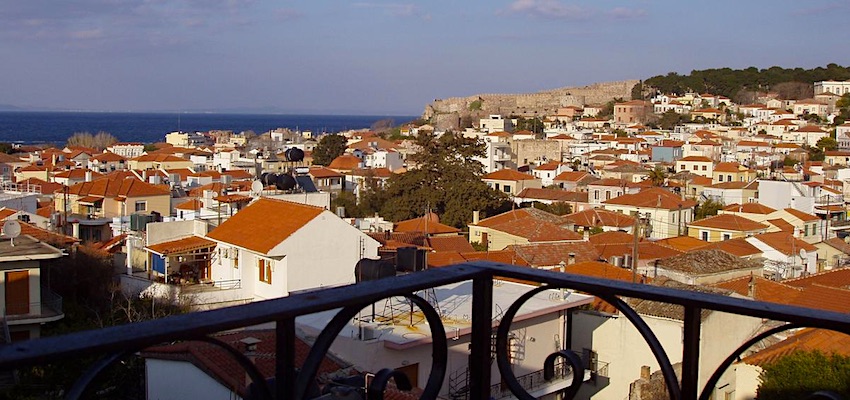 Selana Apartments
Offering a garden, Selana Apartments is in Mytilini. University of the Aegean is 1,000 feet away. Free WiFi is available throughout the property. All units are air conditioned and include a TV. There is also a kitchenette, equipped with a fridge. Every unit comes with a private bathroom with free toiletries. Towels and bed linen are offered. Theophilos Museum is 350 feet from Selana Apartments, while Ecclesiastic and Byzantine Museum Mytilini is 350 feet from the property. Click for more info and booking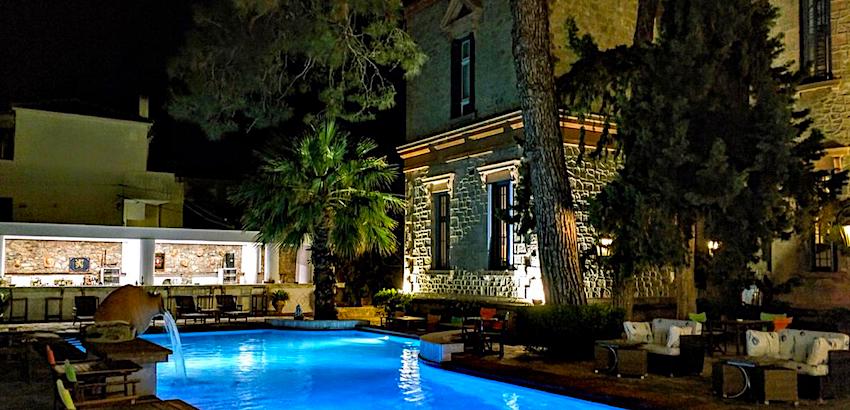 Loriet Hotel
Consisting of a new traditional back cottage and a renovated 18th century mansion, Loriet Hotel sits right across Varia Beach. This splendid complex is only 1.2 miles from the picturesque city of Mytilini. The self-catered, air-conditioned rooms offer balconies overlooking the Aegean Sea or gardens and seawater pool. A kitchenette with fridge, TV and free Wi-Fi access are standard. Greek breakfast includes cakes and pastries, jams and fresh fruit from the garden. Guests can relax in the lush garden that features century-old pine trees and exotic plants or in the poolside bar. At 1.2 miles from the Loriet, the capital city Mytilene is full of neoclassical buildings, historical monuments such as the Enetic Castle and many tavernas and shops. The Loriet is within walking distance from the famous Terriade and Theofilos Museums. Mytilene Airport is 1.2 miles away. Free private parking is possible on site. Click for more info and booking
For information about the island of Lesvos please visit my Lesvos Guide. For more villas, homes, hotels and other accommodations visit Booking.com's Lesvos page and use the search options to find exactly what you want. If the property you want is booked you can use the map on each hotel page or use the suggestions for other similar properties. If you still can't find what you want then I suggest you contact Fantasy Travel and they will help you. If you plan to visit other islands I recommend you use Matt's Create-an-itinerary form