DAY 1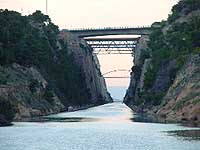 With a morning departure from your hotel, we continue and stop for a short break at the Canal of Corinth, with the chance for a quick coffee or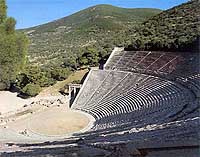 a picture of the famous canal (78-meters high, 24-meters wide, 6,343-meters long and 12 meters deep).
Our next stop will be at Epidaurus for visiting the Ancient Theatre with its outstanding acoustics, then, passing by the Bay of Nafplion, we will have a short stop in picturesque town of Nafplion.
Continuing through the plain of Argos we arrive at Mycenae, legendary home of the Atreides that gave its name to Civilization, spread throughout the Greek world, for visiting the famous Palace, the Lions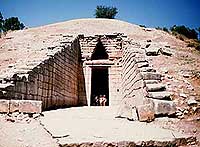 Gate and the Tomb of King Agamemnon. In the afternoon depart for Olympia, the birth place of the Olympic Games, Driving through the Central Peloponnese, Arcadia, as well as the towns of Tripoli and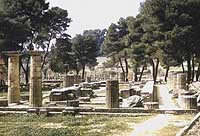 Megalopolis.
Dinner & overnight stay in Olympia.
DAY 2
In Olympia you will have the opportunity to visit with our guide the Sanctuary of Olympian Zeus, the Stadium, the altar of the Olympic flame and the archaeological museum.
Departure for Delphi will then be through Patras, the capital of the Peloponnese, crossing on the new bridge from Rio to Antirion and passing by Nafpaktos (Lepanto), and taking the coastal road to Delphi.
Dinner & overnight stay in Delphi.
DAY 3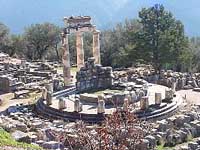 In the morning we will visit the museum and site at Delphi with the famous bronze Charioteer, the statue of Antinoos and the athlete Aghias, and visit Castalia Spring as well as the Sanctuary of Athena Pronaia.
Later, we will depart for Kalambaka driving through the town of Lamia and passing by numerous picturesque villages and small towns of Central Greece before arriving in Kalambaka, a small town built at the foot of the majestic grey rocks and crowned by the Meteora Monasteries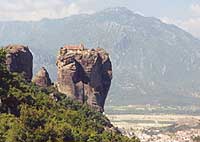 Dinner & overnight stay in Kalambaka.
DAY 4
Visit of the well-known Meteora region with its stunning Byzantine Monasteries constructed on top of huge rocks which seem to be suspended in mid-air. In the afternoon return to Athens via Trikala, Lamia, a short stop in Thermopylae (Leonida's Monument) and Kammena Vourla.
Arrive in Athens in the evening at approximately 19:00.
Prices 2017
A' Class Hotel
Price per Adult:
595
Euro
Single Supplement:
112
Euro
Price per Child*:
299
Euro
One child sharing a triple room with two adults is FREE
Tourist Class Hotel
Price per Adult:
523
Euro
Single Supplement:
87
Euro
Price per Child*:
264
Euro
*For Children 4-12 years old

Departure days & Languages
03/04/2017 – 30/10/2017
MON
TUE
WED
THU

*

FRI
SAT
SUN
01/11/2017 – 31/03/2018
MON
TUE
WED
THU
FRI
SAT
SUN

* Thursday departures only on :




20/04, 11/05, 18/05, 25/05, 08/06, 22/06, 06/07, 20/07, 03/08, 24/08, 07/09, 14/09, 21/09, 28/09, 05/10, 12/10
Price Includes: Pick-up service from/near your hotel. Guided Tour & Entrance fee. Dinner on 1st, 2nd & 3rd day. Breakfast on 2nd, 3rd & 4th day.