Day 1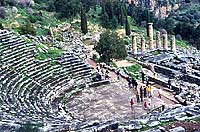 Driving through the region of Veotia, and passing by Thebes and Levadia, your guide will explain to you about the famous myths like Oedipus, and about the first evidence for the appearance of man dated 12.000 years B.C. You will pass by the picturesque village of Arachova, built on the slopes of Mount Parnassus, well-known for its hand-made carpets.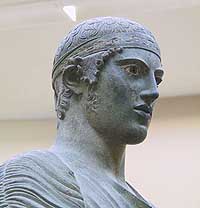 Continuing you will arrive in Delphi, Here you may visit the Museum with the famous bronze Charioteer, the statue of Antinoos, the athlete Aghias and the site in which you will admire the Ancient Sanctuary and all the renowned ruins of the "Omphalos" (Navel) of the Ancient world.
You will feel the mystery in the "Temple of Apollo" where Pythia was seated giving out her predictions of the future. See the "Castalia Spring" with the two monumental fountains receiving water from the spring for the last 3000 years.
Dinner and overnight stay in Delphi.
Day 2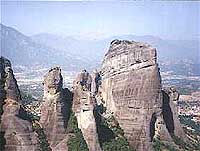 In the morning your are free to stroll around the town of Delphi before your departure for Kalambaka. Your coach will then be driving through the city of Lamia while passing by numerous picturesque villages and small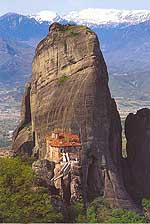 towns of Central Greece.
Dinner and overnight stay in Kalambaka.
Day 3
With a morning departure from Kalambaka, you will make your way to visit the well-known Meteora with its Byzantine Monasteries constructed on top of huge rocks, which seem to be suspended in mid-air. In the afternoon return to Athens via Trikala, Lamia, Thermopylae (with a short visit) and Kammena Vourla.
Arrive back in Athens in the evening at around 7pm.
Prices 2017
A' Class Hotel
Price per Adult:
390
Euro
Single Supplement:
74
Euro
Price per Child*:
199
Euro
One child sharing a triple room with two adults is FREE
Tourist Class Hotel
Price per Adult:
329
Euro
Single Supplement:
58
Euro
Price per Child*:
169
Euro
*For Children 4-12 years old

Departure days & Languages
04/04/2017 – 31/10/2017
MON
TUE
WED
THU
FRI

*

SAT
SUN

* Friday departures only on :




21/04, 12/05, 19/05, 26/05, 09/06, 23/06, 07/07, 21/07, 04/08, 25/08, 08/09, 15/09, 22/09, 29/09, 06/10, 13/10
Price Includes: Pick-up service from/near your hotel. Guided Tour & Entrance fee. Dinner on the first & second day. Breakfast on the second & third day.