To list and describe all the beaches in and around Chania would take forever. Much of the north coast of Crete is one long beach and where one ends another begins. In the more mountainous areas the beaches are more isolated some in sheltered coves and some long stretches of sand with a clear beginning and ending.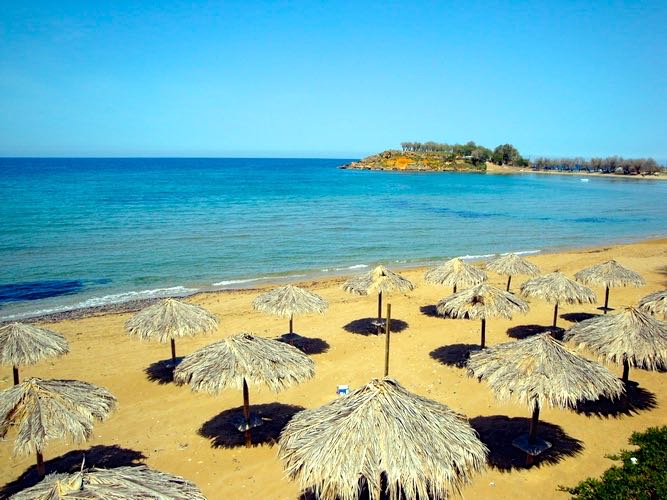 Within Chania itself you don't have to walk far to find good swimming. Chania had the foresight to create a sewage system that hooks up every home and hotel and sends it to a plant far from town where it is processed and purifed and then pumped far out at sea, which means that the waters around Chania are clean, even by Greek standards which are the highest in the Mediterranean. Though people do swim on the small beach outside the walls on the eastern end of the old town and in Koum Kapi, you are better off walking west where the beaches get better and better. By the time you get to Glaros Beach where the Hotel Ammos is, you are swimming in the kind of sea that people dream about. For those who want to stay on the beach but within striking distance of Chania see Kato Daratso Hotels and Agia Marina/Nea Kydonia Hotels.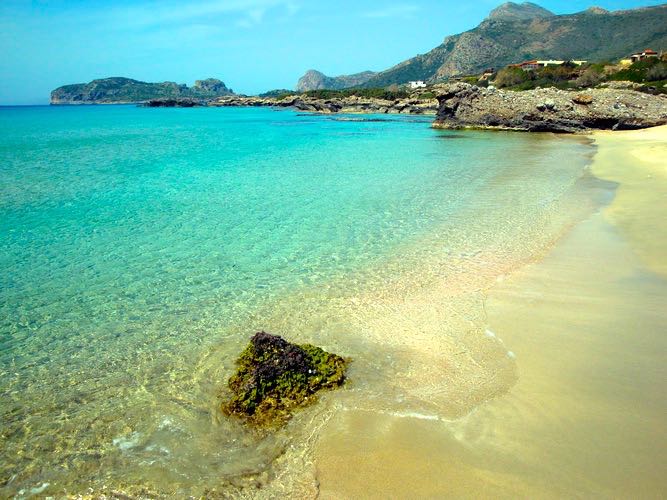 As you continue on down the coast you come to towns that people visit for their sandy beaches where hotels that are not on the beach may have bridges or tunnels across the road to give their guests instant beach access in places like Platanias, Gerani and Maleme. See Platanias Hotels and Maleme Hotels.
Kolymbari, the first town on the Rodopou Peninsula has a long pebble beach and the gulf of Kissamos has a long pebbly beach as well as sheltered coves. On the Akrotiri Peninsula east of Chania the beach at Stavros is a must, not just because it is a great place to swim and it is full of fish tavernas but because this is where they filmed Zorba the Greek. See Stavros Hotels
Further east are nice beaches at Kalami, Almyrida, and much of the coast between Georgiopouli and Rethymnon is one long beach. There is also a water-park on Akrotiri if that kind of thing interests you. See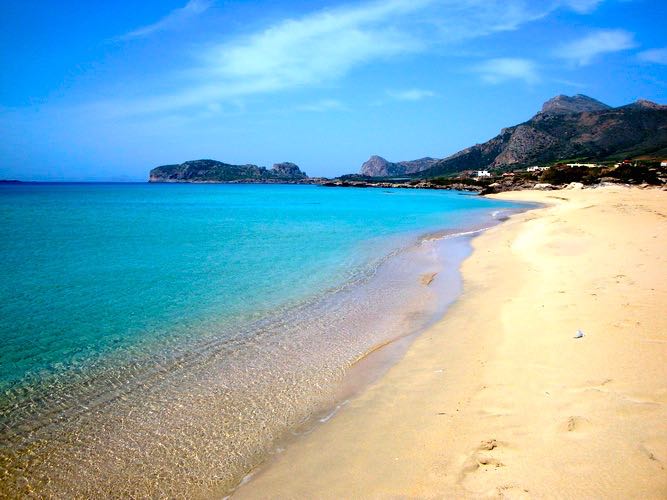 For the truly spectacular beaches you need to drive a little but if you love beaches you will find them worth it. Falasarna(photo) on the western coast of Crete is one of the most beautiful beaches you will ever see. If that is not enough for you then continue south to Sfinari Beach or all the way to Elafonissi which is spectacular, especially on a clear sunny day when the white sand and sea create the kind of color people go to the South Pacific to see. For those willing to walk a little bit for their pleasure the beach at Balos (top photo) on the tip of Crete's westernmost peninsula is an island separated by a stretch of sand with beaches on each side. You can find hotels, villas, self-catering apartments and holiday homes in Falasarna by using Matt's Booking.com Hotel Search. If you use the map you can find accommodations on the entire west coast of Crete from Kissamos to the southern coast.
In the south Sougia has a long sandy beach and the beaches at Frangokastelo and Koraka are all worth daytrips from Chania. Paliohora has a long sandy beach and a pebble beach and like many of the beaches in southern Crete going topless for women is almost required and complete nudity is found on the outer fringes and in small sheltered coves and among the rocks. Glika Nera near Hora Sfakion and Orthi Amos near Frangokastelo are two beaches that are popular with naturists, as they are called. For those who are worried that they will be out of place wearing their bathing suits, don't be. Any beach is a mixed crowd. See Hotels in Paliohora and Hotels in Frangokastelo and use the map to find rooms, apartments and rental homes in between the two towns.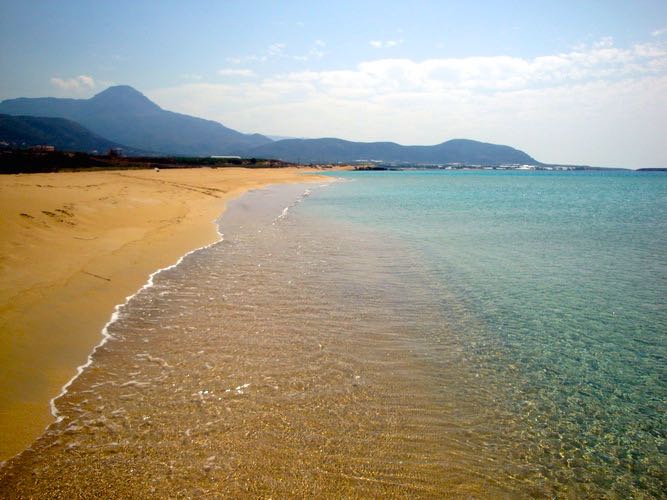 When you look at a map of Crete you will notice umbrellas which of course signify beaches. These in most cases are popular places, with tavernas, cantinas, umbrellas for rent and some watersports though when it is not July or August many of these businesses pack up and shut down and you are left with long beautiful beaches with a handful of people on them, especially from mid-September to late May. From November to Easter you are likely to have an entire beach to yourself, the only footprints in the sand being yours or a bird's. With Crete's mild winter you can swim into December and if you are the hearty type you can swim year round in certain places, depending on how deep the sea is and how warm it has been in the preceding days. In the summer when beaches are crowded there are many small beaches that are not in anyone's Guidebook, maybe known to the locals with a small hand-painted sign that points the way to the beach or the fish taverna on it. If you are looking for places like this keep your eyes open for the small dirt roads that lead to the coves between two small mountains or hills or the mouths of Crete's lesser known gorges. A jeep is advisable if you want to be able to face your car rental agent again though in some places you will be surprised at what kind of vehicles show up. If you drive slowly and carefully you can go just about anywhere but take it from me that it is a lot less stressful with a jeep when you know that there is probably no road that is impassable unless there has been a landslide or it has been flooded by a river.
Remember that you can buy inexpensive masks, snorkels and flippers in Chania and even in the supermarkets and tourist shops in the coastal towns if you didn't bring your own. The best diving is in the rocky areas usually on either end of the beaches and in the small coves. There are very few dangers. Anything big enough to take a bite of you either left years ago or soon after the first summer swimmers arrived for the summer and anyway even the largest fish does not want to mess with anything even close to its own size. If you have a portable fishing pole you can fish anywhere and you will probably catch something. It may not be something you would want to eat or even touch but that is part of the fun of fishing, the unknown thing beneath the sea that you are helping to give the first glimpse of the surface world, against its wishes.
You can find hotels, villas, self-catering apartments and holiday homes in Western Crete by using Matt's Booking.com Hotel Search. If you use the map you can find accommodations on the entire west coast of Crete. You can also use the search options to find properties in any of the beach towns I have written about on this page.