There are plenty of hotels to choose from in Chania and where you will stay will depend on your budget and whether you want to be on the beach, in the old town or in the new town.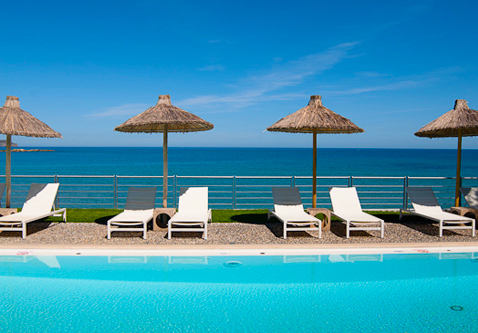 Personally my first choice is probably the Hotel Ammos which is located on the beach about a 45 minute walk from the old city. In fact one of the reasons I would choose this hotel is because you can walk the entire way on the beach. Its a beautiful hotel, well decorated with modern art and with an owner who seems to enjoy renovating it every year so you are always in a new hotel. The rooms are large and spacious and have small kitchens and the hotel is right on the beach. It also has a pool and is a favorite hotel for families with children many who come every year. The hotel has its own restaurant which has a nice selection of Cretan traditional food, typical Greek cooking and a few international favorites. The owner Nikos Tsepetis is very knowledgeable about Crete and especially about where to eat, as is evident in the fact that he wrote the restaurant section of this site. There is a small fish pond, beautiful gardens and unlike most hotels there is parking if you have a car, which you should if you plan to explore western Crete.
If the Ammos is full (as it often is) and you want to be on a beach (a nice beach-not a city beach) then you can try the Aqua Blue Villas located in the picturesque seaside settlement of Georgioupolis, with convenient access to the major sights and attractions of the island and right on the beach. There is also Iolkos Hotel Apartments which offers self-catering on Glaros Beach. Hotel Alexis is located in a quiet neighborhood at the edge of Chania Town, overlooking the town and the sea, close to the beach, the Venetian Port and the Chania old town. The Golden Bay Hotel is right on the beach in Agii Apostoli, 2.5 miles west of Chania. Rooms and apartments include cooking facilities, balcony and views of the sea or pool. Showcasing a sauna and fitness center, Domes Noruz Chania, Autograph Collection- Adults Only Hotel is located in Kato Daratso on the beach just 2.4 miles from Chania. For more hotels on or close to the beach in western Chania use this link to Booking.com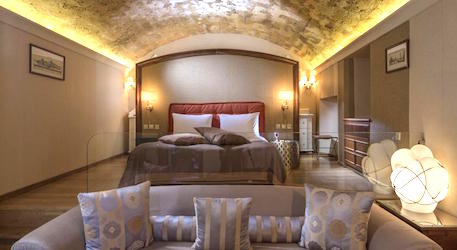 For those who want to be in the old town and stay in a 17th Century Venetian Palace, as many of us would, then I suggest the 5-Star Hotel Casa Delfino Hotel and Spa which probably would be out of the budget of most of us. Especially me. However we went out to dinner one night with some friends and I met the owner and he invited us to stay for free and it was one of the nicest hotels I have ever stayed in. The rooms are magnificent and there are suites available for those who want to take the next step up. Ours had a jucuzzi for two, a very comfortable bed that a small family would be happy in and a living room dining room area that was bigger than the one in our apartment in Athens. The courtyard is beautiful and has the world's largest cactus and serves as a sitting area for the cafe which makes excellent espresso. Its a block up from the sea and for what it is worth is a favorite of Tipper Gore.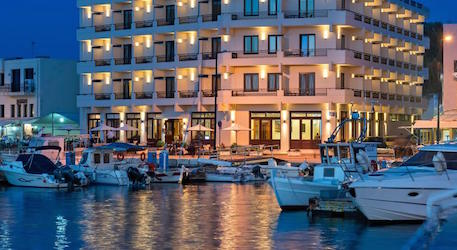 The first place we stayed which I also loved was the Hotel Porto Veneziano which is a modern looking three story building in the inner harbor by the Venetian shipyards, the Sailing Ship Minoa Museum, and all the best restaurants and cafes. Most rooms overlook the harbor and the old town and in my opinion in terms of location if you are staying in town then this is the best area to stay in. The rooms were large and the beds comfortable, the staff were helpful and they had a little cafe with tables on the street where you can sit, drink coffee or something stronger and watch the fishing boats and the people walk by. We did not have any meals here except breakfast but people who reviewed the hotel on Booking.com raved about the food and other aspects of the hotel, which you can read by clicking on that link. It is rated as 'Exceptional' by reviewers which for a 3-star hotel is pretty good and also means if you don't book it quickly you probably won't get a room there. I will just add that I really liked staying here and leave it at that.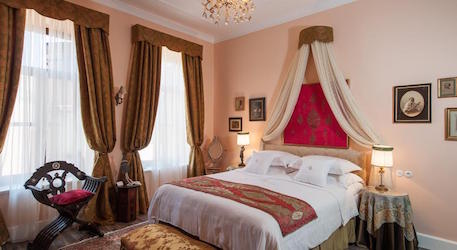 La Maison Ottomane combines the comforts of an elegant boutique hotel with the relaxed informality of a luxury guest house. Inspired by the opulence of Ottoman rule, it is filled with fine antiques, paintings, carpets and porcelain, scents from Marrakech, silks and sweet delicacies from Istanbul... This exclusive Ottoman luxury hotel in Crete is located in a quiet corner at the heart of Chania's historical old town, 3 minutes' walk from the Venetian Harbour, 5 minutes' walk from the city centre and 10 minutes from the nearest beach. High-speed wifi, complimentary use of tablet computers, wireless printing and that rare Chania asset of private parking, help us support the business and leisure traveller to a high level of comfort. This romantic hotel is a home from home for readers, walkers, sleepers, writers, eaters, dreamers, lovers, workers, poets, sunseekers, honeymooners. La Maison Ottomane has been a labour of love conceived and built by a multilingual team that has travelled the world, trained in the industry and understands the needs and desires of those seeking comfort and efficiency. All that plus Greek hospitality.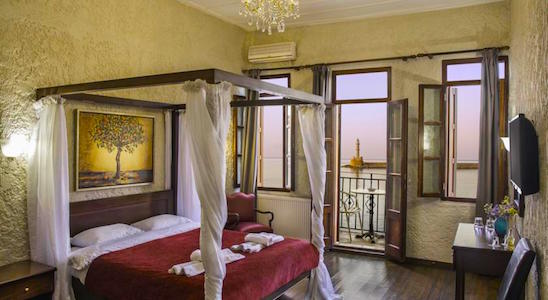 Other highly rated hotels, in case the above are booked already, include the Erietta Suites in the old town, which features self-catering accommodation with free WiFi. Also located in the old town, Casa Del Porto offers elegant suites with free Wi-Fi access and a hydromassage shower cabin. Built in 1659, Porto Antico (photo) is located in the picturesque Venetian harbour of Chania and within a short walk from the town centre. It offers traditional rooms with views of the Old Town, the port and the landmark lighthouse Pharos. Fatma Boutique Hotel offers stylish rooms with free Wi-Fi. Each includes tea-and-coffee amenities and comfortable seating areas. Fatma Boutique Hotel's spacious rooms feature warm-coloured fabrics, design furnishings, a flat-screen TV and espresso maker (which will save you a small fortune). The economical El Greco Hotel is located in the Old Town of Chania, right next to the Venetian harbor and only 1,650 feet from the beach of Nea Chora. Diamond Luxury Suites enjoys a privileged location whether you are in the city for a holiday or for business. Each room has a different design and décor. Classical and contemporary, past and present, all blend harmoniously with each other, creating an environment of discreet luxury that will take you to another era. All the sights, taverns and the cosmopolitan city life are only a few steps away.
If you are looking for villas, apartments and Air BnB type accommodations Ocean Waves Villa is on the sea east of Chania harbor and just a 15 minute wwalk into town. C&M Residence in Chania Old Town have apartments that are perfect for families. Stam's Paradise is located in Chania Town, just a half a mile from Chania's Old Venetian Harbor and a one minute walk to the beach. The 15th-century, Venetian-style Doge Hotel is in Chania's center 150 feet from the Venetian Harbor. It features free Wi-Fi, a rich breakfast and self-catering rooms with romantic décor. Sea and City Apartments are ocated in a quiet, residential apartment area by the beach, an easy 15 minute walk to the historical centyer of Chania and a 7 minute walk to restaurants by the fishing port. If you want to stay somewhere special right in the old town Residenzia Vranas has spectacular rooms with an amazing view of the harbor and is probably the best location you will find in Chania. If that is full then try Dorothy's Dream which is close by and similar. Zamboli Apartments is located in the centre of Chania opposite the Town Hall, with 2 uniquely renovated 1st-floor fully furnished apartments connected with a private entrance, originally built as student accommodations. Zambia room sleeps 3, Manoli room sleeps 4. The apartments are perfect for guests who want to feel at home away from home.
Of course there are other hotels, some more expensive and many more less expensive which you can find through Booking.com's Chania Page if all you need are hotels. You can search for Chania hotels by location, price, whether or not it has a swimming pool, and see photos and reviews and some you can book and cancel without paying a cancellation fee if you find something better. Because hotels in Chania fill up quickly this is not a bad strategy. If you think you will need assistance with ferries, tours, and hotels in Athens and other islands then it is best to book through a reliable Greek travel agency like Fantasy Travel or Dolphin Hellas or Aegean Thesaurus Travel.
For those visiting Kissamos, Crete, the Bikakis Family Hotel in an inexpensive, family run hotel that features an impressive gallery of the owner's paintings and they also do nature tours of the area. Kissimos is the furthest town west and is very unspoiled by mass tourism.
The trend these days in Greece is to rent a house, especially for families with children because having two or three rooms in a hotel can be inconvenient. Though living in a villa or apartment can feel isolating at times, especially for children (who, lets face it, have a lot more fun when they are staying somewhere there are lots of other kids around, like a big hotel on the beach with a swimming pool), sometimes it makes more economic sense to rent a house. Booking.com has a number of properties all over the island ranging from luxury villas with swimming pools to simple homes and apartments. With maps, lots of photos of the properties and a number of options for searching, you can find pretty much exactly what you are looking for. Keep in mind though, that unlike hotels which have dozens of rooms, a house generally sleeps from 4 to a dozen people, and they go very quickly. So if you find the perfect place, book it.
You can find hotels, villas, apartments and holiday homes at Matt's Hotels of Greece Crete Page