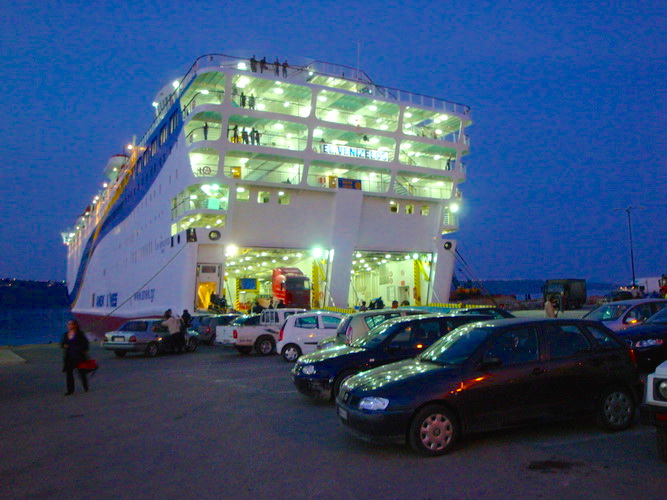 There are a number of ways to get from Chania, either from abroad or from Athens. The easiest way is to book your flight all the way through, stopping in Athens and continuing on to Chania or if a flight is unavailable you can fly to Iraklion and take a taxi. Olympic Airways and Aegean both fly to Chania and between the two airlines there are about ten flights a day from Athens and several flights a week to and from Thessaloniki. But the best way to go is by ferry. The way I recommend is the evening boat from Pireaus which leaves at 9pm and arrives at the un-godly hour of 6am which in the winter and early spring is still pitch black, however if you have had the foresight to have your travel agent or hotel arrange for a taxi to meet you or have brought with you a rental car from Athens then that's not such a bad thing because you will be able to drive to Chania, figure out the layout of the city without traffic and take some photos at dawn when the city looks absolutely amazing.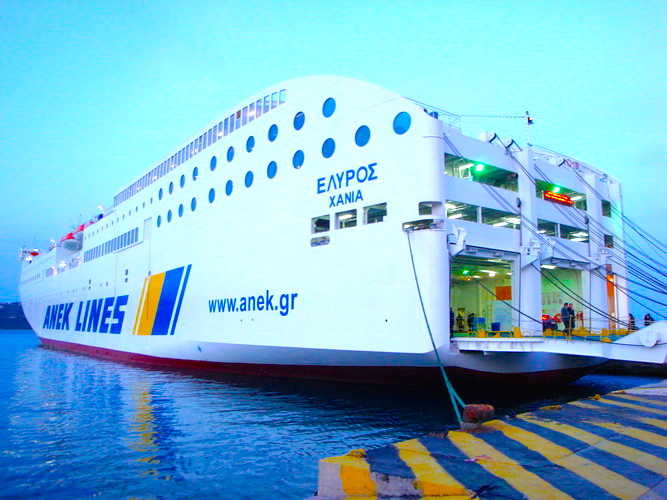 The ferry Elyros (photo) is the newest in the ANEK fleet, a clean and modern ship with beautiful and comfortable cabins with showers, large lounges with no-smoking areas, bars, restaurants, air-conditioning and a friendly staff. It alternates with the ferry Venizelos which is merely the world's largest ferry boat, so if you are a ferry lover you have a couple great choices. You can also sail to Heraklion every night and to Rethymnon several nights a week in the summer. ANEK and MINOAN lines both go to Iraklion and recently SUPERFAST has joined the competition with the beautiful Superfast XII, a state of the art ship that even has a swimming pool and does the trip in 6 hours. It leaves Pireaus at 3pm and arrives just after 9 and leaves Heraklion at midnight and gets to Pireaus at 6am. In the summer Hellenic Seaways jumps into the competitive fray with the small Flying Cats 3 and 4 which are only for passengers, no cars, and leave Heraklion every day for Santorini, Ios, Paros and Mykonos and then back. If you don't need a cabin and are going deck which is actually very comfortable on these ships, it is rare that you will need to buy them in advance. If you want a cabin you will need to.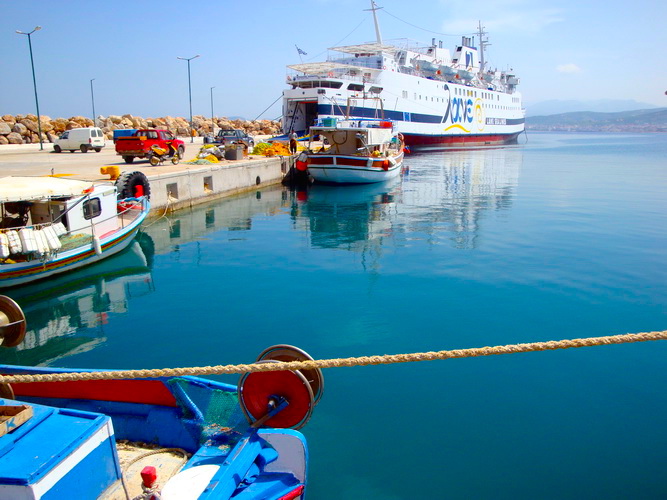 There is another ferry that does what is called the Agoni Grammi, which is what it sounds like, a long route that makes no money for the ferry company that is subsidized by the Greek government that begins in Pireaus and stops in Milos, Santorini, Crete, Kassos, Karpathos and Rhodes and then turns around and goes back the way it came. They usually use the oldest ferries for this route and it is not one that is coveted by the major ferry companies so usually it is a smaller company that does it. In the winter it is the only way to get from Crete to Rhodes and even from Crete to Santorini so for some people it is a necessary journey, though a booking that some travel agencies are reluctant to make for a variety of reasons, one of them being that they are never quite sure when the ferry is going. It has also been known to stop in Agios Nicholaos and/or Sitia on the way to or from Rhodes and really the best way to get information on it is through a local travel agency in Crete, though any agent worth his salt in Athens should be able to find out too by making a few phone calls to the ferry company and spending a few hours on hold. In a similar category is the ferry that goes from Kissamos(photo) in western Crete to the islands of Antikythera, Kythera, Githeon and Kalamata in the Peloponessos and sometimes all the way to Pireaus and sometimes not. But if you are adventurous and traveling without hotel and ferry reservations and want to go to the Peloponessos or from the Peloponessos this boat is for you and it is rarely if ever booked full.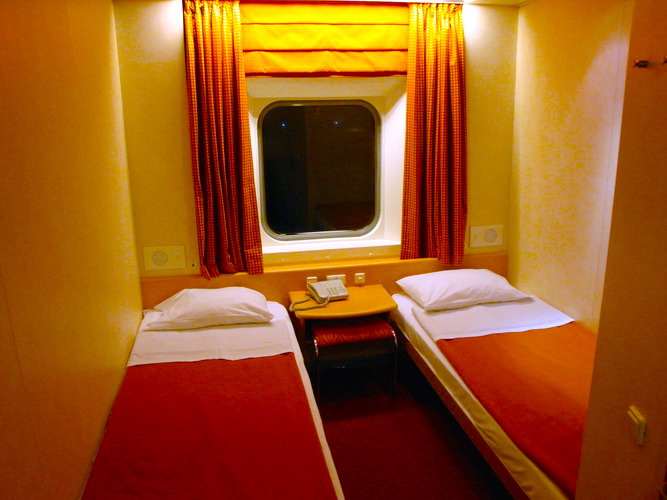 My suggestion is to take the Pireaus ferry to Chania and leave by way of Heraklion so you can stop in Knossos if you are spending your time in western Crete. Lefteris the Cretan Taxi Driver can do transfers to and from Chania and probably tell you the history of Crete on the way and maybe even stop for a quick swim. If you plan to stay in Chania then local taxi driver Dimitris Drikakis is your best bet for tranfers to your hotel and traveling around that part of the island.
As with any island the best way to book ferries and flights is through a reliable Greek travel agency and since they don't really make any money off tickets you need to book hotels with them as well. But since they get their net rates from the hotel which are cheaper than the rates you will get from the hotel, it should not cost you any more to book through the agency and you get the added advantage of having someone to put together a sensible itinerary, book your hotels and tours in Athens and other islands, and who you can turn to if something goes wrong or you don't like your hotel for some reason. I recommend Fantasy Travel and Dolphin Hellas who both represent a number of hotels of all different categories in Crete and coordinate ferries and hotels on other islands if Crete is just one of the islands you plan to visit. They can also make sure you get the best cabin for the money. The last photo is from the Superfast Ferry.
Use Ferryhopper to find all direct and indirect ferry routes for the islands of Greece, Spain, Italy & Turkey, compare ferry companies & prices, and book cheap ferry tickets with no hidden fees in one go!