The Saronic Islands Cruise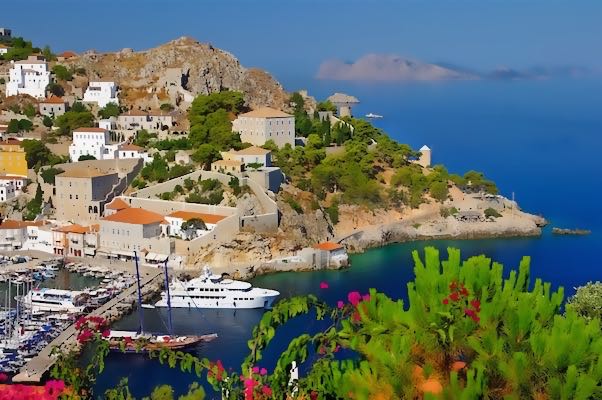 The One-Day Saronic Gulf Cruise goes all year long and is a great introduction to the islands of Aegina, Poros and Hydra. This is one of the best day trips in Greece and is great in combination with a couple days on the islands. This is a great introduction to the Greek islands and includes lunch, and pick-up from various hotels in Athens and they take you back to the hotel after the cruise. At a cost of about 100 euros this is a wonderful way to spend the day.
All Day Cruises offers One-day Yacht and Sailboat Charters to the Saronic Gulf Islands which are like mini-cruises.
Yacht and Sailboat Charters and Smaller Sail-Cruises of the Greek Islands
For Yacht and Sailboat Charters see www.greecetravel.com/sailing where you will find information on chartering boats with or without a skipper as well as cruises on sailing ships with twenty or thirty cabins that go on weekly itineraries to the islands, (like the cruise ships but smaller). You don't have to book the whole boat. You just book by the person.
Santorini Sailing: Several companies do charters around the island catamarans which includes gourmet meals, swimming in isolated coves, and a spectacular view of the island. You can take half-day, full day and overnight trips.
For those who are visiting Mykonos try the 1 Day Yachting Cruise from Mykonos to Rinia & Delos offered by Fantasy Travel. Rinia is a small island accessable only by sailboat or motoryacht.
Tours from Cruise Ships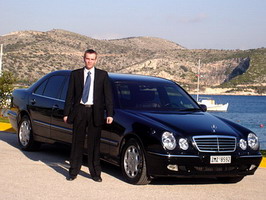 Many cruise companies discourage the use of taxi and limo companies for private tours in destinations like Rhodes, Athens, Crete, Santorini and places in Turkey. Whether this is to 'protect' the passenger or because the cruise ships themselves offer tours I don't know (actually I do know and you can probably figure out why I can't tell you). I do know that you can get excellent service from taxi companies which offer personalized tours, many of whom charge by the trip and not by the person. These tours are like having a local host show you around the islands, towns and cities that they know. Instead of eating in some giant tourist trap that accommodates the dozens of people who take the bus tours, you can go to small tavernas where the locals eat, on quietstreets or on the sea.
These are some drivers I recommend:
In Athens of course there is George the Famous Taxi Driver who is now something of an international hero for his tours of Athens, the mainland and his ability to get customers from the boats to the airport or hotels comfortably and quickly. George, like the other drivers listed here is non-smoking, English-speaking, knowlegable and drives a very comfortable air-conditioned Mercedes. For groups of more than 4 there is his son Dennis, in the photo above, with his beautiful luxury Mercedes limo that seats 7 plus the driver. For even larger groups there is son Billy with their Mercedes Bus able to seat 12 people. You can e-mail them at georgetaxitours@yahoo.com
On the island of Rhodes Nick Axarlis and his brother Mike, two Greeks from Alexandria, speak 6 languages (English, Greek, Arabic, French, Italian, Spanish and German) and showed me places on the island that I would never have found on my own. Their company is called Private Tours and they do tours and transfers. Both are friendly, smart and funny and they have great taste in food. I spent much of my time with them and am ready to go back again.
On the island of Crete there is Lefteris Nikoforakis, who I spent a wonderful time with in Heraklion and is recommended by George the Famous Taxi Driver. Lefteris packs a lot into a day in his tours of Crete. Obviously as with the other drivers you can see a lot more when you don't have a large group slowing you down.
There are others private tour driver/guides in Greece, Turkey, Italy, Egypt and around the Mediterranean listed in Mediterranean Cruises: Private Tours
For a guide who can show you the archaeological sites and museums you need an officially licensed tour guide. They are university educated and are like walking encyclopedias and well worth the money. See my Licensed Guides in Greece Page
If you are on one of the giant cruise ships and wondering why a town you have never heard of called Katakolon is on your itinerary along with all those famous places read my Katakolon Page. But to make it easy for you, the reason you are stopping there is because it is the closest port to Ancient Olympia.