By Marc Dubin
I first visited Ípiros (Epirus for the incorrigibly Latinate) in autumn 1981. Not a smart move, really; the ancients didn't call it "rainy Ípiros" for nothing. The rains (and snow, at higher elevations) arrived that year on schedule, in October, and probably didn't stop until April, when they usually do.
I returned here almost annually through the 1980s, slightly less often in the next two decades, in the course of researching various guidebooks – first for hikers, then for general travellers. Facilities were often basic, but in the early years at least the welcome from the mountain villagers and shepherds was unstinting and often essential for survival in the absence of reliable maps.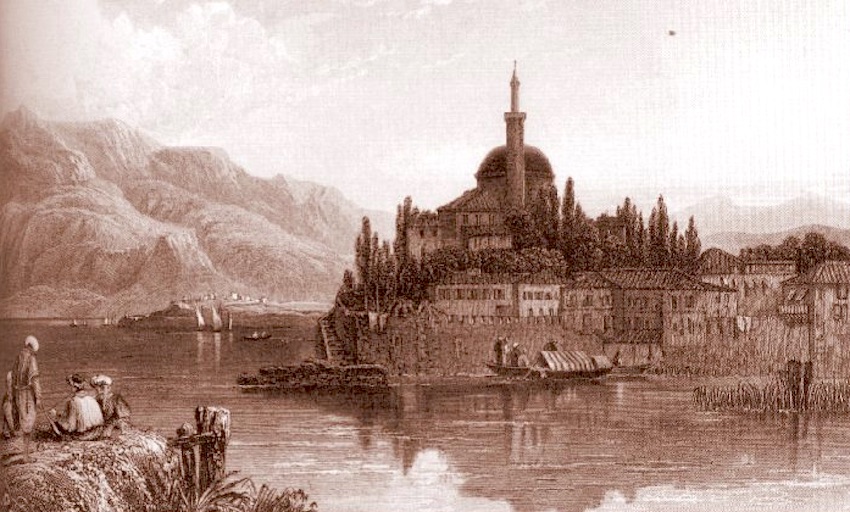 A POTTED HISTORY
The region has always been a backwater; during the Greek and Roman eras there were just four places of any significance, two being religious sanctuaries rather than towns. During the Byzantine period, Ípiros acquired more importance as the headquarters of the Despotate, a peripheral duchy based at Árta, established after the Latin sack of Constantinople in 1204. But Ioánnina was always the most important medieval town, all the more so under the rule of the legendary Ali Pasha, who entertained Lord Byron in 1809.
Ípiros was not joined to the rest of Greece until March 1913, after the First Balkan War. After 1923, there was fairly limited settlement of Asia Minor refugees here, principally around Préveza, Ioánnina and in coastal Thesprotía.
The World War II years involved a harsh occupation, first by the Italians and (after September 1943) by the Germans; the latter engaged in massive reprisals against resistance activity – the burning of many mountain villages in the Píndos – and the annihilation of Ioánnina's large Jewish community. Worse ensued during the 1947–49 civil war, when the Communist-dominated Democratic Army was pretty much headquartered locally and made its last stand on Mt Grámmos, astride the Albanian frontier.
The 1950s featured the usual pattern for the Greek countryside: massive movement to Ioánnina, or Athens, plus external migration overseas, especially to America and Germany. Only since the late 1970s has there been significant tourism here, primarily to the coast (especially Párga) and the Zagorian Píndos, with some of the most photogenic villages on the mainland.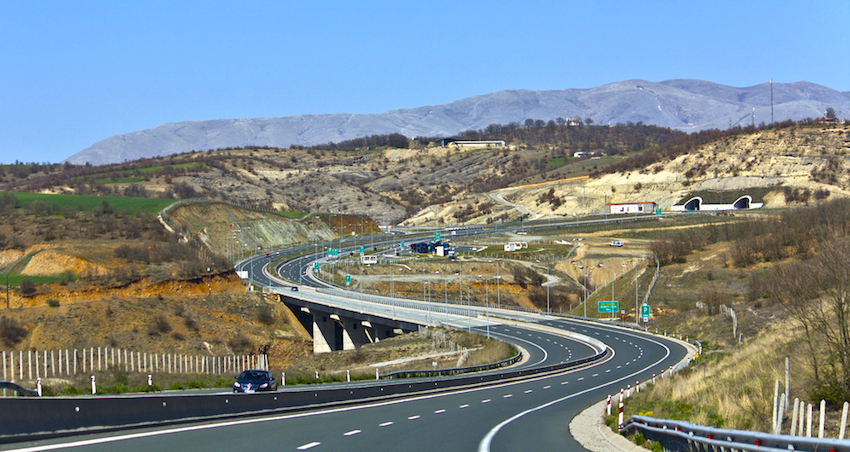 NEW MOTORWAYS
In recent years Ipirot isolation has been eased by the completion of the Vía Egnatía, a mammoth expressway linking Thrace and Macedonia with the Ionian Sea-port of Igoumenítsa, via much of Ípiros. This was complemented shortly thereafter by the "Ionian Highway" from Mesolóngi via Amfilohía and Árta to Ioánnina, shaving hours off of former travel times. The much-delayed Vía Egnatía finally opened in its entirety in 2010, and I drove the Ípiros section that October. It's a marvel in more ways than one – most signally, for those irritated by the frequent, and excessive, tolls on other Greek motorways, in being completely free thus far. Apparently this was a condition of the massive EU subsidy which saw to its construction; another quirk is that the route of the Vía Egnatía completely avoids Thessaly (apparently deemed too developed and prosperous to deserve such a subsidized project), which means – if you're trying to reach Ípiros from, say, the Metéora – you have a slow and rather dangerous transit of well over an hour on the old mountain road to reach the Panagía interchange at the regional border.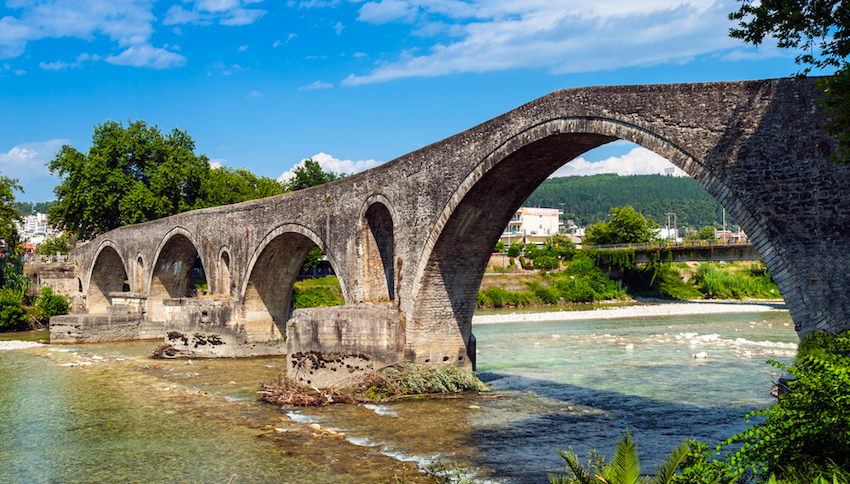 ÁRTA AND THE GULF
From 1832 until 1881, the northwest border of the new Greek state ran just south of Árta, ending at the Amvrakian Gulf at Menídhi (today famous for its seafood restaurants specialising in gulf-raised prawns). In the latter year, the Treaty of Berlin gave the town to Greece, along with Thessaly. Although it was the capital of the Duchy of Ípiros, and that of King Pyrrhos (297–272 BC; he of the pyrrhic victory), it hasn't amounted to much since, with just over 20,000 inhabitants, but some fine Byzantine monuments make it worth a stop.
Foremost of these is the five-domed Panayía Parigorítissa church (Tues–Sun 8.30am–3pm), begun in 1283, with a fine mosaic of Christ Pandokrátor in the main dome. It was once the heart of a monastery, whose refectory houses a sporadically open archeological collection. Some 2km south at the edge of town, there's a functioning nunnery at slightly earlier Káto Panayía (closed mid-afternoon), with excellent frescoes. With a car, you can seek out other churches in surrounding villages, best of these being Panayía Vlahernón 6km north, entombment place of some duchy rulers and home to a fine floor mosaic.
Árta isn't up to much in terms of tourist facilities – a couple of shabby hotels, and some youth-orientated café-snack bars by the famous old bridge over the Árakhthos River which bounds the town and the 4-star Hotel Byzantino which offers luxury at economy prices and a few others in and around the town which can be found on Booking.com's Arta Page. In a legend common across the Balkans, the river erased by night whatever the builders managed to accomplish each day; a little bird whispered to the master builder that only by immuring his wife through trickery in one of the foundation piers would the bridge hold. And so it was. The modern Greek custom of throat-cutting a rooster over any groundbreaking, or the western habit of dousing new-launched boats with champagne, are less gruesome echoes of the practice. In all cases, the structure must be provided with a stoiheío (guardian spirit) through sacrifice of a living creature (people work best).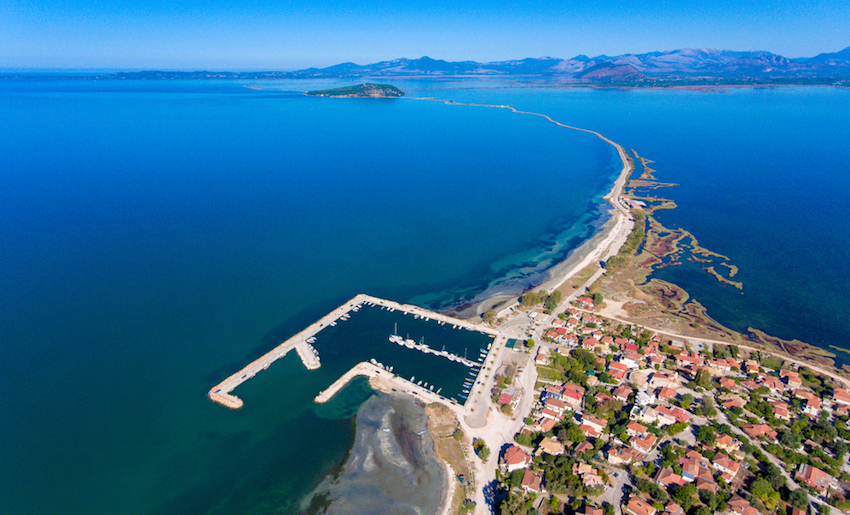 For a meal, you're best off heading southwest 25km to Koronissía in the middle of the gulf, with another Byzantine hilltop church and some fish tavernas, of which the best is Myrtaria (tou Patenda; tel 26810 24021), also with rooms if you decide to stay.
Some 18km west, then 6km south, of Árta, the Rodiá Wetland Centre (www.rodiawetlands.gr) offers set daily boat tours through the unique environment at the mouth of the Loúros River, including glimpses at eel culture, water-buffalo raising and a medieval frescoed monastery.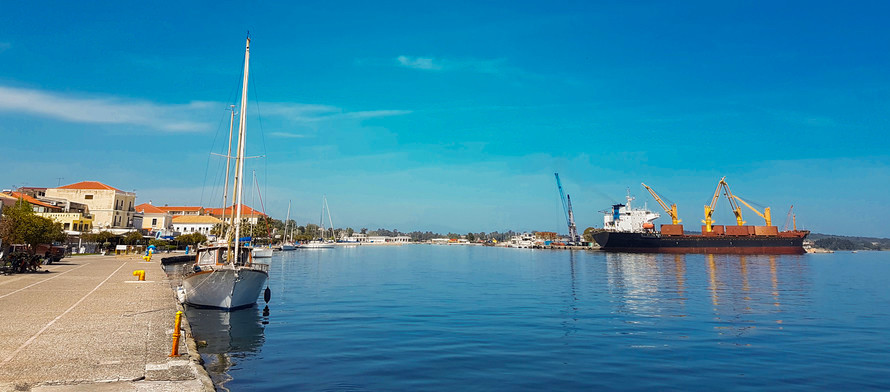 PRÉVEZA AND ANCIENT NIKOPOLIS
Anticlockwise around the gulf, the next big town is Préveza, modern successor of Actium – where in 31 BC Octavian (later Augustus) defeated Antony and Cleopatra in the eponymous battle. With the huge, hulking Áyios Andréas castle at the north end of the gulfside quay, and a characterful old bazaar quarter focused on a Venetian clocktower, it's popular with yachties, and also customers from the beach resorts on the Ionian coast to the north, come for an evening in the lively tavernas lining the bazaar's little lanes. We've eaten well and cheaply recently at To Kohyli, at Parthongogeio 9; it's open reliably off-season and at lunch (not always the case here). I'm not sure if Áyios Andréas is open to the public, but the little Pandokrátoras fortress at the south tip of the town peninsula has free access and great views. (For hotels in and around Preveza see Booking.com's Preveza Page.)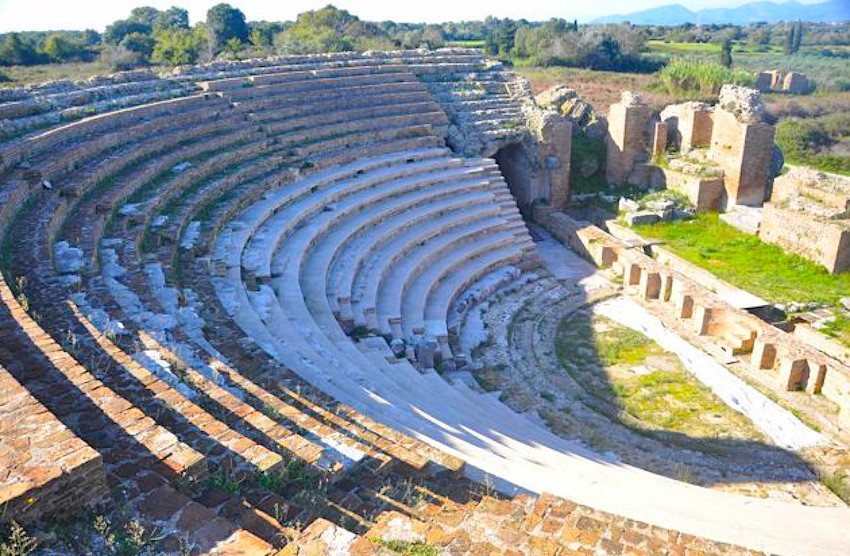 But the big local attraction – even more so since the completion of a new, associated museum – is ancient Nikopolis, the town established by Augustus to commemorate his victory. The site itself has been tidied up, with the theatre, and three superb floor mosaics in the Dometios basilica, being the highlights. The 2009-opened museum (summer daily 8am–8.30pm, winter 8.30am–3pm) 2km south towards Préveza, ably documents Roman and early Christian life here with statuary, coins, household implements and grave goods.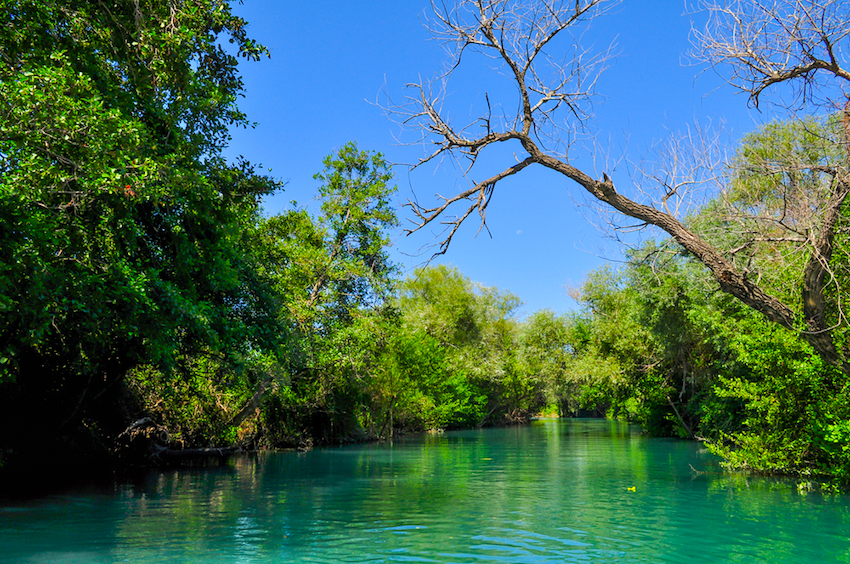 ROUTES TOWARDS PÁRGA
The aforementioned beaches begin just 4km north of Pandokratóras; the forestry-department one at Monolíthi is excellent, with a shower and ample parking. Loútsa, Vráhou and Lýgia are more developed beaches, with an excellent taverna at Lýgia's little fishing port: To Skaloma (aka O Yios tou Foti; tel 26820 56240), with big portions of vegetarian and seafood platters at friendly prices.
Between Monolíthi and Lýgia a road leads inland and 600m up to ancient Kassope (daily 8.30am–3pm), a Hellenistic town abandoned by compulsory resettlement at Nikopolis; there's lots to see, and helpful placards, though the site is most memorable for its setting and views over Lefkáda island and the coast.
From Kanálli near Nikópolis, an inland route also passes the side-road to Kassope and continues via sound-alike Kanalláki towards the Ahérondas River and its gorge(photo), the heart of the wild region known as Soúli. This rugged area was home to the indomitable Souliots, an Albanian Christian tribe who spent the years 1787–1803 battling against Ali Pasha of Ioánnina until defeated and dispersed; in 1820 they joined forces with Ali and were allowed to return home, but following Ali's defeat by the sultan the Souliots were again exiled, and the mountains here have been scarcely inhabited since.
The river crosses under the road at Glykí; a south-bank track signposted as "Skála Tzavélena" leads after just under 2km to a labouriously wrought tunnel high above the canyon, and the start of an extensive, marked and maintained trail system leading down into the river valley and then up to Ali's Kiáfa castle and Samoníva village (no facilities), or more ambitiously south towards the Pylés Ádi (Gates of Hell) narrows. Families with young children might be better off with the level north-bank track, which leads to some springs, swimming holes and a seasonal kayaking outfitter.
From Glykí, various minor roads twist along to converge on the coastal route at Mesopótamos, the nearest village to the Nekromanteion of Ephyra (daily 8.30am–3pm), one of the strangest ancient oracles – that of the dead, mentioned by Homer as the venue for Odysseus' visit to Hades. During ancient times the oracle was an island in a lake; since then this has become a giant marsh, but all the various rivers noted by Circe as she gives directions to Odysseus still exist. The oracular chamber (where resident priests devised spectral visitations for credulous, drug-addled supplicants) remains intact, as do most of the walls of the auxiliary buildings.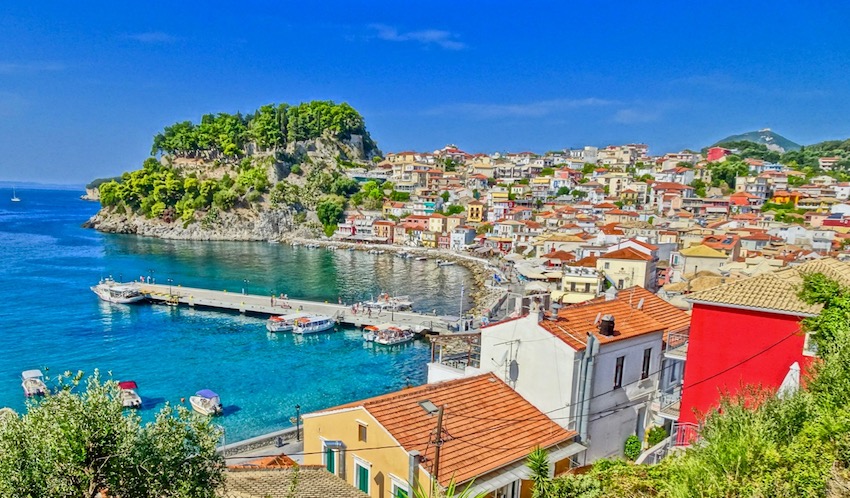 PÁRGA
Párga, 22km northwest of the oracle, is the premier coastal resort of Ípiros, and even in winter there's a bit of life here as it's popular with Ioánninots for a weekend day out. Me and Párga go way back, and despite local changes (mostly not for the better – midsummer here is inadvisable unless you're a sardine at heart or like to play bumper-car), I retain an affection for the place. On my first visit, I had run low on funds, so in order to eat out (always a priority with me) I camped out in an olive grove above central Kyronéri Bay. A very peaceful sleep it was.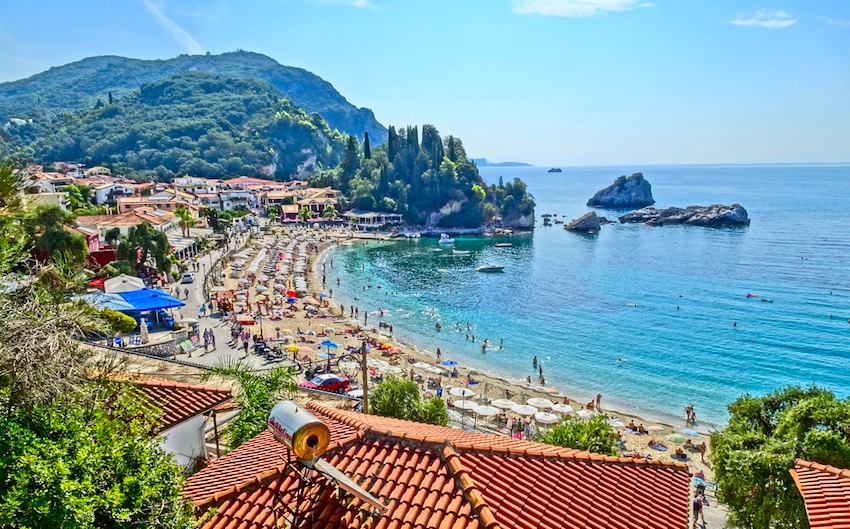 The physical layout of the place, draped over successive ridges and capes, and lapped by olive trees, remains stunning. From southeast to northwest, there's little Gólfo cove; then Kyronéri, with its islets fortified by first the Venetians and then Napoleon; then the main village hill with its old houses and arched passages clambering up to a fine Norman-Venetian castle (8am–midnight, excellent café in the restored barracks). This stares out over long, popular Váltos beach to another fortress of Ali Pasha's, at Ayiá. There used to be a mosque up in the Tourkopázaro ridgeline district – a classic Fred Boissonnas photo from 1913 shows it – but it was pulled demolished World War II and only the minaret base remains. It belonged to the Tsámides community, about which more shortly.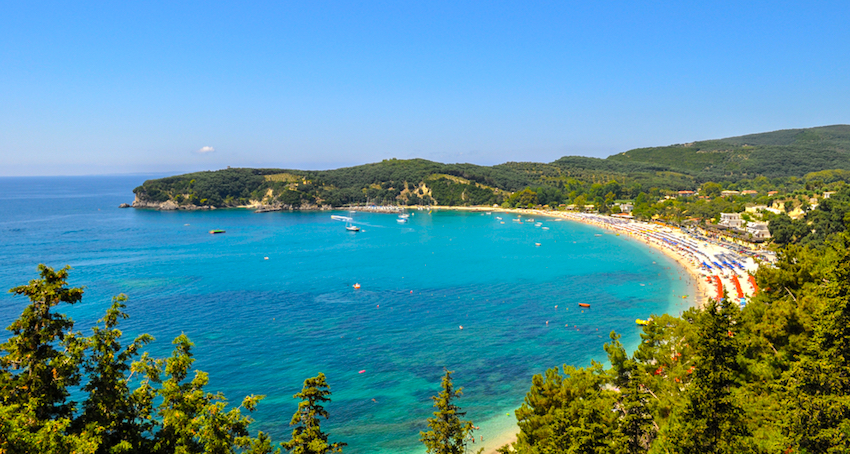 Tavernas in such a place change rapidly; durable favourites over the years include Golfo Beach, a cult traditional taverna going since the 1970s; Filomila up in Tourkopázaro, upmarket Italian, tables best reserved on 26840 31265; and central Eden/Edem bistro down on Platía Ayíou Dimitríou, ably run by Tassos and Fran as the best breakfast/coffee/juice/snack venue in town. With your own transport, head out to Agiá and then down a side-road to Sarakinikó bay for a scenic (if cold-water) swim and a good meal at Christo's Tavern (tel 26840 35207), strong on own-grown vegetables and local seafood. If you have a car travel beyond Parga 2.5 kilometers to the town of Anthousa, perched on the mountainside, and eat at Vassilis Taverna, one of the first restaurants in the area. And if you prefer to be at a high elevation and above the tourism of the seaside stay at the excellent Vassilis Guesthouse, owned by the same Vassilis and run by his beautiful daughter Sophia. (from Matt)
For Hotels in and around Parga see Booking.com's Parga Page. Matt also recommends Petros Studios down by the sea.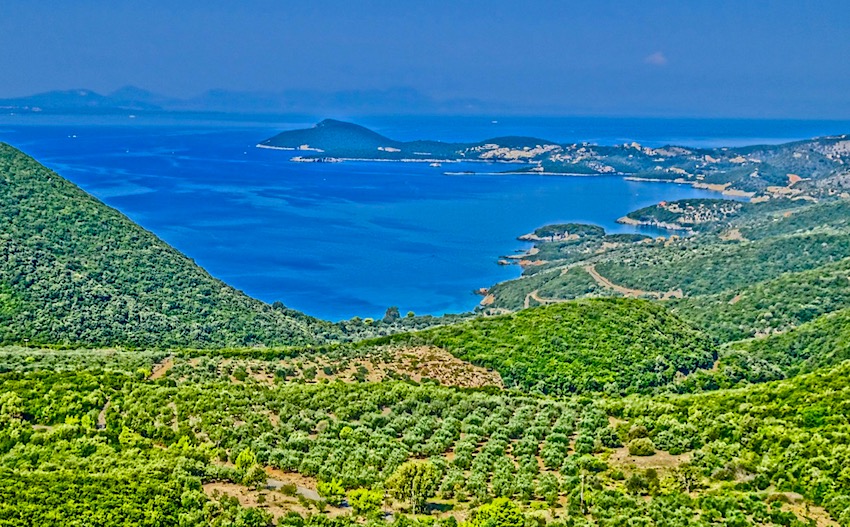 THESPROTÍA: THE COAST
Thesprotía – the western, coastal part of Ípiros – was long the homeland of the Tsámides, mostly Muslim Albanians (there were a few Christian ones) who for complicated reasons were allowed to stay on after the 1923 exchange of populations – neither Turkey nor Albania wanted to receive them. But many of the Muslim ones made the error of siding with the occupation forces during World War II and were expelled into Albania by the Greek partisans of EDES in 1944. A few Christian Tsámides still live near Préveza. It's a tangled tale; Wikipedia has a pretty accurate article on them under "Cham Albanians". Besides Párga, Filiátes, Sývota, Pérdika, Sagiáda, Margaríti and Paramythiá were their main homes. If you've ever seen the superb black-and-white photos by pioneering Swiss philhellene photographer Fred Boissonnas, he snapped quite a few of them in the towns listed above before 1920 – you can recognize the men by their fezes and turbans, though interestingly the women are not noticeably more covered-up than Christians.
Just inland from Párga, between Mórfi junction and Margaríti (which still has a ruined mosque), there's a large seasonal swamp on an upland plateau with a sad history – which I learned from a journalist friend, now retired on nearby Paxí island. After the Greek push into Albania in November 1940, the British established an airstrip on a relatively dry patch of this plateau. A fair-sized squadron of light aircraft was based here, charged with reconnaissance missions over Italian-occupied Albania and further north into the Axis-held Balkans. Over the winter months until March 1941, when the British struck camp here, one by one the aircraft failed to return. My friend met, and talked with, the only surviving aviator, who was paying a nostalgic visit to the area.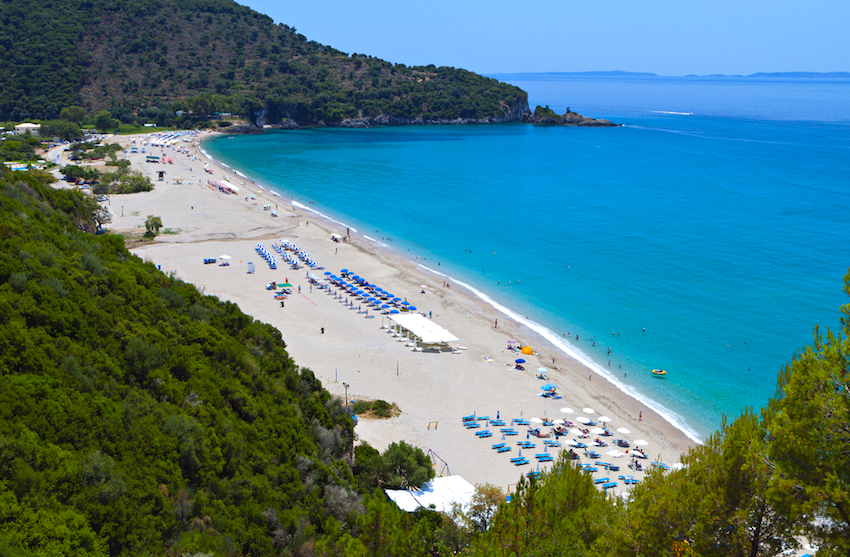 Beyond Agiá and Sarakinikó, the next beach – and it's one of the best on the mainland – is Karavostási, with a bit of surf at times and views to southern Corfu. It's surprisingly little developed (though there are a few places to stay and eat), thanks to archeological-zone protection afforded by the ruins of ancient Elina on the headland to the south. The next major resort is Sývota, but there's little here of appeal unless you're a second-home owner (lots of those from Ioánnina and Italy) or a yachtie. A better bet are the secluded beaches strung out to the south, including Méga Ámmos, Méga Tráfos and Agía Paraskeví, all helpfully signposted.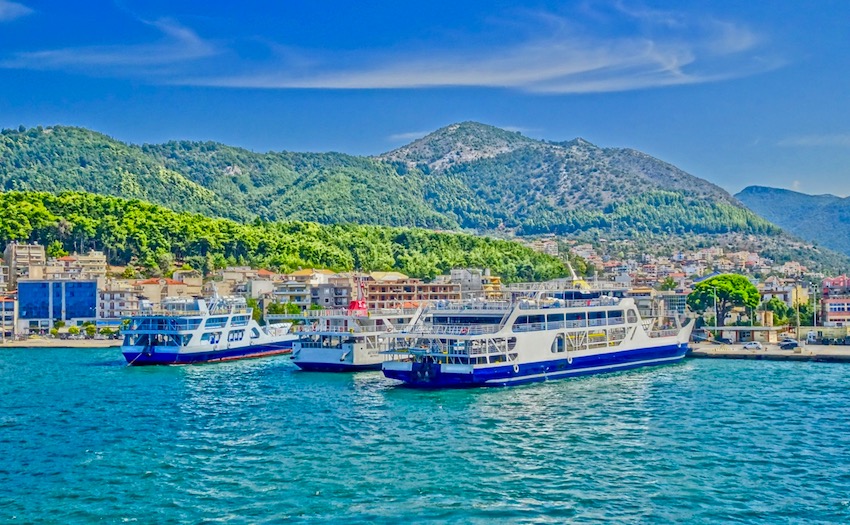 End of the line (more or less) for the coastal highway is Igoumenítsa, where you'll only voluntarily spend time waiting for a ferry to Italy or Corfu or a bus south or west. Never with much beauty to lose, it was leveled during World War II and rebuilt in predictable brutalist style. If you've time on your hands, head 2km west to Drépano beach for a swim (and maybe a meal at the nearby Kendriko taverna), or better, with a car, 21km north to Sagiáda right on the Albanian frontier, a little port with open skies and a line of good, popular fish tavernas – for example Alekos (tel 26640 51244) – which attract yachties from Corfu and Sývota.
There are a number of hotels in and around Igoumenitsa on Booking.com's Igoumenitsa Page.
ANCIENT DODONA
At Igoumenítsa, the Via Egnatia motorway begins its long traverse to Thrace. One of the first exits as you head east is for ancient Dodona, site of a revered Zeus oracle (daily 8.30am–3pm, may close later in summer). People mainly visit for the evocative natural setting in a bucolic valley and the enormous, 3rd-century BC theatre, among the largest in Greece, painstakingly reconstructed from a heap of rubble beginning in the 1880s. Unhappily, most of it is now roped as off-limits, and performances of the summer festival here are staged on dull wooden bleachers. There's a surprising amount of accommodation in adjacent Mandeío village, mostly sprung up since the motorway arrived. Simplest, oldest (1970s vintage rooms) and nearest the theatre is Hotel Andromachi, with a decent restaurant. They also run the more comfortable, good-value, and highly rated Thea Dodoni just up the hill, while the top-end boutique establishment here is the Mirtali Art Hotel. For more hotels in the area see Matt's Dodoni Hotel Search.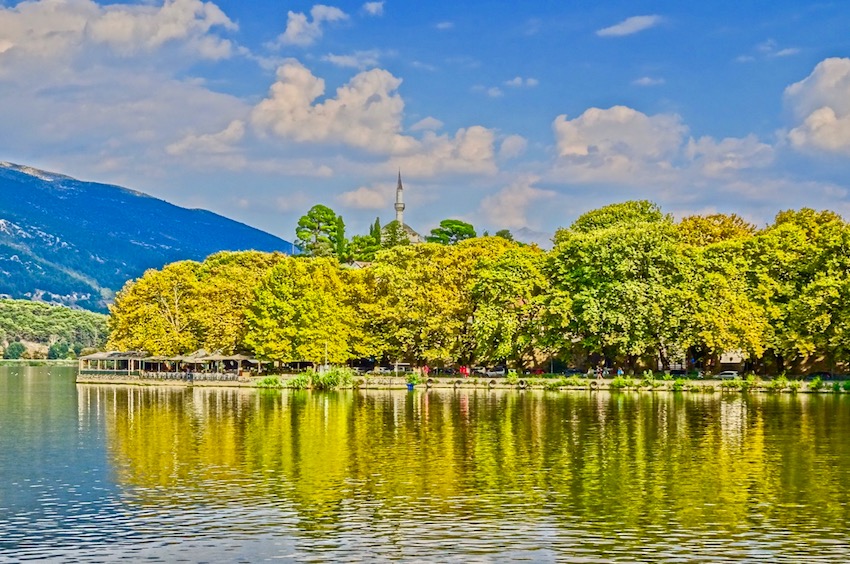 IOÁNNINA
Now a booming town of about 130,000 (if you count various contiguous suburb villages), Ioánnina (Yiánnena in the vernacular) has a superb setting on the shores of Lake Pamvótidha, at the base of Mount Mitsikéli which closes off the landscape on the north. Sadly the city itself, like so many in Greece, doesn't do justice to its location – too many 1960s apartment blocks have seen to that. But the old fortified quarter, redolent of the life and times of local tyrant Ali Pasha, still covers a promontory jutting out into the lake, which uniquely in Greece has an inhabited island.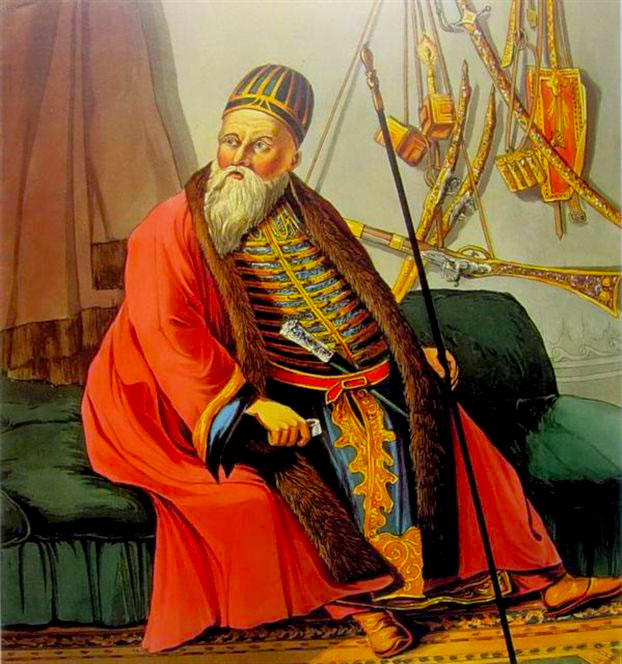 Ali Pasha (1741–1822), about whom reams of sensational rubbish (and Lord Byron's more sober portrait in Childe Harold) have been written, is the major personality of Ioanninot history. The good news is that he encouraged enterprise amongst his largely Greek Orthodox subjects across his territories, making Ioánnina the wealthiest, largest town in the region, and ruled semi-autonomously from the Ottoman sultan after the 1790s. The bad news is that he was essentially a very capable psychopath: multi-lingual, a minor military genius, charming, sexually omniverous (he rather fancied Byron), and baroquely cruel (eg, a page-boy who had rejected his advances was coated in oil and shot from a cannon as a live firework). The sultan, finally tiring of his vagaries, sent a huge army to besiege the walled town in 1821; lured from safety by a ruse, the old ogre was ambushed on the lake-islet, shot and decapitated. Curiously, the locals still hold him in some esteem – perhaps rating him, as Franklin Roosevelt supposedly did Nicaraguan dictator Anastasio Somoza, "a son-of-a-bitch, but our son-of-a-bitch". There's a street named for Ali Pasha in the old castle, and you can buy kitsch postcards of his deeds, including one of him swooning like a pussy-cat in the lap of his Greek wife, Kyra Vassiliki.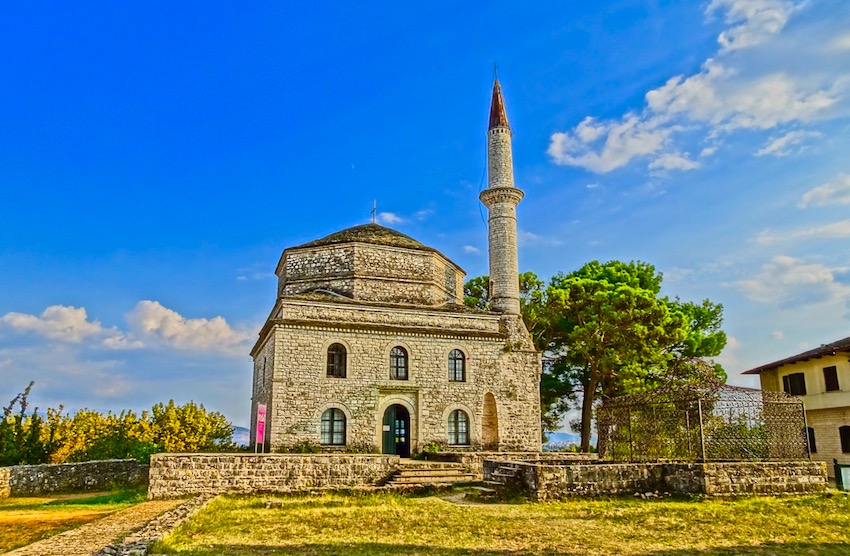 Ali Pasha's head was supposedly sent to the sultan as proof of his demise; the rest of him is buried next to the inner citadel's Fethiye Tzami, one of two surviving mosques inside the Kástro or castle precinct. The other, the Aslan Pasha Tzami, was used by local Muslims until they departed in 1923, and today houses the Municipal Ethnographic Museum (daily summer 8am–8pm, closes 4pm winter). This includes a small collection of rugs and tapestries donated by the almost-vanished local Jewish community; their fine synagogue, at the edge of the Kástro on Ioustinianoú street, is open primarily by application to the ground-floor community office at Ioséf Eliyiá 18/B. The town's other major museum, the archeological collection, has been closed for renovation since 2007 but may re-open shortly.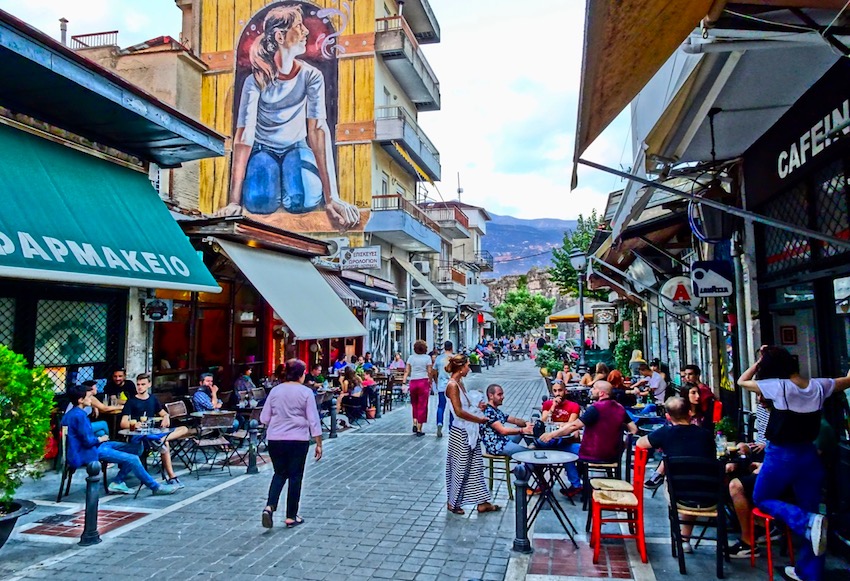 What remains of the Jewish and old-bazaar quarters extends west from the Kástro's land walls towards Anexartissías Street. About 150m west of the main Kástro gate with its clocktower, a memorial obelisk commemorates the 1850 local Jews deported to Aushwitz in March 1944. If you look carefully, some of the old houses still have Hebrew inscriptions and dates over the doors. Retail outlets for silver jewellery – a long-standing city speciality – cluster near the memorial; the last remaining traditional tin- and coppersmiths work along the middle reaches of Anexartissías.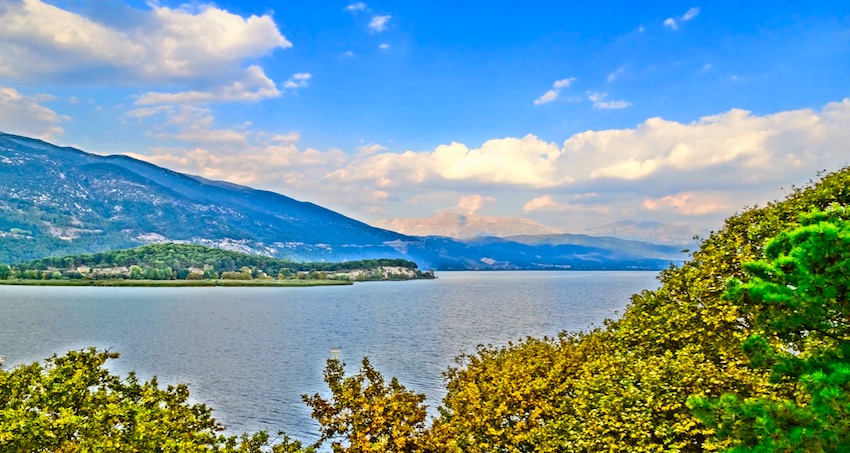 From the Platía Mavíli quay just west of the Kástro, little bus-boats ply across the murky lake to Nissí, the inhabited islet near the far shore. It makes a lovely, if touristy outing, with non-resident cars banned and a stone-built village settled by 16th-century refugees. Several monsteries flank the village, including Filanthropinón and Dilíou, with vivid, recently cleaned frescoes, and Pandelímonos, where Ali met his end – though this is in fact a total reconstruction, as a falling tree smashed the original building some years back.
Best of two hotels within the Kástro is the imaginatively named Kastro, at the base of the ramp up to the inner citadel. Quietest choice in the new town, though still handy for the bazaar, is Hotel Politeia at Anexartissías 109. If you have a car, it's far better to stay in Lyngiádhes village on the lower slopes of Mitsikéli, at the superb Hotel Horizon, with views as suggested by the name and just seven, 2007-renovated rooms. Matt stayed at the beautifully renovated Boutique Hotel Metropolis which is right in the thick of things at 33 Averoff which he really liked though he said he was intrigued by the Hotel Du Lac Congress Center & Spa which is in the city but right on the lake and has a swimming pool and extensive landscaped gardens. (For more hotels visit Matt's Ioannina Hotel Search.)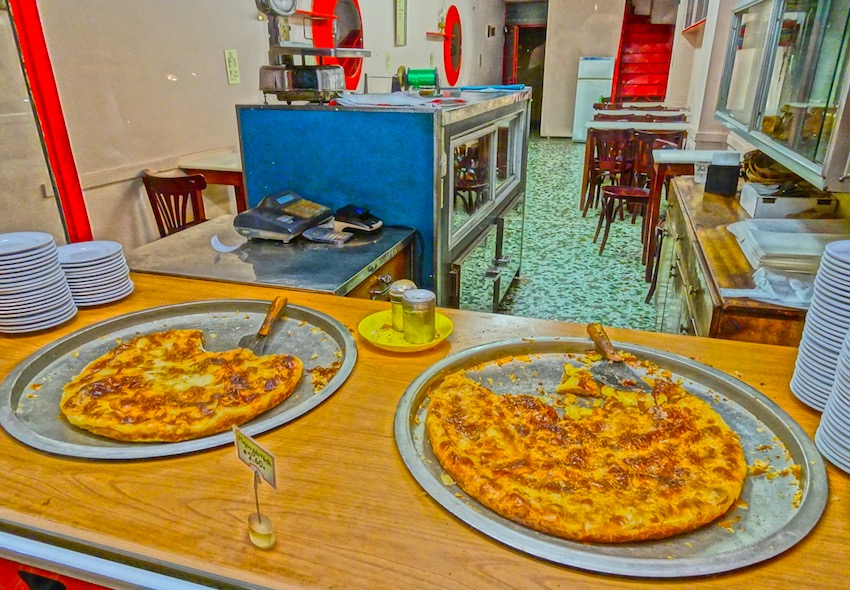 Ióannina claims to be the original home of bougátsa (custard pie, either sweet or savoury) – a great breakfast. Selekt at central Platía Dhimokratías 2 is the classic outlet. For a town of its size, with a huge university contingent, Ioánnina doesn't have as many notable restaurants as you'd hope. The favourite dining venue for a warm evening is the line of lakeside restaurants west of the castle along Pamvotídhas and Papágou streets; most bank heavily on their position, though I've had repeated good-value meals at Stin Ithaki at Papágou 20/A and Diethnes is known for its baklava and all sorts of exotic sweets. The best mayireftá, in stylish surroundings, is at Fysa Roufa, just up from the main Kástro gate at Avéroff 55 and supposedly open around the clock. For a grilled-meat feed at affordable prices in atmospheric surrounds, there's To Metsovo, closer to the gate at Ethnikís Andístasis 6. Continue south a few paces into the warren of a now-abandoned bazaar and you're in the middle of Ioánnina's trendy, and ever-changing, main bar district. There are a couple notable tsipuradiko that are worth going to, Anografo and Mystagogia both practically next door to each other on Kountouriotou at #44 and #50 just up from the lake.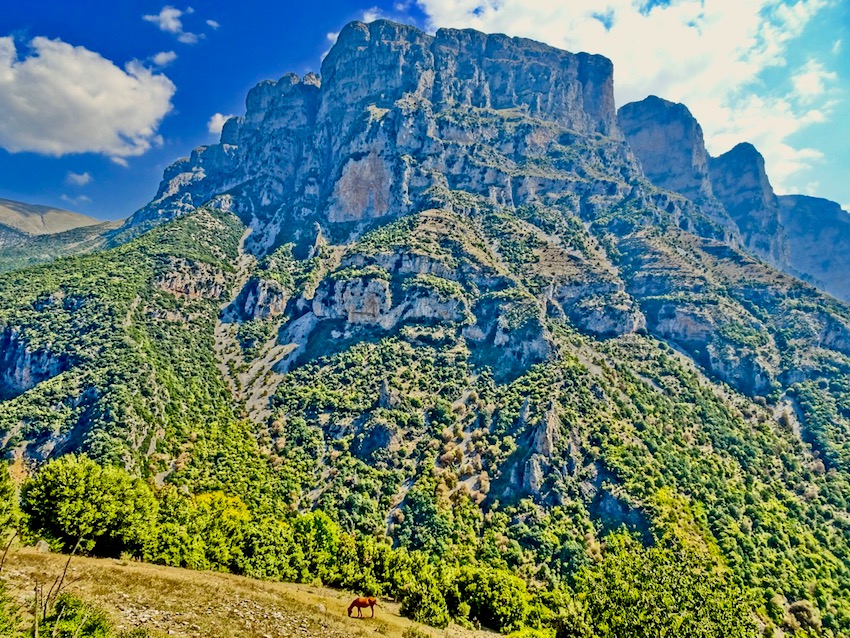 ZAGÓRI & THE PÍNDOS
Between Ioánnina and the Aoös river valley lies the wild, eminently scenic region of Zagóri, with 46 now rather depopulated villages, full of stone-built mansions built from the proceeds of 18th- and 19th-century wealth. The stone comes from the limestone and flysch beds making up the cliffs and mountains overhead, the wood for ceilings and intricately carved built-in cabinets (mísandres) from the dense forests on the lower slopes. Since the 1990s, a network of variably marked and maintained trails connects many of the villages via gorges, uplands and some of the scores of graceful stone bridges for which the area is also noted. Until the first roads arrived in the 1950s, paths over these bridges provided were Zagóri's only link with the wider world.
The biggest of the gorges, taking some six hours to traverse by the most usual route, is the Víkos, the equal in depth and length of its more famous cousin of Samariá in Crete – though not yet as commercialised or busy. But it would be a shame to see only this of Zagóri, or frequent only the two most publicised trailhead villages, Monodhéndhri and Pápingo. If you're without transport, you'll also find bus service from Ioánnina to these spots fairly skeletal – alternative southerly trailhead villages like Vítsa, Koukoúli, Kípi and Tsepélovo have much more frequent connections or are at least closer to the main regional road.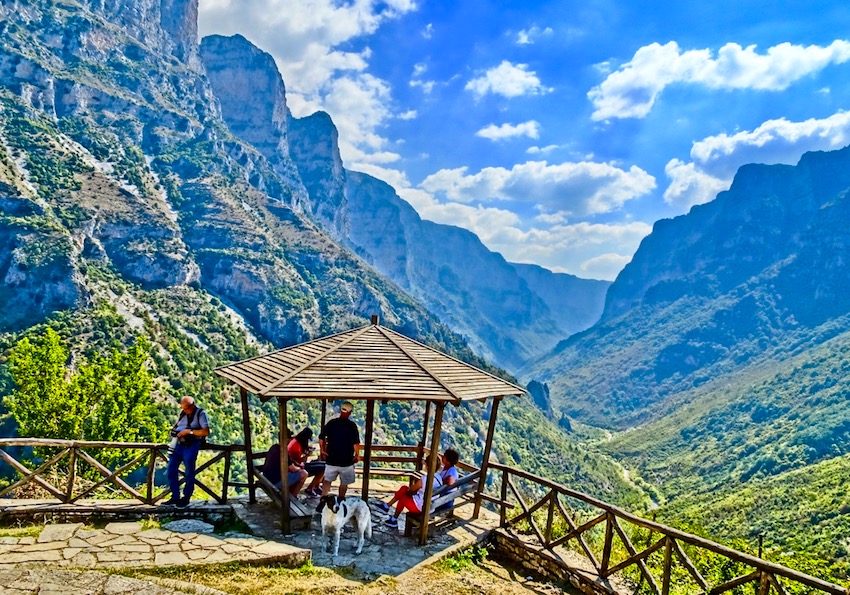 I make no bones about not especially liking Monodhéndhri. It's full of tour coaches (the only Zagorian village so afflicted), mediocre tavernas and humdrum accommodation. The steep trail down into the gorge from here will give your knees an initial bashing they don't need. Vítsa, just down the hill, is calmer, with five huge rooms for staying at O Troas (tel 26530 71123), with an old mural in the lounge and pleasant breakfast area, plus an unusual restaurant (Kanella kai Garyfallo) featuring wild mushrooms on the menu, run by a returned Canadian Greek. From Vítsa the cobbled Skála Vítsas provides a gentler introduction the ravine bed at the single-arched Misíou bridge, from where the O3 long-distance path heads downstream into the gorge proper, or upstream to Koukoúli and Kípi villages.
In nightingale-graced Koukoúli, the place to stay and eat is Papa-Kostas' simple 7-room inn To Tritoxo (tel 26530 71760), with an excellent restaurant and kafeneio downstairs. A path continues over the Kondodhímou bridge to regional centre Kípi (formerly Báya – all the villages here have Slavic original names) on the daily bus route, where most of the rooms at well-restored Spiti stou Artemi have fireplaces.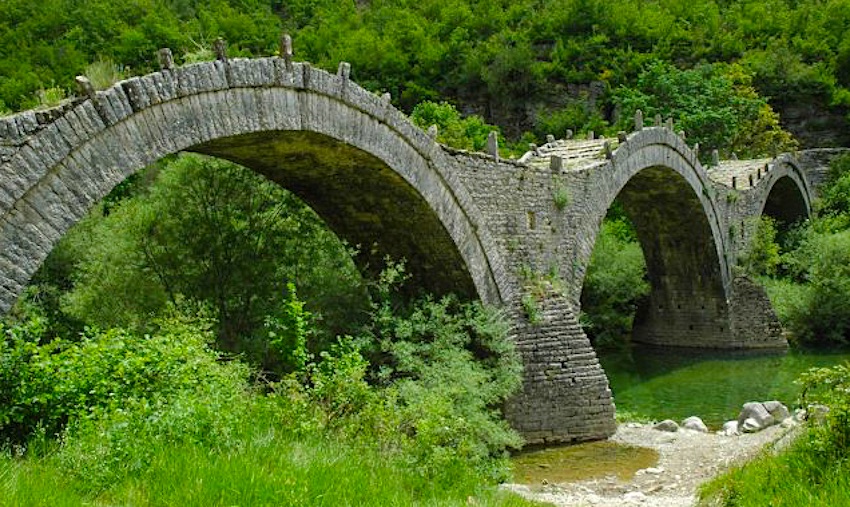 Between the two villages, in the very upper reaches of the local gorge system, is the grand-daddy of local bridges, the much-photographed, three-arched Plakídha. Nearly as impressive, but far less visited, is the Petsióni double-arched bridge at Frangádhes, 20km southeast of Kípi; there's a good, mostly Greek-patronised restaurant-inn here, the Petroto (tel 26530 71107). Greek president Karolos Papoulias, one of whose parents was from the area, maintains a holiday residence here. Back on the main bus route beyond Kípi, Tsepélovo remains one of the more populated Zagorian villages, and is the usual start-point for traverses around Mt Gamíla to Mikró Pápingo at the far end of the Víkos Gorge. Allow a long, early summer's day, with the snowpack gone but before deerflies and thunderstorms constitute a menace, and spend the night before at the Hotel Anthoula Gouri, one of the oldest and cheapest hotels in the area, catering to mountaineers since the late 1970s but recently renovated (tel 26530 81214; daughter Maria speaks English on 694 7561463). If they're full, there are plenty of other characterful options in the village.
If you're not bothered about instant access to the gorge or the mountains, and have a car, then two other villages definitely deserve a mention: Dhílofo, south of Vítsa just off the main road, where To Sopotseli taverna is reliably open for grills and mezédhes, and Áno Pedhiná west of Vítsa, where the Porfyron Inn occupies a restored mansion with painted-carved ceilings, set in a landscaped patio next to Ágios Dhimítrios church. Eat nearby at Ta Soudhena (the old name of this village), with hearty fare and Olde Worlde atmosphere.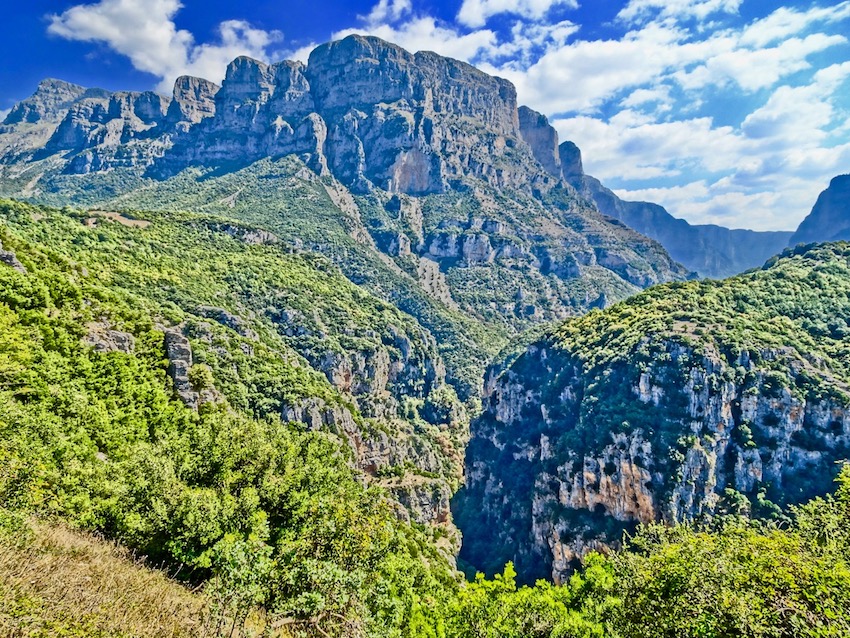 However you enter the Víkos Gorge, go properly equipped – with stout boots, proper water bottles and walking stick or telescopic pole. The traverse is not a Sunday stroll; mini-avalanches often obscure parts of the trail and the gorge-bottom is unsafe owing to flash-flooding in winter or early spring. As with the south end of the Víkos Gorge, so with the north end: a choice of finishing points. If you're completely done in coming up on the five-hour mark, bear up and left towards the tiny village of Víkos (aka Vítsiko), where you can get a bed for the night at Ioannis Dinoulis' inn (tel 26530 42112) and dine well at the Khristoforos Tsoumani restaurant, offering turnovers, grills, and local wines plus the usual oven dishes.
However, Vítsiko has only a single trail looping back towards Elafótopos near Áno Pedhiná; if possible, press on – past the Voïdhomátis springs and the frescoed chapel of Panagía – to the main O3 trail up to the two Pápingo villages. A strategic fork left leads to Megálo Pápingo, the bigger place with more facilities. The slightly dated, but cheerful, budget option is Kalliopi Inn (tel 26530 41081). Far and away the most creative taverna is Nikos and Ioulia Tsoumani, installed in an old threshing barn with archival black-and-white photos. They've also several well-furnished rooms (the best is Suite #8). Best value amongst many restoration inns is the family-friendly Xenonas Papaevangelou (tel 26530 41135), especially the four garden studios.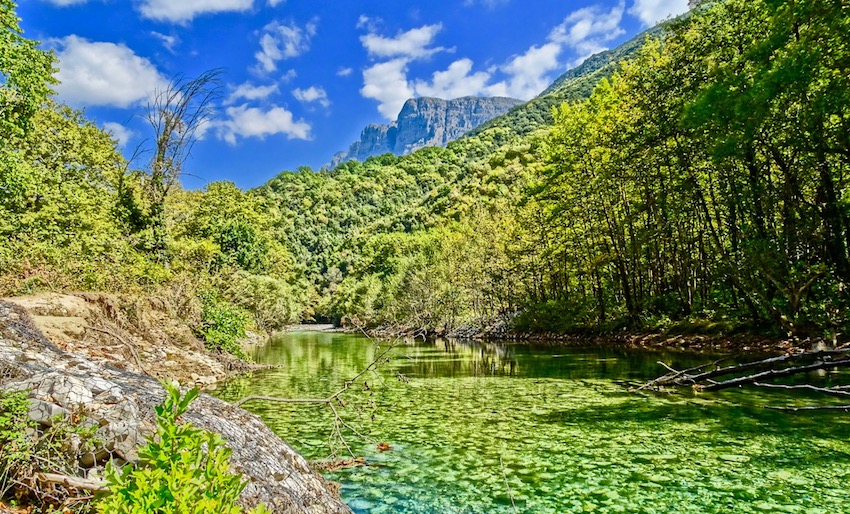 A right fork in the trail system leads instead to Mikró Pápingo, under the outriders of Mt Gamíla known as the Pýrgi (Towers), where the only reliably open facility is trekker-friendly Xenon O Dhias (26530 41257), with a bar-restaurant. The small luxury Mikro Papingo Hotel offers lounge areas with fireplace, a restaurant with panoramic terrace and a charming courtyard and was awarded with the Green Key Eco Label. At the highest point in the village is the Mikro Papigo 1700 Hotel & Spa, a small luxury hotel with a pool and spa facilities in an historical building.
From Mikró is also the continuation of the O3 up the mountain to the alpine shelter at Astráka col (allow 3hrs) and beyond to either Mt Gamíla summit or the Dhrakólimni (Dragon Lake) just below it. You'll need to stay at the 70-bunk mountain hut, camp nearby, or make an extraordinarily early start out of Pápingo. Coming north from Tsepélovo, you'd definitely have to overnight in the vicinity to take in the peak and/or lake.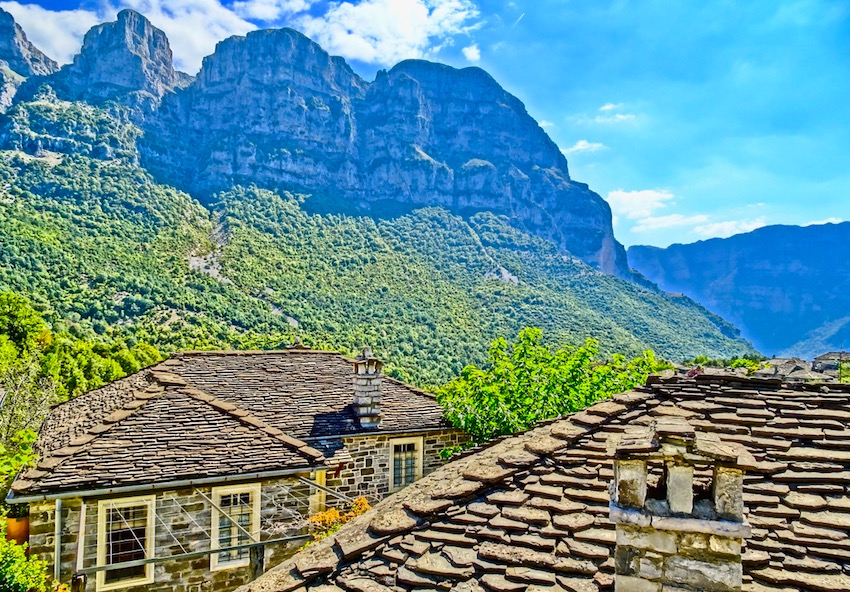 Gamíla peak (2497m) is an easy two-hour climb from the alpine shelter, with spectacular wildflowers en route during early summer. The little lake is about an hour away from Astráka saddle, along a well-grooved-in route. In summer it is just possible to go for a swim, along with thousands of lacy-gilled newts which live in the chilly waters. The Pápingo villages have miserably infrequent bus connections out. Your best choices for leaving involve walking west 2.5hr on a marked path from Megálo Pápingo, via Áno Klidhoniá village (facilities) to the main highway, or (more ambitiously) continuing north from the Astráka shelter on a tougher path down into the Aoös gorge, emerging at the famous single-arched bridge of Kónitsa. Overnight here at the basic Xenonas Dhendhro (tel 26550 23982), with a sustaining taverna, or at the same family's luxury Grand Hotel Dentro. Situated opposite the Bourazani Wildlife Park in Konitsa. The traditionally built Konitsa Mountain Hotel features rooms with balconies overlooking Aoos River or Mount Trapezitsa. For more hotels in Zagoria check Matt's Zagori Hotel Search Page
See also Hiking the Vikos Gorge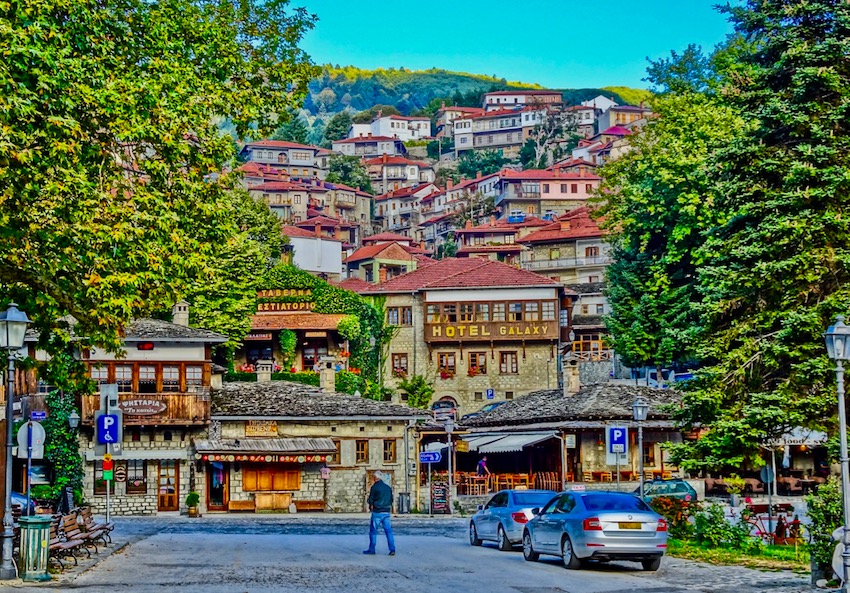 Metsovo
Having been to Ioánnina and Zagóri, you'll probably head northeast out of the area towards Metéora, via Métsovo, just under the Katára pass dividing Ípiros from Thessaly. Supposedly the largest village of the Vlach (Arouman) minority in Greece, it is almost wholely given over to rustique kitsch souvenirs (aimed, it must be said, mostly at Greeks). The Via Egnatia bypasses it far below. Appropriately for a centre of pastoral culture, meals are largely spit-roast-meat-orientated. If kokoretsi, kondosouvli and grilled lamb is your thing you will find Metsovo a paradise and the Averof Winery and Averof Art Gallery are both excellent time killers between meals, as is wandering around the village and enjoying the many views. Among non-kitsch souvenirs, pick up a hunk of smoked metsovone cheese, a bag of trahanádhes (sourdough porridge) or hilopítes noodles. There's plenty of accommodation, sprung up thanks to the ski centre nearby. If you need to stay, the Hotel Galaxy, above the square has comfortable rooms and a very nice restaurant and is open year around as are most of the hotels here. Or check among the hotels listed on Matt's Metsovo Hotel Search. Besides the Galaxy Taverna, another very good restaurant is the family run Koutouki tou Nikola.
Marc Dubin first visited Greece in 1978, fell in love with it, and returned almost yearly until he began living much of the time on Samos in 1989. He has written for numerous travel publishers – notably Rough Guides and Insight Guides – and on a variety of topics ranging from renovating old Greek houses and Greek cuisine to back-country trekking and Greek music. Marc has also compiled two CDs for World Music Network, Rough Guide to Rebetika and Rough Guide to Greek Café. To contact Marc with offers of writing jobs or praise you can e-mail him through matt@greecetravel.com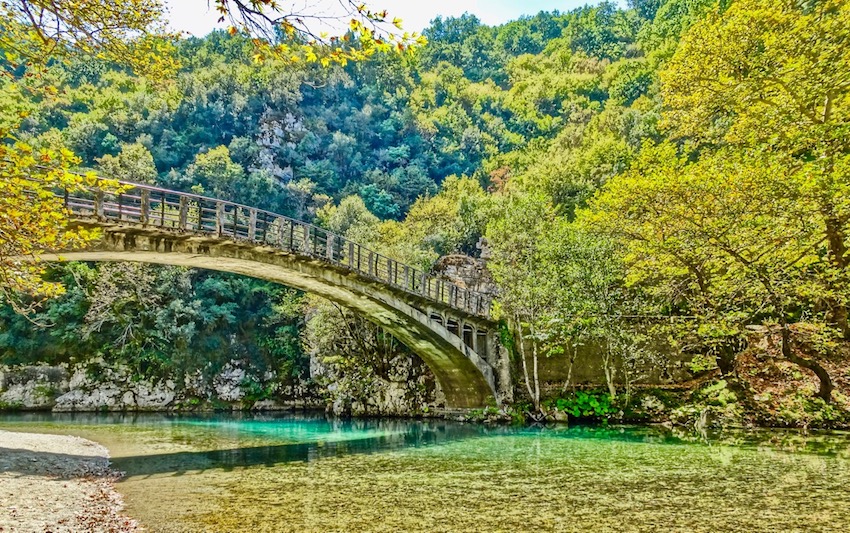 Useful Travel Information

RECOMMENDED MAPS
For mountain trekkers, Anavasi (www.anavasi.gr) does 1:50,000 maps for both Zagóri and the ranges north of the Aóös River. The best touring map is probably the 1:200,00 Orama/Road Editions "Epirus/Thessaly". Beware, many other maps may not show the new motorways!
Hollins University has put together an interactive map of WWII monuments scattered around Ipiros that may be of interest. See http://digitalexhibits.hollins.edu/exhibits/show/wwiimonumentsgreece
GETTING TO ÍPIROS
With the new motorways, you can drive to Ípiros from Athens in under 6 hours if you use the Río–Andírrio bridge; from Thessaloníki, all the way on the Vía Egnatía, it's probably not much more than 3 hours. Buses take a bit longer, plying up to 9 times daily to Árta and Ioánnina from Athens. Both Olympic and Aegean fly to Ioánnina at least daily from Athens, though domestic services to Préveza (Áktio) are suspended as of writing – Sky Express may or may not offer some in the future if they still exist.
Travel Agents, Car Rentals and Tours
If you contact a travel agency in Athens and ask them to book hotels and an itinerary in Ipiros they will probably ask you why you want to go there and try to sell you a package to Mykonos and Santorini. But hold firm and be insistent and if they still can't help you don't worry because there are no ferries to coordinate and the distances are not so far that you can't put together an itinerary on your own. You will probably want to either rent a car or if you can afford one have a private driver which gets cheaper the more people you have since they charge by the trip and not by the person. George the Famous Taxi Driver will put together an itinerary and even book your hotels for you and it always helps when you have someone who speaks Greek at the dinner table. Swift Rent-a-Car not only has low prices but they will pick you up at your hotel in Athens and drive you out of the city if you ask them to. You won't need a jeep, a normal car will do just fine but if you are four people don't get one that is underpowered for there are many mountains to climb.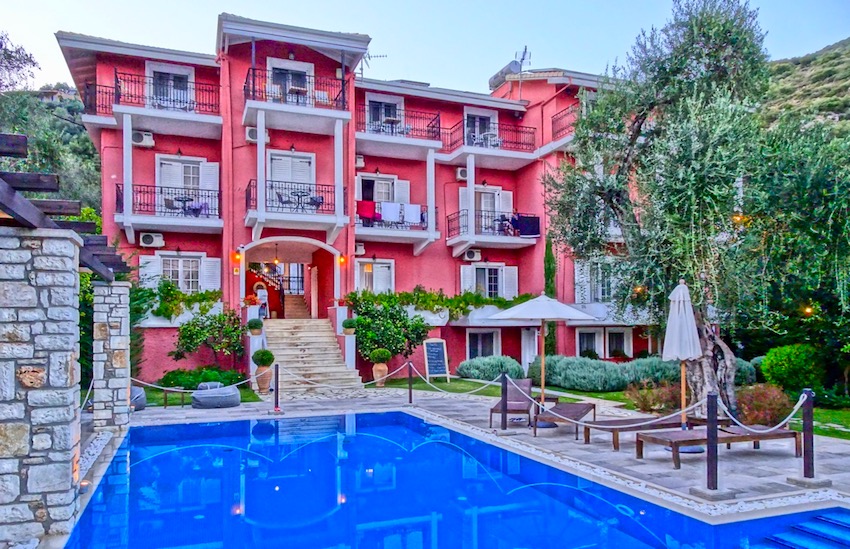 Hotels in ÍPIROS (from Booking.com)
You can search hotels in Ipiros on Booking.com's Ipiros Page and use the tools on their website to fine-tune your search and find exactly what you are looking for if it exists in the particular town you are looking in. They list a couple hundred hotels with photos,reviews, ratings and helpful maps as well. They also offer you the option of being able to cancel without a penalty and their rates are very competitive, in many cases the lowest you will find.
Also see Matt's Best Hotels in Greece Ipiros Page