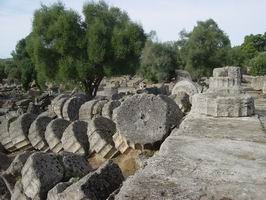 As for the archaeological site of Olympia itself nobody is going to be awed or blown away by it. There are few standing buildings and the place has been pretty well trashed in the last couple thousand years. But it is in a beautiful setting and there is something magical about walking through the ruins of an ancient civilization among tall shady trees and to realize that this phenomenon that we have commercialized and turned into one of the world's biggest money-making enterprises all began here. Besides the absence of advertising the most impressive thing about Olympia has to be the massive columns scattered around the temple of Zeus. They are in the process of restoring one so you can get an idea of what they looked like standing intact.
See my page for Olympia at www.greecetravel.com/olympia
For more Hotels in Olympia see my Booking.com's Olympia Hotels Page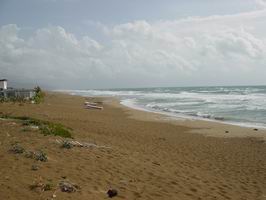 There are several places of note in the area besides Olympia. The town of Kyparissia, (more of a city than a town and in Messinia, not Eleia) has a castle and a spectacular view. The lower part of Kyparissia is quite busy and congested but the upper village is scenic and quite interesting and the castle is worth a visit. You have to find a road and make your way up because we did not see any signs for it. If it is lunch or dinner time stop at Tom's Taverna in the village of Raches, a few miles north. They have a bar with live jazz too. From Kyparissia running north for what must be about 70 kilometers is an endless sandy beach on the Ionian Sea. Try stopping in the town of Kakovatos (or coastal community or whatever it is) and drive west to the beach. Go for a swim and then visit the small unassuming fish-taverna called Vezzos for the cheapest and most delicious barbounia in Greece. Further north is the lake of Kaifa and the therapeutic baths. The southern entrance is kind of trashed so go further north and enter by the baths or on one of the dirt roads in the woods. If you have a fishing-pole they say you can catch kefalo as big as a large cat.
Most people nowadays who come to the prefecture of Eleia will be on cruise ships that stop in Katakolon, a small port that was suddenly thrust into the touristic limelight when they turned it into a major cruise port so people could visit Ancient Olympia. For information see my Katakolon Page
Be sure to see my Photos of the Peloponessos for pictures of Olympia and Eleia